Last Updated: 12th March, 2021
Online grocery shopping is not a new concept; however, this particular niche of ecommerce industry is yet to reach its full potential. The good thing is that online grocery shopping sector has picked up some pace in recent times and has garnered the well-deserved attention from entrepreneurs, seasoned offline store owners, and customers alike. And it is apparent in the success of various online grocery businesses across the world – to name a few, Instacart, BigBasket, FreshDirect, Thrive Market, Redmart, and others.
In the US, more than 25% of online shoppers have already opted for grocery shopping on the internet, and the number is expected to go up to 55% in coming years.
Furthermore, the number of online grocers is increasing at a 3x rate with each year, and the entire online grocery industry is growing at a remarkable rate of 11%.
To keep up with the pace, aspiring entrepreneurs need a reliable solution to put their dreams in motion. It is better to go with a dedicated script for online grocery stores that doesn't require an array of plugins to get your business up & running. On the other hand, building a store from scratch or using a non-dedicated script cost more time, money, and effort.
Developed by FATbit Technologies, Growcer is one such dedicated script for setting up grocery shopping websites, which is loaded with rich features and comes at a reasonable price. Below we will see various benefits of opening online grocery store with Growcer.
How Growcer Ensures Success for Online Grocery Stores?
Growcer is a grocery ecommerce platform designed and developed to launch an online grocery ordering and delivery marketplace. Growcer comes with:
1. Great User Experience
We all know that businesses thrive & stand out from the competition by delivering a richer user experience. Grocery ordering websites built on Growcer score quite well in that area. Whether it is the store owner, vendors, or the end customers, for every user, using the website is as easy as it gets.
2. Product Catalog System
The product catalog system of Growcer allows the admin/sellers to maintain an organized catalog (product tags, niche-specific attributes, etc) for the consumers to pick out items from. The information listed for each product is uniform and in a pattern that makes selecting and ordering groceries online a convenient process.
3. Bulk Import/Export
Features that help the admin/sellers manage their data files and transfer significant data from different locations into a CSV format. The admin/seller can import/export huge data files with complete confidence that their product and brand information will be safely transitioned.
Live Demonstration of Growcer With our Product Expert
4. Marketing Features
A huge disadvantage with building a grocery website from scratch is that you need to research each and every feature that could be helpful in your business's success. Moreover, integrating these features with your grocery shopping website would consume only more resources. Growcer, on the other hand, is developed keeping all the important elements in mind, marketing included. We have done all the hard-work so that you don't have to.
Social media integration:

Social profile login/signup, social plug-ins of the business, and social media sharing of the products, Growcer ensures that you make the most of social media for your store's success.

Affiliates:

The Affiliate module helps you connect with the right marketers who can help you expand your venture's scalability.

SEO friendly:

There's no need for a 3rd party plugin to make your grocery store optimized for search engines. Growcer's default script has SEO-related technical requirements already addressed.

Display ads:

Hosting display-ads open up an additional source of revenue for your online grocery store.
Suggested Read: Global Market Analysis of Online Grocery Shopping
5. Analytics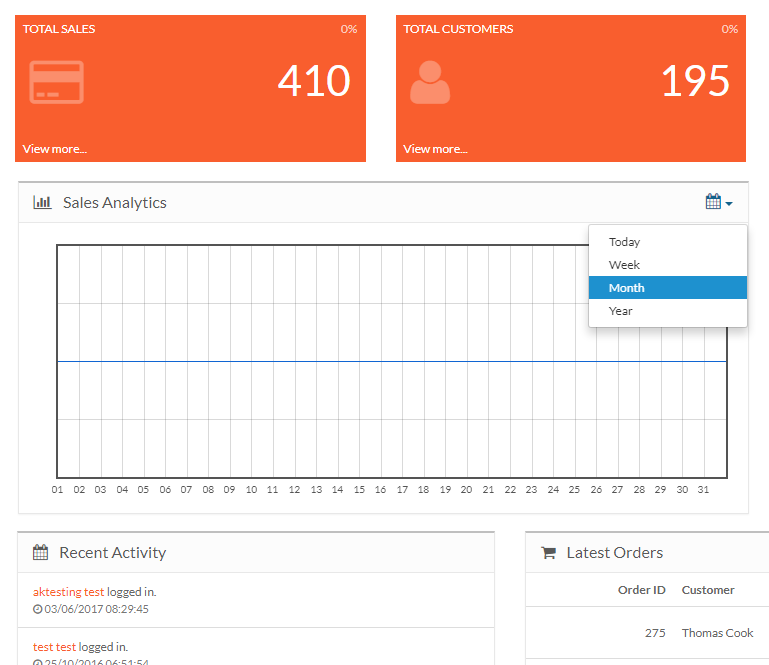 Analytics are needed to make sense of all the traffic that interacts with your grocery website. Analytics guide you on how to improve customer experience and what they're looking for at your website. You also get to know the source of the traffic. Growcer, being the best grocery delivery software, comes with a built-in powerful analytics tool. Some of its highlights are as follow:
6. Mobile Apps
The multi-vendor online grocery software, Growcer comes as a ready-to-launch turnkey solution. Along with the software for the platform, two ready-made grocery mobile applications have been developed to give the product complete functionality.
a) Grocery Shopping App (Buyer App): Growcer's buyer app is developed after a thorough understanding of consumer behavior while they shop for groceries online. The app has all the features and functionalities to make the grocery buying experience convenient.
From registration, selecting grocery items from multiple stores, cart management, making payment, to tracking orders till delivered, the app assists users at every step to make a thorough purchase from their nearby trusted grocers.
b) Grocery Delivery App: The grocery delivery app with Growcer comes ready to supplement the drivers with its adept features in order to make the process streamlined and efficient.
Helping them view order details on their app dashboards, supporting them with integrated maps for easy route navigation, and allowing easy status updates enhances the grocery delivery experience.
7.  Multivendor and Single Vendor Variants
Growcer software for building online grocery delivery platforms can be tweaked to cater to different business models. Whether looking to take an offline grocer online with a dedicated store website or bringing them online together on a platform with other sellers, Growcer provides a complete solution to walk any path.
The single vendor variant supports end-to-end grocery store operations through an online website that can be visited to order and pay and mobile apps that accelerate the purchase process.
Growcer helps launch multi-vendor grocery delivery platforms with accomplished features to ease management for various tasks. Bringing variety with multiple sellers on a single portal, built efficiently with vendor selection, catalog, account, and delivery management features to make online grocery shopping an exceptional experience.
8. 15+ Pre-Integrated APIs 
FATbit's online grocery shopping software, Growcer has been prepared to launch businesses anywhere across the globe. With over 15 third-party APIs integrated, processes like settling payments, tax filings, delivery management, and language change as per local preferences take minimum effort.
9. Tax Management
The tax management feature of Growcer helps in the quick and automatic calculation of the taxes needed to be paid as per valid compliances in the area of the online grocery business launch.
The tool helps save time and assists a lot in geographical areas where businesses need to pay multiple taxes related to the transactions and deliveries.
10. Order Cancellation/Refund Requests Management
Order cancellation and refund requests are managed with ease through Growcer powered grocery delivery platforms. The feature supports the sellers with easy record keeping and reorders in case of any complaints or negative feedback.
11. Order Tracking
The Growcer powered apps allow buyers to track orders from the time of ordering to delivery. Mobile apps are supplemented with the push notifications feature and integrated with the Google Maps API to track the progress of the order.
12. Progressive Web Apps
Progressive web apps make a portal easily accessible from any electronic device. Building your online grocery platform with Growcer can enable users to install shortcuts for the grocery shopping site that enables them with features and functionalities equivalent to an app.
The progressive web app facet provides the convenience and quickness of an app without any downloadable version requiring space in your device's memory.
13. Multilingual
The Growcer software is equipped to run online grocery businesses around the globe. With the feasibility to run the platform in 240+ languages due to the variety of language labels integrated, makes the solution an easy choice for those aspiring to launch their foot in the domain of online grocery.
Being multilingual has made Growcer a global favorite, making locals feel as if they are in the stores of their choice purchasing their trusted brands and items.
14.  Reports (for both Admin & Seller)
Quick reference reports that provide the business admin and the sellers on their marketplace with key numbers required to make wise decisions for everyday operations, enhance the efficiency of the services being provided.
Growcer empowers the admin and the sellers on the online grocery platforms with such ready reckoner dashboards displaying significant indices that help them drive the online channel towards productivity and profitability.
15. Demo (One-on-One & On-Site)
The Growcer team at FATbit is dedicated to providing you with a solution that helps meet your business vision. Before you go in for your purchase of the marketplace solution, we help you thoroughly understand the functionalities that will power up your online grocery platform.
Our team is ready to give you one-on-one as well as on-site demos of the grocery software, so as to build your confidence in the choice you make.
16.  Customizable & Scalable
Growcer builds platforms that are customizable as well as scalable as per your needs. The admin can tweak the available look and features according to the business model to set up an online marketplace that serves the model that needs to be launched.
A scalable and robust software provides the admin with the leverage to take the business to new heights as the market performs and the journey progresses.
17. Free Installation & 1-year Technical Support
FATbit's hyper-local grocery marketplace solution is delivered to the client with complete installation support, supplemented with a full-year of technical troubleshooting and team assistance through various initial processes.
The Growcer team stays on-board the launch process to build your confidence as you move forward on your initial business journey.
What do the experts say about Growcer?
Since its launch in late 2016, Growcer gained a fast traction in the market. Growcer's efficiency has certainly caught many product review websites' attention. Let's see what two leading review websites had to say about Growcer.
FinancesOnilne, a prominent name in the world of software review platforms (which primarily deals in B2B & financial solutions) has awarded Growcer a score of 8.9, with user satisfaction rate of 100%. Now that means something!
Growcer has been developed with keen attention to detail. That is why, it also grabbed the Rising Star 2017 and Great User Experience awards from FinancesOnline.
About the Awards
The 2017 Great User Experience Award for best ecommerce software is granted to business solutions that exhibit an intuitive interface and user navigation. Our grocery store platform is a turnkey solution that will help you build and manage your online space in no time. It fits any user types, whether you have tech skills or none, and device screen. Meantime, the 2017 Rising Star Award recognizes new players in the category that have quickly established a general positive feedback from users. We have had encouraging comments from our clients, citing how easy it is to build an online grocery store because of our software.
On another note, Growcer was also cited in FinancesOnline's top 10 ecommerce software solutions guide. The review authors mentioned our solution's unique feature, the share shopping cart, as one of the most innovative tools they have seen.

Subsequently, 2018 witnessed the readymade online grocery store system continue the success streak. CompareCamp, a leading products comparison and review resource gave Growcer a score of 82%.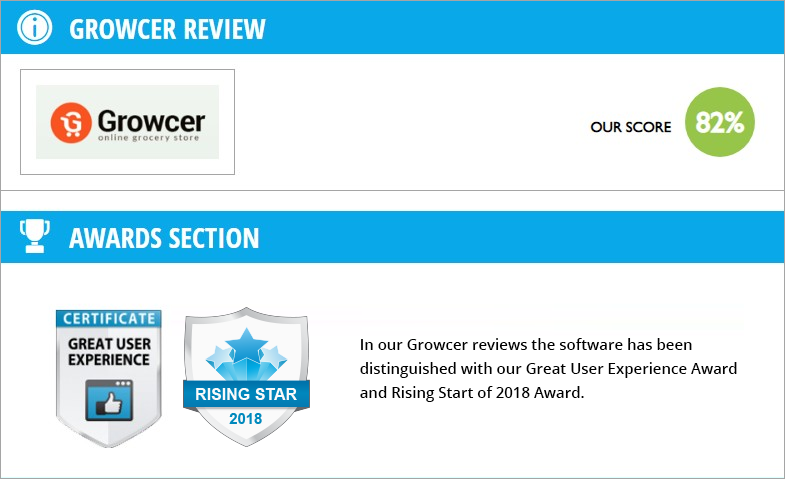 In the Product Quality Score, Growcer scored an impressive 8.4 on Features front, which clearly reflects how focused we are towards offering a feature rich system at an affordable price bracket.
And not just the amazing score, Growcer again received a certificate for Great User Experience and the Rising Star Award for 2018 by CompareCamp. Read the complete review here.
The accolades & support from the online world come as a huge pride and responsibility; pride for delivering only the best solutions, and responsibility of continuing the good work. FATbit team will continue to upgrade Growcer as per the market's needs, so that more and more online grocers can take benefit from it and play their part in the growth of the sector.
Ready to redefine your online grocery business with Growcer?