Last Updated: August 10, 2020
Online grocery shopping is not a new concept; however, this particular niche of ecommerce industry is yet to reach its full potential. The good thing is that online grocery shopping sector has picked up some pace in recent times and has garnered the well-deserved attention from entrepreneurs, seasoned offline store owners, and customers alike. And it is apparent in the success of various online grocery businesses across the world – to name a few, Instacart, BigBasket, FreshDirect, Thrive Market, Redmart, and others.
In the US, more than 25% of online shoppers have already opted for grocery shopping on the internet, and the number is expected to go up to 55% in coming years.
Furthermore, the number of online grocers is increasing at a 3x rate with each year, and the entire online grocery industry is growing at a remarkable rate of 11%.
To keep up with the pace, aspiring entrepreneurs need a reliable solution to put their dreams in motion. It is better to go with a dedicated script for online grocery stores that doesn't require an array of plugins to get your business up & running. On the other hand, building a store from scratch or using a non-dedicated script cost more time, money, and effort.
Developed by FATbit Technologies, Growcer is one such dedicated script for setting up grocery shopping websites, which is loaded with rich features and comes at a reasonable price. Below we will see various benefits of opening online grocery store with Growcer.
How Growcer Ensures Success for Online Grocery Stores
Growcer is a turnkey solution especially built for grocery shopping websites. With plenty of research invested in making Growcer a practical solution, we made sure each online grocery shop built on Growcer delivers:
1. Great User Experience We all know that businesses thrive & stand out of the competition by delivering customers a richer user experience. Grocery shopping websites built on Growcer score quite well in that area. Whether it is the store owner or the end customers, for every user, using the website is as easy as it gets.
2. Marketing Features A huge disadvantage with building a website from the scratch is that you need to research for each and every feature that could be helpful in your business's success. Moreover, integrating these features with your grocery shopping website would consume only more resources. Growcer, on the other hand, is developed keeping all the important elements in mind, marketing included. We have done all the hard-work, so that you don't have to.
Social media integration: Social profile login/signup, social plug-ins of the business, and social media sharing of the products, Growcer ensures that you make the most of social media for your store's success.
Affiliates: The Affiliate module helps you connect with right marketers who can help you expand your venture's scalability.
SEO friendly: There's no need of 3rd party plugin to make your grocery store optimized for search engines. Growcer's default script has SEO related technical requirements already addressed.
Display ads: Hosting display-ads open up an additional source of revenue for your online grocery store.
Suggested Read: Global Market Analysis of Online Grocery Shopping
3. Analytics Analytics are needed to make sense of all the traffic that interacts with your website. Analytics guide you on how to improve customer experience and what they're looking for at your website. You also get to know the source of the traffic. Growcer comes with a built-in powerful analytics tool. Some of its highlights are as follow: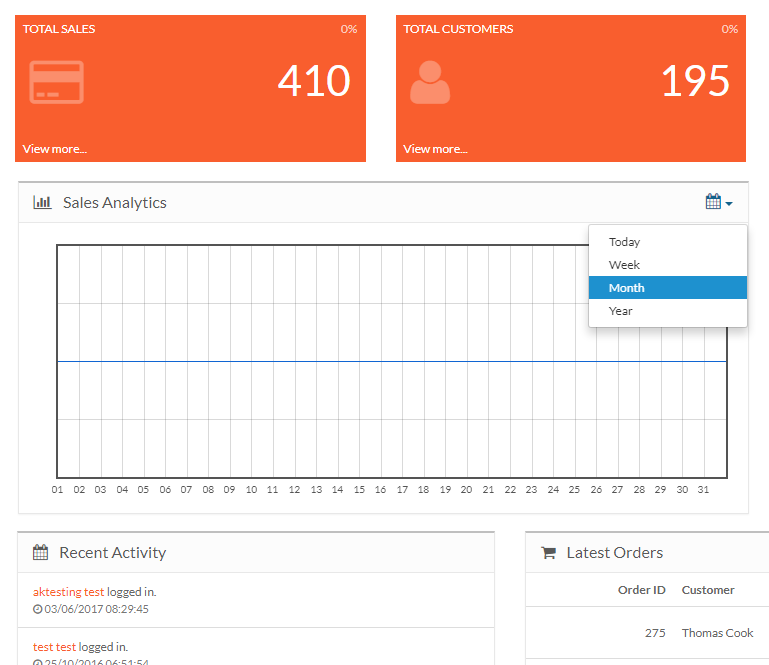 Sales Analytics: you can see your sales performance on daily, weekly, monthly and annual basis.
Total Sales and Total Customers: to know how well you are doing at acquiring more customers and generating more revenue.
4. Mobile Friendly Mobile usage is continuously getting ahead of the desktop usage. And there is no denying the fact that most of your customers will be placing orders on the mobile. With that in mind, we have made the Growcer's default theme responsive, so that your store is accessible and usable across all screen sizes. We have taken great measures in ensuring that the responsive layout of Growcer enables your grocery shopping website to deliver an uninterrupted user experience to mobile shoppers.
Growcer empowers you to build the ideal multi vendor grocery store that you envision
5. Value-added Features & Services Growcer is also packed with several value-added features such as extensive order, user, & product management, gift vouchers, discount management, multiple payment options, support for different eWallets, and 12 month technical support. All these features ensure that customers have a good time shopping on your online grocery store, and you have a good time running it.
6. Customization With time business goals & needs change as the market dynamics and industry trends alter. To ensure that you don't have a tough time adapting to these changes, we have made Growcer completely customizable. Whether you need to add a new module, upgrade a feature or design a new theme to give your branded store a unique look & feel, everything is possible with Growcer.
What do the experts say about Growcer?
Since its launch in late 2016, Growcer gained a fast traction in the market. Growcer's efficiency has certainly caught many product review websites' attention. Let's see what two leading review websites had to say about Growcer.
FinancesOnilne, a prominent name in the world of software review platforms (which primarily deals in B2B & financial solutions) has awarded Growcer a score of 8.9, with user satisfaction rate of 100%. Now that means something!
Growcer has been developed with keen attention to detail. That is why, it also grabbed the Rising Star 2017 and Great User Experience awards from FinancesOnline.
About the Awards
The 2017 Great User Experience Award for best ecommerce software is granted to business solutions that exhibit an intuitive interface and user navigation. Our grocery store platform is a turnkey solution that will help you build and manage your online space in no time. It fits any user types, whether you have tech skills or none, and device screen. Meantime, the 2017 Rising Star Award recognizes new players in the category that have quickly established a general positive feedback from users. We have had encouraging comments from our clients, citing how easy it is to build an online grocery store because of our software.
On another note, Growcer was also cited in FinancesOnline's top 10 ecommerce software solutions guide. The review authors mentioned our solution's unique feature, the share shopping cart, as one of the most innovative tools they have seen.

Subsequently, 2018 witnessed the readymade online grocery store system continue the success streak. CompareCamp, a leading products comparison and review resource gave Growcer a score of 82%.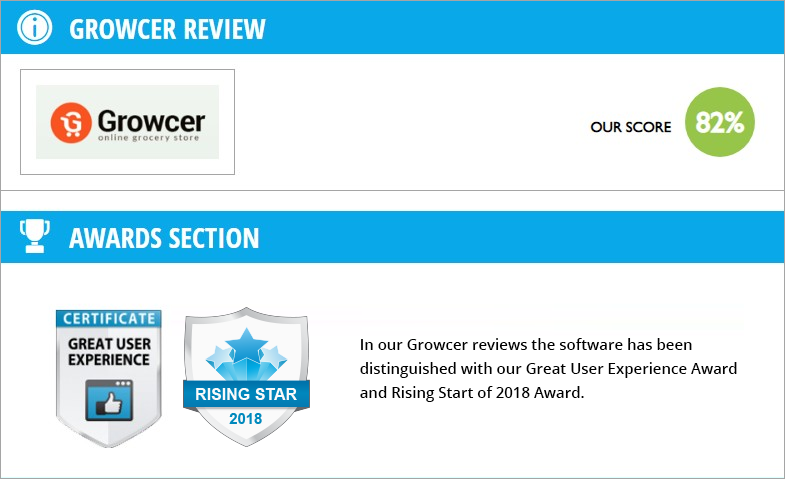 In the Product Quality Score, Growcer scored an impressive 8.4 on Features front, which clearly reflects how focused we are towards offering a feature rich system at an affordable price bracket.
And not just the amazing score, Growcer again received a certificate for Great User Experience and the Rising Star Award for 2018 by CompareCamp. Read the complete review here.
The accolades & support from the online world come as a huge pride and responsibility; pride for delivering only the best solutions, and responsibility of continuing the good work. FATbit team will continue to upgrade Growcer as per the market's needs, so that more and more online grocers can take benefit from it and play their part in the growth of the sector.
Ready to redefine your online grocery business with Growcer?