The rapid increase in the number of internet and mobile users has provided significant opportunities for various online businesses to grow. One such domain that has seen massive growth due to digitalization is the online coaching industry. As per the reports, the global online coaching market is expected to reach around 4567.44 million by 2030, highlighting exponential growth and rapid expansion of online coaching platforms. 
One of the reasons for the huge popularity of these platforms is that they have created numerous opportunities for both coaches and learners worldwide. They can now connect effortlessly with each other irrespective of their geographical location. Considering the tremendous growth of this industry, many budding entrepreneurs are looking forward to entering this lucrative domain. 
However, stepping into the industry and establishing your online coaching business requires careful planning and execution. Hence, to make this process less cumbersome, we have gathered information about how you can create your online coaching website effortlessly. 
Let's first learn about the coaching industry inside out, starting with gaining knowledge about various niches and key players in the industry.
Table of Contents:
Popular Online Coaching Niches:
Nowadays, online coaching is not only limited to academic coaching but several niches are also gaining tremendous popularity among learners all over the world. Some of the popular online coaching niches are:
Mental Health Coaching

Fitness Coaching

Sports Coaching

Music Coaching

Relationship Coaching

Business Coaching

Career Coaching

Life Coaching

Culinary Coaching
Entrepreneurs can choose any niche depending on their business idea, market trend and popularity. Furthermore, let's get inspired by the key players of different niches in the coaching industry.
Key Players of Different Coaching Niches
Some of the popular players that are running successfully in the online coaching industry are:
CoachUp
CoachUp is a sports coaching website that connects athletes with experienced and certified coaches across various ranges of sports. CoachUp provides over 15,000 coaches for sports enthusiasts. CoachUp has raised a total funding of $11 million over 3 rounds in 2018. 
Niche: Sports Coaching 
Lessonface
Lessonface is an online coaching website that offers live music, language, and art lessons to learners around the world. Since its founding in 2013, Lessonface has acquired significant business growth and has become hugely popular among art, and music lovers.
Niche: Music and art Coaching
Rouxbe
Founded in 2005, Rouxbe is a leading online culinary coaching platform with over 600,000 students around the world. They train thousands of learners with world-class instructors, peer support and interactive assignments in 180 countries. Rouxbe's approximate annual revenue is currently $5.9 Million per year. 
Niche: Culinary Coaching
Join Leading Players In The Industry By Launching Your Coaching Website
Other than knowing about the key players and various profitable coaching niches in the industry, it is equally important to obtain knowledge about the business model and workflow of a coaching website. Hence, let's delve into the business model and workflow of a coaching website. 
How Does a Coaching Website Work?
The first step in establishing your coaching website is to know how it works, what is the business model and how it generates revenue. Furthermore, let's see the business model and workflow of a coaching website in detail. 
Business Model
An online coaching website connects learners with coaches in one-to-one or group sessions. The platform owner earns revenue by deducting the commission fees from the tutor's payments after the completion of the session on the platform.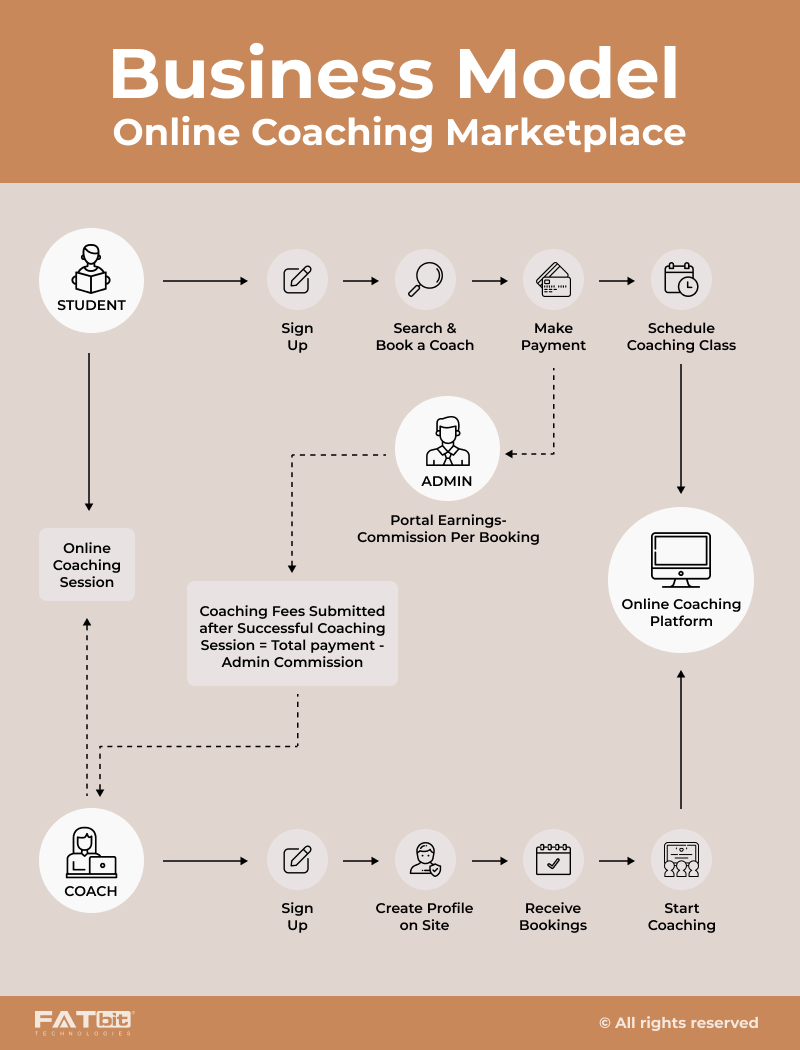 Let's explore how a website works for learners, coach, and admin.
Work Flow of Learners:
Sign up:

Learners create an account on the website by entering their details.

Search for Coaches:

After registering themselves, learners search for coaches based on their learning needs and interests. They can also go through the tutor's qualifications, ratings, fees, etc. to make an informed decision.

Book the sessions:

Learners book sessions with coaches as per their availability.

Pay the fee:

Learners make the payment and start their learning journey. 
Work Flow of Coach:
Register:

Coaches start by registering themselves on the platform. This may involve providing personal information such as email address, mobile number, and more. 

Create profile:

After registration, teachers have to create a profile showcasing their educational qualifications, teaching experience, area of expertise, etc. They also have to upload a profile picture and write a bio describing themselves.

Set-Up availability

: Coaches can set up their availability on the calendar. 

Receive bookings:

After setting up their availability, coaches can start receiving booking requests, and can schedule sessions accordingly.

Get Payments:

Coaches receive payment from the admin for the sessions delivered.
Role of Admin: 
Personalize:

The admin can personalize and align the coaching website as per his business goals and requirements. Admin can change the platform's themes, colors, logo and others depending on his branding needs. 

Manage Users:

Admin is responsible for managing users, which includes registering new users and verifying & approving the tutor's listing requests. 

Handle Bookings:

The admin will handle session bookings, cancellations, and refund requests from learners on the website. 

Manage Payments:

Admin sets and charge commission fees from the coaches on the website. The admin is also responsible for transferring payments to coaches after the commission has been deducted. In addition to that, the admin manages gift cards and coupons offered on the

website. 

Report Monitoring:

Admin can go through the data reports to

gain insights on the platform's performance and user experience and can make strategic business decisions accordingly. 
Now that you are well aware of the working of a coaching website, the next important thing is to know about the possible revenue streams a coaching website offers.
Revenue Model
Here are some of the possible revenue streams for a coaching website: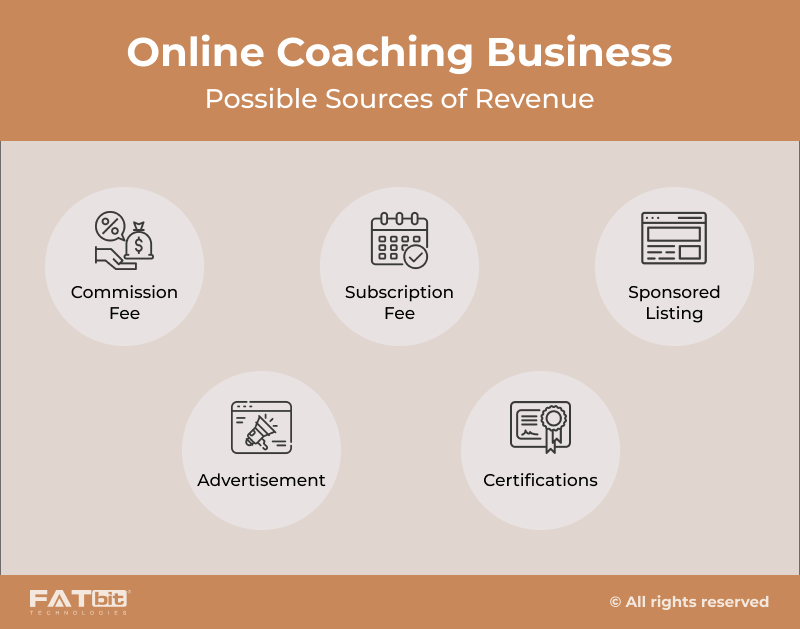 Commission fee: Platform owner can deduct a certain percentage of commission from the fee paid by the learners to the coaches for the session.
Subscription fee: A subscription fee can be charged from learners for availing services on the platform on a yearly or monthly basis.
Sponsored Listing: Coaches can pay a certain amount of fee for listing themselves in the featured section of the website. This helps coaches in expanding their reach and boost visibility among learners.
Advertisement: Platform owner can earn money by publishing banner ads on the website. 
Certifications: An extra fee can be charged to learners who want certifications after the completion of their courses. 
Turn Your Coaching Business Idea Into A Profitable Venture
After knowing about the popular revenue streams for an online coaching business, we shall now gain knowledge about the essential elements for a successful coaching website. 
Essential Elements for a Successful Online Coaching Website
Your potential customers will get to know about your business venture through your website. Having a clear understanding of the essential elements for a successful online coaching website is very crucial in turning your website visitors into lasting customers. Let's explore in detail, the essential elements you must consider for your online coaching website.
Necessary Web-pages for an Online Coaching Website
Your coaching website should offer the best user experience to users and should be a reflection of your business idea. Therefore, it becomes essential to add necessary web-pages to your website that can enhance user experience on your website. 
Necessary web-pages for an online coaching website include:
Homepage – This is the first page visible to your target audience when they will arrive on your website. The homepage should provide an overview of services offered by you and should be easy to navigate. 
Class listing page – This page should provide an overview of classes offered on your website. This can also include additional information like schedule, timing, and price.
Teacher listing page – This listing page should clearly list teachers on the website and learners should easily be able to find the tutor they are looking for. The page should also mention necessary information related to teachers like educational qualifications, experience, and others. 
Discussions webpage – This webpage should provide a platform for learners where they can engage with each other, have discussions, and can resolve their doubts. 
Apply to teach webpage – Coaches would also be registering themselves on your website. Hence, the 'apply to teach' webpage should be easy to navigate and must provide all relevant information for the application process. 
Sign-up page for students – The learners should easily be able to sign-up on your website. Maximum sign-ups can be generated by providing minimum steps for the registration process. 
FAQs page – This page is a great way to improve customer experience on the platform. It enables you to answer the most common questions asked surrounding your coaching services. 
About Us page – The about us page gives your target audience insights about your business and its history. In addition to that, About Us pages are also a great way to find potential customers through web searches.
Blogs – Blogs can be shared on your platform to educate your potential customers. Blogging not only drives traffic on your platform but builds credibility too. Blogs help in converting traffic into actual customers eventually increasing your revenue. 
Along with integrating the important components mentioned above on a coaching website, it is equally important to offer relevant features to users on your website. Furthermore, let's dive into must-have features for an online coaching website. 
Must-Have Features for an Online Coaching Website
Adding necessary web pages on your website can be the key to creating a great online coaching website – but the features we are discussing in this section can take it to the next level.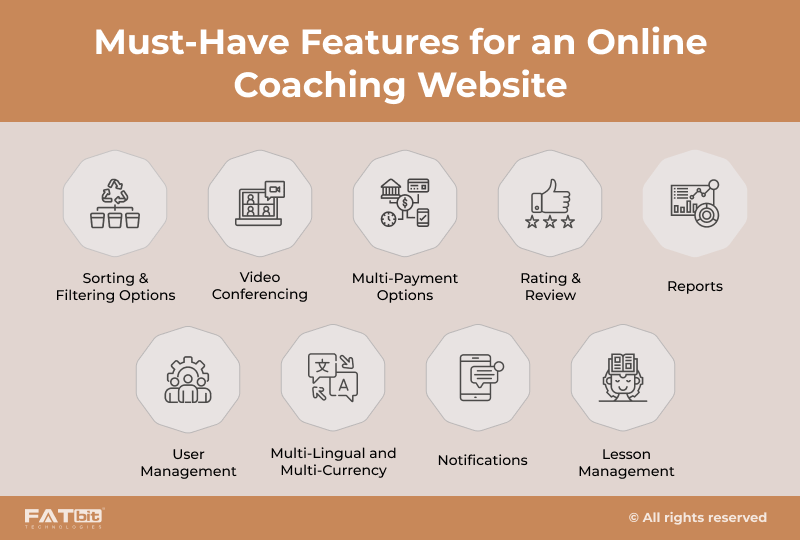 Following are the must-have features for a thriving online coaching website:
Sorting & Filtering Options – This feature makes it easy for learners to get what they are looking for on the platform. It improves user experience and helps in providing a more personalized experience. Learners can save time while searching by applying filters based on their preferences. 
Video Conferencing – This is the most important feature for providing a collaborative and interactive experience to users on your website. Video conferencing tools like Lessonspace, AtomChat, and more offer flexibility and convenience to both learners and coaches. Additionally, features like screen sharing, screen recording, virtual whiteboard, and chat offered by the video conferencing tools streamline the whole teaching process. 
Multi-Payment Options – To offer convenience and boost conversion rates, it becomes very crucial to provide multiple payment options on your website. Diverse payment options like debit/credit cards, eWallets, and more can help in smooth transactions on your website. 
Rating & Review – This feature helps in building credibility and trust among learners on the website. Learners also can make an informed decision while choosing coaches and courses on the platform. 
Reports – Reports and analytics help business owners in making data-driven decisions to grow and flourish their business. They can quickly and easily get a clearer understanding of the performance of their business and can compare data for clients, coaches, etc.
User Management – Business owners can manage and streamline the operations of their coaching business with this feature. They can manage the complete website including reviews, scheduled & completed sessions, earnings, and all other functions related to registered users on the platform. 
Multi-Lingual and Multi-Currency – This feature enables you in expanding your business worldwide. With multi-lingual and multi-currency functionality you can serve across different regions. Users would be able to easily manage transactions in their local currency and can browse the website in their local language. 
Notifications – It allows you to share important information, reminders, and alerts with users on the website instantly. 
Lesson Management – Learners as well as teachers can manage their lessons efficiently with this feature. They can have access to all upcoming, scheduled, and canceled lessons in one place. 
Planning To Launch A Feature-Rich Online Coaching Website?
Dedicated Dashboards For All User Types
Dedicated dashboards help all the users (admin, coaches, and learners) actively manage their operations on the platform. All the dashboards offer specific functionality catering to the unique needs of the particular user each dashboard is meant for.  
Let's gain in-depth knowledge about all three dashboards provided on an online coaching website.
Student Dashboard 
It is entirely dedicated to students where they can manage their profiles and all necessary information. 

They can keep track of their bookings, lessons, orders, payments, calendar availability, and more.

The students can also use the discussion forums to ask their queries and can create notes through the dashboard

They can also search for teachers and can book the sessions easily. 
Tutor Dashboard
Tutor's dashboard has all the important aspects that help teachers easily manage their students, sessions, and revenue on the website. 

Coaches can set up their accounts and manage their profiles through this dashboard. 

They can mark their availability on the calendar for sessions they want to conduct. 

Coaches can easily navigate through their scheduled classes & lessons and can get a real-time estimation of their earnings. 
Admin Dashboard
It lets the admin seamlessly manage all the operations involved in running an online coaching business.

Admins can easily manage users, orders, commissions, and payments through this dashboard.

All the relevant data like total classes scheduled, completed, and canceled is compiled in one place on the dashboard. 

Admins can get real-time statistics about their earnings and total revenue generated by the platform. 

Through this dashboard, admins can manage settings, CMS, SEO, blogs, etc without any delay.

The dashboard also provides reports illustrating the performance of the website, hence, helping business owners in making strategic business decisions. 
Now that you have gained all the crucial information about an online coaching website, the next step is to start building the website for your business. Furthermore, we share how a ready-made solution like Yo!Coach can help you create your online coaching website effortlessly. 
How Yo!Coach Can Help in Building an Online Coaching Website
Yo!Coach is a popular ready-made online coaching software that can help you create an online coaching website hassle-free. This solution comes integrated with all the essential features required for a successful online coaching website. Yo!Coach team has helped numerous entrepreneurs in establishing their digital presence in the eLearning industry. They have delivered more than 200 projects to the global clientele. Yo!Coach offers various unique features that make it the best choice among others. Some of the features include:
Launch A Unique Coaching Website With Yo!Coach
Putting It All Together
Taking into account the current scenario, we can anticipate online coaching industry will flourish tremendously in the coming years. Hence, this provides a perfect opportunity for budding entrepreneurs who are looking forward to entering this domain. Although creating an online coaching website may seem to be a difficult task, nevertheless, with the right planning and execution, it can be achieved quite easily. Yo!Coach team has already helped several business owners establish their online coaching businesses successfully and is ready to help budding entrepreneurs who are eager to enter this lucrative industry.