While many HVAC rental business players are already aware of automation and its benefits, a wide majority of them are still yet to make the change. This highlights a first-mover advantage in automating an HVAC equipment rental business with an online store. Doing so will not only provide business owners with means to accept online transactions but will also allow them to handle key operations like rental security management, agreement rental validation, and deliveries directly through the store.
To help you understand other benefits of automating your HVAC rental business, this blog focuses on automation opportunities, top business players, rental store features and software development methods.
Table of Contents
Key Benefits of Managing HVAC Rental Business Online
Digitization with an online store can fundamentally change how entrepreneurs operate their HVAC rental business. To put it in context, the online store can streamline operations, improve security, accelerate efficiency and reduce the time to market while making the business more discoverable. 
Automation of Monotonous Processes
Digitization for an HVAC equipment rental business means automation of daily routine processes like inventory, invoicing, sales & marketing campaigns, internal communication, client notification and even customer support. Launching an online store will also save time and reduce costs on manual processes. Automation of repetitive processes further means more time for planning, decision making and innovation.
Reduction in Logistics Costs and Added Security
Offline storefronts require transportation of inventory from warehouses. Renting out HVAC equipment online reduces this logistics cost as the equipment is directly shipped from the warehouse. Instead of heavy logistics costs, online storefronts include other costs such as product photography, which is again comparatively way lower than logistics. The inventory also remains safe from the risk of theft considering it is never moved to the publicly shared address of the offline store. 
Access to Wider Markets with Appropriate Targeting Tools
The marketing world has evolved with a myriad of new technologies and trends that are accessible on an online platform. With the help of these tools and technologies, HVAC rental businesses can create data-driven strategies to target wider and stratified markets more accurately.
Seamless Rental Experience for Customers
An online HVAC rental store becomes a centralized platform for your business that your customers can reach out to rent equipment and seek customer assistance. This procedure is exclusive of all manual dealings and complemented with a shorter workflow, providing a more satisfying and seamless rental experience to all online customers.
Competitive Edge in Technology and Branding
As mentioned in the introduction, there are numerous HVAC equipment rental businesses who are yet to make the digital leap. Those who will make the leap now will benefit from advanced technologies. With an online store fully capable of conducting eCommerce transactions, the store owner will also deliver a frictionless rental experience to customers and appear as a more authentic and professional brand. 
Globally Acclaimed Online HVAC Equipment Rental Businesses
We spoke about the businesses who are yet to make the change and step into the online HVAC equipment rental industry. However, there are also many businesses who have already made the change. Below are the examples of some businesses that benefited tremendously from HVAC rental automation.
| | | | |
| --- | --- | --- | --- |
| Businesses | Founded In | Est. Revenue (USD) | Key Rental Niches |
| United Rentals | 1997 | $8.53 Billion | HVAC, Heavy Equipment Rental, Truck Rental |
| Aaron's | 1955 | $3.94 Billion | HVAC, Furniture Rental, Electronics Rental |
| Rent-A–Center | 1973 | $2.6 Billion | Furniture Rental, Electronics Rental, HVAC |
| Herc Rentals | 1965 | $2.1 Billion | HVAC, Heavy Equipment Rental |
| Carolina Cat | 1926 | $316 Million | Heavy Equipment, HVAC, Truck Rental, Power Generation Rental |
| Airconco | 1998 | $8.3 Million | HVAC Equipment Rental Only |
| RentAnAC | 2006 | < $5 Million | HVAC Equipment Rental Only |

Note: Some of the aforementioned estimated revenues are collected from various third-party websites and are a collective figure of the company's overall revenue generated from all their services and products, including non-HVAC rental products and services.
Success Story: RentAnAC
RentAnAC is a Boston-based AC rental company started in the year 2006. The founder of the company, Jesse Mastro noticed that much of the real estate in the area does not offer central cooling systems. Instead, a wide majority of the city's population relied on temporary cooling systems.

Capitalizing on the opportunity, Jesse launched RentAnAc, which does not only provide efficient and convenient rental ACs but also resolves problems like installation, removal and maintenance. Adding on its value proposition, RentAnAc provides digital AC consultation where it helps its customers find the most reliable cooling equipment for their requirements.
Lastly, extending its AC rental services in the B2B domain, RentAnAc offers commercial cooling solutions to large scale organizations like corporate enterprises, colleges, universities and hotels.
Planning to Join the Online HVAC Equipment Rental Industry?
Different Methods to Build your Online HVAC Equipment Rental Store
In comparison to the past when popular online stores such as Alibaba and Amazon were launched, or when any of the aforementioned HVAC equipment rental stores were founded, it is now much easier to launch an online store in the present. In hindsight, there are three development approaches to build and launch your very own online HVAC equipment rental store.
We have listed the approaches down from the most convenient to the least convenient:
1. Use a Dedicated Equipment Rental Software
Dedicated HVAC equipment rental software are readily available white label solutions that entrepreneurs can use to launch and manage their online stores. We insist on not confusing dedicated equipment rental software with regular eCommerce solutions or software integrations as both of them do not offer full capabilities to conduct rental operations.
For example, many of the popular eCommerce solutions do not provide the functionality to receive rental date inputs or do complex invoicing for rental orders. While the functionality can be added with a third party integration, the platforms still lack necessary features such as rental security management, product inspection, and document verification.
Using a dedicated rental solution brings the maximum convenience because of the following reasons:
Packed with essential rent-centric features that simplify the rental workflow and streamline management

HVAC business owners are only required to add their products and some details to get started 

Dedicated rental software are mostly available at a one time cost

Being self-hosted,

online rental software

provide the maximum levels of security to business owners

In the modern day, many dedicated rental software are fully customizable. This means HVAC business owners can add any custom features in the software to meet any additional requirements.
2. Pay Monthly Subscription for SaaS Solutions
SaaS solutions are also ready-made software but available as a service for which business owners are required to pay on a monthly basis. The majority of SaaS solutions are cloud software, implying a single multi-tenant server is used to host multiple businesses. This increases the security threat for the business owner.
Some benefits of using a SaaS solution are that they are easy to set up and available in multiple templates. To get started, business owners are again only required to upload listings and add some details. This makes SaaS solutions highly convenient.
However, the transaction charges and monthly recurring fees often bring some inconvenience.
– The actual operational costs of SaaS solutions are somewhat arbitrary as many solutions levy transaction charges. For example, 2% transaction charges on $5000 monthly sales mean an additional $100 cost over the stated monthly recurring fees. And this additional cost fluctuates monthly.
– SaaS solutions are often not scalable. They are divided into several subscription packages in such a way that when a business grows, the business owner has to switch to a more expensive package. This is because in every package, there's a limit on the number of transactions, listings, user profiles and admin accounts. To surpass these limits, a business owner has no other option but to move on to a bigger package.
3. Develop the HVAC Rental Store from Scratch
While not a reliable and cost effective solution for many entrepreneurs today, you can also build an HVAC rental store with custom development. This will include two primary software development methodologies, which are agile development and waterfall development.
Agile development allows entrepreneurs to bring changes in the software at any time during the development process. The waterfall method, on the other hand, follows a fixed approach where nothing can be changed once everything is finalized.

Custom development is only recommended to enterprise level businesses and entrepreneurs who want their online store to be built on a very specific technology. It is not suitable for startups and small-to-midsize businesses because of the following reasons:
Highly costly and time consuming

No communities available for help and support

Difficult to develop a fully satisfying solution. Readymade solutions are built over years of trials and errors and this gives them their perfection. The same cannot be said for solutions made via custom development.
Key Features on a Rental Software to Launch Online HVAC Rental Store
Considering the various processes involved in HVAC equipment rental operations, an online store that facilitates rental operations on the internet requires the following features:
Advanced Booking Calendar: A digital calendar to view equipment availability and enter rental dates. The calendar also assists in automating the invoicing of the entire rental order.
Document Verification: The document verification feature allows HVAC business owners to verify customer identity documents directly on the online store. The same can also be used to store ID proofs and address proofs till the end of the rental period or verify legally obliged documents.
Rental Security Management: Rental businesses often charge a rental security from customers. Rental security management features allow HVAC rental business owners to manage the same on their online store. This rental security is collected from customers at the time of checkout and can be used to reimburse any damages or levy late return/late cancellation charges.
Late Return and Late Cancellation Charges: In case of late order cancellations, the business owner has to bear order processing costs. With the help of late cancellation charges and pre-defined cancellation periods, the owner can recover these costs. Similarly, late product returns hamper the order acceptance and fulfillment capacity of the business owner. Thus, the owner can ensure timely returns with late return charges.
Rental Period Extension: The rental period extension feature allows customers to increase their rental duration beforehand to avoid late return charges. To differentiate between rental period extension and late returns, the customer can only extend the rental period online before the end of the actual rental period while considering that the rented equipment is available to rent for additional dates. Any other instances that cannot be categorized under rental extensions or late returns can be handled manually by contacting the business owner.
Rent Plus Sell: Some customers, especially event organizers who require HVAC equipment on a regular basis can decide to purchase the rented equipment. To fulfill such requirements, the online store should also have the option to purchase rented equipment. Also, in any other case, having a feature to sell equipment along with rent is an additional revenue generation source for business owners.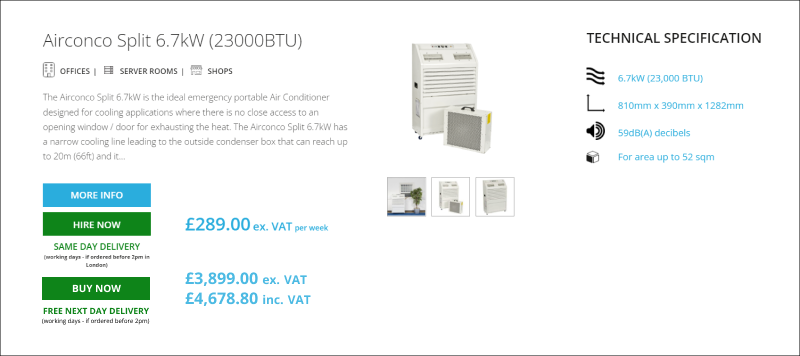 'Rent & Sell' Module on AirConco
Product Inspection: Some rental business software come with a product inspection feature. This feature allows the customer to search the rental equipment for any damages and report them to the business owner. The customer can request for a return, exchange or even begin the rental duration after reporting the damages. In case of no customer input during the product inspection period, the rental duration starts automatically.
Rental Buffer Duration: Similar to product inspection, the HVAC equipment rental store owner can use the rental buffer duration to inspect the returning equipment for any damages and deduct reimbursement. It is only after the completion of this buffer duration that equipment is added back to the inventory.
Product Comparison: The cooling and heating capabilities of HVAC equipment vary for different room sizes, floor levels and weather conditions. For example, an AC unit capable of cooling a large room on the ground floor can fail to cool a small sun-lit room in a penthouse. Thus, to ensure adequate heating or cooling, customers compare the specifications of various HVAC products as per their requirements.
Custom Filters: These are the custom attributes that the business owner can assign to different HVAC categories. For example, tonnage, wattage and cooling capacity for air conditioners. Wattage, power consumption and tip-over protection in room heaters. The product comparison feature uses these custom filters to provide a genuine helpful comparison to customers.
Rental Agreement Management and eSign: To ensure proper and safe usage of the equipment, the HVAC store owner can use rental agreement features to define his own rental terms and conditions. At the time of checkout, customers will be required to agree to these terms and conditions with an eSign option. Some examples of rental terms in HVAC are installation conditions, maintenance conditions, power supply specifications and geofencing.
Rental Add-ons: Rental add-ons are complementary products or services that go along with rental products. These are optional to buy and only displayed at the checkout. They cannot be found in search results. Some examples of rental add-ons in the HVAC industry are window brackets, exhaust hoses, dust covers, cleaning kits, condenser pads, pan tablets, etc.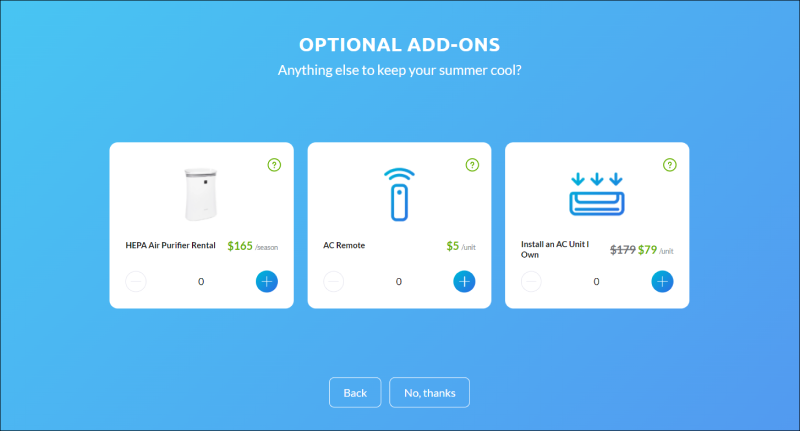 'Rental Add-Ons' Module on RentAnAc
Volume Discounts: HVAC equipment such as oil heaters and water coolers can be required in events and parties in bulk. Thus to target high value customers, volume discounts are important on an online HVAC equipment rental store.
Alerts and Notifications: Alerts and notifications on an HVAC equipment rental platform are used to remind customers of closing dates and rental security refund. 
See Top HVAC Rental Store Features in Action
Conclusion
Automation for any businesses might seem intimidating at the first glance but is a necessary step in the modern day. Automation resonates with compromising efficiency and a much wider customer reach. Thus to simplify the procedure, business owners can gradually automate their business. They can share their requirements with technology experts who can provide them with a reliable solution and also assist in adjusting with the new technology. Interested business owners can also share their requirements with us. Our rental software solution is inclusive of all aforementioned features and can be helpful to you in automating your HVAC equipment rental business. 
FAQs
1. What are the available revenue streams on an online HVAC rental store?
An HVAC rental store offers several revenue streams to business owners including rental fees, service fees, rental add-ons, subscription packages, display advertising, PPC campaigns and more.
2. How long will it take to launch my online HVAC rental store?
The time varies from solution to solution and business requirements. In case if no customizations are required in a ready-made solution, then the launch time can take anywhere between 1 to 3 weeks. In case of customization, this period can extend up to 6 months or even more.
Scratch development process on the other hand is very lengthy and can take anywhere between 6 months to 24 months to develop and set up an online HVAC rental store.
3. Is technical knowledge required to conduct online operations?
When using a dedicated equipment rental software to automate your business, the chances are that technical knowledge is not required to conduct online operations. Majority of dedicated equipment rental software only require basic computer knowledge and that is more than enough to launch your online store.
4. How to market an online HVAC rental store?
Appropriate branding is essential to promote a new online store. After proper branding, the business owner can use digital marketing strategies like search engine optimization (SEO), social media marketing, blogging, guest posting and press releases to market the HVAC rental store.
5. How much does an online rental software cost for my HVAC equipment rental business?
We can only provide an accurate estimate after you have shared your business requirements with our experts. However, speaking generally, the cost varies from solution to solution and if any customizations are required in the software. 
All good rental software without any customizations range between $2500 to $10,000. In case of scratch development, the cost can increase anywhere from 200% to 500%.