Last Updated: 14th Feb, 2022
Undoubtedly, the experiential and adventure activity segment perfectly conveys the idea of more local, adventurous, immersive, and active forms of travel. Nowadays, travelers believe that excursions, attractions, events, and activities make their travel experience better at an emotional level. Long underestimated, experiential travel and adventure activities are now crowned as the next big growth segment. According to a travel and activities report on ResearchAndMarkets.com:
The global market for Tours and Activities Reservations is forecasted to grow at a CAGR of 7.7% during the 2020-2027 period

The segment is estimated to reach US$266.7 Trillion by 2027
In terms of online penetration, the share of adventure business or global in-destination activities segment is still much smaller than others in the industry. It demonstrates that experiential travel and adventure activity booking has a great scope or growth potential for new players and the following points exemplify this statement:
Only a few adventure activity providers have adopted the latest technology (feature-rich marketplace solution, customized mobile apps, etc.).
Still, the activity segment is fragmented.
Major offline companies that are related to experiential travel and adventure activities, until now, paid less attention to digital.
Table of Contents
How is the Experiential Travel and Adventure Activity Segment Changing the Industry?
Evolution in any industry is natural and the same applies in the travel industry. Jamie Wong, founder/CEO of Vayable perfectly describes this scenario in his statement:
"The most inspired types of travel today are those that you would never find in the traditional tourism industry."
Earlier, all the mainstream travel experiences were the same but now experiential travel and adventure activities are giving travelers what they believe is real.
Understanding, evaluating, and adapting to changing travel trends are important for experiential travel and adventure activity booking segment to find out the answers to the following questions:
What is the meaning of authentic travel in the traveler's mind?
How authentic travel is related to experiential travel and adventure activity booking business?
How can activity booking marketers differentiate their product as more experiential?
General Shift of Travelers from Materialism to Experiential
Consumers are asking or looking for packages beyond packaged travel. They want personal fulfillment and more enriched lives through travel activities, experiences & learning. According to Skift, a media company that provides marketing services for the travel industry, "67 percent of opulent or well-to-do travelers would like to spend their money on activities than a nicer hotel. Travelers are going beyond the concept of relaxation, leisure, and traditional sightseeing.
They want to interact with local communities, visit schools, orphanages, museums and perform activities such as Skydiving, Rafting, Rappelling, Sandboarding, Paragliding, etc. Top experiences that travelers are demanding in 2019:
Online travel and Adventure Tourism

Online Travel Discussion

Vacation Rental Booking

Online Bike/Boat Rental

Online activity booking, and more
To learn more about these business opportunities and fulfillment ideas, click here.
How Millennials are Reshaping the Online Experiential Travel and Adventure Activity Booking Segment?
For millennials, experiences and activities mean more than other resources of the place they are traveling. According to a report by iSeatz, Inc., a travel technology company, millennials are most likely to pre-book activities than other age groups. They are willing to spend on activities but not on accommodations. For them, hostels are a more appealing choice when it comes to staying and also it provides them more opportunities to meet like-minded individuals (another sort of experience).
Emerging from the pandemic: The Experiential tourism trend
When the pandemic disrupted normalcy, it changed the way people traveled. This prompted many travelers to choose experiences over a relaxing beach, a fancy hotel, or other amenities. Experiential tourism emerged as the new travel trend as shared by Travel Writer Brittany Varano in an interview with NBC15. From experiencing the great smoky mountains in Tennessee to hiking Devil's lake in Wisconsin, Brittany loved to travel. The pandemic, if anything, pushed her to explore Wisconsin – her home state, and immerse in the beauty. 
"When you get to know a place deeper you know through the culinary aspect through the nature through actually kind of roughing it and to me that's sort of been a little bit more fun than maybe just laying on a beach," Varano said.
While Wisconsin saw a 20% dip in visitors in 2020 as compared to 2019, there was a renewed interest in road trips as shared by Anne Sayers, Acting Secretary for the Wisconsin Department of Tourism. "It's as much about the drive as it is the things you'll do along the way you're going to want to stop and stretch your legs. Take a hike and stop for some of our awesome craft food and drink, take in some cultural arts and historical experiences so really a lot to offer for travelers looking to arrive by a car," Sayers said.
Experiential travel inspires people and connects them with locals and lesser-known places that they otherwise wouldn't have explored. GetYourGuide, Civitatis, Viator, and Tripadvisor are some of the leading brands that help travelers discover/book new experiences worldwide.
Admittedly, the pandemic has been a difficult time for the travel industry and travelers to experience what they love, but this hasn't stopped people from googling their travel ideas online. Unforgettable Travel – a luxury travel operator, collaborated with digital marketing agency SEO Travel to compile a list of the world's most popular bucket-list destinations based upon the average monthly searches globally.
Business Model of Experiential Travel and Adventure Activity Booking Platform
Running an online business effectively requires time, effort, and investment. Depending on the resources available at your disposal, the selection of the right business model can help you optimize the usage of time, effort, and investment. One such business model which requires less effort is an online adventure activity booking marketplace. This business model facilitates the transaction process between the activity host and the activity seeker.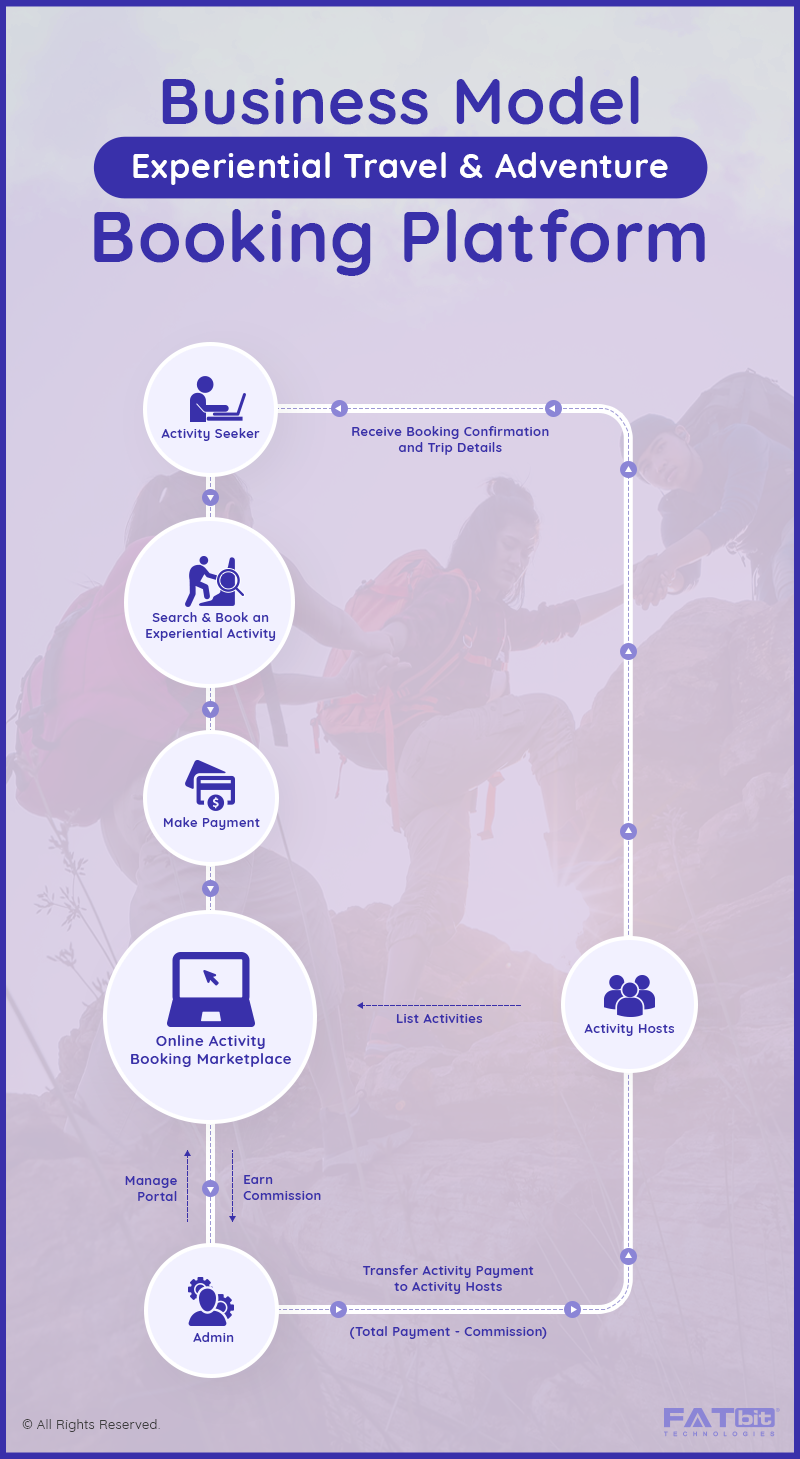 The Future of Adventure Travel
As vaccine rollouts are beginning to ramp up around the world, more countries are opening up their borders for vaccinated tourists. For instance, countries like Nepal and Mexico have already opened their borders to welcome travelers seeking adventure. 
The adventure travel and tourism industry is driven by top market players like Intrepid, G Adventures, Contiki, and Topdeck. These leaders understand the importance of experiential travel and are deeply invested in the sector. For instance, an article published on Contriki shares a glimpse of the hidden London and a walking tour led by the city's homeless community. Targeting the experiential travelers and visitors, this experience is part of a "London to Berlin" tour package, offered by Contiki. Similarly, Topdeck inspires travelers to experience an undiscovered Europe with its article on 7 unmissable experiences in Georgia, Europe.

Yet, the trend for the foreseeable period suggests that the future of adventure tourism is:
Traveling in small groups or with a few friends either on their own or in a bubble

To prioritize health and safety when traveling. This includes pre-departure Covid-tests, mask-wearing, digital sales, contactless check-in process, and more.

Sustainable. According to the United Nations Climate Change Conference (COP26) held in 2021, countries around the world were asked to secure global net-zero emissions by mid-century to ensure a sustainable future. Hence, reducing carbon footprint, supporting local communities, and improving the impact journeys have on the planet will remain a travel trend for the future as well.

Experiencing the wilderness and indulging in activities such as camping, hiking, fishing, etc. For instance, according to a recent outdoor participation report from the Outdoor Foundation, in comparison to 2019, there were 8.1 million more people who went hiking, 7.9 million more people went camping, and 3.4 million more people participated in freshwater fishing in the US.
There is no doubt that the experiential travel and adventure activity segment is gaining momentum as highlighted in the compiled list of most searched bucket-list destinations. Hence, starting your online adventure activity booking business gives you an advantage over your competitors, but you need an effective go-to-market (GTM) strategy that helps you capture the market segment and get more bookings once the pandemic restrictions ease worldwide.
How to Start an Experiential Travel and Adventure Activity Booking Website?
The experiential travel and adventure activity website can be designed around two different business models – single vendor and multi-vendor. In a single vendor, you are responsible for marketing your online business and generating enough bookings to sustain your business.
You also have to provide an optimal end-user experience to activity seekers who booked activities using your website. In multi-vendor, your sole responsibility is to market your online business and focus on adding more activity hosts.
Carefully consider the time and resources you have and select a business model. To simplify the business model selection process, try to answer the following questions:
How much investment will go into developing an experiential travel and adventure activity booking website?

How can I allocate time to run an online business and ensure the optimal user experience of activity seeker?

Are there market-ready solutions available to support your preferred business model?
Depending on your answers, you will get a clear idea of the available resources and business model. 
Building an adventure activity booking website with advanced features requires a thorough analysis of the potential market and knowledge of the emerging eCommerce trends. For instance, most adventure activity booking websites such as Peek, Vayable, and Zozi list experiences curated by people. This is one of the biggest selling points among tourists and explorers. 
While any solution can be developed from scratch to support the preferred business model, solutions like FunAway, an experiential travel activities platform, tend to save time and improve your market readiness.
Choose FunAway – an experiential travel activity booking software
3 Steps to Grow your Adventure Activity Booking Website
1. Identify the Right Channels to Connect with Target Audience
To improve the return on your investment, you need to identify channels that are relevant for your online business. But, how to identify such channels? To enable you to start your research, here are a few examples with the relevant target audience – TripAdvisor, Instagram, Online Travel Agents (OTA), Partner networks like TrekkSoft (helps to connect with activity service providers), Hotels, and more.
2. Increase the Number of Bookings by Generating Interest
Engaging your target audience is not an easy one-time task. To generate interest, you have to create a sales funnel with three fundamental stages such as awareness, consideration, and decision. The next step involves planning your marketing assets according to the funnel stage. For example – In the decision stage, direct emails can be used to nurture a relationship along with call-to-action to book a travel activity.
3. Invest in the right marketing approach to achieve goals
A well-informed marketing approach with realistic and clearly-defined measurable objectives determine how your travel business will run. It is the fundamental step towards strategic planning and growth. To realize your business goals and build an authentic relationship with customers, utilize the following marketing trends for your travel website:
Search Engine Optimization (SEO) to organically improve your website ranking on search engine result pages (SERPs) and increase your audience reach.

Social Media Marketing to spread awareness, build trust, and connect with potential customers looking for travel packages.

Set up a robust affiliate program and reach out to potential affiliate marketers to fuel your business growth.

Target your audience by age, interest, geographic location, and more with paid advertisements. A powerful marketing approach to skyrocket your conversions.

Connect with the influencers to reach a sizeable audience quickly. These influencers doesn't need to have millions of followers. Micro-influencers with tens of thousands or hundreds of thousands of followers will work. 
Working tirelessly on your travel brand and focusing on the defined marketing strategies will improve your sales results. 
Conclusion
While the travel industry operations have been subdued since the start of the pandemic either due to lockdowns, travel bans, or local restrictions; it is still better equipped to recover from the losses. This is because the industry was already undergoing digital transformation in the last decade prior to the pandemic. Consider this, according to a survey conducted in 2019 on British adults by Kayak – an online travel agency, the following findings were discovered:
Nearly half of surveyed adults had never visited a travel agency in 10 years

1/5th of them had never visited one at all

Yet the majority of them have used hundreds of online booking applications
There has been a drastic shift in consumer behavior and spending habits since the pandemic began and this has impacted the travel industry. For instance, a vast majority of experiential and adventure activities, that were sold offline either through travel agents or tour operators, are now offered via digital channels. The trends suggest that the upcoming years will prove more prominent for entrepreneurs who want to start an online business in the experiential travel and adventure activity segment.
About FunAway
FunAway is a self-hosted online platform that delivers a readymade experiential Travel and Adventure Activity Booking marketplace. The platform comes with an intuitive user interface, multiple payment gateways, commission management, and all essential eCommerce features. FunAway is fully customizable to launch a personalized travel activity booking website that meets your business requirements. 
Looking for a personalized adventure travel booking website?