Undoubtedly, the experiential and adventure activity segment perfectly conveys the idea of more local, adventurous, immersive, and active forms of travel. Nowadays, travelers believe that excursions, attractions, events, and activities make their travel experience better at an emotional level. Long underestimated, experiential travel and adventure activities are now crowned as the next big growth segment. According to the Phocuswright, a travel market research company:
The activities segment is growing even faster than the total travel market.
The segment is estimated to grow $183 B by 2020.
In terms of online penetration, the share of adventure business or global in-destination activities segment is still much smaller than others in the industry. It demonstrates that experiential travel and adventure activity booking has a great scope or growth potential for new players and the following points exemplify this statement:
Only a few adventure activity providers have adopted the latest technology (feature-rich marketplace solution, customized mobile apps, etc.).
Still, the activity segment is fragmented.
Major offline companies that are related to experiential travel and adventure activities, until now, paid less attention to digital.
How is the Experiential Travel and Adventure Activity Segment Changing the Industry?
Evolution in any industry is natural and the same applies in the travel industry. Jamie Wong, founder/CEO of Vayable perfectly describes this scenario in his statement:
"The most inspired types of travel today are those that you would never find in the traditional tourism industry."
Earlier, all the mainstream travel experiences were the same but now experiential travel and adventure activities are giving travelers what they believe is real.
Understanding, evaluating, and adapting to changing travel trends are important for experiential travel and adventure activity booking segment to find out the answers to the following questions:
What is the meaning of authentic travel in the traveler's mind?
How authentic travel is related to experiential travel and adventure activity booking business?
How can activity booking marketers differentiate their product as more experiential?
General Shift of Travelers from Materialism to Experiential
Consumers are asking or looking for packages beyond packaged travel. They want personal fulfillment and more enriched lives through travel activities, experiences & learning. According to Skift, a media company that provides marketing services for the travel industry, "67 percent of opulent or well-to-do travelers would like to spend their money on activities than a nicer hotel. Travelers are going beyond the concept of relaxation, leisure, and traditional sightseeing.
They want to interact with local communities, visits schools, orphanages, museums and perform activities such as Skydiving, Rafting, Rappelling, Sandboarding, Paragliding, etc. Top experiences that travelers are demanding in 2019:
Adventure Tours
Ecological Tours
Local Experiences
History and Culture
Multi-day tours and Activities
How Millennials are Reshaping the Online Experiential Travel and Adventure Activity Booking Segment?
For millennials, experiences and activities mean more than other resources of the place they are traveling. According to a report by iSeatz, Inc., a travel technology company, millennials are most likely to pre-book activities than other age groups. They are willing to spend on activities but not on accommodations. For them, hostels are a more appealing choice when it comes to staying and also it provides them more opportunities to meet like-minded individuals (another sort of experience).
There is no doubt that the experiential travel and adventure activity segment is gaining momentum as the demand rises globally. Starting your online adventure activity booking business gives you an advantage over your competitors but you need an effective go-to-market (GTM) strategy that helps you get more bookings.
Strategy to Start and Grow an Adventure Activity Booking Website
Identify the Right Channels to Connect with Target Audience
To improve the return on your investment, you need to identify channels that are relevant for your online business. But, how to identify such channels? To enable you to start your research, here are a few examples with the relevant target audience – TripAdvisor, Instagram, Online Travel Agents (OTA), Partner network like TrekkSoft (helps to connect with activity service providers), Hotels, and more.
Increase the Number of Bookings by Generating Interest
Engaging your target audience is not an easy one-time task. To generate interest, you have to create a sales funnel with three fundamental stages such as awareness, consideration, and decision. Next step involves planning your marketing assets according to the funnel stage. For example – In the decision stage, direct emails can be used to nurture a relationship along with call-to-action to book a travel activity.
Business Model of Experiential Travel and Adventure Activity Booking Platform
Running an online business effectively requires time, effort, and investment. Depending on the resources available at your disposal, selection of the right business model can help you optimize the usage of time, effort, and investment. One such business model which requires less effort is an online adventure activity booking marketplace. This business model facilitates the transaction process between the activity host and activity seeker.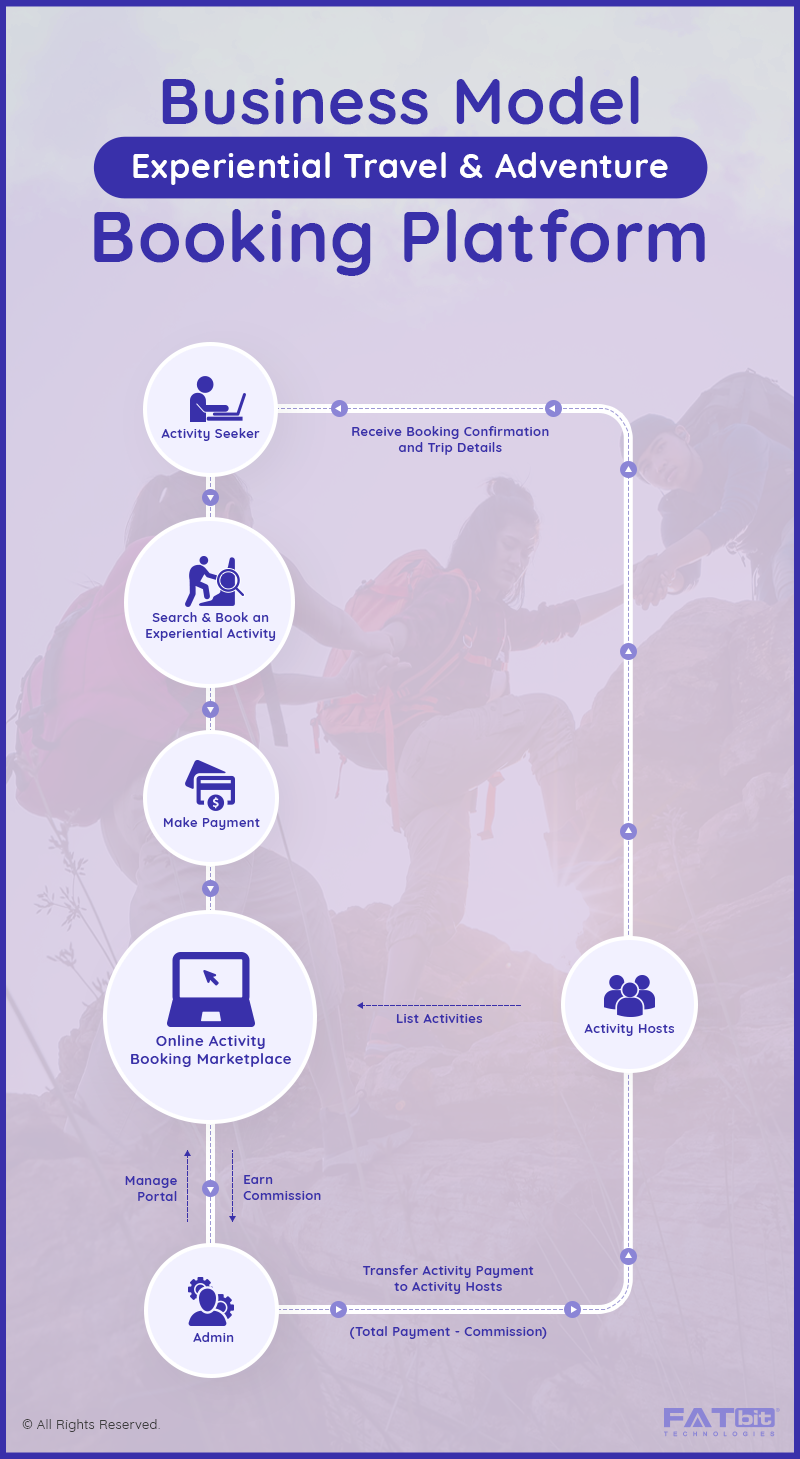 How to Start an Experiential Travel and Adventure Activity Booking Website?
The experiential travel and adventure activity website can be designed around two different business models – single vendor and multi-vendor. In a single vendor, you are responsible for marketing your online business and generate enough bookings to sustain your business.
You also have to provide an optimal end-user experience to activity seekers who booked activities using your website. In multi-vendor, your sole responsibility is to market your online business and focus on adding more activity hosts.
Carefully consider the time and resources you have and select a business model. To simplify the business model selection process, try to answer the following questions:
How much investment will go into developing an experiential travel and adventure activity booking website?
How can I allocate time to run an online business and ensure optimal user experience of activity seeker?
Are there market-ready solutions available to support your preferred business model?
Depending on your answers, you will get a clear idea of the available resources and business model. While any solution can be developed from scratch to support the preferred business model, solution like FunAway, an experiential travel activities platform, tend to save time and improve your market-readiness.
Well-Researched and Market-Ready Platform to Start your Activity Booking Website.
Conclusion
A vast majority of experiential and adventure activities are still sold offline either through travel agents or tour operators. The trends suggest that the upcoming years will prove more prominent for entrepreneurs who want to start an online business in experiential travel and adventure activity segment.