There is no dearth of clothing stores on the internet and women love them all. But when it comes to shopping jewelry online, the options are quite limited. This, however, has changed in the past few years as entrepreneurs have come up with online stores that are strictly designed for buying jewelry.
Analysts at FATbit think that online jewelry stores deserve more recognition for their growth potential. This is why we did an analysis of the leading jewelry stores. Our findings are for entrepreneurs looking for insights on how to start an online jewelry shopping store.
E-commerce has become a direct conduit to the consumers. As of 2018, there were a total of 25.9 million digital buyers in the United States and the number is expected to reach 307 million buyers in 2023. According to a Statista study, categories like clothing and shoes are topping the list for most purchased items online. Categories like food, beverages and accessories are also among the fastest growing ecommerce categories.
Growth Stats and Major Online Jewelry Shopping Trends
With the acceleration in digital commerce, more and more tech-savvy customers are turning to online shopping. According to an industry analysis, one of the major factors responsible for the increasing online jewelry market share is the convenience provided by online retailers. Benefits like easy product assortment, return policies, and cash on delivery (COD) are influencing customers to buy jewelry online. Below are some facts which validate the growth of online jewelry market and henceforth introduction of increasing number of online jewelry shopping websites:
The online jewelry market is expected to capture 10% of the market share by 2020.
According to Mckinsey, online jewelry sales are only 4 to 5 percent of the market and is expected to improve in coming years.
Small businesses and startups are major disruptors in the ecommerce industry with their innovative ways of addressing the pain areas. In our research, we also came across few online jewelry shopping industry trends, such as:
View On Demand
In order to align online shopping experience with brick-and-mortar experience, online jewelry shopping websites are adopting the try-at-home model. Customers can get the best of both worlds, as they can select the jewelry online and see it in person, feel and try it before making the final purchase.
Social Commerce
In today's complex digital landscape it is very important for the businesses to map out the customer journeys across various channels, devices and platforms. Social commerce has become a mainstream sales channel and is driving a larger portion of the online sales. One of the latest examples is Instagram's shoppable posts which allow users to purchase the product directly from the post.
Now let's look at overview of online jewelry marketplace business model, big industry players, and most important website features:
Overview of Jewelry eCommerce Store Business Model
As already stated, the online jewelry industry presents strong growth numbers. Like most online businesses that deal with physical products, these platforms get the benefit of low overheads and low inventory costs. While some opt for in-house manufacturing, others opt to source their products. An online jewelry shopping store generates profits like any other company dealing in finished products; that is, by keeping a small portion of profit on every sale. The following process diagram explains the working of a Jewelry eCommerce Store in more detail.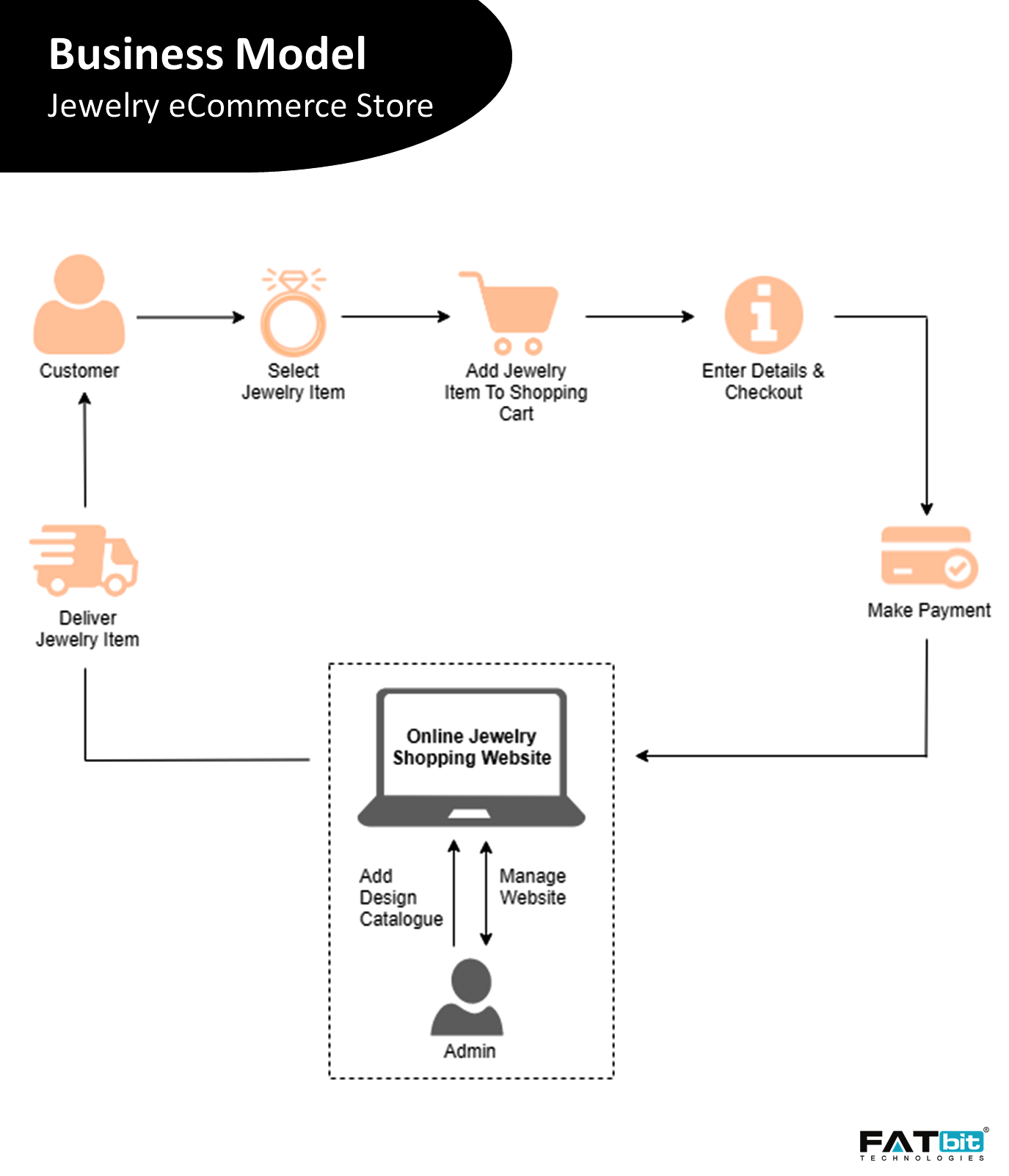 Marketing Strategy Tips to Sell Jewelry Online
Be active on social media platforms such as Facebook, Instagram, and Pinterest where there are active communities of jewelry enthusiasts. Regularly share offers and previews of collections with this community.
Encourage customers to rate products and write reviews. This helps in building credibility with potential customers.
Top Market Players
There are various online jewelry marketplaces in the world catering to different geographical regions. Here are some of the most popular ones:
Folksy
Bluestone
Astley Clarke
Caratlane
Now that we are familiar with the names of leading online jewelry sellers, let's have a look at the website features that help them sell online.
Jewelry Shopping Website and Mobile App Features
It is given that you have to be very careful while designing the experience. But your website needs more than just good design to attract and retain buyers. There are a lot of backend features like inventory tracking and real-time shipping costs that can help save your time and efforts. Here are some features that require special attention:
Homepage
Design an engaging homepage by focusing on product categories and trusted factors. Your online store should be easy to navigate so that users can find the ornaments they are looking for. Let's discuss the most noticeable homepage aspects to launch a better store:
Website Banner
Opt for a carousel banner to share USP, special offers, and other important details. The message on images need to be clear and complemented with a prominent call to action. The banner must entice visitors to buy products by sharing discount & collection related information.
Top Bar
The website should focus on providing users with precise information at relevant locations. The top bar must be used to share critical links and details. It must show:
SignUp/Login
Menu Bar
Customer care number
Latest offers
My Account
Wishlist
Wishlist helps buyers save products for future reference. It can also emerge as a popup when someone clicks on the wishlist button. This is a great way to let shoppers view recently added products without diverting to another page.
Search
Product discovery is an important part of ecommerce portals. Auto-suggest feature in search can make product discovery easier. Being an essential aspect, it must be placed in the first fold of homepage. Your search feature must also bring filters to make the search process more refined. Also provide a powerful search tool with filters for buyers to best match the product as per the specific needs of the consumers. These include:
Shape
Cut
Carat
Clarity
Color
Price
Advanced criteria where buyers can further filter down the products can also be used. These can be:
Fluorescence
Polish
Symmetry
Certification
Depth
Most Trending
In order to succeed in a highly competitive market, you need to put the spotlight on features that give you an edge over other players. This should be done by showcasing the unique features like:
Ready to ship
Try at home
Bestsellers
In order to gain greater customer trust and loyalty, Try At Home feature can be of great benefit.
Social Media Buttons
Major benefit of social share buttons is to enhance the cross channel promotion. The only concern is to place these social sharing buttons judiciously. Give special attention to the social aspect of online retail. For shoppers busy on social media platforms, put in a special section on homepage to share:
Presence on Instagram
Media coverage
Facebook trends
Chat Functionality
Adding a live chat feature on your website helps users interact easily with your brand and find answers to queries. Keep the process of starting a chat simple. Don't seek too much information to initiate a communication. Integrating a chat functionality means having a dedicated team to answer queries around the clock. So, this is something you should go ahead with caution.
User Reviews
Positive reviews play a great role in motivating first-time buyers make a purchase decision. So adding user reviews can help increase conversion rate. We highly recommend this for your jewelry website.
Create your Jewelry
For consumers who want to customize their ring, earring, or anything else, provide an interactive tool that can be operated with ease. There are various filters based on which customization can be done:
Setting of the ring
Type of diamond
Type of metal
Price index
Product Pages
Product pages are critical for every ecommerce store and cannot be compromised in any way. Raise the bar of your product pages by including:
360 degree view of the product
Product name with description
Product Price
Add to wishlist
Product Overview
Detail Information
Certification Information
Payment options details
Selection Filters
Make the filters in a precise way so that the buyer is able to find relevant product without spending too much time. After selecting the particular category of jewelry, users must be able to filter on the basis of:
Price
Product type
Metal color
Purity
Material
Collections
Gemstone
Style
Occasion
Shipping
Gemstone color
Size
Gender
Try@home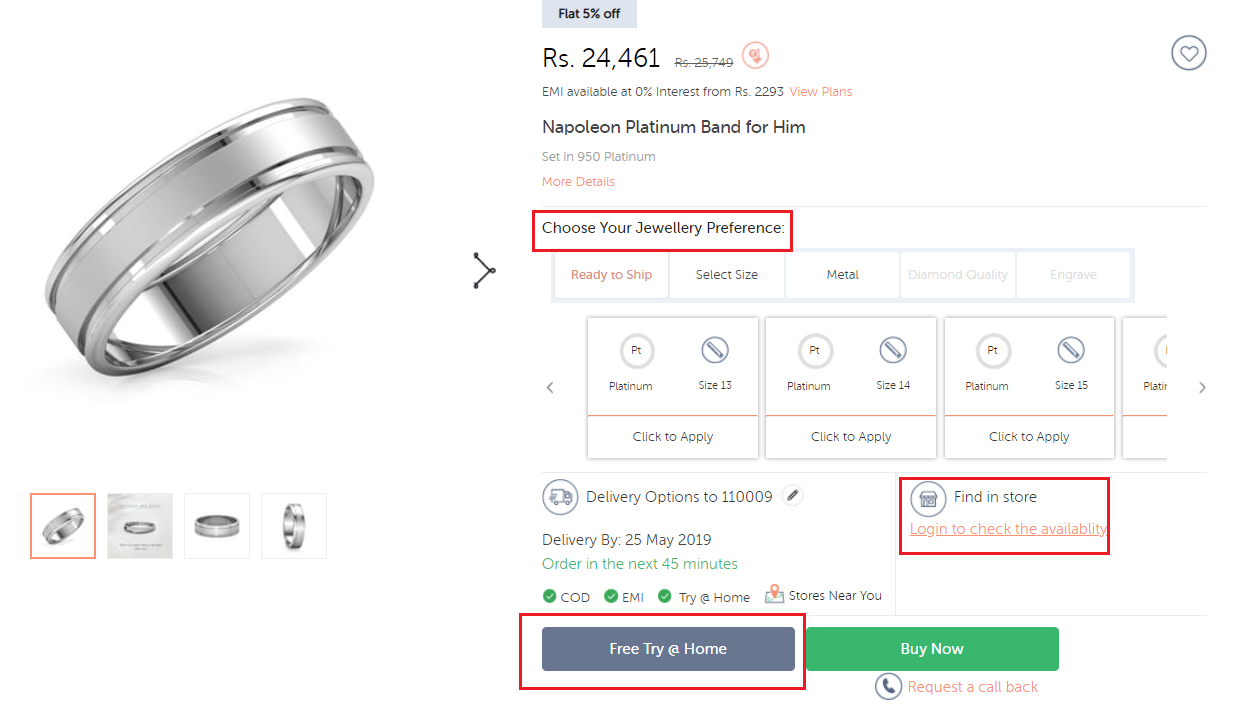 Gift Finder
Choosing a gift can be a time-consuming process. Simplify the task for jewelry buyers by offering gift search functionality. Or gifts can be categorized on the basis of different occasions like:
For partners
Last Minutes Gifts
Personalized Jewelry
Price based Gifts
Gifts for relatives
Gifts for friends
All the major industry players like CaratLane and Wolf & Badger offer dedicated gifts section.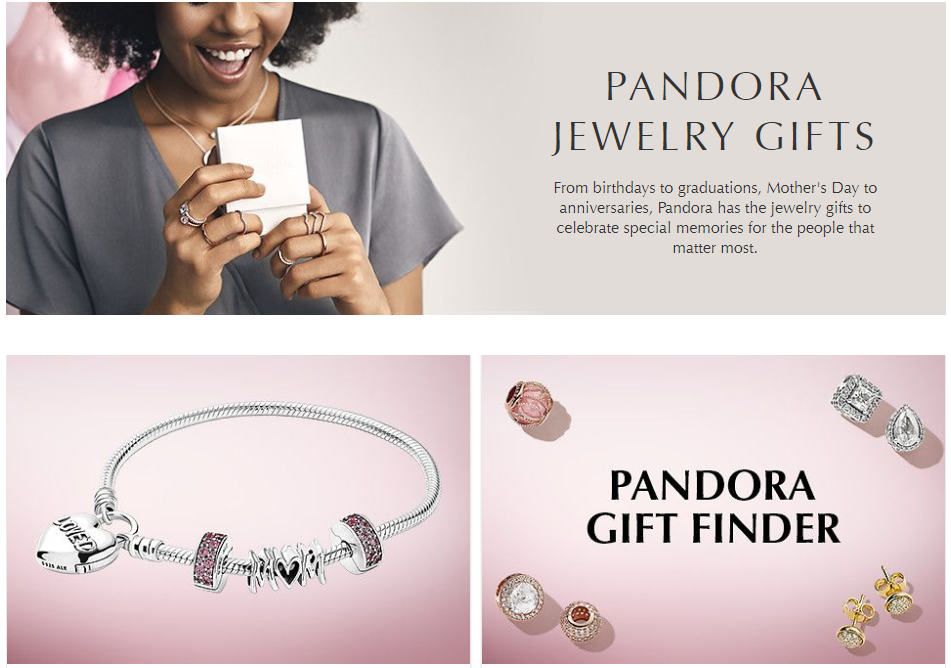 Offers
Most e-commerce players entice the buyers by giving offers and discounts. Bring initial buyers to your store by deploying some of the following strategies:
Exchange Offer – Offer exchange if a customer wants to buy or exchange their products. This will help you make shoppers stay with you.
Certified Jewelry– Give buyers that promise of certified jewelry and they can rely on.
Login/Signup
Signup and login process should be simplified so that more buyers register with you. Work with the following points:
Use popup to handle both
Social media logins
Registration process needs to be quick and based on details like: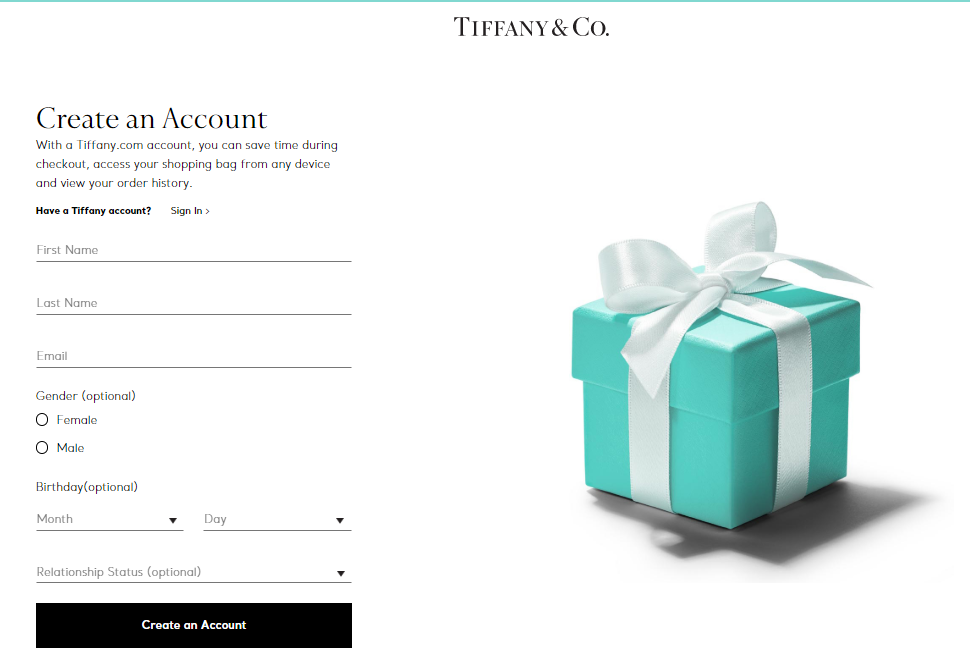 In order to generate maximum signups, the steps involved in signups can be minimized. However, just like the above example of Tiffany & Co. you can keep also additional fields (like birthdays, relationship status) which can be optional for creating an account.
Checkout Process
Make 'add to cart' button prominent on all the pages. The checkout process must include critical elements like:
Ability to change the quantity
Selecting shipping options
Payment options
Divide the checkout process into small steps rather than displaying a lengthy form to the buyer. This improves conversions and reduces cart abandonment.
Multicurrency and Multilingual Functionality
To enable your business to have a diverse user base it is important to offer information on your website in a language the user speaks. The multicurrency feature is equally beneficial as it would cut down the hassle of converting the currency units.
Backend Features of an Online Jewelry Shopping Website
Reporting and Analytics
In order to monitor the store's performance and take further actions based on facts and figures, reporting and analytics feature is a must for any online jewelry store. It helps a business to respond to the market demands in a more planned way and make a well-informed decision. The inbuilt analytics helps to keep a check on:
Visitor Statistics
Sales Statistics
Traffic Analytics
And more.
Product Review Management
Like any other ecommerce website, user reviews are equally important in case of an online jewelry shopping store. As jewelry is a luxury commodity, customers usually prefer it to buy after reading the customer reviews to make a more informed decision. Hence, the product review management feature helps to solicit and highlight reviews.
Payment Features
Availability of multiple payment options is one of the key reasons why ecommerce shopping has come to the forefront. In order to secure a larger customer base, user-friendly and safe payment options are a must for any online ecommerce store.
According to Statista, eWallet payments have accounted for the maximum percentage i.e is 36% of online transaction volume worldwide. To ensure safe digital transactions, integrate your website with payment gateways. Some of the most popular gateways are listed below:
Net
Paypal
CCAvenue
RazorPay
Amazon
Stripe
2checkout etc.
Shipping Management
Order fulfillment is another crucial step for scaling an online business. It involves the complete process of receiving, processing and delivering the products to end customers.
It is imperative to integrate preferred shipping APIs to streamline the process of shipping and fulfillment. Enjoy benefits like managing orders & shipments, creating shipping labels and retrieving the shipping rates.
Final Verdict
If you are planning to start an online jewelry store, then you cannot afford to miss out on listed website features. Make your prospects brighter by incorporating the features suggested by FATbit analysts in your online jewelry shopping store.
Discuss your website requirements with UX designers and developers to launch a successful online jewelry store. Or choose a system that includes all the features listed in the above post. Whatever way you choose, settle for nothing but the best for your online jewelry selling venture.