Legal tasks can be daunting, and given the difficulty in finding a reliable attorney, the job becomes even more formidable. But thanks to online lawyer directories like Avvo, RocketLawyers, & LawTrades, this difficult task has been made ridiculously simple.
In the US, today almost every licensed lawyer is registered with one or more of the above-mentioned online lawyer directories. And according to stats, millions of people use these websites to find lawyers or take other legal help every month.
Such a promising business idea couldn't have gone unnoticed for long from FATbit's keen eyes. So, we did an exhaustive study of its business models, website features, and came up with this post that explains how an advanced online lawyer directory should be made.
Let's begin with its business model.
Business Model
Basically, these portals entertain two type of audience – lawyers & clients. For both type of audience, there is a different set of services.
For clients, these websites maintain a comprehensive directory of lawyers from different legal departments, and empower them with information like practice area, ratings, client reviews, peer endorsement, contact information, etc. to help them make the right choice. These portals also offer an online database of legal questions-answers provided by well-qualified lawyers.
Other than that, clients also get a paid service through which they can take instant help from a registered lawyer over the phone.
And following are the services you can offer lawyers to help them establish a better practice through your website:
Lawyer Profile: Through their profile, lawyers can showcase their practice, experience, and achievements to attract more clients
Legal Q&A: By providing answers to questions asked by clients on the Q&A forum, attorneys can earn contributor points, which can them get their profile featured across the website
Professional Websites: A subscription-based service that offers lawyers a professional website of their own, which is managed by you and customized as per lawyers' needs and design taste
On-site Promotion: Another subscription-based service that lets lawyers to get featured across the website and other lawyers' profiles for certain practice areas.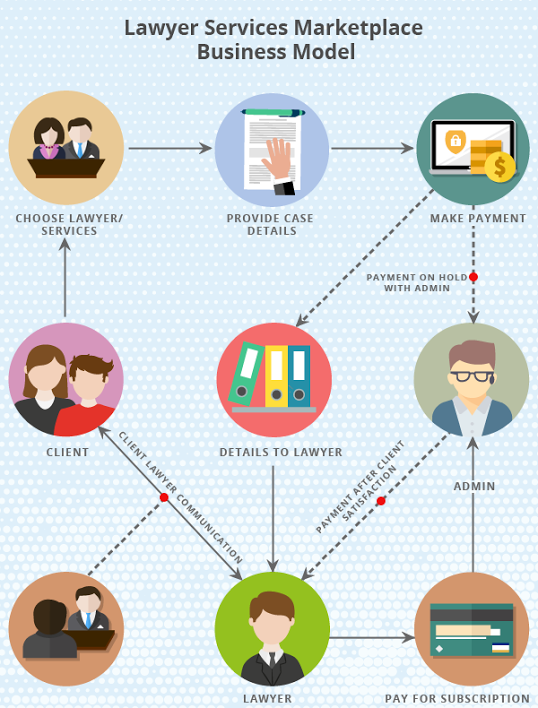 Now that we have covered online lawyer directories from the business end, let's move forward and learn about what website features we require to build an advanced online lawyer search directory script.
Website Features (That an Advanced Clone Script Must Have)
Website's prime target audience is obviously the clients. Therefore, the website homepage must highlight what your business offers to clients. A search tool box for lawyer search in the banner area is a good choice. Other than that, you should provide quick links to instant lawyer help option and to the Q&A section.
You can use the below-the-fold section to explain how things work on your website, as  well as to list services to lawyers. In the footer section, put quick links to content based pages, most popular legal topics, and for searching lawyers by most popular practice area, by city, and states.
Now, let's get to know in details about different services you can offer to clients through your online lawyer directory.
Features for Clients
Flow Process for Booking Legal Advise Online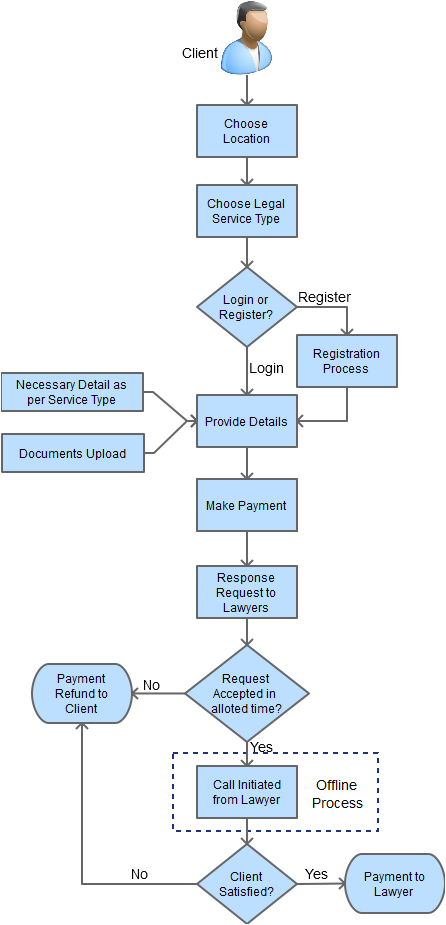 Lawyer Directory (Find a Lawyer)
From UX to functionality, you need to put some good efforts in building this feature. The search tool box must have following two input fields:
Apart from this, you can add value to your platform by including following script features around the search tool box:
Quick links to search lawyer by most popular practice areas, cities, and states
A detailed guide on how to hire a lawyer using Avvo
Details regarding payment options
Standard attorney fee structure
General tips on hiring a lawyer
As a client makes the lawyer search, the search results should come up with following details and options:
Lawyer profiles with brief introduction, reviews, and ratings
Filter results by neighborhoods, ratings, and languages
Sort results by name, rating, and reviews
Lawyers' location in map view
Also, a description of that legal topic along with services provided by lawyers under it.
Lawyer Profile
To  make things look neat, you can divide the information on lawyer profile into several section. For instance one section for basic & contact information, one for practice area, one for rating/reviews and so on.
In addition to  that, remember to include following fields on the lawyer profile page:
Peer Endorsement
Career achievements
Contribution to the Q&A section
Q&A
The Q&A section should have following options:
Ask a legal question and get free answer from a lawyer
Browse the existing database of answers
There should be a dedicated search tool for the Q&A database, that should also allow clients to make search based on legal category & location.
Listed categories can have further subcategories (and subcategories, further sub-subcategories) depending on the depth of the legal topic in hand.
Every asked question will have its own webpage, which should offer clients following features:
Comment back to attorney's answer
Mark the answer as helpful
Flag the answer, if inappropriate
Save the question thread to profile under 'Saved Advice' section (featured later)
Quick links to related topics
And an option to get advice on the matter through the instant advice service
Sign up & Client Profile
In order to make sure that visitors get through the registration process, you need to present a fine specimen of a good user experience. The signup page should clearly tell all the features that clients are going to get by registering on the site. Some of these highlighted features can be:
Post reviews
Save questions and articles
Get notified when your question is answered
There should be dedicated tabs in the user profile for these highlighted services. And of course, clients should be allowed to sign up either email or a social media account.
Looking for the right features and design for your unique website?
Ask UX experts!
Apart from these, the website should also run a blog for clients ( and a separate blog for lawyers). Quick links to both these blogs should be featured in the footer section.
Now, let's discuss the features you need to offer to lawyers.
Features for Lawyers
Flow Process for Claiming Profile from lawyer Directory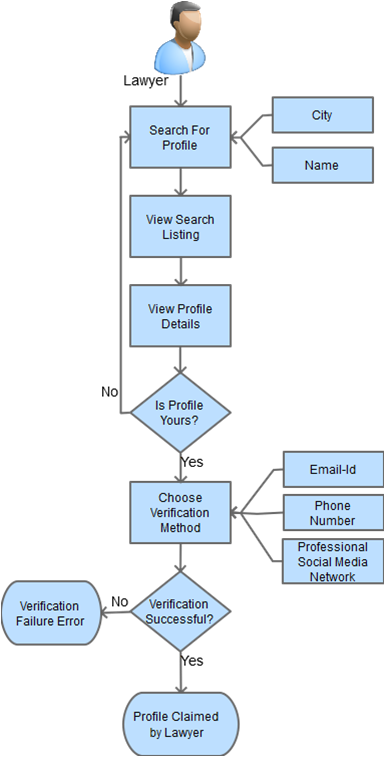 One hand won't clap! That's why you need to put equal efforts in making your platform useful for lawyers as well. Apart from the services mentioned in the business model, you should also offer lawyers following:
Support: A section that features a comprehensive list of FAQs, dedicated to lawyers' queries about the website
Blog: As just mentioned above, there should be a dedicated blog for lawyers to help them out in taking their practice to the next level
Lawyer Profile
To leverage all that your lawyer directory has to offer, lawyers, of course, have to have a profile. As the website owner, initially, you need to curate the lawyer directory yourself. Therefore, the only way for lawyers to have a profile on the website is to claim their existing profile.
The option should be provided on the sign up page for lawyer, and the process should look like this for lawyers:
Make a search with name and location
Identify profile from a bunch of results
Claim the profile using email, LinkedIn, or Facebook account
After claiming the profile, lawyers should be able to edit it to make it look more attractive to clients and choose various services provided by the website to boost their chances of getting clients.
Now that we have fetched all the essential website features for building an online lawyer directory, let's discuss some value-added services that can make your website more valuable.
Legal Document Creation
Offering this service makes perfect sense since most people with no experience of legal processes get baffled in creating legal documents.
Workplace Legal Packages for Corporates
This service lets employers help out their employees dealing with legal issues, which ultimately allows them to keep the corporation's production level maintained.
Lawyer Verification & Background Check
The reliability of lawyers is a big concern among clients. To address this concern, you can offer lawyer verification & extensive background check on lawyers.
News Section
Run a news section which covers the latest news for different legal topics. This feature will give your target audience an extra reason to visit the website time and again.
Some Focus Areas to become Successful
Have a complete directory of lawyers for lawyers whether they are associated with you or not. Directory Listing drives traffic and customer on your website.
Quick response time for clients. If customer is paying for a service, service should be quick.
Select Lawyers Wisely: Lawyers are in need to be chosen wisely as clients are paying for consultation services and lawyer is company's main face.
Paid services to Lawyers: These kind of portal generate a major chunk of revenue from paid services to lawyers by providing marketing tools, websites etc. Attractive products offering will help them grow their business and yours also.
To entrepreneurs who are keen to build an online lawyer search directory, we recommend that they act upon all the above-mentioned suggestions for evolving a superior clone script. Many of the features discussed in this post can be considered while developing an online directory of professionals of any other industry, for instance, a doctor or hospital directory. Get in touch with us for additional insights. We would love to help with design and technical details.
Wondering about the cost of building a online lawyer search platform?
Ask Experts