The past decade has been marked by technological innovations and disruptions across traditional markets and their business models. The rise of eCommerce together with the rental economy, set off first in the B2C domain, is steadily gaining currency across B2B industries as well. This blog is dedicated to understanding the implications of rental eCommerce in one such B2B industry – Dumpsters. We'll be taking a look at dumpster's history, mechanical innovations in recent years, and their overall business outlook. We'll then move on to study the role that dumpster rental software can play in effective management of the rental businesses.
Table of Contents
Brief History of Dumpsters
The history of Dumpsters goes back to 1935, when George Roby Dempster, a veteran construction worker, with great knowledge about machinery, came up with an efficient and a clinical way to address the shoddy waste management issue. He introduced the first-ever portable bin, the Dempster-Dumpster, which could be lifted and dropped off a truck. George Dempster pitched his invention to construction companies and residential areas. As he got the nod and the funds, the manufacturing of dumpsters took off at an industrial pace.
We can look back and be certain to mark that brief period as a watershed moment in the history of waste management. The first seeds of the dumpster rental market were planted. Today, the market is estimated to be valued at $489.7m. It's further expected to grow at an annual rate of 5% during 2021-2027.
Causes of Surge in Demand & Global Dumpster Rental Market Overview
Urbanization & Rapid Economic Growth
It's very important to establish that the demand for dumpster rental market swings to the tune of the construction sector. Major economic powerhouses like China, USA, France and Germany, which also happen to be the manufacturing hubs of the world, tend to generate a significant amount of global hazardous waste. This in turn creates a positive demand for waste management services, and by extension for the global dumpster rental market. Dumpsters' wider adoption is also down to a combination of benefits offered by them in the form of safety, affordability, convenience and sustainability.
Regional Outlook
On the global stage, North America holds the biggest market share in the global dumpster rental market. Government regulations and initiatives directed at increasing awareness for waste management have further boosted the dumpster rental growth in this region.
The Asia-Pacific region spurred by rapid urbanization and favorable government regulation for waste management is anticipated to fuel the dumpster rental market growth in the coming years. A surge in construction activities to meet the growing infrastructure needs of a growing population across the emerging economics of Asia Pacific is quite evident. This will also drive up the demand for the dumpster rental market in the region.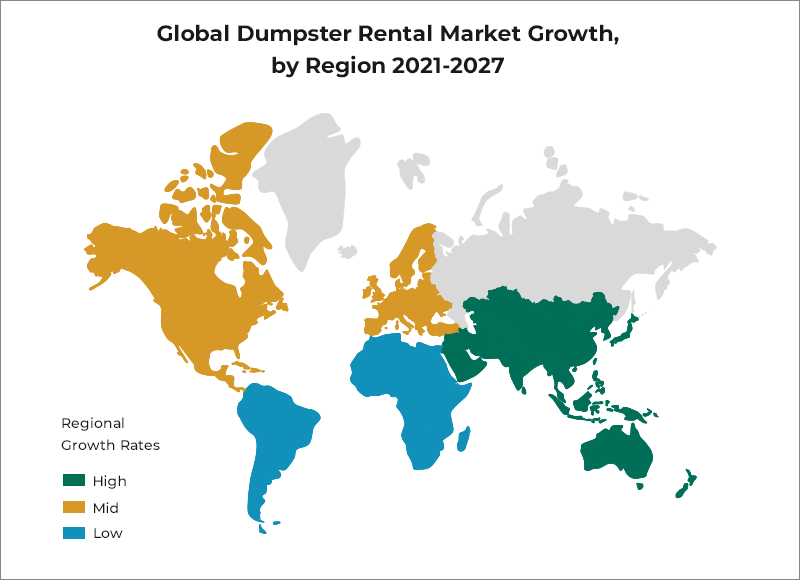 Source: OMR Global
Market Segments – Types & Applications
The segmentation of the dumpster rental market is done along their types and applications. In the type category, the market is sub-segmented into hourly, daily, monthly, quarterly and annual rental. Presently, the annual rental, owing to its low-cost of hiring, holds the most dominant share in the dumpster rental market.
In the application segment, we see the market is divided into residential, industrial and commercial segments. Here, industries tend to be the major application area for dumpster rental. This comprises waste generated from pharmaceutical, manufacturing and processing industries, for instance, chemical and power plants, food processing industries, cement factories, petroleum, and textile industries. A high density of waste generated by these industries and the easy availability of dumpster rental is responsible for the higher share of this market segment.

Source: OMR Global
Market Players Outlook
The most notable players contributing to the growth and expansion of the dumpster rental market include Grime Time, Pronto Waste Service Inc. Republic Services, Ridgerunner Container Service, Trash Gurl LLC, Vine Disposal LLC, WM Intellectual Property Holdings, LLC, and WRS Dumpster Rental. These companies are known to adopt a range of strategies to capitalize on the prevailing market opportunities. Some of these strategies include new product launch, geographic expansion, partnerships and collaborations.
Evolution of Dumpsters – Sizes, Purpose & Advantages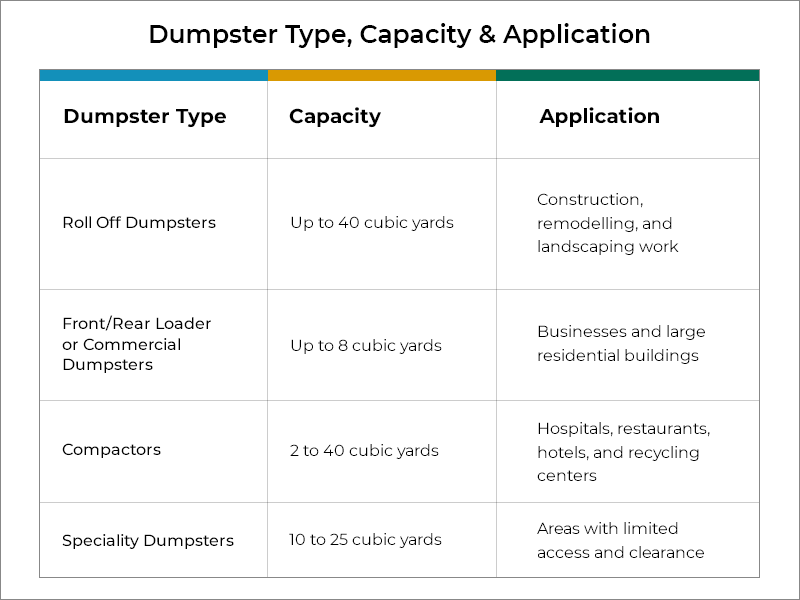 As is the case with any machinery that serves an important purpose in the core aspects of society, dumpsters have undergone various design and operational changes over the years. From the early enclosed, rat-proof, wind-proof and fire-proof black containers, there arrived the dinosaur dumpsters in 1958, which look a lot like the modern open-top off dumpsters. Today, 4 types of dumpsters are most prevalent on the market; their selection really depends on their size and the purpose they're meant to serve. Let's take a look at each one closely:
1. Roll Off Dumpster
Roll off dumpsters are the largest capacity bins with storage size up to 40 cubic yards. They are loaded onto the bed of the garbage truck using either a robotic arm or a winch and metal sled.
Roll off dumpsters are suited for construction, remodeling, or landscaping work. Due to their large storage capacity, they can be easily parked to collect large quantities of trash, over long durations, before needing to be emptied. Roll off dumpsters come in the following sizes: 
10 cubic yards
15 cubic yards
20 cubic yards
30 cubic yards
40 cubic yards
2. Front/Rear Loader or Commercial Dumpsters
Commercial Dumpsters are medium-sized containers that come in sizes up to 8 yards. The two popular types of commercial dumpsters are – front loaders and rear loaders. Both types of dumpsters are virtually the same size, however, they differ in the way they're loaded and emptied
Front loaders are designed with slots on either side for the bin truck to thrust its front spikes into. Rear loaders have a more complex design, which involves a winch and hinge system. 
Commercial dumpsters are perfect for businesses and large residential buildings to manage their waste production. They are available in the following sizes: 
2 Cubic Yards
4 Cubic Yards
6 Cubic Yards
8 Cubic Yards
3. Compactors
Compactors get their name from the method they use to process waste – compaction. These are large containers with a metal blade inside which breaks down and compresses waste so it takes less space. Following are some other benefits that compactors offer over other traditional dumpsters: 
Decrease the instances of waste collection 
Keep waste secure from spilling/blowing over
Keep surroundings odour free & limit infesting
Compactors can be expensive upfront with installation and access to electricity but they do prove cost effective in the long run. These are perfect for Hospitals, Restaurants, Hotels, and Recycling Centers that often see waste increase over small intervals. Compactors are available in anywhere between 2 to 40 cubic yard sizes.
4. Specialty Dumpsters
Specialty dumpsters are essentially designed as trailers that can be pulled behind a truck. In contrast to roll off dumpsters, which have metal rollers, specialty dumpsters are equipped with rubber tires. This makes them perfect to be placed in areas with limited access and clearance. Moreover, these dumpsters are quite gentle on the driveways and minimize the damages or scratches on road surfaces. Specialty dumpsters come in sizes ranging from 10 to 25 cubic yards.
Launch Your Future Ready Dumpster Rental Website
How Dumpster Rental Business Works?
The End-to-End Dumpster Rental Service Model
The way a dumpster rental business operates really comes down to its individual business model. Some businesses manage everything from inventory, order processing, dumpster delivery, to waste disposal and payments. If a business has the resources and infrastructure to offer this level of end-to-end service, then opting for a custom eCommerce solution would make sense. This way you'll be able to dictate how your rental software needs to work in accordance with your individual business model.
The Marketplace Dumpster Rental Service Model
Next, there's the marketplace business model wherein a business owner is only responsible for providing a platform to dumpster service seekers and service providers (vendors) to connect and transact with other. The marketplace business model has gained prominence in the recent past due to the rise of the collaborative or sharing economy. The process except for a few steps, particularly dumpsters' listing and waste disposal is the same in both business models.
Workflow of a Dumpster Rental Business
Based on the business model, website owners or vendors upload dumpster's listing on the platform.

Customers look up listed dumpsters based on their requirements. Many businesses offer expert consultation through sales representatives in identifying the ideal dumpster requirement for customers on the basis of activity, type and size of waste.

Customer selects the preferred dumpster along with its delivery date and rental duration, adds it to the shopping cart, and creates an order request by completing the payment process.

After the order completion and confirmation, customers receive the booked dumpster on the given delivery date at the specified location(home/office/worksite/storage unit).

Dumpster is filled up with waste debris from the site. After that, a delivery executive/driver comes back on the pre-agreed date provided in the rental contract to collect the dumpster and dispose off the waste.
*In some cases, businesses opt for an RFQ form instead of disclosing the listed dumpsters' pricing. Both methods work well and are common in practices across various online dumpster rental businesses.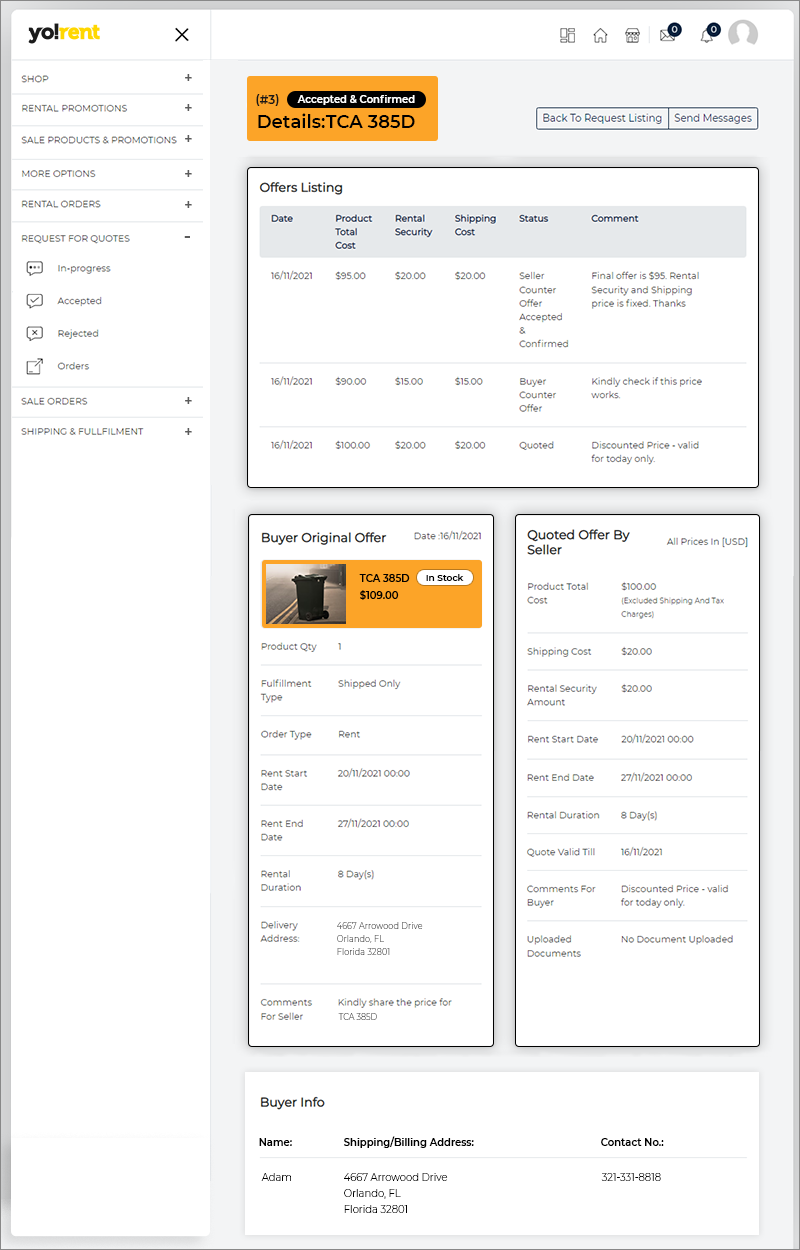 Try YoRent Dumpster Rental Software for Hassle-Free Business Operations
Features to Incorporate on your Dumpster Rental Software
A dumpster rental software is essentially a management hub for all the activities taking place in your business, from orders, delivery, fulfillment, maintenance and more. While it's easy to go overboard with adding a slew of features and functionalities in your rental software, you should ensure key features, especially those built to serve primary operations of your business, aren't missed out. The following graphic lists such primary features: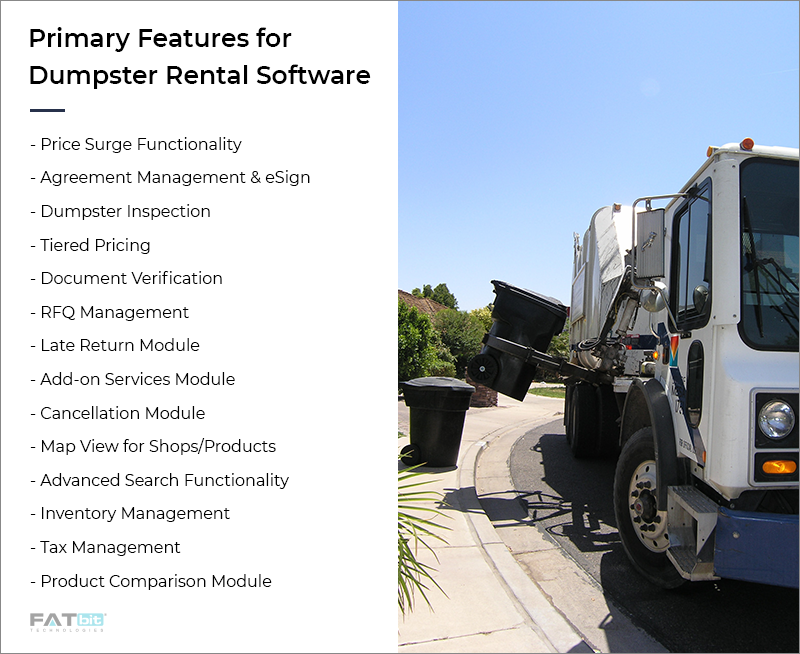 Profitability of a Dumpster Rental : Revenue Streams & Potential Avenues For Strategic Growth
Rental Income & Commission
Given the enormous profit margins and a bright forecast for the industry in the years ahead, dumpster rental is one of the most lucrative business segments in the rental economy. The chief source of revenue in a dumpster rental business is the rental money collected from clients/customers. In a marketplace business model, this rental income can take the form of commission earned from both dumpster rental owners and their customers.
Add-on Services For Dumpster Rental
Revenue can be further boosted by exploring value add-on services. For instance, some businesses operate solely on the dumpster rental business model. However, in view of increasing the final revenue cost, service providers can look to add waste collection as an additional step in the dumpster rental process.
From a strategic viewpoint, businesses can look to gain competitive advantage by establishing contracts with prospective business partners in the field, such as clients, real estate management officers. Some of the profitable sources of revenue generation are elaborated below:
Trash Collection Contracts
Majority of big cities around the world have contracts with regional or national trash collection agencies, which last for a few years. This poses the risk for individual trash collection firms, who can neither match the attractive cost nor the service offering of the big players. However, the playing area for these individual firms lies in smaller groups such as school districts who don't have a great need for garbage collection and usually prefer the services of smaller players.
Trash Recycling
Trash recycling is a vital step in the waste management process and often goes hand in hand with trash collection. It comes across as a natural option for dumpster rental businesses to build strong partnerships. Majority of waste products in recycling businesses, particularly plastic and even metals are found in trash. Since most recycling businesses lack the much-needed infrastructure of dumpsters to collect and sort trash, they have a genuine need for tie-ups with dumpster and trash collection service providers.
Online Dumpster Rental Software – The eCommerce Twist
While the old telephone served its purpose in booking dumpster rentals for a long period of time, customers today are quite tech-savvy and have come to expect more from service providers. Indeed, if we look closely, the ubiquitous dumpster rental software floating about recently do have merit for both the business and its customers.
1. Accentuated User Experience To Build Brand Loyalty
Right off the bat, a dumpster rental software helps a business stay organized and operate efficiently. Customers also experience a heightened level of professionalism in the service. With immediate access to bookings, pick-up & drop off locations, driving directions and communications, a rental software acts as a central reference point for all activities.
Moreover, a dumpster rental software can keep records of customer's past bookings. This facilitates similar bookings in future and helps you understand customer preferences over time. This sort of experience adds value to service and is more likely to bring repeat customers to a business.
2. Attracts High-Ticket Prospects
Usually the customers who look up dumpsters online, do so with an expectation of convenience. A feature that proves perhaps to be most convenient in a dumpster rental software is online booking. In online booking, all the hassle associated with negotiation ceases to exist. Customers simply visit your website, look up prices, select a preferred dumpster size, select delivery time and rental duration and confirm the booking -all in one go. This feature alone is capable of helping your business attract high-ticket customers.
3. Fewer Missed or Changed Deliveries & Bookings
Advanced dumpster rental software with dedicated mobile apps for drivers can add another layer of efficiency to your business operations. These apps provide detailed information of schedules and routes available to reach the destination point. Having access to this information and getting minute-updates for any changes in plans either from your or customer's end can make all the difference in making the driver's job easier. Moreover, customers can be updated with schedule and expected delivery details, which further improves their service experience.
4. Get Paid With Online Invoicing & Payments
A dumpster rental software with a dedicated payment and billing module allows customers to transact digitally. They can be sent invoices immediately after booking confirmation or at the time of pickup. It's a faster and convenient process overall, which ensures ease of use for customers and faster payment processing for business.
5. Measure Everything & Improve
The true extent of dumpster rental software's usefulness lies in their ability to keep track of records and provide stats/reports of various business operations. Strategy makers can dig deep into this trove of information to identify which customer segment/areas generate most demand, what type of dumpsters are rented out the most, profit per translation and so on. Having access to such information allows businesses to adjust their business strategies in the interest of growth. Afterall, detailed metrics are crucial when you need to explore growth opportunities for your dumpster rental business.
Final Thoughts
Dumpster rental is one of those segments that has a long history and as is the case with most 'traditional markets', cracking them takes a bit more than a sound and concerned approach. Innovation either within age-old, well-defined processes or through service offering can cause widespread disruption. We believe this segment is ripe for the adoption of eCommerce practices, not least, at a time when B2B customers are expressing a proclivity for convenience, and on-demand service.
Yo!Rent makes it easy to launch a dumpster rental marketplace