Creative makers no longer need fancy stores to sell their unique creations. Websites like Etsy, Bonanza and Zibbet have opened up new money-making opportunities for them. These are the peer-to-peer (P2P) e-commerce websites focused on handmade/vintage items as well as unique factory-manufactured items. These items cover a wide range, including crafts items, clothing, jewellery, home décor and mobile accessories. The potential of this business model and immense growth inspired our team to conduct an in-depth analysis covering important website features and business areas. Before moving ahead to features, let's take a look at this business model.
Business Model of Homemade Items eCommerce Marketplace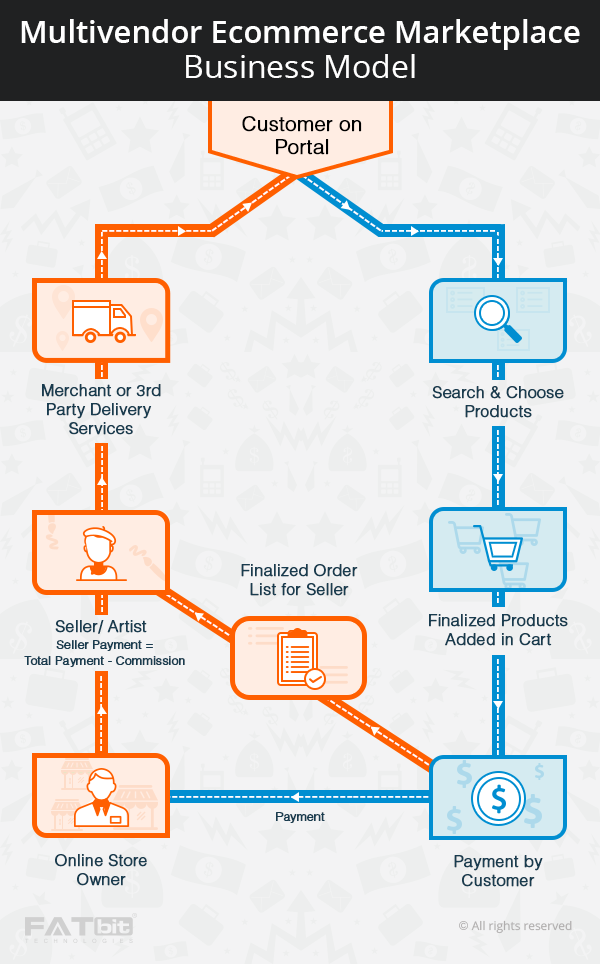 There are three key aspects to the such a business model:
Community engagement
Tools and educational materials to empower sellers
Vision driven company powered by comprehensive strategy
If you were to ask the average seller on any such platform, majority will tell you it is because of the community engagement that is the reason behind the popularity. People who list their products on such niche marketplaces want to do business in a friendly and sustainable way.
What are the revenue streams of such websites?
Platforms working on homemade items eCommerce business model generates revenue primarily from the following revenue streams:
Marketplace: This includes a percentage fee of of sale value as commission. In addition to it, the platform can also take a fee for listing any item.
Seller Services: The revenue stream can also include fees for services such as Promoted Listings, payment processing, and purchases of shipping labels through the platform.
In-Search Advertising: Promoted Listings for sellers to feature in search results.
Other: These revenue streams include fees received from third-party payment processors.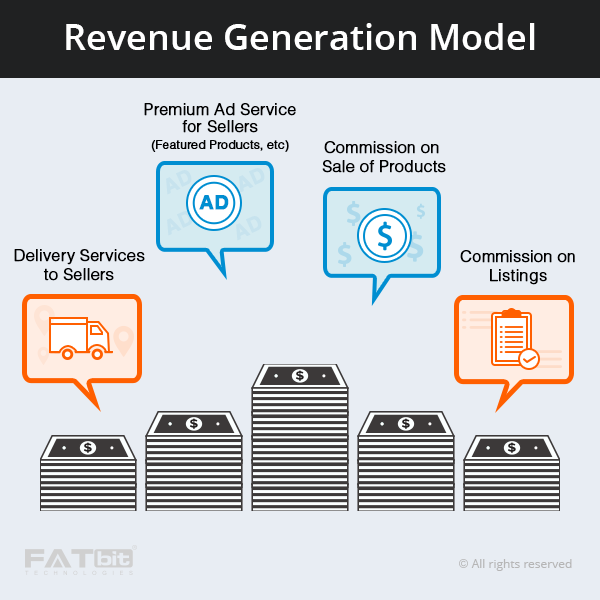 A platform makes money largely through fees that sellers pay for transactions, listing items and promoted listings.
Website Overview
The design of the eCommerce website differs immensely and it has become imperative to have a sleek, intuitive and impressive homepage design. Banner images and content in the first fold of the homepage should give a clear message of what the website is about. There should not be any cluttering of images, and every component has been designed beautifully. The site should follow the theme of open craft fairs, giving sellers personal store fronts.
Homepage
Before you start using the services of a website, one aspect which ensures you stay on the website is the homepage. Studies have shown that the design of the homepage can make or break the user experience. This is why you must ensure an optimal design approach which includes, banner images and CTAs. In addition to it, you must also have a prominently paced search bar to make it easy for users to search an item. On the homepage, potential buyers can type a product description into the search bar or "Browse" through a list of options on the left side of the homepage, which include Art, Home & Living, Jewellery, Women, Men, Kids, Vintage, Weddings, Craft Supplies, Trending Items, Gift Ideas, Mobile Accessories, and more.
Automatic Region Section
Usually most of the ecommerce portal do not focus immensely on providing personalized experience to the user. This is where your website can outshine by catering to the regional settings. In order to enhance the user experience of the users, the platform can automatically select the best available regional option for the user. Moreover, if the users feel, they also have the option to change these settings in the footer. Using region selector, users can change the language, currency and location of the website as per their preference. PRO TIP: If you cater to a global community, then, add this feature in your website
Trending Items
Most of the E-commerce portals have started focusing on showcasing their most popular items right on the homepage in order to develop a connection between sellers and buyers. Your platform should also follow the same approach by incorporating a trending items section that helps shoppers find top items in the marketplace. When buyers view a product, they can view the positive percentage feedback of each seller to determine the reliability of the shop.
Recommended for you
You can use advanced algorithms as well as cookies to track the items viewed by the users. This would help you recommend items to the users based on their viewing history. Make sure this advanced feature is present in your chosen handmade items eCommerce clone script.
User Curated Item list
As already discussed, there are numerous eCommerce websites, but in order to personalize the user experience you can set up a social community of shoppers. To put in simpler terms, you can combine Pinterest with a traditional online marketplace. This would make your platform a social community where users can also create lists of favorite items and share them with other users.
Why Choose You
As the competition grows, it becomes vital for online marketplaces to entice users into choosing their service. One of the best ways to do this is by portraying best features of your website. you should have a dedicated section on your homepage which tells users why they should choose your platform. You can also have a subscription button where users can get top trends and editor's picks in their inbox.
Footer
You should keep the footer area quiet sleek covering only the important links like Join the Community, Discover, Get to Know Us and social networking sites. One vital aspect of the footer, as already discussed, is the option to change the region, language and currency settings. These 3 sections are enough to give personalized experience to users.
Signup/login
You can use a popup for the signup process to allow user registration without leaving a particular page. Moreover, you can also put in one click registration option for the user via social networks. In the current market dynamics, most e-commerce websites only require email and password for registration, and rest is done at a later stage. The same approach can be incorporated in your website.
Account Confirmation
In order to remove spam, users would have to activate their account by confirming their email address. This option is important and most of the current crop of eCommerce players incorporate the same on their platform. Want to enhance user experience of your ecommerce website? Consult our UX experts
Dashboard feed
As soon as users login to their account, they can be greeted by a dashboard feed. Our analysts at FATbit found this a unique way to make the platform socially connected. There can be two tabs on the top. The "following" tab can show the feed from users you are following while the "interaction" tab shows the interaction of users following you. Most of the social networks incorporate the same approach as it helps in building social feeds. There can also be a trending section that shows the most popular categories.
Search
As the number of users as well as items increase on your platform, search becomes one of the fastest ways to find relevant item. FATbit analysts did various searches using different phrases on several websites and found that autocomplete feature comes in handy giving instant results. We think a similar feature can do wonders for any homemade items marketplace clone script.

Search Listing
The Search listing page ought to be feature rich with a variety of filters that differ from category to category. Entrepreneurs planning to build a peer-to-peer homemade items marketplace must keep this feature in mind.
In order to monetize their platform, they should have featured listing. The top three products in the search results can be advertised items.
Users can also sort the items based on most recent, relevancy and price.
In addition to this, products can also be marked as favourites or added to a particular list.
There can also be a keyword cloud at the bottom of the listing showing related terms.
Etsy can also provide users with shop names related to the search phrase.
Features like this give would give your platform an edge over other peer-to-peer marketplaces. Make sure that your chosen script has similar features.
Favourites
Like every eCommerce website, you should take cognizance of the importance of bookmarks. There should be a dedicated link on every page to view all the favourite items. Users can have the option to add items as well as shops as favourites. Moreover, they can also categorize items into various lists for easier management. Pro Tip: You must chart a similar feature so that users find it easy to manage their bookmarked items.
Shop
Rather than giving the seller a separate backend platform, you should allow users to open a shop on a single account for buying as well as selling. This would bring a whole new shopping experience to your platform and helps in brand building.
Products inventory can include craft supplies, handmade products, and vintage pieces. In order for an item to be called vintage they have to be a minimum of 20 years old.
You can incorporate either of the two approach. Make the creation of shop free and charge for each item listed on the shop. Or charge for creating a shop and allows free addition of items.
Each listing would remain on the shop's page for a stipulated time, or until someone buys the product.
The sale prices of products can be determined by the shop owner, and the platform take a commission of the sale price.
Now let's looking at the whole process of setting up a Shop as advised by our analysts.
Create Shop
The overall process of setting up a shop on the platform involves:
Name your shop
Add listings
Add payment gateway
Choose how you want to pay your bills
Add Listing
After naming the shop, the next thing users have to do before selling is Add Listings. They can add as many listing as they want. The application form for listing an item should cover all aspects of a product for the benefit of the buyers. This ought to include:
Product photos
Product title
What is it, who made it and when it was made?
Category and sub-category
Price
Quantity
Product description
Shipping details and cost
After putting in all the details, users can preview the listing before publishing. Simple product listing process is critical to build a selling community.
Payments
After the users have added the items, the only thing remaining is choosing a mode of payment. There are various payment gateways and you can include the one best suited for you and your targeted user base. The next step involves adding the billing details for their shop to complete the process.
Item Page
As such platforms revolve around peer to peer business model, you must give ample emphasis on the product page. The design of the page should be elegant showing all the relevant information.
The top part of the page can show the name of the shop along with a button to mark it as favourite.
The dedicated panel should have all the information related to the item like price, quantity, an overview of the item and a button to add the item to the cart.
Other vital options on this page should include:
Detailed description of the product
Reviews from buyers
Shipping policies
Other items in the shop
Details about the shop owner
Related items
Shop listing
Following the same approach on the product page, you should also allows sellers to have a dedicated shop page, where they can show all the items. This page should include:
A banner image of the seller
Shop name along with tagline
Add to favorite button
List of items
Shop sections
Request custom order button
Seller information and policies
Reviews
Messaging
You should also provide a messaging tool to the users for interacting with each other. This is a vital feature that helps in bridging the gap between buyer and seller. The messages can be segregated into different tabs like sent, received, archived and deleted. You can also have search option so that users can search for a particular message.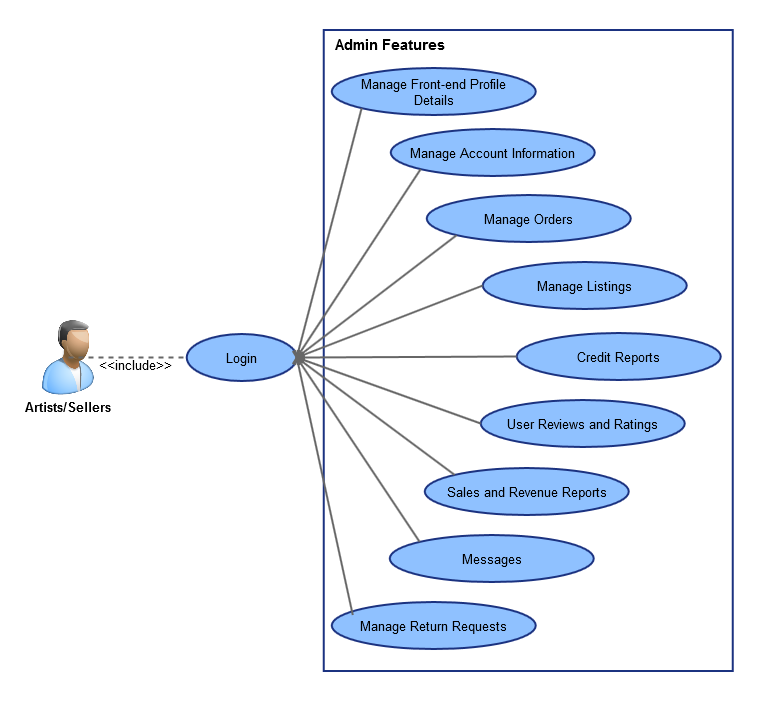 Mobile apps
This is an era of smartphones and a mobile app has become a necessity for all e-commerce ventures. This is why your platform should also have dedicated mobile app for both iOS and Android platform.
Some Focus Areas to become Successful
Easy Process for Sellers to Sell and Buyers to buy. User should not think buying/selling product from market would have been easier.
Provide Quality: Best part for product sector is that your product is tangible and it can be judged the way it looks and feels.
Verify Sellers Cautiously: Short Term sellers can harm portal in long term
Offline Education tools and Guides for Artists/Sellers
Give customers a reason to buy. Be unique and offer at best price.
Attract Sellers: Getting good sellers not a cup of tea. Play on less margin but large number of transactions.
Establish your distribution channel before going live. Don't make your customer wait.
Final Thoughts
Peer to peer marketplaces have seen steep investments from venture capitalists in the recent past. From traditional crafts market to advanced online store, the essence of the whole concept has not changed a bit. If you are thinking to enter this growing industry with your own custom marketplace then, this is the right time to do so. However, you must keep in mind that building an online homemade items clone marketplace is one thing but creating its advanced version requires unique features & enhancement mentioned by us. Make sure that you buy a clone script with powerful features that comes with support from experienced professionals for further customization. Learn how much an homemade items ecommerce marketplace will cost you Get a Quote