The car rental space in India has been going through near vertical growth for couple of years now. The sublime growth of online cab aggregators has seen many budding entrepreneurs start their own ventures with clone script. To help such entrepreneurs, analysts at FATbit technologies spent countless hours studying the functionality and business model of India's largest online cab aggregators. Let's learn about this business model, competitors, and most important features of the mobile app.
Business model
Platforms like OlaCabs, Uber and Taxiforsure are basically a cab aggregators that partners with private cab operators to provide rides on request. The revenue model of such platforms is based on pay-for-performance, and it charges a commission from cab operators on every sale it makes. In addition to that, they also charge a nominal fee from operators for offering access to its technology platform.
Main competitors
Uber
OlaCabs
MeruCabs
BookCab
TaxiGuide
The differentiation between your platform and other cab booking service can boil down to few points:
You understand the Indian ecosystem and create policies with target audience in mind.
Offer a wide array of booking methods like mobile app, website and phone call.
Multi-mode payment options available to riders including cash payment. This mode of payment is preferred by Indian audience.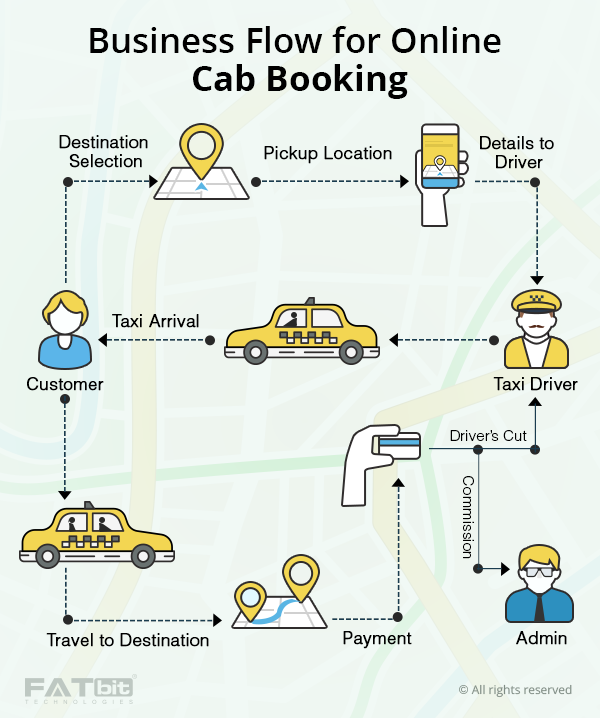 Basic App Functionality
The online taxi aggregator app needs to be highly intuitive and offer an impressive layout. All the features of the mobile app should be well defined and focus ought to be on immersive behavior. The overall interface should be specifically designed keeping in mind the targeted user base and ease of use.
User Guide
As soon as the user launches the application, he could come across a well-defined user guide. It covers each and every aspect of the cab booking process, making it easy for first time users to perform core tasks. Such guides are crucial to introduce app users to important mobile features and action process. Whether you are building a cab booking website or mobile application, don't forget to make provision for UX rich user guide.
Effortless Signup Process
The basic design architecture of your application is to keep everything simple and user friendly. The same should hold true for sign-up page. Before using the application, it is mandatory to have a registered account with the platform. The overall process should be minimalistic keeping in mind the mobile nature, and requests only most critical information such as:
Name
Email
Password
Mobile number
User Centric Booking Process
After the completion of registration process, the users can be taken to the main screen where they can easily pick a ride for themselves. Here are the most noticeable points in the cab booking process:
Search bar to enter a desired pickup location.
GPS feature to detect current location.
A detailed map to see their selected location.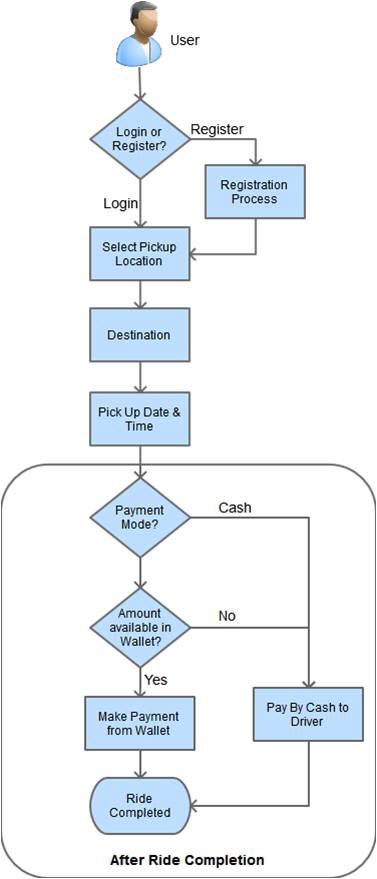 Locations saving feature
User can also select and save their favorite location which can be accessed easily. This is beneficial in cases when you seek ride to or from a location on a regular basis. Features related to most frequented destinations and routes will add to app usability and makes cab booking easy for riders.
Estimated time of arrival
As per services offered in the vicinity of the user, the application should show the options of choosing the cab along with their estimated time of arrival (ETA). This is highly beneficial feature as the user is made aware of the time frame from very beginning.
Booking flexibility
After selecting the mode of transportation, user can choose between taking the ride right away or at a later time. This is useful for consumers who want to book a cab at a desired time, without undergoing the hassle of time-bound booking. More on this would be covered in the later stage.
Cab confirmation
If the user chooses to book a ride right away, then, they are shown a confirmation screen which also has detailed information regarding the rate card and ride estimate. It also offers users to apply for discount via coupon codes. Pick an clone script that has cab scheduling and confirmation related features.
Transparent booking process
One of the deciding factors that would make any online cab booking service a hit among users is the transparency in pricing. All the information related to the fares should made available to the user in a clear manner. Using the option of rate card, users can view the fare breakup with respect to their chosen ride.
Fare precision
As discussed before, you need to ensure that the consumers have all the relevant information beforehand related to the fare charges. The option available to the users in the form of "Ride Estimate" shows all the details related to the approximate time travel and the estimated cost to the user. Giving a clear idea of fare and pricing can help your clone score additional points.
Advanced booking
For users who want to book the ride for a later stage, a pop-up box can be shown, where they can select the date along with the desired time. This is beneficial in cases of rush-hour when users sometimes find it difficult to find a cab.
Ride details
Once the booking is confirmed, users are able to see the current location of the cab and the estimated time of arrival. Other details available are:
Name of the driver
Color and make of the car
Registration number of the cab
Contact details of the driver
User can also cancel the booked cab before the driver reaches the respective pickup point. This option can be used if there are any unavoidable changes in the user's plan.
Ride feedback
After reaching the destination, user can be prompted with the screen showing the total cost and distance travelled. With the focus on user engagement, the platform should request the users to give their feedback on the ride experience. This not only rates the driver for future reference, but helps the company in discovering the level of customer satisfaction. Integrate driver rating and feedback feature in your clone.
Distinguishing features
Now that we are done with unique features that are part of the booking process, let's have a look at features that make the app stand apart. Below are the features that can greatly help the cab booking company build brand identity in an otherwise competitive industry.
My Rides
This feature shows the detailed list of all the bookings undertaken listing upcoming and well as completed rides. This helps in keeping track of all the rides booked by the user. While the completed section shows the history of rides taken, upcoming section gives preview of rides scheduled for future.
Invite and Earn
Online cab booking services has gained huge momentum but concept is new to many users. In order to capture the overall market share, the platform can offer a referral program under which riders can invite their friends using a referral code and earn money. Users can send an invitation by SMS, email and also through social networking platforms like Facebook, Twitter and WhatsApp. Make sure your online taxi booking clone script has this feature!
Rate Card
The platform needs to understand the market dynamics which calls for transparency in their overall functioning. This is the reason why it should offer a well detailed rate card to the consumers using which they can analyze the standard rates chargeable to them with respect to the destination as well as mode of transportation.
Emergency Contact
In order to ensure safe and hassle-free rides, the platform should provide a security feature in their application where users can add contact details of any person. Moreover, the user can also opt in to share information with that emergency contact every time a ride is taken. This is one feature you must not miss in your clone if you want to operate in Indian market.
We covered all the features in above sections, and have to say that most of them are rather innovative. Additionally, our team of analysts and developers has discovered some areas that can help you in creating an advanced taxi aggregator clone. Here they are!
Emergency button
You can offers an emergency button in the application which sends the ride details as well as current location to a pre-defined contact in case of emergency. This is highly vital security feature and can boost user confidence.
FAQ Section
Online cab booking service is still in its nascent stage in India due to which users are full of queries. A comprehensive FAQ section covering common cab booking queries will help enhance rider experience.
Some focus areas to become successful
Get a mobile Application. It is must and a necessity for this industry.
Look for Professional and skilled drivers. One bad driver can let your image down
Before entering market, build your taxi base so as to meet the demand.
Ensure customer reach: Your taxi services should be available at maximum places in city.
Minimum waiting time: Less the waiting time, more happy customer
Multiple Payment Methods: User should be able to pay through online wallet and also by cash if they want.
Online Documentation creation services can be a good add-on but need to be aware of every target market in detail because laws differ from place to place.
Build the next billion dollar cab booking company
The Indian Taxi market is worth around $8 billion out of which only 5% is managed by organized sector. This means there is enough space for clones. If you are planning a cab booking platform, then you cannot afford to miss out on these features. Make your prospects in cab booking system brighter by incorporating new features in your clone.
Discuss your mobile application requirements with a team of UX designers and developers to launch a successful online taxi booking clone.
Learn how much online cab booking clone will cost you
Request cost estimation