PPC campaigns generate website traffic, sales, and branding benefits but only if you hire best PPC managers. Small businesses as well as big brands search for top PPC Management Company to make sure they get the worth of their ad investment. While it is obvious that only best PPC managers can furnish impressive results, the biggest challenge how to choose your PPC management firm.
In this post, we bring top qualities that your PPC campaign management agency must bring to the table. If initial discussions with PPC management agency doesn't bring up most of the below listed points, then, you need to continue searching.
1. Experience & track record
PPC campaign management involves setting up Ad accounts, selection of keywords, creating ad groups, finalizing budget, regular campaign tweaks, and various other technicalities. Hence, going for an inexperienced PPC professional will cost you dearly. Best PPC campaign specialists have relevant experience and successfully managed PPC campaigns to flaunt. They have a streamlined process to manage a campaign. View the process used by FATbit's PPC management experts: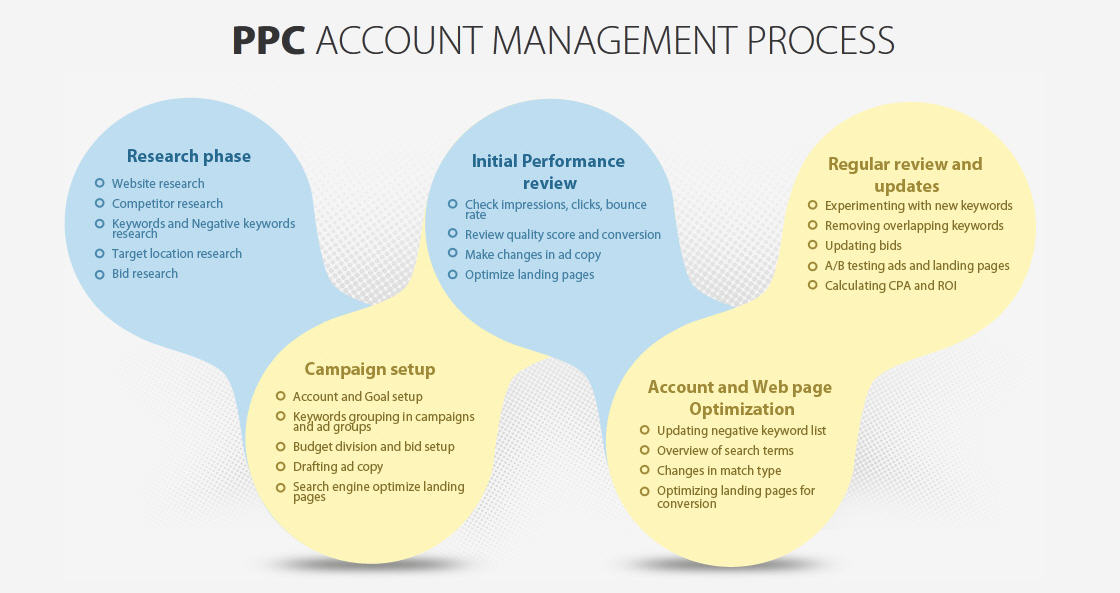 CLICK TO ENLARGE (opens in new tab)
In case this feature is absent in your chosen PPC campaign management experts, then, you may suffer huge advertising loss.
Discuss the approach of PPC management firm you are considering before assigning your project
Consult FATbit for PPC management

2. Keywords selection knowledge
Keyword selection is one of the most critical parts of running a PPC campaign. Choosing phrases and keywords that are important for your target audience is important for the success of your PPC campaign. General keywords in any industry have tough competition during bidding. Thus, it pays to go for highly targeted and long tail keywords.
In case your PPC manager chooses the wrong set of keywords, online users will not find your landing page relevant and thus there will be fewer relevant clicks. Your PPC managers must also plan your PPC campaigns so that they can effectively support your SEO experts. You don't want to pay for ads when you already rank well organically for them.
Also read: SEO vs PPC – Where should you be spending your resources?
3. Understanding of negative keywords list
It is not possible to have exact match keywords only in your campaign. Phrase match and broad match will also make your ad appear for search queries that you do not want.
For example keyword like "presentation designers" will make your ad appear for search queries like:
Free presentation designers
Tools for presentation designers
eBook guide for presentation designers
Hence, it pays to have an extensive negative keyword list to make sure your ad does not appear for irrelevant search queries like free, tools, ebook when what you are trying to advertise is a paid service.
Professional PPC managers create an extensive negative keywords list to avoid irrelevant clicks and make sure PPC expenditure doesn't hit the fixed budget ceiling very soon.
4. Conversion tracking
PPC specialists don't justify their campaign management fee by just getting you started on AdWords, finalizing keywords and getting you traffic. Pro PPC experts regularly track the campaign for conversion related insights. For instance, if your main focus is to make people fill up a form after looking at you are not generating enough leads, campaign managers will find out where the problem lies.
All this is done by using AdWords reports, market insights and changes in management tools. While PPC beginners fail miserably at this, top PPC management companies excel.
5. Emphasis on dedicated landing pages
If you want PPC visitors to leave without buying, then, there is nothing better than directing them to homepage for every ad. Ask any top PPC management firm and it will suggest you to build dedicated landing pages. Your landing page should furnish whatever your advertisement promises. If case it doesn't, people will leave.
In case you don't have dedicated landing pages, ask your design team to create some. Best PPC campaign managers help clients build landing pages and track visitor behavior through Google AdWords account.

CLICK TO ENLARGE (opens in new tab)
In case you have dedicated landing pages but they are not generating the required benefits
Get landing pages optimized

6. Location expertise
Some businesses use PPC to target prospective leads located in a specific geographical location. Others want customers to visit their office or business location after viewing the advertisement. All these are part of client's business goals and require geo-targeting adjustments. Hire PPC consultants that can understand your regional goals and can make required changes in your campaign to accomplish them. They should be able to manage the keywords, ad copy, language, currency, landing page, keyword bid, etc based on the location.

7. Focus on structured campaigns
Generating benefits from AdWords or Bing Ads requires PPC campaigns that are well structured and don't have overlapping keywords. They are setup after thorough research with certain goals and marketing objectives.  Structured campaigns give better visibility to your ads and attract relevant clicks. In case you offer multiple products, it is best to create separate ad groups for all of them. They will also administer strict settings when you are also retargeting your ads so that you do not waste your budget.
Best PPC management services promise structured campaigns that are easy to understand & manage even if you decide to hand over the admin controls to someone else.
8. Smart budget allocation
Best PPC management agencies are not the ones that accept PPC projects worth tens of thousands. They are the ones that can achieve business goals with a small PPC budget. To accomplish this, best PPC experts firstly decide the budget allocation for search product/ service that client wishes to promote based on the requirement and competition. Professional PPC managers usually give first preference to search rather than display when they have a tight budget.
Experienced PPC managers firstly gain complete understanding of client goals, PPC budget and then create a flexible allocation plan. They continue optimizing the budget allocation based on changing requirements and campaign performance.
9. Familiarity with new features
Major search engines like Google and Bing regularly upgrade their advertisement products to make them more helpful for advertisers. For instance, after recent updates, Google AdWords lets PPC campaign managers adjust the bid as per geographical location and device. This has eliminated the need of creating multiple campaigns. Similarly, there are AdWords extensions that can give teeth to your ad by integrating ratings, testimonials and other motivators.


Hire a PPC campaign management company that is updated with latest upgrades and feature additions in popular advertising platforms to get the maximum benefit from your ad investment.
10. Mobile knowhow
In case your target audience is fixated with mobile devices, searches for your business when on the move, then your hired PPC experts should be capable of targeting them. Best PPC experts have experience in running special ads for mobile devices and keep in mind psychology of mobile users while creating campaigns.
By creating special ads for mobile devices, best PPC management experts connect effectively with mobile audience. The bid is low for mobile ads; this makes them budget friendly as well. However, a mobile optimized website is one of the most basic necessities for converting mobile traffic. Get a responsive website for mobile benefits.
11. Feedback and reporting
Working behind the iron curtain is not the best quality of PPC experts. To make sure you understand the concept of PPC and contribute to the success of your campaign, join hands with a PPC management service provider who is at ease to answer your questions, requests feedback, asks for keyword updates based on changing business requirements and keeps you updated about campaign performance through weekly or bi-monthly reports.
Top PPC campaign management companies also keep a track of website Analytics to see what's working and what's not. Investing in PPC generates business benefits only if your campaign is managed by a team of experts that understands your business goals and can bring out the best from ad platforms like AdWords and Bing Ads.
Do you have any questions about running PPC campaigns at a small budget or generating product sales from web?
Fill this form for FREE answer