Last Updated: May 19, 2022
Technology companies have been busy lately developing software to hire professionals online. Cab booking services and food ordering portals are some of the popular examples. Most recent are online marketplaces to hire local professionals for jobs like house painting, home cleaning, plumbing, and more. These marketplaces are referred to as on-demand services marketplaces.
In no time, these on-demand service marketplaces with unique features have made their mark by gaining huge popularity and building a reasonably good customer base. Seeing its rising popularity, FATbit's team of analysts conducted thorough research of the growing industry and gathered critical business insights for entrepreneurs planning to launch a similar portal.
Business Flow of an On-demand Services Marketplace
An on-demand services marketplace connects service seekers and providers. The flow of such a marketplace is illustrated below: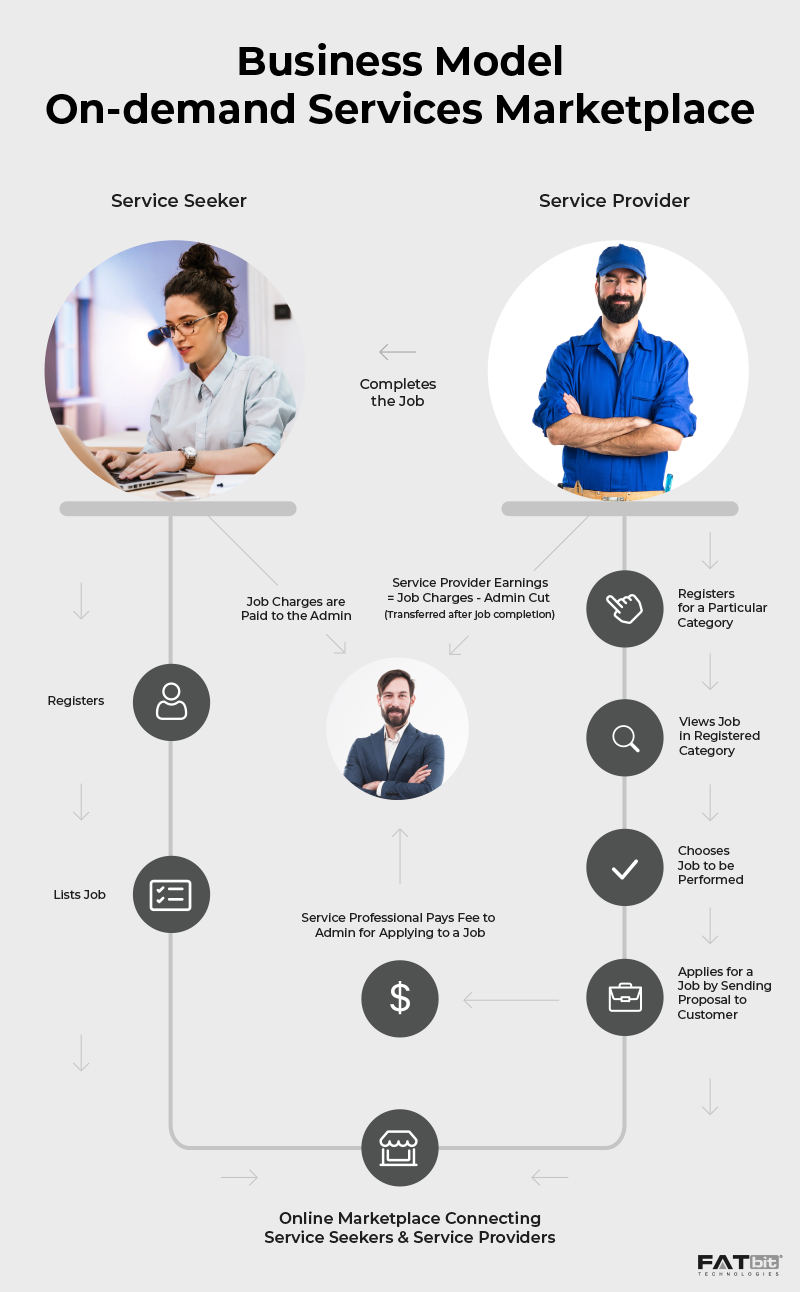 Possible Revenue Streams of an On-demand Services Business
There are several revenue streams of an on-demand services business. However, zeroing in on a couple of them which are sustainable and help businesses scale is essential. Some of the possible revenue streams are explained below:
• Commission from Each Transaction
• Lead Based
• Subscription for the Users to Use Marketplace Services
• Sponsored Profiles for Promotion and More Visibility on the Page
• 3rd Party Ads Once There is Enough Traffic & User Base on the Marketplace

Potential Niches in the On-demand Services Industry
Electrical
Electricians can increase their sales by listing their services on an on-demand electrical services platform and delivering their services to customer homes and business locations.
Plumbing Services
To save clients running around a plumber in their neighborhood, an on-demand plumbing services platform helps them find and book a plumber in minutes.
HVAC
As with other on-demand services, an HVAC services platform connects HVAC services providers to customers looking for them. Customers can find as well as book a visit from HVAC services providers. 
Pest Control Services
Every homeowner takes regular pesticide control as pests pose real threats to health and damage property. An on-demand pest control services platform acts as a one-stop destination for homeowners to find all sorts of pest control services.
Cleaning Services
On-demand cleaning services for the ones who struggle hard to keep their house clean and hire maids or housekeepers for the same. 
Appliance Repair Services
Customers prefer booking and delivery of services at their doorstep which has brought a lot of popularity to on-demand appliance repair services. 
Landscaping Services
Keeping the yard, lawn, and landscaping maintained has never been so easy with the fleet of local and professional on-demand landscaping services. 
Locksmith Services
On-demand professional locksmith services are in great demand due to residential locks, commercial locks, key duplication, automotive key programming, and lock for security surveillance.
Roofing Services
On-demand roofing services are getting popular for a variety of uses like emergency services, snow removal, small scope construction projects, warranty program, etc.
Top On-demand Services Marketplace
| | | | |
| --- | --- | --- | --- |
| Company | Location | Founded In | Funding |
| The HomeDepot | Atlanta, GA | 1978 | NA |
| HomeAdvisor | Denver, CO | 1998 | NA |
| AirTasker | Sydney, Australia | 2012 | $26.5M |
| Task Easy | United States | 2013 | $46.2M |
| Handy | New York, NY | 2012 | $110.7M |
| TaskRabbit | San Francisco, California | 2008 | $13M |
Things to Consider While Building an On-demand Services Business
While the glaring success of the on-demand market worked for many businesses, the businesses that failed are also extremely huge in number. Below given are a few factors to consider when building your on-demand business and making it a success.
Market Expansion
On-demand businesses today refrain from expanding their market reach and end up being limited to a pool of loyal customers. The problem arises as soon as a new competitor with huge capital enters the market and starts expanding. The chances of them getting out of the business increase with the increasing number of competitors.
Alternate Financing Options in Place
It is extremely unwise to be dependent on funding to launch and sustain your on-demand business. No matter how well-propositioned your business model is, there is no guarantee of your on-demand business getting funded. It is better if the entrepreneurs look into alternative financing options like partner financing, invoice advances, crowdfunding, marketplace lending, revenue-based financing, etc., and not remain limited to venture capital.
Focus on Customers' Needs
As many successful on-demand businesses have set the benchmark high, the modern customers' expectations have also risen. Some key traits are:
Take a look at these points and identify which of these relate to your business. These points can highlight where your business can improve the customer experience by focusing on the needs of your customers.
Already Convinced to Explore the Untapped Opportunities in this Market?
Trends Transforming the On-demand Services Industry
Here is a look at trends that are being formed and lay the foundation for the future of the on-demand services industry.
Adoption in a Wide Range of Industries
As people are getting used to on-demand services, they are also looking to take advantage of more on-demand services in other industries. Moreover, becoming more ubiquitous signifies branching out to serve new industries and sectors. As a result, the on-demand economy is going to see an increase in its workforce in the coming years.
Skilled and Qualified Service Providers
So far, most of the on-demand services like cleaning, ride-hailing, food delivery, etc. did not require a special skill set or expertise, However, the growing number of service providers and niches will also require skilled and qualified service providers with relevant experience to join the workforce. Some of the examples are medicine and health care services that are becoming popular and require service providers to be skilled and experienced.
Quality Services at Consumer's Convenience
As the number of businesses and service providers is increasing in numbers and competition is rising every day, service providers need to offer quality services at reasonable prices. The hike in the number of service providers has forced them to offer the premium services at customers' convenience or lose a potential customer.
Necessary Background Checks
As the penetration of on-demand services increases and more people face legal issues, there will be an increased demand for background checks. Customers are hesitant to use the services if there are no background checks for the service providers. On-demand business owners should consider this to build and maintain the trust of the customers.
Business Intelligence and Analytics
As the competition in the on-demand services industry is roaring high, businesses will not be able to thrive without Data Mining and Business Analytics. These can give valuable insights into the services which are in demand. Business intelligence and analytics will help to find out the demographics of the users, whether the marketing strategies are performing well or not, and what can be done in order to streamline the business.
Building an On-demand Services Marketplace
Launching an on-demand services marketplace is an opportunity to tap into this growing industry, however, rushing to launch a platform as fast as possible with a vague idea about the target market and business model can sink your business before it even establishes. A well-thought business strategy is a solid foundation, not only for the business but for the technical aspect as well.
Here is what you need to do when building an on-demand services marketplace.
Choose a Niche
The untapped potential of your business can go far beyond the expectations with the niches we mentioned above. Keep multiple options open for your business and refrain from the niches where other players are already doing good. Find a unique niche that actually helps the users make their lives better.
Define Customers' Needs
While exploring the market, find out answers to a couple of questions:
What is the audience's age and social status?

What are their daily challenges?

How can your business help them solve their problems?

What are the expectations of service providers?
Build a user persona that can greatly help you define your potential customer's needs and enable you to fulfill them.
Analyze Market Competitors
Prepare a list of your competitors, irrespective of the fact whether they work in a similar niche or have a slightly different market. Take a closer look at their business, and try to find out insights into their business, like:
Specialization

USPs

Weaknesses
Analyzing all these factors, you will be able to detect the elements their business is missing. You can then use this missing element to strengthen your business and make your business one of a kind.
Pick a Monetization Strategy
Finding the right pricing strategy is the top priority for any business. Your pricing strategy should not seem suspicious or disadvantageous for users. The most hazardous strategy is pricing the customers too high which can make you incapable of meeting the competition and undermine all the efforts taken to build the business. They should clearly realize what they are getting against their money. 
Decide on the Features
An on-demand app service delivery website will need to have different features for all the different users – admin, service provider, and customer. Have a thorough research of your market and audience and then decide on the features you will be needing in your website.
Build a Fully-featured On-demand Services Marketplace
Attracting Customers for Your On-demand Services Marketplace
Studies and reports clearly portray that the on-demand services market is expanding and there is an unconfined inclination towards this economy. However, not many businesses make it big in the market and their efforts go in vain. The primary reason is the lack of proper marketing.
Rather than going rounds across the problem, let's discuss how on-demand businesses can attract more customers and increase their revenue.
Strategize Marketing Plan
Building an on-demand platform is not all; businesses need to have a proper strategized marketing funnel to create demand and entice customers. A lot of research is required keeping in mind the target audience and the services being offered before actually launching an on-demand services marketplace.
Gain Trust of Customers
Building a better bond with the audience is always recommended in a business. Organizing webinars, interacting with the audience through different mediums, and sharing sales videos can help businesses gain the trust of and build the authority of their on-demand business.
Conduct Research/Surveys
Proper knowledge of the market is vital in any business, and on-demand businesses need it more than any other. It is essential to know the difficulties faced by the potential customers, their requirements, and how can your services help them in solving their problems. On-demand businesses need to carry out these surveys to be on the right track, or else the competitors can grab their potential customers.
Showcase Client Testimonials
Every new customer has this psyche of being doubtful towards a new company. However, if they see another customer sharing positive feedback, they are easily convinced of the services/products. On-demand businesses need to make sure they allow their customers to share their experience (video, picture, written) which will serve as a testimony of their quality and attract new customers.
Offer Lucrative Discounts
Another effective strategy to gain more customers is to provide enticing offers and discounts which can attract existing as well as new customers. The only thing to consider while offering discounts is that these offers should be realistic and do not cost much, or else they can backfire.
Build an On-demand Services Marketplace with Yo!Gigs
For a remarkable amount of time, Yo!Gigs has been helping entrepreneurs to build an on-demand services marketplace. The software comes with a multitude of features to aid in the development of a rich services marketplace. The software is readymade and reasonably priced for building a services marketplace.
An on-demand services marketplace armed with the features Yo!Gigs offers is undoubtedly going to rule the market.