Classified sites have a bright future as more and more people in India are using internet to search for products and services locally. Classifieds was already a huge market before internet came to the forefront. But the medium was restricted to print media and it proved to be a hassle for users. Buying used goods such as furniture, musical instruments, sporting goods, auto-mobiles, baby items, mobile phones, property and much more have now become a walk in the park due to emergence of online classified platforms.
The fact that platforms like OLX and Quikr are garnering thousands of monthly active users have made business analysts at FATbit study the website features, functionality and revenue model of such platforms. During our research, we discovered many areas that can help entrepreneurs launch advanced online classified clone. But before proceeding to features and suggestions, let's first understand the business model and revenue generation method of such websites.
Business Model of Online Classified Marketplace
Such classifieds/listing websites are free to use, you can search for products available for sale and list what you want to sell for free. If the main service is free, then how do you think the website would make any substantial money? Read on and you will come to know!
Premium listings: classified marketplaces offer their core service free of cost, but if a user feels that he needs more coverage for his listing (as a seller), then, the option of featured listing is available.
Advertising: Contextual ads or Branding largely for large advertisers via Google AdSense.
Pay per lead model: Targeted at Small and medium size businesses
There are platforms that earn revenue only through advertising, while other offer premium services that allow sellers to feature their advertisement in search results. However, for most of the sellers these services come free of cost. The intent is quite simple – the percentage of users who would actually be opting in for the "Featured ads" would be very small, and so the idea is to keep your overall user-base so high that even that small percentage translates into a significant number thereby bringing in a decent revenue.
Now that we have covered the business and revenue model of such platforms, let's focus on the key website features necessary to create an advanced online classified marketplace clone website.
Website Overview:
The first and foremost criteria of creating a website is to have a clean interface and the same should be visible on the homepage. FATbit analysts have few suggestions that would result in an immersive homepage design:
A dedicated search bar for location selection as well as products.
The top navigation that contains an option to change the language pertaining to local userbase.
you can also have a banner image on the homepage which can display the core characteristics of the website and what is it all about.
Just below the search bar, you can have links to all the categories in a grid.
City Selection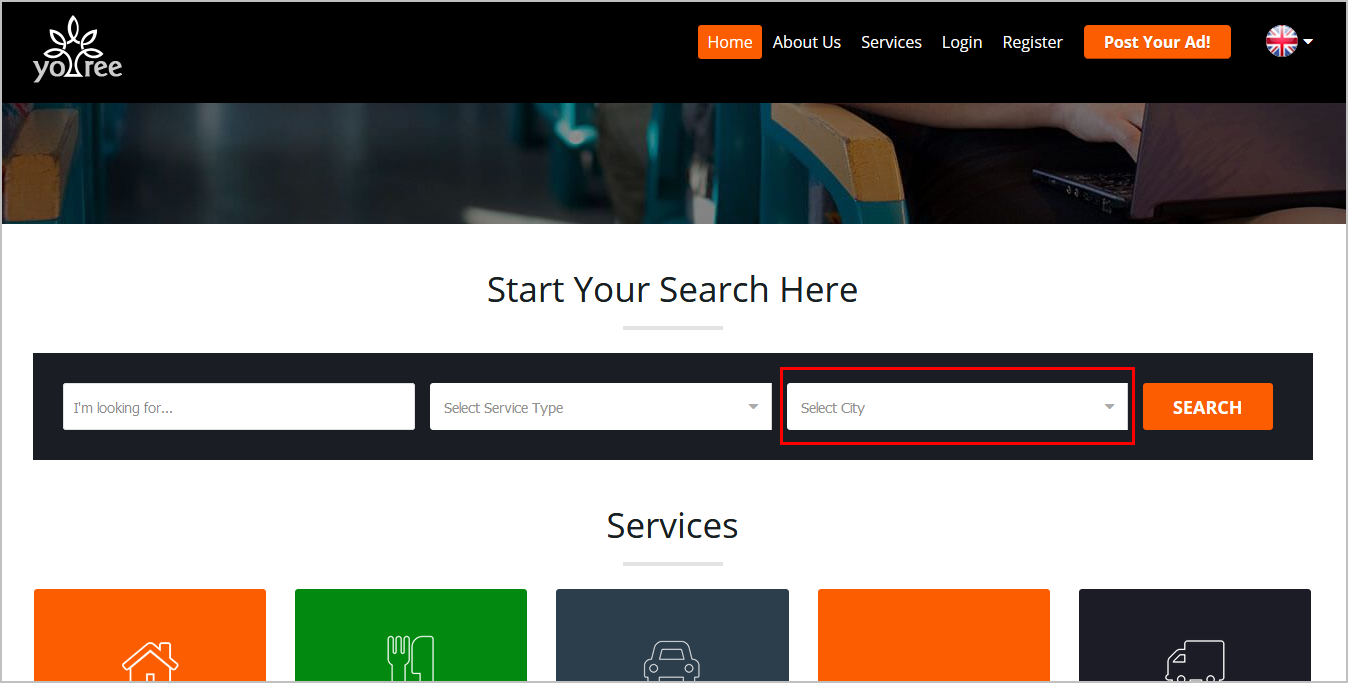 A classified website allows users to find used items in their corresponding cities. This is why you must have a city selection bar on the homepage, with option to either search or select the location from the available options. Users can search for products throughout India or can streamline the search to a particular city.
Product Search
As you expand across several categories, product discovery becomes the most vital part of the core architecture. Analysts at FATbit believe that the search functionality of of your website needs to be simple yet productive. It should also have an autocomplete feature that makes it easy for user to find relevant products.
Such features will play an important part in the success of your website. So, make sure the clone script you choose has all these advanced features.
Homepage Categories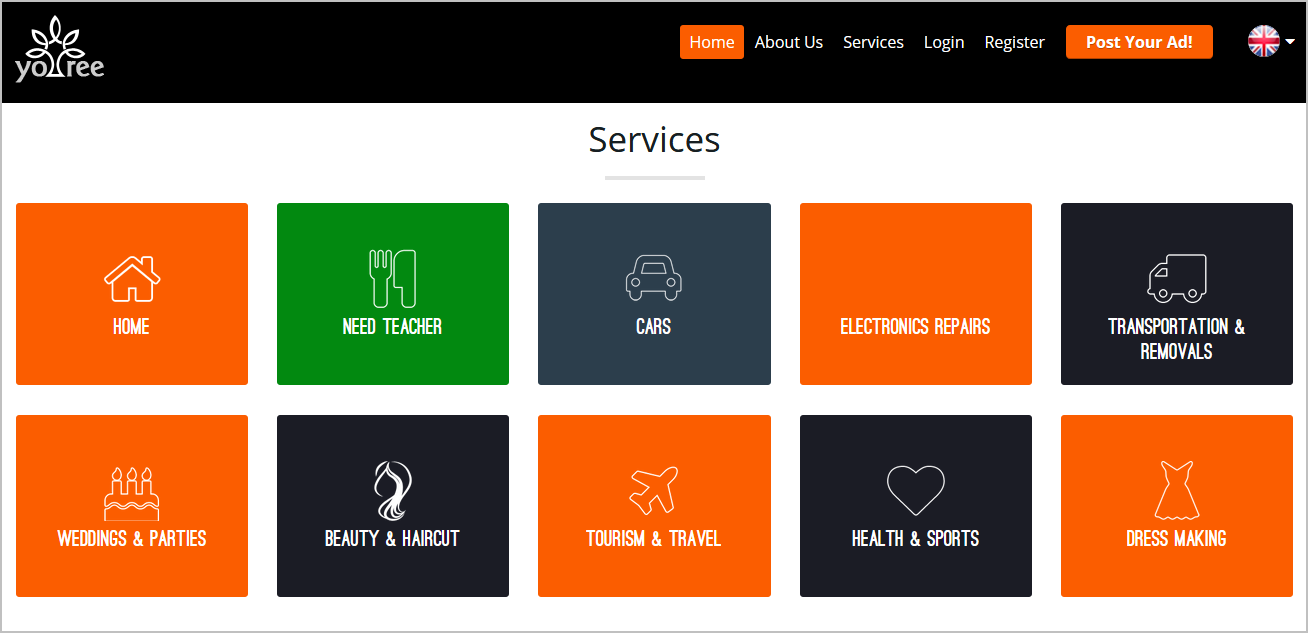 Being a large marketplace offering products in various categories, the biggest challenge in front of you website can be to highlight these categories without cluttering the homepage. As the overall theme across the website needs to be kept minimal, the only options in front of you would be to either put a menu bar housing all the categories or showcase all the categories in a grid. If you choose the former, then all you need is a menu bar, but if you choose later, you need to have a dedicated section highlighting all the categories.
Why Choose Us Section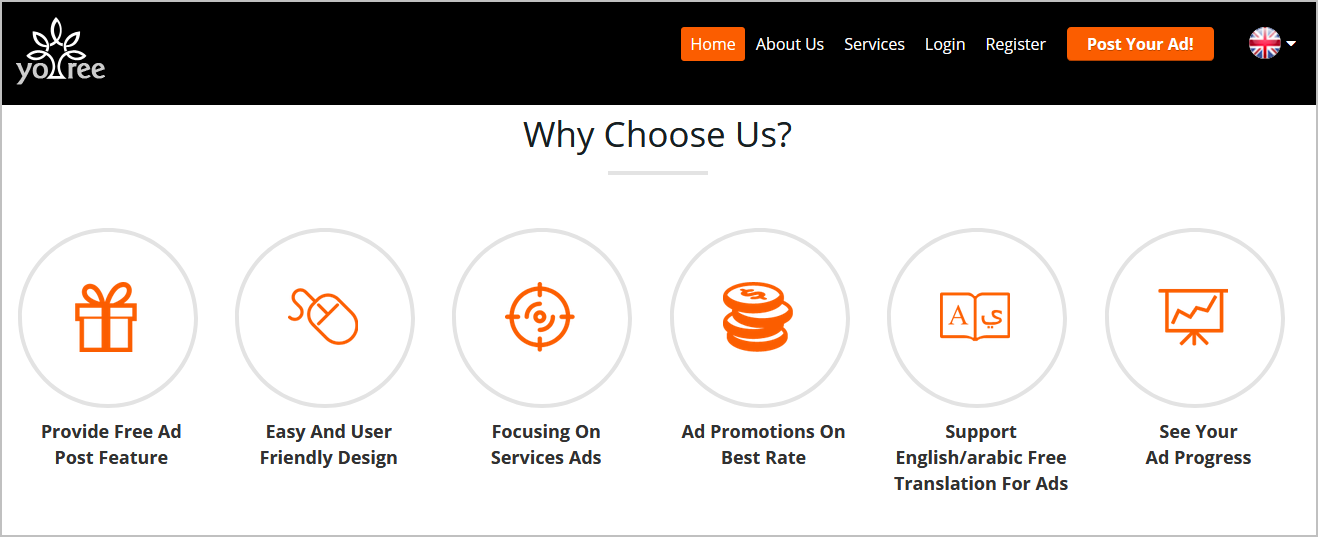 The platform works on a peer-to-peer business model that allows sellers to sell their items. This is why you should also put a dedicated section on the homepage stating the ease of submitting an ad on. Moreover users also do not have to register to post an ad.
Footer
The focus of footer section should also be a minimal design with maximum functionality. You should try to keep the footer as neat as possible. It only houses important links to Mobile Apps, How it Works, Terms of Use, and Social Networking pages.
Submit a free classified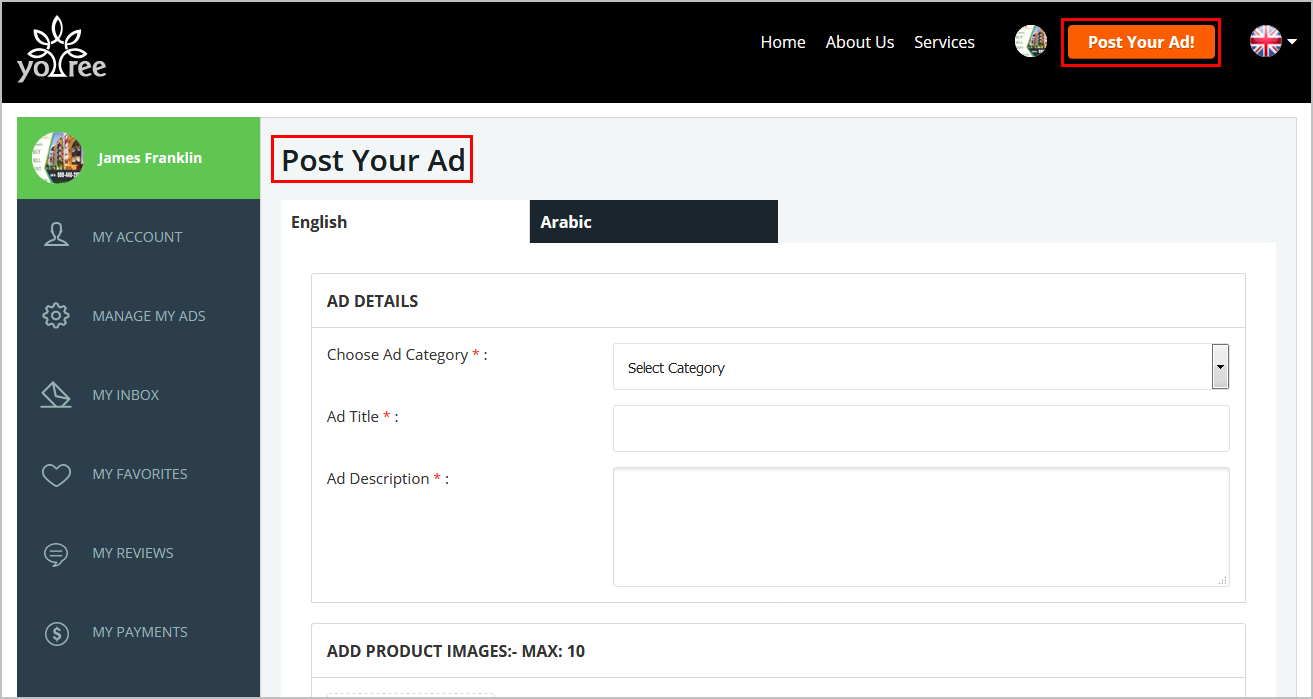 At FATbit, we understand that users consider form submission an irritation. This is the reason why we always recommend keeping it simple and minimalistic. After analyzing the ad submission form of various platforms, we came to the several options that need to be included in the form. Moreover it should not take more than a couple of minutes to submit an advertisement. The information that it required is:
Title of the ad (minimum 15 characters)
Category Ad Description (minimum 20 characters)
Photographs (maximum 8 photos)
Location
Contact details like name, phone number and email
The 'Submit an ad' form need to be pretty well designed and easy to use. Make sure your Clone Script offers an intuitive 'Submit an Ad' feature.
Verification
You can also put an efficient process in place to get rid of spam, and provide users with only relevant ads. Every ad that is posted on the website can go through a thorough check before it is made active. However, users can preview their ad beforehand and edit them if necessary. In order to manage the ad as well as replies, users need to create an account on the website.
Create Account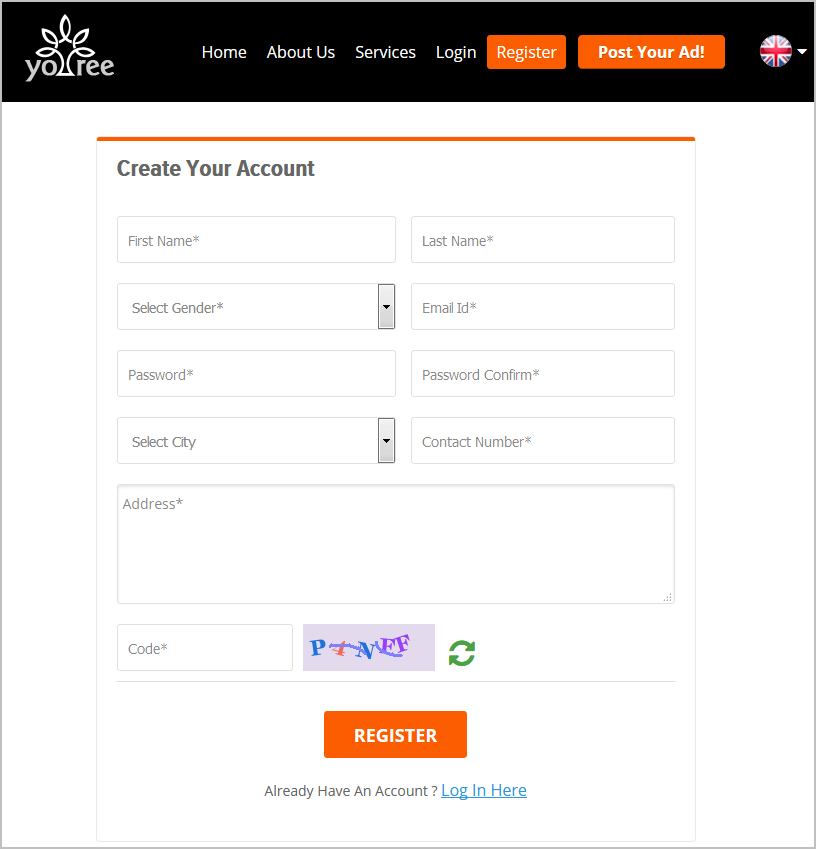 Similar to "submit an ad" form, the account creation form also needs to be simple and precise. Some of the features of this form includes
A simple account creation form requiring email and password.
Either a dedicated page or popup for sign-up form.
Clearly emphasises on the benefits of account creation.
A user is sent an email confirmation link to activate the account. This helps in handling spam.
Our team of UX designers thinks that a minimal log-in and sign-up form plays an important part in increasing registered user base of any e-commerce website.
Discover hidden website issues and make improvements
Request Website Analysis
Advertisement Preview
As discussed earlier, before the ad is made active on the platform, it should go through a screening process to eliminate spam ads. But you can provide users an option to preview the ad beforehand. The advertisement preview should show:
Title of the ad
Location of the product
Time of submission
Unique Advertisement ID
Product images
Description
Moving ahead, let's discuss the necessary features that should be provided to registered users.
Account Section
Although the platform should not bind users to create an account in order to use the services, you can motivate users to create a profile by offering additional features. These features can be accessed under my account section. Let's check out these features and their uniqueness one by one:
Manage Ads: You can make it easy for users to create and publish ads on its platform, but these ads can only be managed if the user creates an account. Under the ads section, users can view all the ads created by them. They can preview these ads and even delete the expired ones.
Messages: You can also put an easy peer-to-peer communication tool for users to interact with each other. Using this, buyers can easily contact the seller and vice versa. All these messages are easily available under the messages section.
Settings: This section can include option to change contact details, password, and even delete account if necessary.
Rather than incorporating several features, you should focus on basic features that are essential in creating a peer to peer connection between seller and buyer. This probably is one of the biggest reasons that would result in the success of your online marketplace. We recommend a similar approach while building an online classified marketplace clone.
Product Listing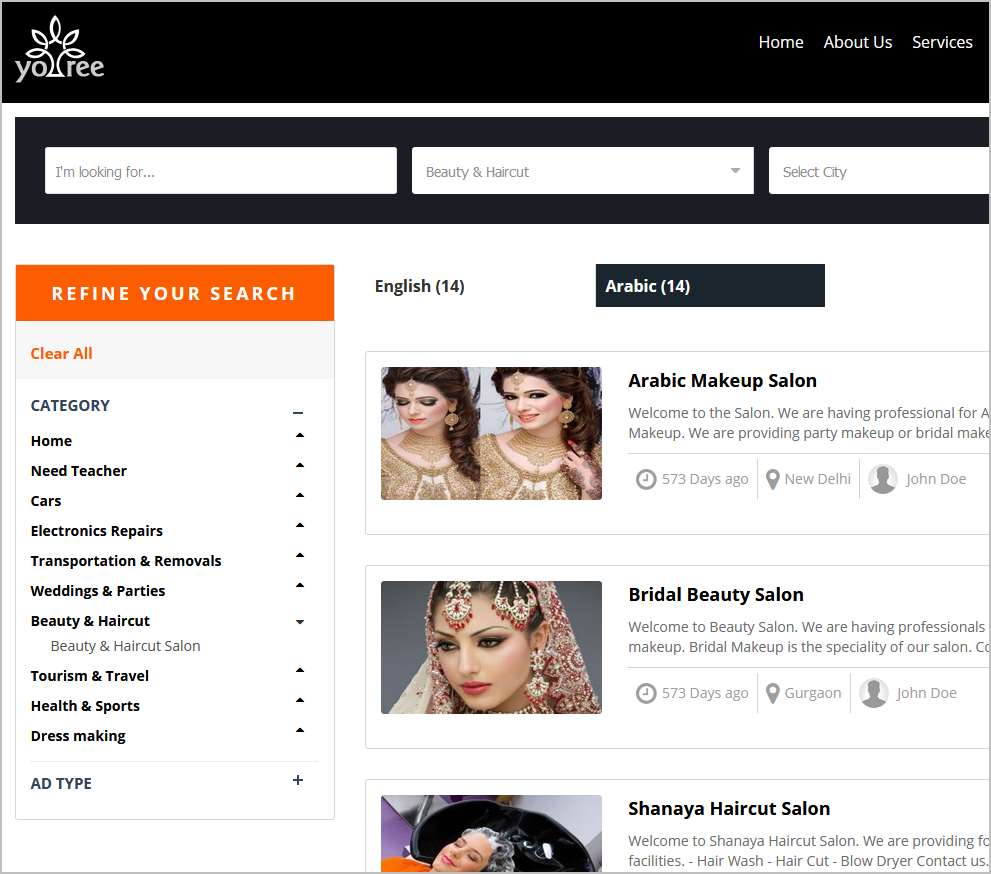 Just like various eCommerce sites, you should also have a well-defined products listing page. you can also offer filters to buyers for streamlining the search.
The products in the listing can be marked as Favorite which can be later viewed in the Favorites section.
You can also provide a sorting option based on most recent ads and price.
Your online marketplace should care for user experience which is why it should only showcases ads with descriptive photos. However, you can have a dedicated tab where buyers can also view ads without photographs.
Search filters are one of the most important features for product discovery.This is why you need to incorporate advanced search filters to help people find right products.
Features like this can make your platform different from other classified sites like Quikr and OLX. Make sure that your chosen clone script has similar features.
Add these similar UX focused features to your website
Contact Us
Product page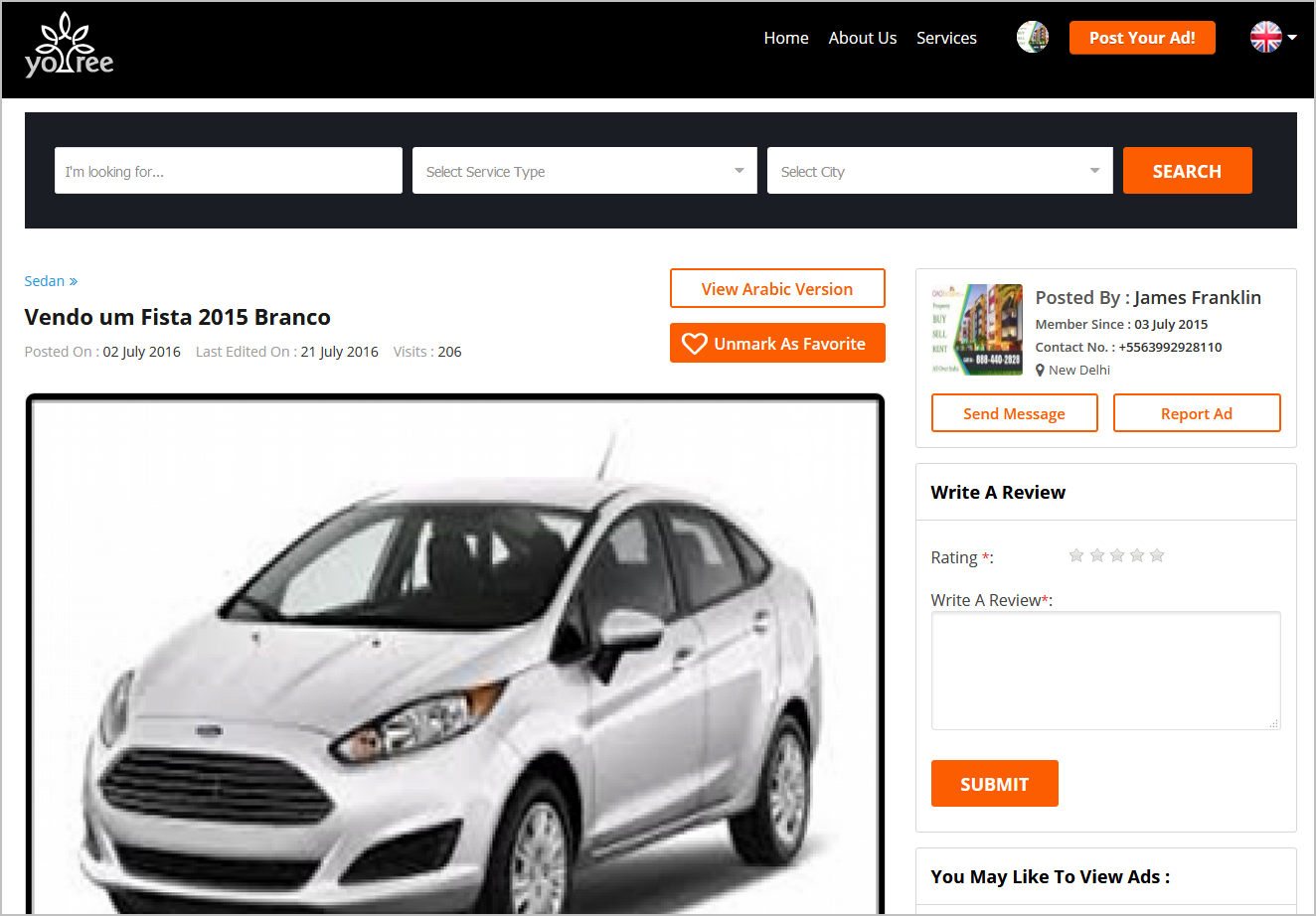 Unlike websites that rely heavily of feature driven product pages, you need to focus on providing relevant information to the users. This is why you product page should include options like:
Product title

Contact Us

Price Contact details of seller
Product image
Product description
Communication tool to contact seller
Depending upon your targeted user base, you can tweak the product page in your online classified marketplace.
Favorites
As discussed earlier, you can incorporate a favorites feature in your website that allows users to bookmark products. This feature can be used to save classified listings to wish list. All the listings marked as favorite appear in this section.
Any ad can be added to the favorite list.
These ads get listed under the favorite tab.
Searches can also be saved as favorites
Favorite list can be accessed from the "Account" drop down.
Popular Search Phrases
Being an online marketplace driven by search, you can adopt a unique approach by providing a dedicated page of popular searches. This page should house all the popular search which can be sorted based on city as well as category.
Mobile Apps
With mobility coming to the forefront and smartphones becoming prime source of online shopping, it has become necessary for all online portals to have a mobile presence. With the same approach, you should also have a native mobile app for all major platforms making it easier for sellers and buyers to connect with each other on the go.
Ads for buying
Other than buying you should also provides sellers the option for posting an ad. This approach only caters to half of the market. This approach would bridge the gap between buyer and seller.
Estimated selling price
As this is a used items marketplace, there are no set guidelines of the price. Time and again, we have found that both sellers and buyers are unsure about what a reasonable price should be and very often the transaction value ends up being lower or higher. In that aspect you can have a dedicated tool that would use advanced algorithms to determine the tentative selling price of the item. This can be a great feature for your online classified clone website.
Product alerts
In order to increase user engagement, you can add an alert feature which notifies the buyer if the item they are looking for is available for sale.
Final Thoughts
OLX and Quikr are one of the most popular classified ads website in India. With the growing popularity of online shopping and ecommerce, this is the best time to start a clone website with advanced features. However, make sure you hire an experienced team of designers and developers for your classified site. Else it will have a difficult time competing with popular classified ads platforms.
Remember it's easy to build an online classified marketplace clone but far difficult to make it stand out of the competition without unique features.
Interested in building a classified website
Check YoTree