Last Updated: 7th September, 2023
Party rental businesses provide party and event equipment in bulk quantities to both households and commercial businesses. These businesses remain in demand throughout the year. Both B2C and B2B businesses in the industry commonly rent out equipment like furniture, tables, chairs, curtains, tents, lighting solutions, audio/video equipment, podiums, stages and small decor.
Due to lack of awareness and knowledge about conducting business operations on the internet, many party rental businesses refrain from going down the eCommerce road. However, for owners with ample experience in organizing parties and events, it is easy to understand the working and complexities of an online party rental business.
In this article, we have covered some prerequisites and recommendations to help such business owners gain deeper insights and launch an online party rental business.
Table of Contents
Latest Trends in the Party & Event Rental Industry
New trends enter the party & event rental industry every year. While it is quite challenging for well-established businesses to adapt and modify their business according to those trends, startups and nascent companies can quickly switch and capitalize on them.
In 2023 and its following years, the following trends are going to direct the trajectory of party rental businesses and customer behaviour.
Increasing Demand for Sustainability
Modern consumers are consciously aware of environmental concerns and are actively willing to participate in eco-friendly measures to a certain degree. Moreover, varying statutory regulations also oblige them to curb plastic usage and select sustainable options when possible. As a result, customers in the party rental industry are limiting their choices to degradable cutlery and similar disposable party supplies.
Non-traditional Event Venues
Destination weddings and non-typical event venues, such as farmhouses, art galleries, museums and campsites are gaining prominence amongst modern consumers. People are reluctant to host events at traditional venues like hotels and restaurants more than ever. Non-traditional event venues might be difficult to cater to some party rental businesses, but the complications arising in these venues also manifest scope for price elevation.
Rise of Party Gadgets
Tech gadgets are becoming a new norm at party rental businesses. Renting equipment such as automated food dispensers, karaoke systems, projectors, lighting solutions, voice assistants, Wi-Fi routers, Wi-Fi range extenders, LED balloons and robotic vacuum cleaners are on the rise amongst traditional party equipment.
Virtual and Hybrid Events
Virtual and hybrid events enable guests to join from distant locations. The advancements in the AR and VR technologies has made virtual and hybrid events viable. Some examples of virtual and hybrid events are concerts, conferences, sports events, educational events, and festivals.
Party Rental Business – Major Customer Segments
The customer base of the party and event rental industry ranges from general households to corporate businesses and government agencies.
As can be expected, in each customer base, the type of events and the demand for equipment vary a lot.
In this graphic, we have carried out a brief analysis of each customer segment and event type:
Challenges Faced by Party Rental Businesses
Party rental businesses involve handling logistics on a regular basis. They are also required to follow a strict schedule to conduct successful business operations. This schedule involves timely delivery and inventory procurement, which are often not easy to manage.
Similarly, there are several interrelated challenges that party rental businesses face. The most complicated amongst them are mentioned below:
Complex Pricing Model
Rental orders involving varying durations for different equipment render a lot of party supplies redundant in multi-day events. This means that the equipment rented for day 1 of the event may not be required by the organizer on the other days. He/she will be reluctant to rent it for the complete duration of the event.
In such a scenario, it becomes difficult for party supply rental businesses to calculate pricing for the equipment required for varying duration in the event. When grouped together with other equipment, price calculation and quotation for the entire order becomes a real challenge for the business owner.
Tracking Inventory Flow
Tracking the delivery and procurement of inventory is also a major challenge in the party rental industry. As implied under the previous section, customers may return specific equipment before the end of the event or need immediate equipment replacements. In these circumstances, tracking inventory flow becomes essential for party rental businesses.
Inefficient tracking can lead to business disputes, poor inventory management and make the business susceptible to frauds and thefts. A common solution to inventory tracking problems on which party rental businesses agree upon is real-time tracking. However, tracking the flow of inventory in the party rental industry can be labor-intensive and time-consuming, depending upon the order volume.
Maintaining Inventory Levels
The inventory for a party rental business includes both consumable and non-consumable items. While it is comparatively easier to arrange non-consumable products (considering they are returned or procured on time), consumable products, on the other hand require recurrent investments from the business owner for stock refills.
Also, the capacity of a party rental business to serve multiple clients depends invariably on the order volume. Thus, a client ordering a specific type of equipment, for example, lighting solutions, in huge volume can incapacitate the party rental business to provide the same to another client.
Providing Reliable Customer Support
Party and event rental businesses need to manage comprehensive customer support channels to handle customer doubts and queries. They should also expect last minute complaints from clients who can require customer support for various reasons such as equipment shortage, equipment damage and delayed delivery.
Customers want fast and reliable support channels, which are often difficult for SMBs and startup businesses to manage.
"56% of people around the world have stopped doing business with a company because of a poor customer service experience."
– Microsoft
How A Party Rental Software Solves These Challenges
Optimization of internal processes and automation stand out as reliable solutions for the aforementioned challenges. While revising and restructuring internal business processes can be time-consuming for a business, automation via the means of party rental software is a faster and more efficient solution.
Business enthusiasts and startups can access the rental software to set up a party rental business with a frontend customer touchpoint for conducting business operations. In layman terms, with the help of a party and event rental software, entrepreneurs can both streamline their backend business processes while providing an interface (such as an eCommerce website) to their customers for placing orders.
How party rental software assists in resolving the aforementioned challenges? 
Party rental software comes with several features such as:
Inventory management: Real-time inventory inputs can be made into the software to help businesses maintain inventory. The software can send notification alerts for equipment returns and stock refills. Unavailable equipment is automatedly labeled as 'out of stock' to streamline order management and improve customer experience. Similarly, limited quantities per-order can be set on a party and event rental software. 
Order management: Sales records and existing orders on a party rental software are displayed on a single screen and can be sorted with the help of various filters. A business owner can filter completed and pending deliveries directly through the order management tab. He/She can also mark order completion on the return of the equipment. 
Customer support: Party rental software have several AI chatbot integrations available for customer support. Some even offer a ticketing system. Based on the type of software a business owner selects, he/she can get access to various free and paid customer support integrations.
Advanced booking system: The complex pricing model can be tackled with the assistance of an advanced booking system that is available on party rental software. With the help of this system, business owners can calculate accurate pricing based on location, hours and days.
Looking for a Readymade Solution to Build a Party and Event Rental Website?

Apart from the aforementioned challenges, a rental business faces many other challenges in general. You can read about those challenges in our other post.
Key Features of a Party and Event Rental Website
After carrying out in-depth research of several party rental websites and their distinctive features, we have compiled the following list of features required to conduct smooth party and event rental business operations:
1. Themed Product Brochures and Packages
Party rental business owners can create themed brochures for different types of events and upload them on the website. This will not only allow them to rent out high-profit items, but also simplify pricing and ameliorate customer experience. For example, Party Rentals Ltd., a US-based party rental business uses product brochures to exhibit its equipment.

Along with the brochure and the option to purchase the mentioned equipment as a package, party rental websites can also provide a button to download the brochure as a PDF. This will allow interested customers to share the brochure with their family and friends without requiring them to visit the website. Thus, improving the customer experience by a huge margin.
2. Barcode Scanner
A barcode scanner linked with the website's database can automate real-time inputs. It will increase the speed of order processing, eliminate input errors and does not require login credentials to work. Moreover, it will help in maintaining the flow of inventory and is incredibly useful for processing large orders and performing quality checks.
3. Multiple Carts for Different Events
Business owners can assist customers in managing different events. For this, they can allow customers to create multiple shopping carts. Each cart can have multiple attributes such as event name, number of guests, event start and end date. The option to change cart can be given at the top-right corner of the screen. Similarly, it can also arrive once the customer clicks the 'add to cart' button.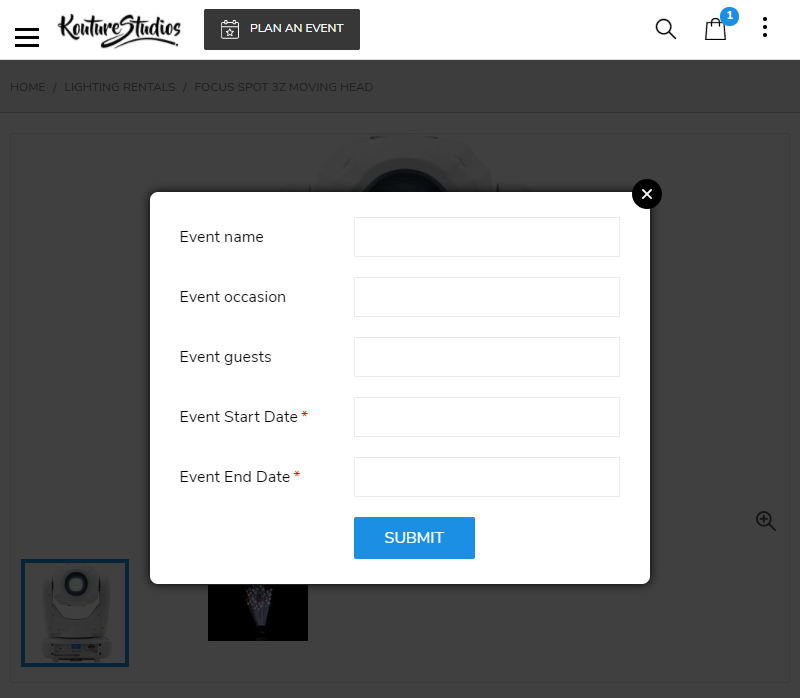 KoutureStudios, an events management and party rental website, powered by Yo!Rent, uses multiple carts to allow customers to save equipment for different events. It also uses an automation feature to select the quantity of products based on the number of guests.
4. Subscription Packages
Party rental businesses can use multi-tier subscription packages for customer retention. This feature is most useful while conducting B2B operations, such as providing party supplies to corporate offices and event organizers. Both these types of customers organize events on a regular basis and appreciate discounts and benefits for recurrent ordering.
5. Event Gallery
Customers in the party rental industry purchase products that are put on display. They want to know how the equipment will look before making the payment. While offline stores can put various equipment on display, eCommerce party rental websites can create an event gallery to showcase their portfolio.
A captivating product gallery will also assist in standing out from the competition.

6. Option to Add Spare Equipment
The option to add spare equipment in the cart can prevent customers from facing embarrassment due to equipment shortage. Often the number of guests in events and parties exceeds the number of invitations and results in the shortage of seating capacity. Similarly, there can be shortage of tables, decor, lighting, glassware and other equipment. Product damage and quality issues also lead to shortages.
As a solution, the party rental website can provide the option to add spare equipment in the checkout process. This upselling will increase the profit margins for the business and is highly likely to be ordered by customers. The business owner can set a default amount of spares for tables, chairs and any equipment from the admin panel.
7. Multi-User CMS
A multi-user content management system (CMS) is required for labor intensive party rental businesses that require various subadmin accounts.
The admin of the website can assign privileges to different co-admin accounts and allow them to handle various web pages, blog pages, banners and backend processes on the platform.
How to Launch a Party & Events Rental Website
According to Google Digital Garage, a website acts as the online home of a business. For a party rental bookings, it is the digital storefront that the rental business software powers.
Below are the steps a business owner can follow to set up a website using a party rental management software:
1. Select a Party Rental Software
There are various party rental software available on the internet with each having different server requirements. Not to mention, they may differ in features and functionality also, which is why they deserve prior attention before making a server and domain choice. A business owner also may customize the software (see section "Distinctive Features of a Party Rental Website" below) as per the business requirements.
2. Select a Server and Domain
Depending on the server requirements, a business owner is required to select a server to host the website. The website should also have a unique name, which is known as the domain. For a hyperlocal party rental business, the domain name should make it easier for visitors to recognize the business. One can use a domain name search tool to know which domain name is available and which is already taken.
3. Installing and Configuring the Party Rental Software
After selecting the server and domain name, businesses are ready to install and configure the party rental software. The software team may assist in installation and one-time configuration. After onboarding, the business can configure the software itself in the future.
4. Add Products and Launch Your Party Supply Rental Business
After configuring the software, the business can upload detailed product listings and set rental prices. To make the products easy to filter, the business owner can set categories for different styles, event types and price tags. Once the product catalog is ready, the online party rental business is ready to launch.
Learn how we built an online rental website for a US-based party equipment rental business in this case study.
Pricing Models for a Party and Events Rental Business
There are various routes to resolving the complex pricing issues of a party rental business. A direct approach to resolve them is to adapt a profitable pricing model based on the market situation. What's more, modern party rental management software can support various pricing models, providing the business more versatility in pricing its equipment.
The various pricing models that are suitable for a party rental business are:
Cost Plus Margin:

A pricing strategy to cover capital costs in the minimum number of bookings. 

Demand-Based Pricing:

  In this pricing model,  the increase and decrease in consumer demand determines the pricing.

Competitive Pricing:

Instead of consumer demand, the prices set by the competitor acts as the main determiner for pricing.

Price Bundling:

The pricing is set for a group of products and grouped products are not rented out separately.

Penetration Pricing:

Penetration pricing involves renting out products at a very low cost to disrupt the existing market.
Marketing an Online Party and Events Rental Business
Except for a few exceptions, the majority of party rental businesses are hyperlocal businesses, which means they operate within a very limited geographical range. While this narrows down the target audience, the marketing challenge of how to introduce and promote the services of a party rental business still prevails.
Below are some handpicked marketing solutions to assist startup party rental businesses promote their online business.
Attend networking events

Conduct social media marketing

Implement local search engine optimization (SEO)

Implement local search engine marketing (SEM)

Pursue email marketing

Do hyperlocal branding

Publish press releases

Advertise in local newspapers and magazines

Launch a referral marketing program
Selecting and implementing the correct marketing strategies for business promotion is a tough call for various types of businesses.
In Conclusion
Party and event rental businesses are in demand in all major cities of the world. However, as the competition increases, so does the demand for better services and customer experiences. If your business can supply high-quality party equipment backed with superior customer experience, it is possible to surpass incumbents and establish a name in the party rental industry.
Build your Party Rental Website with Yo!Rent