One of the most prominent key players of the online food delivery industry in the Middle East is Talabat. Talabat is a Kuwait-based food delivery company founded in 2004 by Abdulaziz Al Loughani. Talabat has emerged as a reliable food delivery app in middle eastern countries.
Talabat was launched at the time when the wave of digitization had started to propagate into the food delivery industry. The company took advantage of the untapped opportunities presented at that time and made the most of it by introducing an exclusive new way of food ordering to the people in the middle east. The company gained popularity by providing the convenience of ordering food through mobile phones to customers.
Talabat has been leading the UAE's food delivery market for over a decade. The growing popularity of online food delivery in the middle eastern countries extends a wide range of opportunities for entrepreneurs to launch a food delivery app in the region. In this blog post, we will discuss important elements to enable entrepreneurs to build a successful food delivery app like Talabat.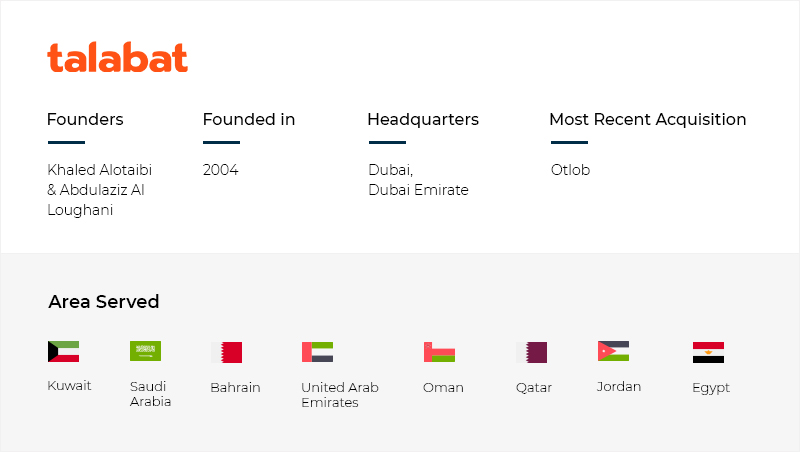 Apps Provided by Talabat
To develop an app like Talabat, you must have a fair understanding of how the food delivery company operates or performs various functions. When we say Talabat App, it's not just the customer app that we are talking about. Talabat has three different apps for different sets of users to easily and seamlessly perform the food ordering and delivery operations. The three different apps are:
Seller/Merchant app
The merchant app allows restaurant owners to easily manage various operations via mobile phone. The restaurant owners can manage multiple restaurants or restaurant chain through a single account. Also, the app features sales analysis, restaurant & delivery management, and payment tracking for merchants to execute food delivery operations without any hassle.  
Buyer app
The buyer or customer app is where customers can find all the restaurants with their offerings. The app allows a customer to create an account, search for restaurants & dishes, go through the detailed menu of listed restaurants, select food items, place orders, make payments, track order delivery, and leave reviews for the restaurants, all through their mobile phones.
Delivery staff app
The delivery person receives delivery requests on the app and can accept or reject them at his/her availability. Also, the app allows delivery staff to track orders for pick up and customers' delivery address, adding to the convenience of operating.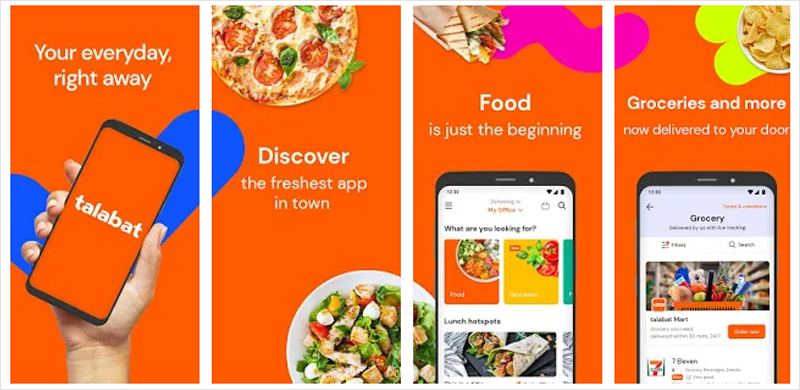 Talabat on Google Play Store
Key features for food delivery app like Talabat
What makes Talabat the most preferred food delivery app in the UAE is its striking features that foster ease of use. Here are the key features that a food delivery app must be equipped with: 
Multiple payment options 
A food delivery application can be integrated with multiple secure payment gateways and provide diverse payment options like net banking, debit & credit cards to facilitate hassle-free transactions.
Multilingual capabilities
If an entrepreneur plans to launch the food delivery app in more than one region, then it must possess multilingual functionality. Doing so may enable users to use the app in their regional language which is important in areas where multiple languages are spoken.
Delivery management 
Managing delivery is one of the most important tasks for the online food delivery business. Therefore, delivery management feature in the app is important to streamline the process of managing and executing order deliveries. This feature allows the admin and restaurant owners to assign orders for deliveries to delivery personnel. The feature also enables the delivery person to accept or reject the delivery request ap per his/her availability.
Real-time order & delivery tracking
Real-time tracking feature allows restaurant owners to frequently update the order status so that the delivery person can track the order and pick it up when ready. Also, with real-time delivery tracking, customers can track their order right from the time they place an order till the food is delivered.
Reviews & ratings
Allowing the customers to give reviews and ratings for the restaurants will provide an elevated user experience. The app should have a feature for customers to give feedback to the restaurants they have ordered food from. Feedbacks help restaurants to enhance their services and increase sales. Also, it will help new users to choose restaurants and dishes based on the reviews.
Develop a Feature-rich Food Delivery App like Talabat
How to build an app like Talabat – development process
The online food ordering and delivery concept holds potential in UAE. The market is expected to grow by leaps and bounds and it is only advantageous for entrepreneurs to build a food delivery app like Talabat in current times of surging demand. Before building an app like Talabat, go through the following app development process:
Conduct market research
Understanding the market dynamics is of utmost importance before entering any market niche. Before initiating the food delivery app development process, one must conduct thorough market research and competitor analysis to recognize the market leaders and gain insights into existing trends. This should be the initial step of starting a food delivery business as research will enable an entrepreneur create better business strategy that is as per the existing industry norms.
Strategize a business model
One of the most crucial requirements at the initial stage of launching an app like Talabat is to choose the right business model. An entrepreneur must be familiar with the various food delivery business models present in the market and select the best suited to foster seamless business operations. Also, one can strategize the business model by innovating any of the existing ones to match requirements.
Determine revenue streams
Create a revenue strategy to monetize the food delivery app beforehand. The revenue model of the leading online food delivery businesses like Just Eat, Delivery Hero, and Talabat consists of 4 major revenue-generating channels:
Commission fee on every order

Ad campaigns

On-site restaurant promotions

Subscription fee
Choose a reliable mobile app development company
Once the business strategy and revenue strategy are created, an entrepreneur may proceed to develop the mobile app solution. It is important to look for a company that has a dedicated team of mobile application developers and holds expertise in the food and beverage industry. Work references can be asked from the mobile app development company to view recently completed projects.
Discuss features & functionalities with development team
It is advisable to discuss important food delivery app features with a mobile application development company beforehand. Prospect must convey vision and ideas to the business analyst or developers so that they can implement the same.
Looking To Hire An Expert Mobile App Development Team
Summing Up 
This guide serves as a source of information for startups looking to build  a mobile app for their food delivery startup. From the working process and revenue model to the development process and features, I've shared all necessary details in this blog post to build an app like Talabat. As the online food delivery industry evolves and the competition becomes more and more intense, food delivery businesses are required to innovate and reinvent their processes and offerings to gain a competitive edge. Entrepreneurs planning to invest in the on-demand food delivery app development should aim to deliver additional value to the customers and look for features that enhance customers' journey on the app.