Last Updated: 2nd February, 2023
The increasing accessibility of the internet and simultaneous technological innovations offer fertile ground for the growth of modern businesses. This is particularly true for industry segments where internet technology forms the backbone of all the key operations viz. Online food delivery.
The global online food delivery market was valued at $106.1 Billion in 2021 and is expected to reach $223.7 Billion by 2027, exhibiting a growth rate (CAGR) of 11.44% during 2022-2027. The market is highly competitive, and some of the leading players offering online food delivery services include Deliveroo, Just Eat, Delivery Hero, GrubHub, and Uber Eats.
Seeing the growing popularity of this business, we have consolidated the list of the top food delivery software to build websites and mobile apps. However, before going through that list, let's have a look at the evolution, challenges, and benefits of a food delivery business.
Table of Content
How Food Delivery Has Evolved In The Past Decade
Food delivery has evolved to become one of the fastest-growing markets. Food delivery, a system whose origins can be traced back to ancient Rome, has evolved to a whole new level of delivery of food.
It has changed with the advent of technology, especially communications technology including smartphones and POS (point of sale) systems, and has become quite easy and simple – a few clicks and the food is delivered to you.
Companies like Pizza Hut allow customers to customize and order pizza from their websites. Many food delivery services at present, not only help customers order food but also offer a whole new world of convenience and culinary delights.
Tap into this flourishing industry with robust eCommerce software
Challenges in Food Delivery Ecosystem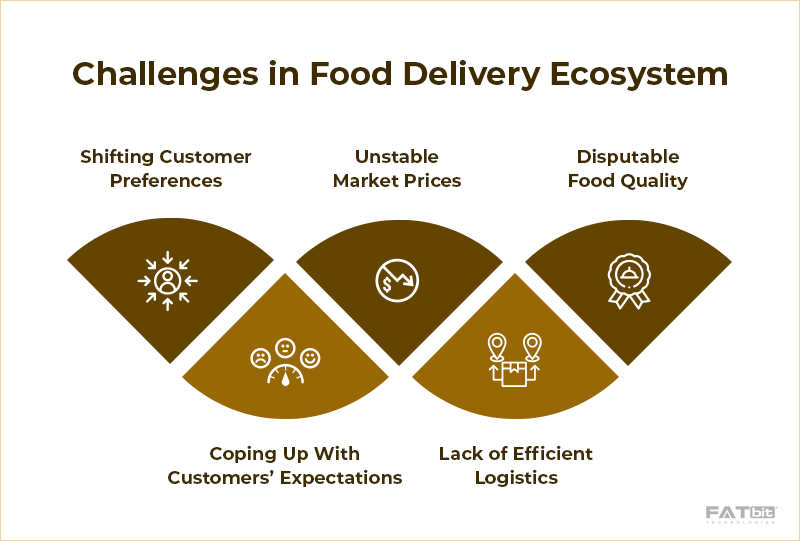 Shifting Customer Preferences
Every food delivery business's main aim is to grow its customer base by offering the best value at an affordable cost. The rise of marketing tactics has spoiled customers for choices as the competition grows. This impacts brand loyalty significantly and makes the customer base unstable toward the business.
In pursuit of controlling customer attrition, food businesses need to deploy various marketing strategies to increase engagement.
Unstable Market Prices
The food delivery industry is becoming increasingly competitive with new players joining every day, making it difficult to crack the right pricing strategy. While the startups decide to work with less or even no profit, the existing players need to focus on implementing aggressive and defensive pricing strategies to compete with their rivals.
This puts more pressure on margins and affects profitability.
Lack of Efficient Logistics
Given the increasing popularity of food delivery, businesses need to have sufficient logistics to keep up with this ever-increasing demand. Else, the huge influx of orders makes it difficult for them to provide on-time deliveries. Expansive delivery radius, huge number of vehicles, large order numbers, maintaining food quality, etc. are some of the critical logistics challenges that hamper the proper functioning of startups.
Coping Up With Customers' Expectations
Customers these days are quite informed and have huge expectations when it comes to food delivery. If the business fails to satisfy the customers' needs, the business is a failed attempt. Moreover, not just the restaurant is accountable for working towards meeting customers' needs, the food delivery business holds equal responsibility in doing so. Both need to work together proactively in order to fill in the gaps.
How a Food Delivery Software is Helpful
Since the demand and popularity of food delivery have grown and reinvigorated the food industry, food delivery software is a necessity that cannot be ignored by the food delivery businesses. Businesses that are not leveraging the benefits of food delivery software are missing out on vital benefits.
They fail to accommodate their customers properly, affecting the bottom line of their business significantly. Let's go over the essential benefits offered by food delivery software.
Delivery Process Automation
Using food delivery software reduces the chances of manual errors and increases the automation of the delivery process. Different useful features like route optimization, customized branding, real-time tracking, COD management, etc. increase the efficiency of delivery processes ensuring successful and timely delivery.
Smart Data Analytics
Many food businesses underestimate the power of smart data analytics. Managers and data analysts will not be able to perform this activity as efficiently as food delivery software with smart data analytics. A food delivery software can easily analyze and present tons of data from different aspects to help you understand the inefficiencies of your food delivery process so that you can take relevant measures to improve it.
Real-Time Monitoring of Expenses & Inventory
Food delivery software updates the supply list, inventory, and expenses in real time. The business owner can review these to keep track of and manage everything more proactively. All these details come in handy while checking the sales of menu items, determining the best-selling menu items, tracking inventory, and ordering supplies.
Delivery Route Planning
While food delivery businesses strive hard to minimize the expenditures of last-mile delivery, it is considerably dependent on managing the number of stops and idle time. Food delivery software allows for forward-thinking route planning, real-time modifications, delivery time, and live ETA.
Seamless Communication
Communication is essential in the delivery process to reduce misunderstandings and lags in the delivery process. Food delivery software offers a strong communication channel between customers. Restaurants and delivery partners complete the delivery process in a quick and affordable manner. The software sends constant updates to customers, restaurants, and delivery partners to keep everyone updated about the delivery.
Customer Experience
Customer experience is what matters for an online food delivery business. It not only depends upon the taste and affordability of food but on the ordering & delivery experience as well. Food delivery software makes the whole ordering and delivery process so smooth, elevating the customer experience to a whole new level.
Leading Software in the Food Ordering & Delivery Industry
As the popularity of online food delivery is advancing, the software to build food delivery websites and mobile apps are also growing in numbers. The following article throws the spotlight on top food delivery software for aspiring entrepreneurs in the food industry. We have evaluated everything from ease of use to the features to help you pick delivery software for your business.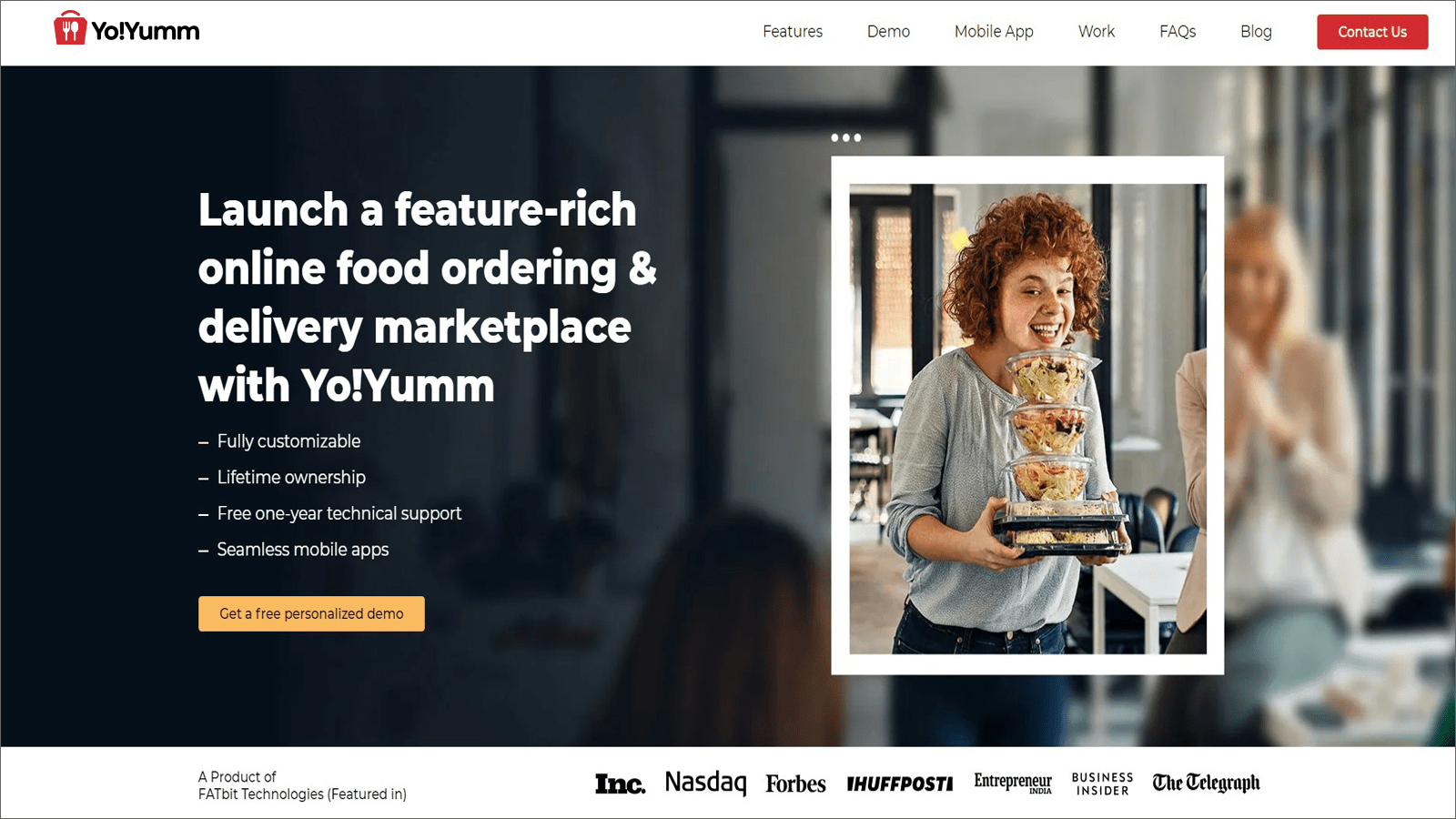 Yo!Yumm is an advanced customizable food delivery software designed for entrepreneurs who are planning to launch a business around online food ordering and delivery. This feature-packed software is built with modern technology and integrated with several third-party APIs to expand the functionalities of a food delivery business.
Business owners can build self-hosted food delivery marketplaces and can take control of their food business from a centralized platform and save time and operational costs with this white-label food delivery software. The intuitively designed admin panel helps business owners manage their marketplace activities conveniently.
Recognized as an efficient and best software to build food delivery websites and mobile apps, Yo!Yumm delivers an enriching customer experience with robust backend and front-end designs, and strong website management capabilities. The software has been purpose-built with core food delivery-specific features to capture growth opportunities in this flourishing sector.
Highlights:
No Recurring Fees

Daily Sales Updates

Reviews & Ratings

Multiple Delivery Management

Support for Restaurants

Geolocation

Real-Time Order Tracking

Payment Tracking

Menu Management

Multiple Payment Methods

Discounts, Offers, & Reward Points

Push Notifications

Mobile Apps

Multilingual

Multiple Restaurant Management

Marketing Tools
Pricing
The Andriod and iOS mobile apps are also available for the software.
*The amount to be paid for any package of Yo!Yumm is one-time fees.
Want to build a food delivery marketplace with Yo!Yumm
Tookan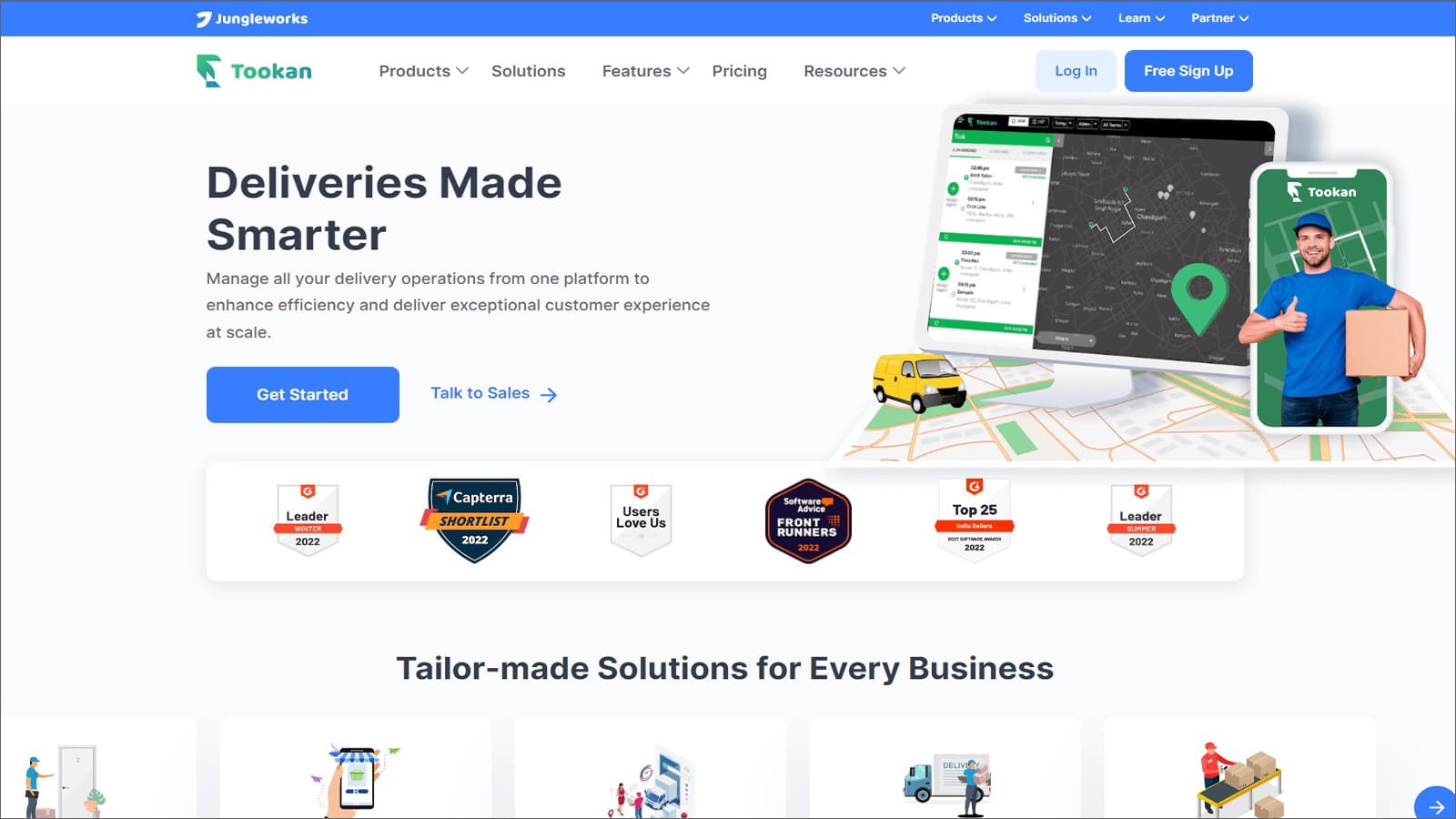 This is a delivery management platform that helps food businesses streamline operations and facilitate communication between restaurants and delivery partners. The platform has a wide variety of direct POS integrations to facilitate a seamless delivery experience. The administrative dashboard of the platform enables the users to track the orders in real-time.
Features like order tracking, geo-fencing, wallet, transaction log, etc. make it an ideal platform to meet the diverse requirements of a food delivery business and manage cumbersome administrative processes. Tookan assists to launch, run, and scale a food delivery business that not only attracts shoppers but also helps them in their complete food ordering journey.
Highlights:
Geofencing

Real-Time Order Tracking

Route Optimization

Offline Sync

Agent Scheduling

Agent Wallet
Pricing
Tookan can be purchased monthly or annually. The annual plans of Tookan are a bit more cost-efficient than the monthly ones.
Annual Plans
Early Stage – $17/month

Startup – $53/month

Growth – $113/month

Standard – $215/month

Enterprise – RFQ
Monthly Plans
Early Stage – $21/month

Startup – $59/month

Growth – $137/month

Standard – $257/month

Enterprise – RFQ
GloriaFood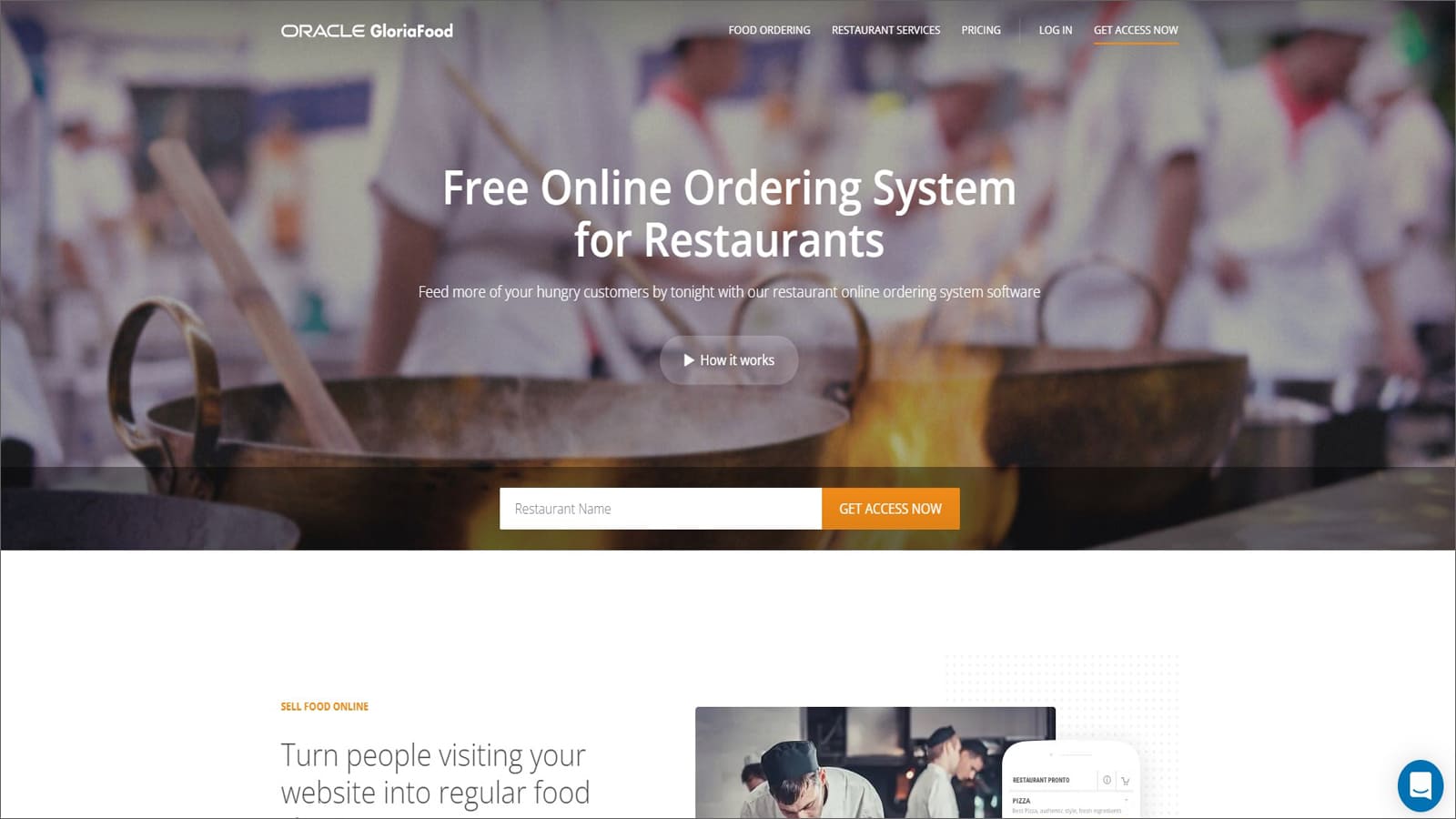 This is software to build food delivery websites for restaurants to streamline point-of-sale operations and manage orders, table reservations, promotional activities, and more. The system provides free and premium solutions for increasing restaurant revenue via online branding, online ordering, and online table reservations.
The admin panel of the system is intuitive which allows the admin to select multiple delivery locations, define minimum order amounts, and set zone-based delivery fees. The menu builder module in the system allows businesses to customize digital menus by adding categories, photos, and pricing. The admins receive automated notifications of new orders and can accept/reject orders as per food availability.
The integrations with third-party applications such as QuestTag, ItsaCheckamte, Orderlord, and many more allow business owners to expand the functionalities of their food business.
Highlights:
Website & Mobile Ordering Widget

Real-Time Ordering

Table Reservations

Order Ahead for Reservations

Vacation Mode

No-Contact Delivery & Minimum Exposure Pickup Options

Schedule Orders

Detailed Reports

Discounts & Promos
Pricing
The pricing of GloriaFood is not clearly mentioned on the website, as its price varies on the services selected, like:
Delivety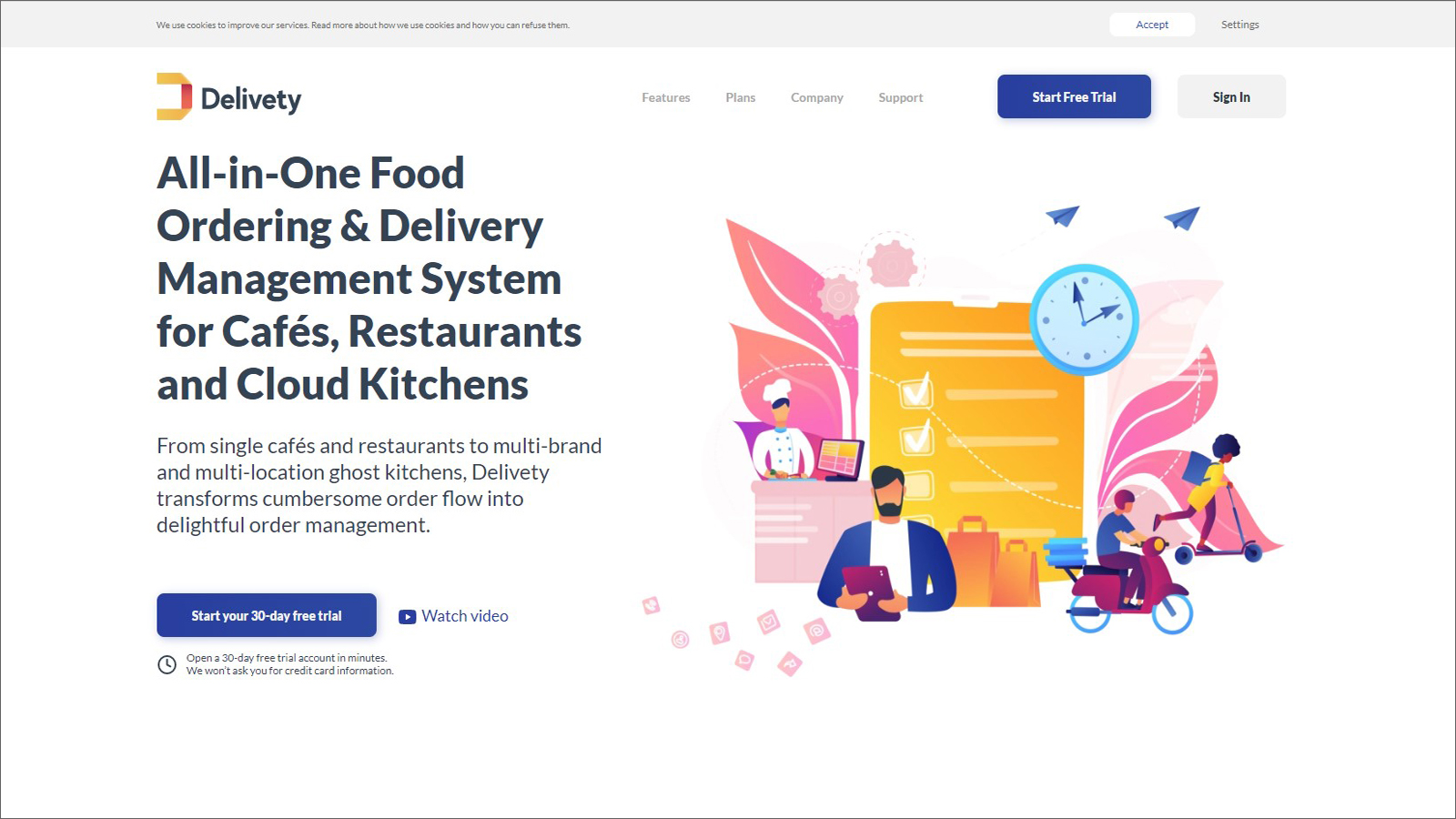 This robust all-in-one food ordering and delivery management software for restaurants transforms the cumbersome order flow process into delightful order management. Specifically built for multi-brand and multi-location ghost kitchens, Delivety boosts the efficiency of food delivery operations: from order taking to food preparation and from dish assembly to order delivery.
The software helps food businesses to deliver faster than their competitors at less cost and invest in growing the customer base. It enables restaurateurs to plan the workflows and manage the orders in real time for better performance and customer experience. Allowing food businesses to reduce human errors to zero, it helps them to stay ahead of the competition.
Highlights:
Operator Dashboard

Kitchen Display System

Assembly Dashboard

Food Ordering Website

Menu Builder

Recipe Editor

Reports & Analytics

Data Export
Pricing
Pro Plan – $49/month

Ultra Plan – $99/month
SpotnEats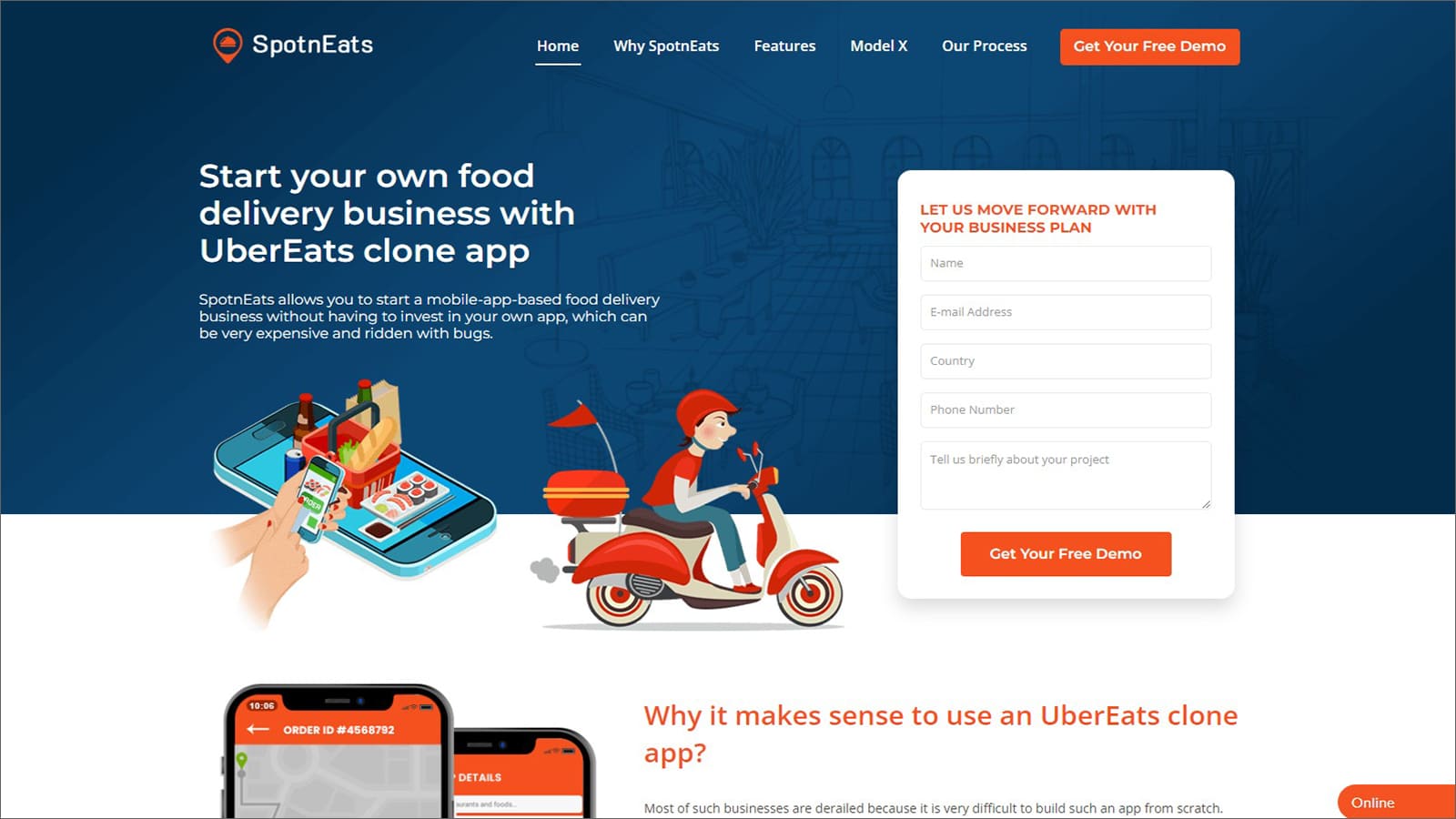 SpotnEats is a software to build food delivery mobile apps that allows entrepreneurs to start a mobile-app-based food delivery business without any hassle. Keeping in mind the amount of time, effort, and money spent in building a food delivery app, the company has made this readymade script to reduce the time to market and ease the workload of entrepreneurs.
The knowledgeable and technically strong team of professionals of SpotnEats has the ability to incorporate all kinds of features in an easy and efficient manner. With the objective of launching a food delivery business within a matter of days, this customizable software includes an adaptive workflow that allows customers to place their orders effortlessly.
Highlights:
Opening Hours Management

Dedicated Admin Dashboard

Instant Notifications

Real-Time Delivery Tracking

Commission Management

User Management

Payment Reports

Menu & Food Category Management

Pricing Management
Pricing
Not available on the website
Foodesoft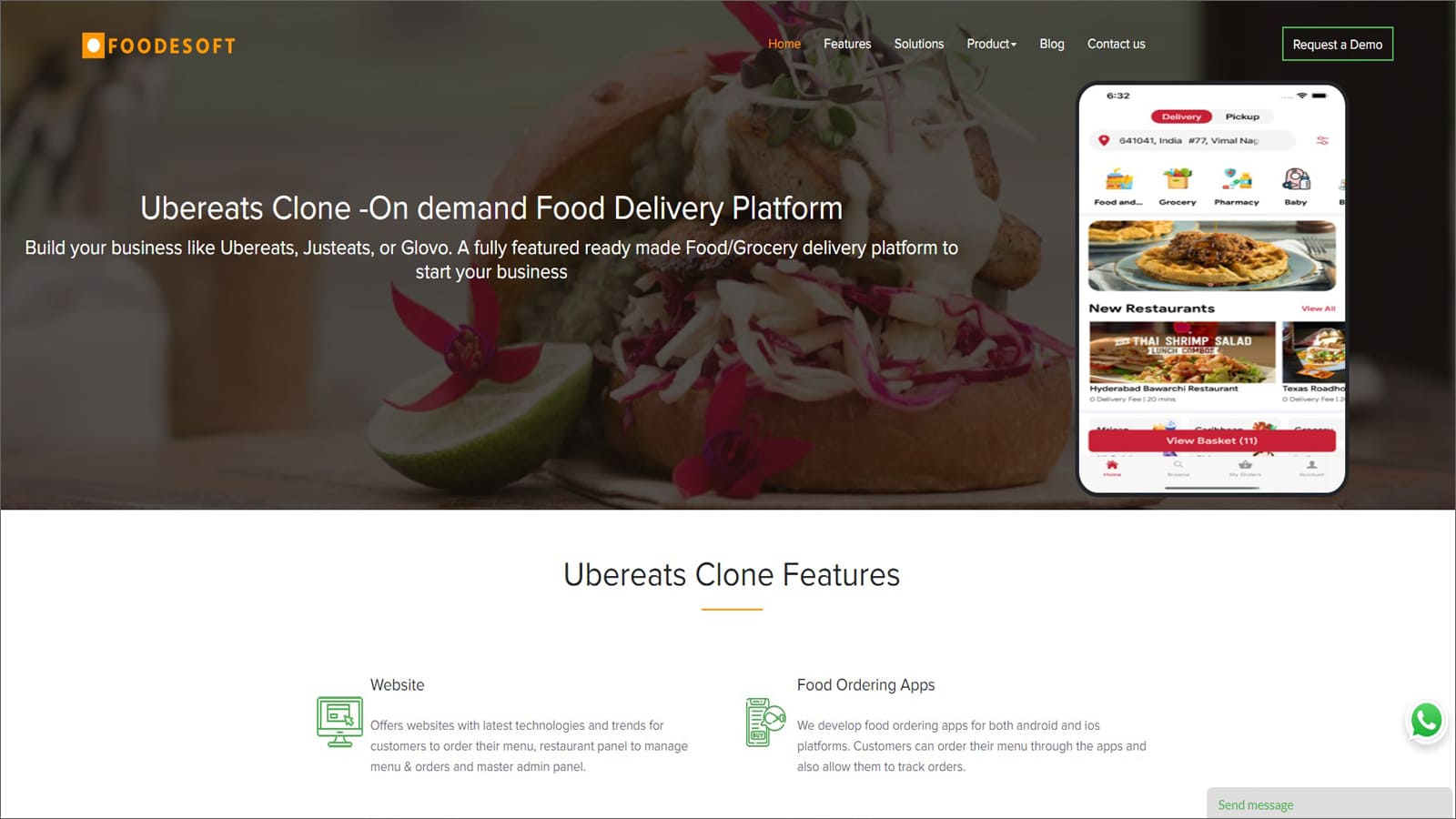 This is an UberEats clone to build an on-demand food delivery business. This fully-featured software to build food delivery websites is ideal for food delivery businesses that are looking to scale without much hassle. Foodesoft delivers future-ready food delivery marketplaces with immersive user experiences acting as a catalyst for new growth in online food delivery.
Highlights:
Pricing
Not available on the website
Kopatech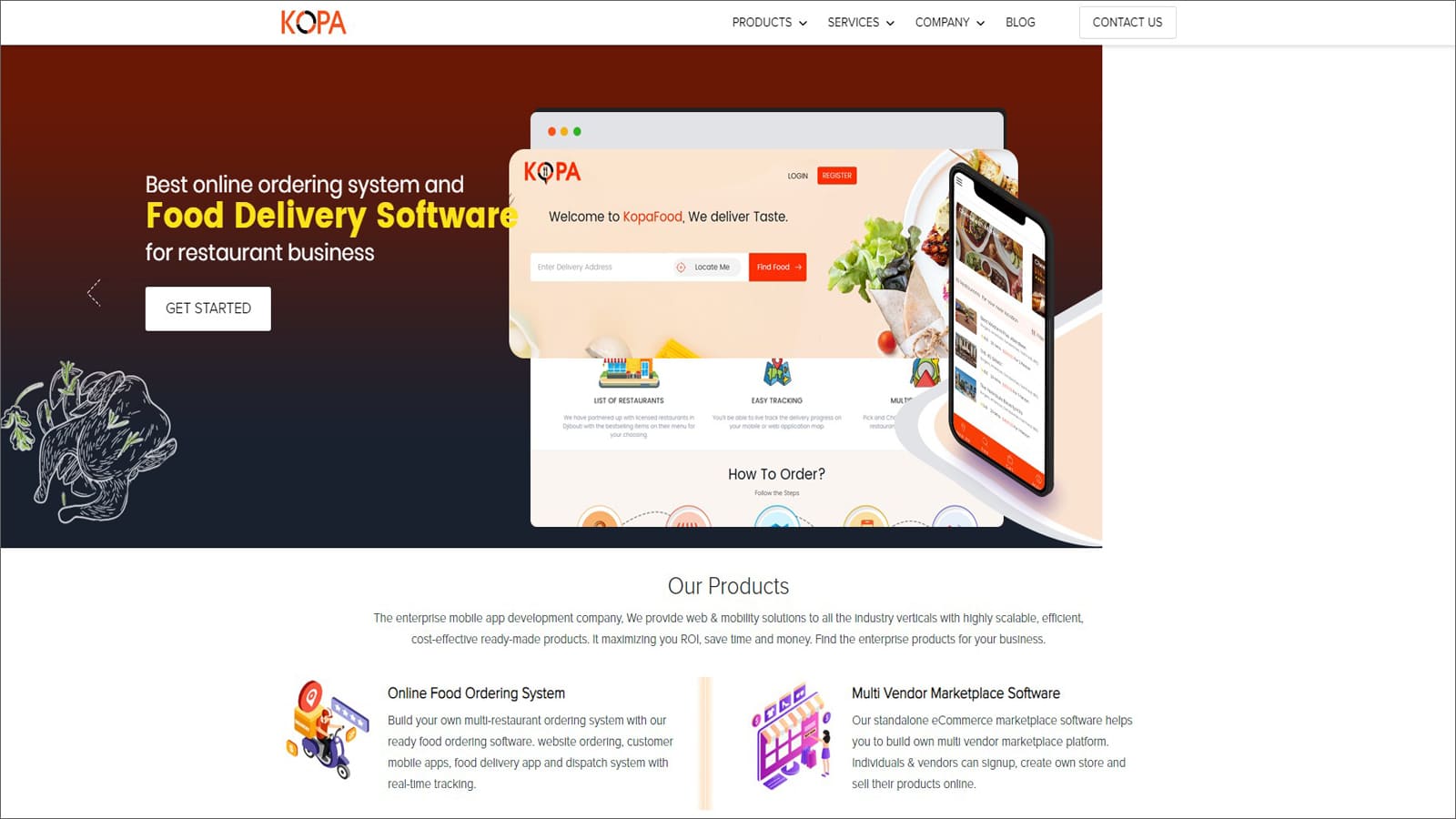 Kopatech offers a multi-restaurant online ordering system to build a multi-restaurant food delivery marketplace. With a suite of integrated features, the online ordering system of Kopatech empowers foodpreneurs to build online ordering platforms like UberEats. The leading technology set up and back the supply chain of your online ordering platform.
Built around a scalable architecture, this software to build food delivery mobile apps can be extensively customized to offer each feature and deliver a contextual user experience for each user journey. With mobile apps and web portals for buyers, sellers, & delivery staff, it makes it easy for startups to set up their online food delivery marketplace that is simple to use and navigate.
Highlights:
Customer Insights

Email & Push Notification

Guest Checkout & Cash on Delivery

Multilingual

Real-time Restaurant Status

Order Status & Delivery Status
Pricing
Not available on the website
Noshway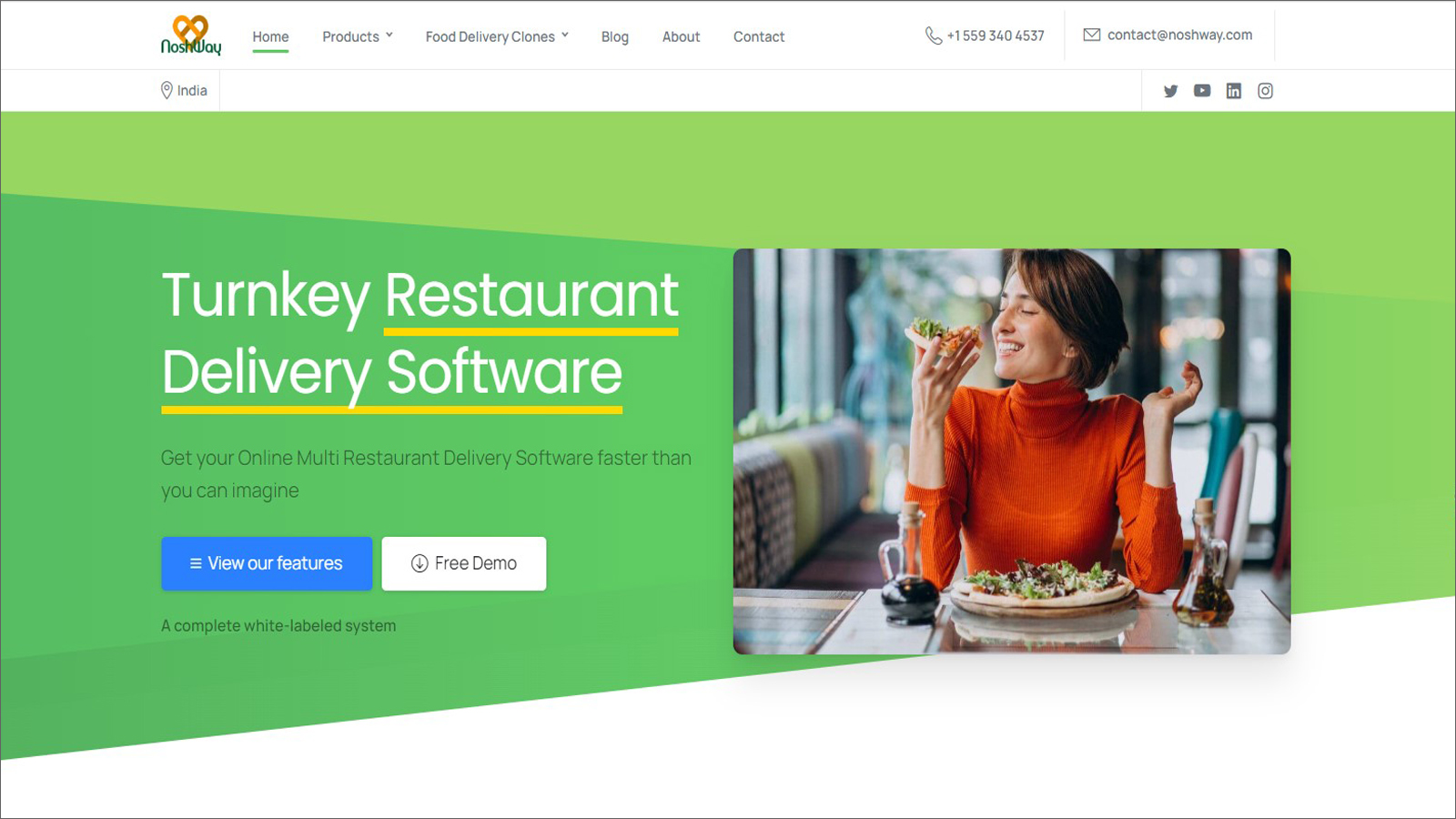 Noshway is an online food ordering and food delivery management system that has been built to cater to all the concerned stakeholders of a food delivery business – business owners, customers, and delivery partners. To smoothen the initial struggle of setting up a food delivery business which includes establishing, break-even, and optimizing finances, Noshway aims at providing stakeholders with a high-tech platform.
The software is easy to use and affordable that streamlines processes and increases productivity. The features and customer support of the software are quite impressive and the team is committed to delivering projects within time and budget.
Highlights:
Contactless Menu & Delivery

High-Speed Installation

Pre-Built Payment Methods

Order Tracking

Table Reservation

Advanced features
Pricing
Not available on the website
Our Methodology
Choosing software for the food ordering and delivery business is not a quick or easy process. Many business owners are put off by the number of products available and the time needed to evaluate each one. Getting it right in the first instance is important as businesses cannot afford to make a mistake.
That's why we compared dozens of online food delivery software that can accommodate the requirements of SMBs as well as enterprises. We made sure that our listed platforms are reliable and useful for the business owners and therefore, we considered various factors while selecting them. Below listed is our criteria for selecting the food delivery software.
Features
Important to note is that every online marketplace has a unique set of features, each tailored to its own target audience. We understand every food business's distinctive needs and therefore, evaluated and prioritized all the features required for a food delivery marketplace and ranked the software according to them. 
Add-Ons
Aside from basic features, we also looked for thoughtful touches that bring more for the same price and robust features that help the software stand out. We highly value all the software options with extra add-ons that help businesses when starting a food delivery platform.
Ease of Use
The success of every food business depends a great deal on speed and efficiency. That's why today's food delivery management software provides access to intuitive dashboards, user-friendly apps, and preset templates for making the whole process hassle-free. The software with one-on-one installation guidance, training video tutorials, and diligent customer support that's available round the clock are ranked high in this list.
Integrations
Software with third-party integrations or the capability to integrate with third-party extensions help food businesses manage everything from a centralized platform. We understand that third-party extensions expand the functionalities of the platform and therefore, have ranked software that offer pre-integrated extensions or direct integration with popular extensions, high in the list offering.
Pricing
While many of the software listed do not have their pricing available on their website, we have tried to include also the ones with affordable prices for startups. Our list also includes the software that offer monthly as well as annual subscriptions for businesses to make informed decisions.
Bottom Line
The online food delivery industry is only getting stronger and more popular every day, which means startups must strive to stay on top of trends to build their position in the market. All the software listed above are feature-packed to help food delivery businesses to keep up with the current trends and experience a potential increase in sales and revenue.