Last Updated: April 26, 2022
Zostel is no longer the only dorm based accommodation service provider for backpackers in India. Every city that receives decent amount of tourists and young breed of travelers has its share of affordable hostels. While most hostel service providers offer more or less the same amenities (breakfast, dorm rooms, wifi etc), they are missing on something that can make a huge difference to online bookings. This critical element is a website.
Even the modern youth hostels that have a website fail to impress with its cluttered design and poor branding. FATbit Technologies wants to change this to make hostel startups more competitive online.
Here are the points you need to focus on while building a website for your hostel project to:
Establish it as an authority accommodation brand
Make it appear on relevant Google searches
Generate higher online reservations
So, what are we waiting for? Here are the mind blowing points!
Multi utility header
Website headers are possibly the most versatile elements on a website with plenty of room to play. You can use the mighty header:
To show unique propositions (Pricing or amenities)
To generate a booking through form
To introduce your community
Zostel accomplishes only one of the above goals through its website banner. You can do a lot more by using a slider header. Pro travel & hostel website designers can manage the work just fine.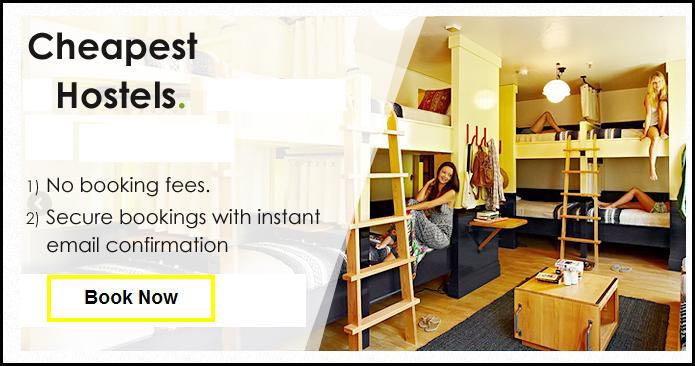 Homepage focus
There is no need to emphasize the importance of website homepage. While we have already shed light on the header, here are some points used by top travel booking website designers to plan homepage:
Prioritize sections – Reserve the first section for brief introduction, facilities, and hostel locations
Keep it visual – Rather than plain text, go with a mixture of text and images. Use real ones if possible.
Scatter Booking and Contact related action buttons throughout homepage.
Considering hostel websites usually don't have too many pages, request your website designer to take some extra time with homepage.
Dedicated hostel pages
Even if your youth hostel is only present in one or two locations presently, they deserve dedicated pages. This will not only help visitors but also give you search advantage for location based searches. Here are some tips that might come handy while planning dedicated hostel pages:
Provide information about facilities on offer
Share contact details
Integrate map
Share how to reach your hostel through railway station and bus stop
Highlight landmarks
Talk a little about the city
Clearly highlight rent structure
Share images of interiors and guests.
This seems like a lot of work but an experienced team of hostel & travel website designers can get it done in a jiffy within reasonable budget.
Blog
Updating blog regularly seems like an extra headache to most website owners but benefits outweigh the efforts. Official blog of your hostel website can:
Inform visitors about your brand, team, and new offerings
Help you dominate search terms and generate additional traffic
Improve website indexing and improve its authority
Become mouthpiece of your company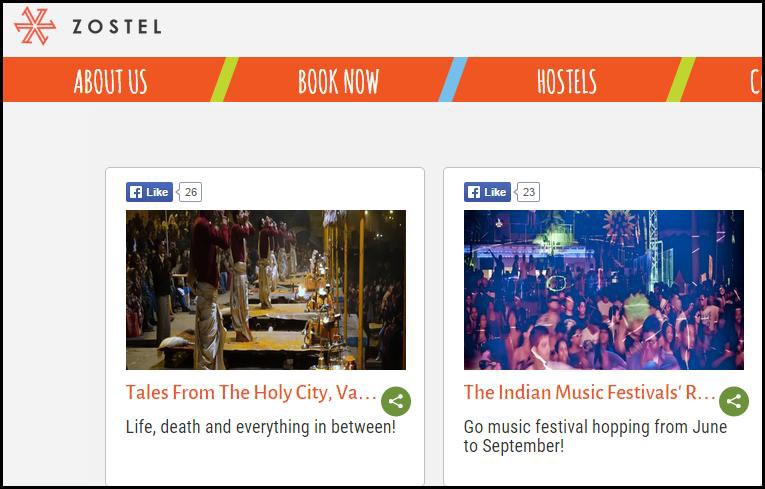 Pay special attention to visual appeal and social aspect. In addition to that, make sure your design and development team gets SEO right as well.
Booking functionality
Now this is something that can push up the cost of backpacker hostel website design & development. Payment gateway and booking functionality involves programming which sometimes costs more. In case you want to launch your website at low cost, then, you can opt to leave the booking part to third party online booking platforms like Booking.com.
Don't want to share your profit with someone else? An experienced developer can easily integrate payment and booking features to your hostel website. Keep the following points in mind to get maximum benefits:
Smooth conversion funnel
Intuitive booking form
Secure payment gateway
Social media elements
Popular Indian hostel startups have tens of thousands of Likes on Facebook, and generates a lot of buzz from social media. While most have tried their best to put across their social popularity through website, many have wasted precious site real estate while doing so.
Social media elements like Twitter Feed and Facebook Like buttons are important but need to be placed deftly. Make sure that your development team gets your hostel name out there through social media channels but without spoiling user experience.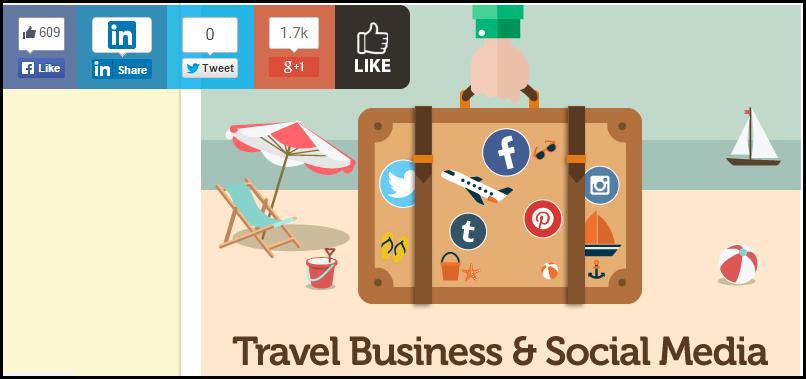 SEO optimized site
There is no fun in having a website that doesn't appear on Google for hostel location and brand name related search queries. To make this happen, your hostel website development team need to take care of optimization related technicalities from the very beginning. Points that will make the biggest different for your hostel website:
Meta details
On-page work
Content optimization
Image optimization
We recently wrote a blog post for Business2Community that discusses how to optimize new websites. Check it out!
Most importantly
No doubt Zostel had a head start from other backpacker lodging ventures but it did something that most are still missing. We are talking about focusing on culture and branding. It has built a brand out of its dorm based hostels, and its website helps in the task.
Hostels that aspire to be leading industry names need to find their niche and evolve a culture that builds trust amongst backpackers and travelers.
So, the bottom line is that you don't spend a fortune on your hostel site
Leading hostel brands may have spent decent amount of money in designing and developing their websites but this doesn't mean you need to do the same. Get a simple website with:
Engaging homepage
Dedicated hostel pages
Clear contact details
Social media features
Pro tip – Get a CMS based website so that you can manage it on your own
Booking and payment functionality can be added or skipped depending on your hostel website design budget. Generating booking from websites like hostelworld.com and hostels.com is also fine but it is not a long term strategy. For every customer, you have to compete with other hostel service providers. So, the best way forward is focusing on building your own brand. And for that, you need a website.
How much a conversion and SEO optimized hostel website costs?