Over the past few years, food industry has seen plenty of innovative business models such as online food ordering & delivery, online grocery stores, restaurant table booking, and others. The newest in the line is the online meal-kit delivery service. This new service takes away the overhead of meal planning & grocery shopping from people's life, making it a popular business model.
Led by brands like Blue Apron, Hello Fresh, & Plated (each of which claims to deliver over a million meal-kits per month), the online meal-kit delivery has already become an over a billion-dollar sector.
For aspiring entrepreneurs who are targeting the food industry, online meal-kit delivery business is certainly a good alternative against already over-saturated restaurant reservations, online food ordering & delivery sectors or prep meal business service. For those who are ready to capitalize on this emerging trend, the following is a descriptive account of the business model, website features of online meal-kit delivery service and improvement scope in this sector. Using insights provided in this post, an advanced meal-kit delivery clone website can be built.
Let's understand the business model first.
What is a Meal Kit Delivery Service?
The whole idea of meal-kit delivery service is providing customers with nutritious, high-quality ingredients and recipes to prepare home-cooked meals. Meal kit delivery is a service, where businesses plan weekly meals and deliver all the ingredients to the customer which eliminates the hassle of going outside for grocery shopping.
The target audiences are kitchen newbies' or people with a high tenacity for good quality food or dietary resolutions. An alternative over fast food meals and high variety of option for organic and vegetarian food option is one of the biggest reasons for the success of this business idea.
Meal Kit Delivery Service Industry Overview
Driven by convenience, the online food kit delivery service is gaining high traction from consumers willing to order recipe instructions, ingredients and cook the meal themselves. According to Statista the revenue is expected to grow to over ten billions U.S dollars in 2020 from one billion in 2015.
As of February 2018, Blue Apron held 35 percent share of the meal kit market in the United States. Also according to market research firm Packaged Foods the meal kit industry will see a considerable rise from 12.3% compound annual growth rate from 2018 to 2023. All things considered together, the food kit delivery has become the next big thing in online food industry as an alternative to fast food and fostering the habit of cooking at home.
Business Model: Deliver Meal-Kits at Doorstep
Online meal-kit delivery services offer people a convenient way to have nutritious & delicious food at home without having to plan for it. These online portals let people choose meals from a menu (which is updated every week or so) and deliver pre-measured fresh ingredients along with recipes at their doorstep to help them cook chef-like meals at home. Here is a breakdown of how things work on these portals:
Every week, meal-kit delivery websites display a new menu, which features nutritious & delicious meal recipes prepared by experienced chefs
Customers choose meals of their choice from the menu and have the freedom to customize their order on following basis:

Number of meals
Number of members

Meal-kit delivery service providers deliver fresh ingredients and recipe at customers' doorstep
Customers prepare chef-quality meal at home with right ingredients & recipe at hand
So, in a way, online meal-kit delivery service is a mix of meal planning, grocery shopping, and recipe discovery, which also helps people improve their cooking skills.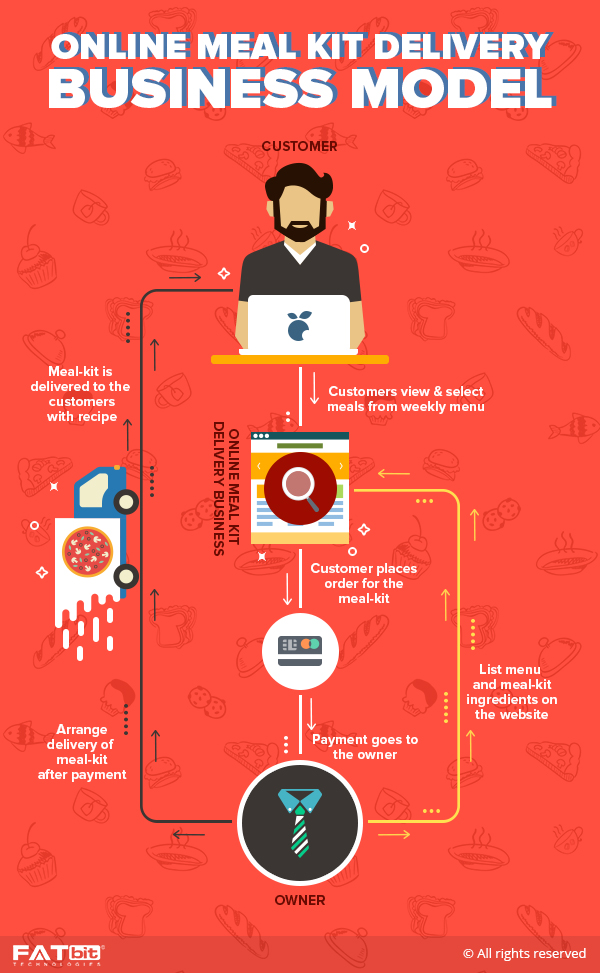 Major Online Meal-Kit Service Providers
Hello Fresh: Based in Europe, currently serves Germany, Netherlands, the UK, France, Australia & the US
Blue Apron: NY-based Blue Apron is one of the fastest growing meal-kit delivery service in the US
Plated: Another NY-based startup, Plated is known for its flexible meal orders
Forage: Currently available only in California & Nevada, Forage offers meals recipes prepared by professional chefs
Peach Dish: Inspired by Southern US cuisines, Peach Dish primarily offers its services in Southern States but delivers across US
Hello Chef: Dubai-based meal-kit delivery service is quickly gaining popularity in the local market
Sun Basket: San Francisco based Sun Basket caters the western US coast and is a big player in the local market
Revenue Model: Money for Convenience
Naturally enough, the price of the food kit delivery costs customers more than what they incur on meal planning & grocery shopping otherwise. So, the revenue for a meal-kit delivery business is primarily based on the cost of the service that offers customers convenience along with a little bit of cooking education.
Besides the meal-kit cost (which can be per-meal or weekly subscription-based) as the primary revenue channel, following gateways can also be included as additional source of revenue:
Hosting banner ads: Join an ad network, such as Google AdSense, to host banner ads on your website
Affiliate marketing: Join affiliate program of other food industry businesses to promote them through your website
Franchise fee:  As the platform's popularity grows, and more chefs try to get their meals on the menu, a franchise fee for such chefs is another possible revenue channel
Selling cookware & merchandise: Selling branded cookware, tools, recipe guides, and merchandise is another mindful option to make extra money while also improving brand's presence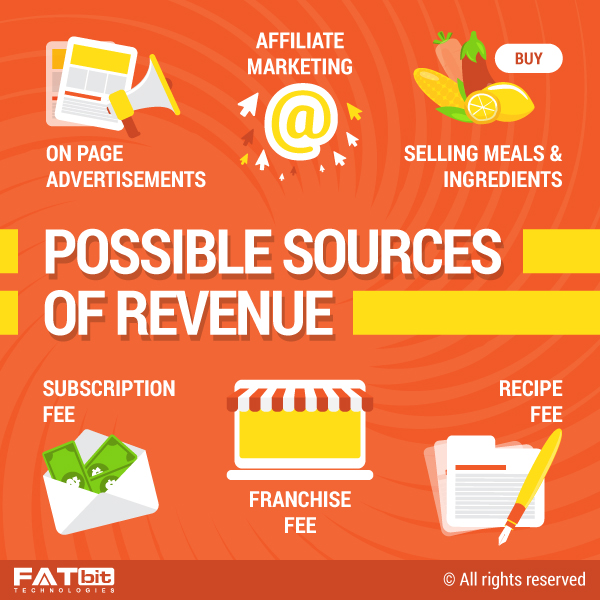 Website features for an advanced online meal-kit delivery portal
Irrespective of how simple and straightforward is the business model, building a website for it is always a complex task. But our in-depth study of meal-kit delivery service providers will simplify this task for you. Here is the list of website features you need to ensure in your online meal-kit delivery clone script:
Weekly Menu
Weekly Menu or Current menu will certainly be the main highlight of your website as this page will feature the meals, which are currently available for ordering. Make sure you showcase the featured meals with high-resolution images and key details such as main ingredients, cuisine, veg/non-veg, etc.
Apart from that, placing links for upcoming weeks' menu on the Weekly Menu page is also a good idea.
Recipe Catalog
Your website should automatically store the expired menus in a separate section, preferably named as the Recipe Catalog. On the Recipe Catalog page, there should be useful features such as archive menu & search tool that allow users to browse through the catalog easily.
This way, your online meal-kit delivery business will also act as recipe directory and will give food junkies another reason to visit your website.
Meal Page
Each meal should have a dedicated page in your meal-kit delivery website script. The meal page should have the following information & features:
Detailed meal description
Ingredients
Nutrition Value
Cooking time & difficulty level Rating & reviews
Option to share meal on social media
Add the meal to the favorite for future reference (for registered users)
As for the recipe, there are two options. First is to describe it right on the meal page. And the other one is to save it as a PDF and give users the option to download it from the meal page. The second approach is better since recipes typically include graphics which can slow down page loading speed.
Recommended Reading: How to Improve Page Speed: Tips & Online Tools from Pro Developers
Ordering Meals
Only the meals listed on the current week's menu will be provided with the ordering option. Unlike typical online shopping, orders on your meal-kit delivery website will go through some intermediate order-customization options. These customization options will include 'number of meals' & 'number of people', such as 3 meals for 2 people, 2 meals for 4 people, and so on.
Rest of the procedure will be same – asking customers to fill shipping details, then payment details, etc. Here, make sure your meal-kit delivery clone script supports all the popular payment options.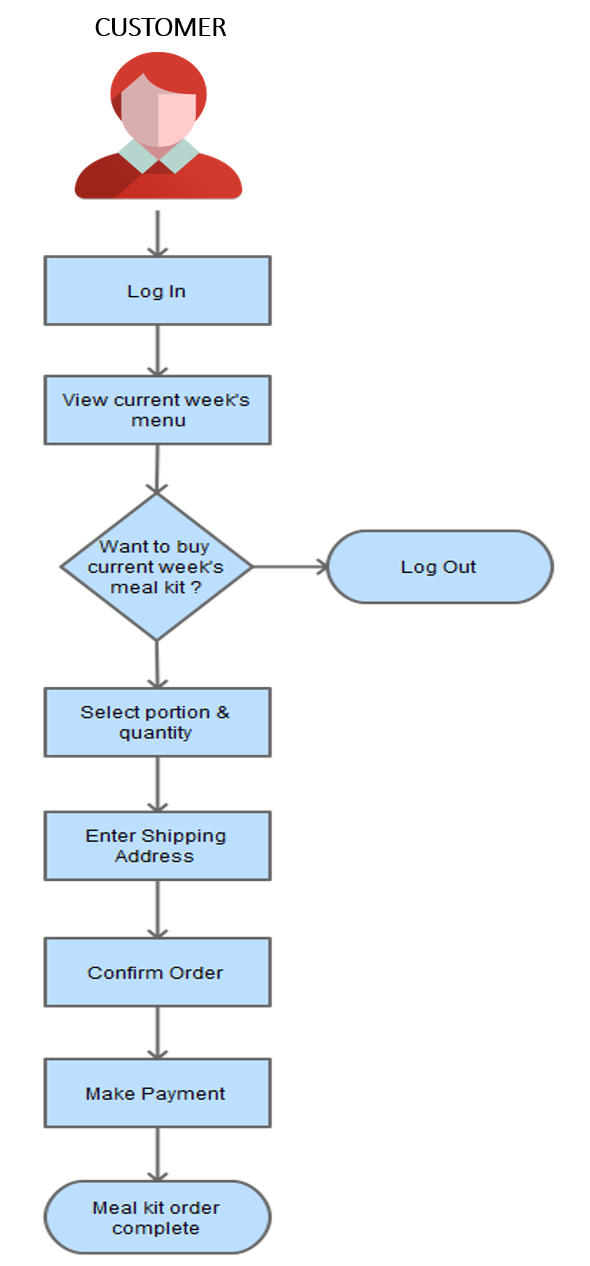 Pricing
If you are going with a subscription-based revenue model then your meal-kit delivery script should also have a dedicated page that explains the pricing & other details of your subscription plans. Make sure the plans are well-thought-out to cover a good range of meal needs.
How It Works
How It Works is another section that your website should have to help the first time visitors understand your services better. On the How It Works page, you can also provide additional helpful information such as areas you serve, an explainer video, etc.
FAQ/ Help
Minor details about your offerings can be confusing for customers. That is why it is important to have a Help or FAQ Section on your website.  The Help section is typically a catalog of Questions & Answers, and articles that explain about various website services. Two key features to add to Help section are; a) option to search for a question, and b) ask new questions
Blog
In the era of web 2.0, it is almost essential to have a blog for every business that has a web presence. Being a startup of the food industry, you have another reason to blog actively. Use your blog to educate readers about nutritious food, food recipes, and about your new services.
Additionally, a video blog is a perfectly viable option for an online meal-kit delivery website, as through a video blog you can share recipes and video guides on how the food should be prepared.
Gift Card
You can make things interesting by offering your customers the option to send meal-kits to their friends & relatives' address as a gift. Make sure this feature is easily visible on the website to encourage users to use it.
Referral Program
For every startup, word-of-mouth referral is crucial to attract customers & build trust. This you can achieve through a referral program. Encourage customers to invite their friends through social media or email to join your website. In return, give them some reward points, which can be redeemed in future transactions.
Affiliate Program
Running an affiliate program is a good way to expand your network in the food industry. Through affiliate program you can connect with influencers who can help you get relevant online traffic in return of small commission.
Non-Profit Initiatives
Studies say that 85% customers prefer businesses, which are associated with a non-profit cause. Being a food industry startup you can work with charities that work for world hunger issues. For this, you can implement a feature in your meal-kit delivery script that lets customers donate some money towards the concerned charity every time they place an order. This is something unique and no online meal-kit delivery service has taken such initiative yet. Adding this socially responsible feature can help connect directly with your audience.
Tool & Cookware Shop
If you are ready to include selling merchandise in your business model, then you would also need to set up a separate store for it. Choose the right eCommerce platform/shopping cart solution for your online cookware store to give customers a seamless buying experience & ensure more profit for your business.
Supplier Information
To make things more transparent & make your meal-kit delivery service more trustable, you can add a section on your website that features the information of the suppliers of ingredients & recipes. This will also help in the branding of the people who are the real heroes behind the scene.
Customer Profile
Along with the email signup, make sure your online meal-kit delivery clone script also offers the option to register via social media accounts. As for the customer profile dashboard, following features are important to ensure:
Section that logs customer's past orders along with the link to the meal page
Section that displays the present order
Section that stores all the meals that customer has loved on the website for future reference
Options to invite friends through email and social media to join the website
Other than these, there should also be the general account & profile setting options.
As of now, none of the existing online meal-kit delivery businesses are providing such an extensive list of features in customer profile dashboard. For new startups, this is a good area to take the lead.
Mobile Ready
It is apparent that your prime target audience is young working class individuals & families, roughly people of age from 18 to early 40s. It is no secret that they perform most of their online activities on the go. So, it is important that you offer a rich mobile experience to customers. If an app is not a feasible option for you at present, then make sure your website has a good responsive layout. A mobile website is another viable option to cater the mobile users. Whichever option you choose, make sure you have a good presence on the mobile.
Also Read: How To Build a User-Friendly Mobile Website? 10 Super Tips From Experts
Content-Based Pages
Apart from the above-mentioned website features & business offerings, your meal-kit delivery website should also have content-based pages that explain about your business & its policies in detail. Starting off with pages namely, About Us, Terms & Conditions, & Privacy Policies would be a good idea.
UX & UI Design Tips for Homepage
First impression is the last impression. For that reason, it is important that you take some pain in building the homepage of your meal-kit delivery clone website. The homepage should have all the necessary elements that educate visitors about your services, as well as engage them to use these services. Here are some homepage UI & UX design tips that will help you convert website visitors into customers:
Website Banner
The banner area of the homepage is the first thing that visitors will come across on your website. To make it informative and engaging, use high-resolution images of meals & ingredients for it. Also, prepare a crispy tagline & a catchy call-to-action button to make thing more engaging.
Highlight Benefits
The area below the banner section can be used to highlight the benefits of the meal-kit delivery service. The benefits can be divided into sections like 'explore new recipes', 'get fresh ingredients', 'learn to cook like chef', and 'No meal planning headaches'.
How It Works
Apart from having a dedicated 'How It Works' page for you website, you can also feature a brief How It Works section on the homepage to guide first-time visitors about your services. Use graphics to represent the process to make this section look more interesting.
Featured Meals
Displaying a couple of meals from the weekly menu on the homepage is a good idea to give visitors a better look & feel of meals offered by you. You can also provide the option to order the featured meal right from the homepage.
Social Proof
To build trust among the visitors, you should also feature customer testimonials on the homepage. This will give visitors further assurance about the benefits your services bring. Other than that, if your business has been featured in popular online magazines & blogs, highlight that as well.
In addition to these key homepage elements, make sure that the homepage also offers an easy access to all the important features that we discussed in the Website Feature section. A good approach will be to display the important features such as Weekly Menu, Recipe Catalog, How It Works, Pricing, Help, Blog, and Sign Up button on the header bar. Others features namely, referral program, affiliate program, gift card, merchandise shop, non-profit initiatives, and links to content base pages can be featured in the footer area
A good website UX design can be a game changer for your business
Optimize it now
Now that we have covered all the nitty-gritty details of building an advanced meal-kit delivery clone website, let's go through some scope for enhancements in the service that can help you get a bigger market share.
Improvement Scope
Online meal-kit delivery service is certainly a profitable business and the sector is growing at a good speed. However, its present service facilitation model is still in nascent stage and offers some scope for improvement. For startups, these improvement areas mean opportunities to seize a bigger market share by offering more efficient service. Here are some areas that startups can work upon to offer better service:
Flexibility
In terms of custom meal orders, customers don't have much freedom. Currently, meal-kit delivery service providers offer limited customization option such as 2 to 4 meals per week, for either 2 or 4 persons. This is certainly one area where you can enhance the service by offering more order customization options.
Packaging
Costly packaging is another concern presently associated with online meal-kit delivery service. Relative packaging cost for one or two meals is especially very high. Besides, after delivery these packages go as waste most of the times. Clearly, too much money is spent on the packaging which ultimately reflects on the meal order total.
There are a couple of things startups can do to resolve this concern.
Recycle Packages
Collect packages of past orders from customers while delivering their next order. Encourage customers to help you in this initiative by awarding them reward points on package return.
Offer Curbside Pick-up
Curbside pick-up is another viable option to bring down the packaging cost once you have a good presence in a local market. Open outlets in the areas where most of your target audience work or live, and allow them the option to pick up meal-kits with fresh ingredients on their way to there.
It is obvious that all these enhancements in the online meal-kit service will cost you extra capital, but it will definitely bring you a larger ROI.
Need expert advice to improve your business's services
Consult Us
Conclusion
As of now, online meal-kit delivery startups are serving only in North American & European countries. So, for new players, there is a whole pool of opportunities in other ecommerce markets of the world. And even if you are targeting the North American or European market, building your meal-kit delivery clone website as per above-mentioned features & suggestions can help you become the next big name in the industry.
Further, if you need assistance in designing & development of your meal-kit delivery website or need consultation regarding the project – its cost estimation, target market research, etc. – then we are just a call away.