Spending a few not-entirely-purposeful hours on the internet has become part of our everyday life but with online rewards sites, you can turn these hours into profitable ones. Virtual reward portals provide people a way to monetize browsing time by doing activities like playing online games, filling surveys, watching videos, searching, and shopping.
SwagBucks, GiftHulk and ZoomBucks are some of the biggest names of the online rewards industry. FATbit sensed huge opportunities for aspiring entrepreneurs in this unique marketplace, and created this post that covers business model, revenue model & website features to provide insights for building an advanced clone website. It makes perfect sense to start with business & revenue model. So, here we go!
Business & Revenue Generation Model
Digital rewards and virtual currency websites connect people who are willing to perform certain online activities with businesses that benefit from these activities. They offer its users virtual currency and coupons which can be earned by doing regular online activities but through their platform.
This virtual currency then can be redeemed as gift cards of popular online stores and sometimes also PayPal cash. While users earn virtual bucks, businesses enjoy more traffic and consequently more conversion.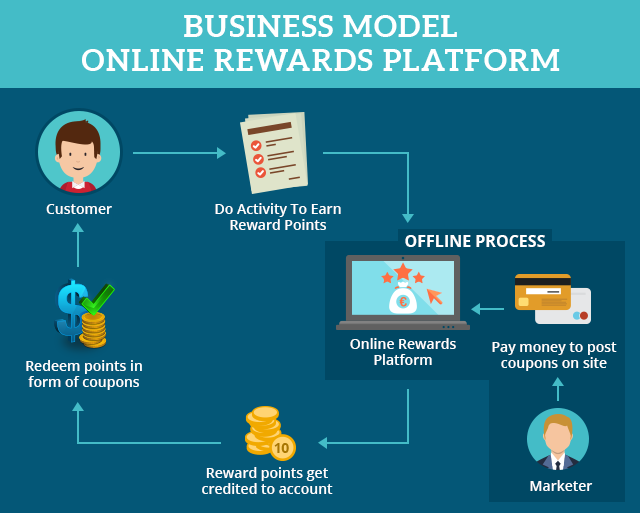 Such sites provide users a number of ways to earn. Here are the top ones:
Searching the web: Various online reward websites have a custom search engine of their own. Users are awarded periodically as they make internet searches through it.
Consuming content: Watch online videos and read emagazines to get rewarded. Video content is most popular in this category
Filling surveys: Users can fill online surveys to make quick bucks.
Shopping online: Users can also earn by shopping from their favorite ecommerce stores.
Playing online games: There are two ways to make money here. First, play free online games or enter a tournament and play against other users.
Inviting friends: Users can invite friends and earn affiliate income.
Meeting daily goals: Users are provided some extra virtual dollars if they are able to earn a certain targeted amount in a day.
Once a user has accumulated enough  virtual bucks, they can be redeemed for a variety of prizes and gift cards. Following are some popular ways :
Gift cards for online retail stores: Users can earn gift cards for their favorite online ecommerce retailers.
PayPal cash deposit: Users can also redeem Swag Bucks as PayPal cash.
There is no end to rewards that can be given to engage visitors and generate more traffic. Just be imaginative with your online rewards clone and you will prosper!
If you haven't guessed yet, such platforms makes money:
By letting businesses list their offerings.
As commission whenever users purchase through the platform
User Interaction on such platforms
Online rewards portal needs to be highly user engaging in order to reap in benefits of a large user base. These platforms work on a simple model where the user creates an account and chooses various tasks in order to earn points. These tasks can vary from answering surveys to downloading apps. After completing a said task, the associated reward points are credited to the account of the user, which can be later redeemed in the form of gift cards.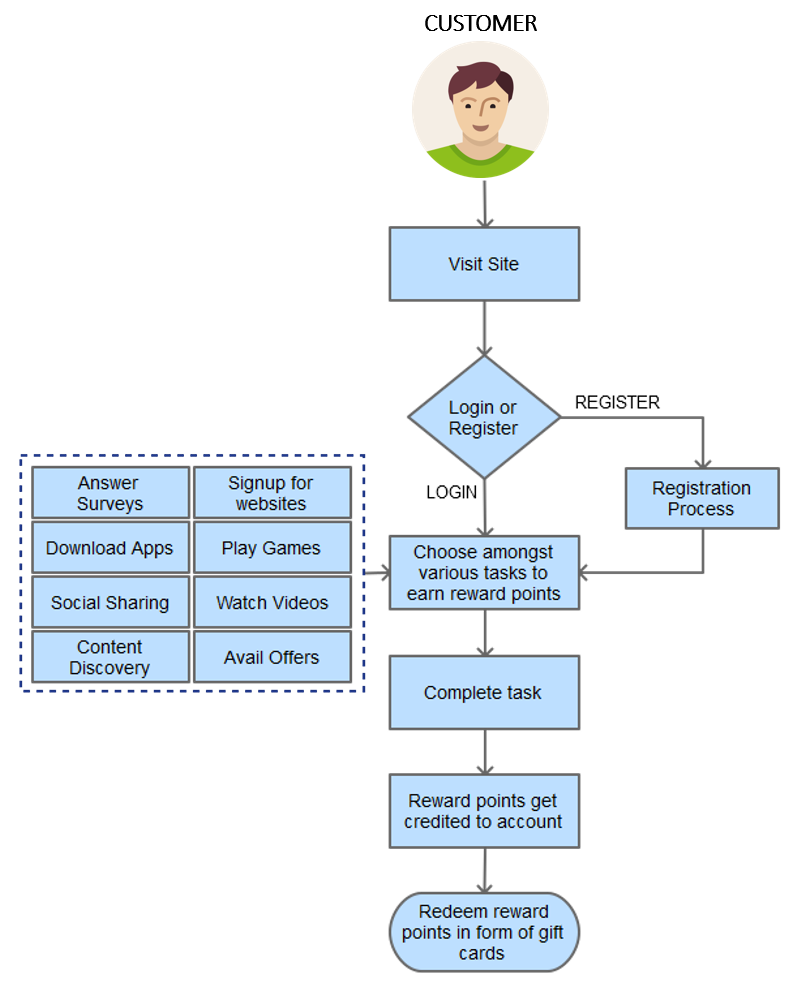 Prominent players in virtual rewards market
There are some big names in the online rewards industry but there are some emerging ones as well. Here are the ones we came across during our feature analysis and study:
SwagBucks
ZoomBucks
Belly
Savings
GiftHulk
Coupons
ShopKick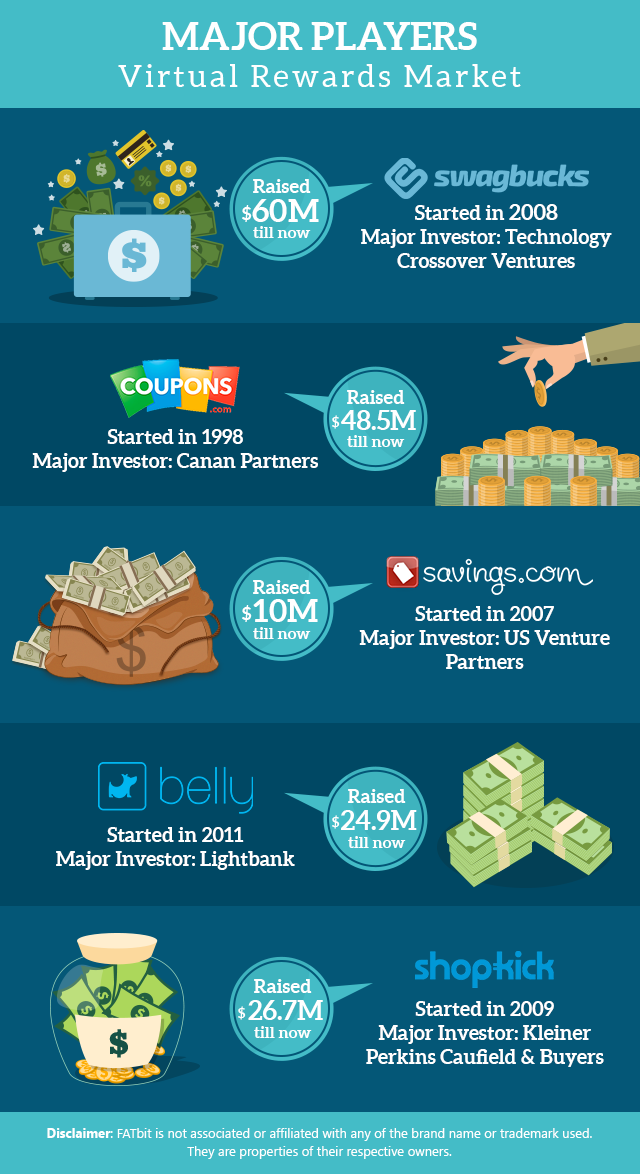 Now that we have listed major digital rewards portals, let's go through major website features to help you come up with an advanced clone.
Website Features & Services
Entrepreneurs interested in building rewards store clone must ensure that website has intuitive navigation structure. Reason being, users will be spending most of their time off the site while filling surveys, shopping, playing games, filling online surveys, etc. Consequently, the site's UX design should primarily focus on providing easy access to different ways of earning virtual bucks. Let's see how top sites have done that.
Benefits come only when you are logged in. And once a user is logged in, he shouldn't have any difficulty in understanding how to use the site. The header bar must feature tabs for all the top ways to earn and redeem virtual money. Other homepage features can be:
A search bar that allows users to quickly do online search using custom search engine.
Header bar also features tabs for message, profile options, currency in wallet, etc.
The homepage can also boast about total amount to rewards distributed and registered users to entice new visitors.
Custom Search Engine
To earn money this way, users can simply click the 'Search' button on the header bar and make an internet search through it. Add the functionality of making it your default search engine to get more traffic for more partners.
Chores Related Features
Virtual reward sites host a number of activities everyday to create opportunities for users to earn. Surveys, answering questions, data entry work, and similar tasks can be planned for website visitors and rewards can be decided accordingly.
Special Offers
Special Offers is one of the most popular ways to earn virtual goodies on reward platforms. It simply asks users to download some app that they find useful or register to a website that they are interested in for earning instantly. 'Discover' tab is used to introduce visitors to such offers. Users can be asked to play online games, search, watch videos, etc.
UX design and optimization can improve website performance
Learn More
Redeem Functionality
There are two popular ways to go about that. First is through Reward Store which lists various gift cards from different online retailers. And second is using the virtual currency to explore more money making opportunities.
Referral Feature
Allowing users to Invite friends is the easiest way to get more traffic and users. This can be managed with some additional rewards on every referral. If you are using a clone script to build your rewards store, then, make sure it comes with referral functionality.
My Account: User Profile Options
User's account ought to be loaded with informative features. Once on the 'My Account' page, users must be empowered to check their entire history through mindfully accumulated and nicely arranged tabs. Users can be able to check:
Earning history (for any specific period of time)
Online purchases
Order status
Friend referrals
Gift cards
Wishlist
Now that we have listed all major website features required to come up with a advanced clone, let's discuss few prominent offerings that will enhance the user experience of your reward portal further.
Help Center
As the name itself suggests, Help Center is a comprehensive FAQ section that provides answers on various topics concerning features and functionality of the website. The section can feature video tutorials for a number of topics.
Mobile app or website
Give mobile users the power to access your rewards offering through a mobile app as well as through regular browsers. Mobile website could be a trimmed down version of the desktop website. Plan it in such a way that users can redeem virtual currency as gift cards of major online retailers. SwagBucks has an impressive app for its users.
Superior UX
Some rewards websites are new in the industry but they are making an impression with their unique and engaging design approach.  GiftHulk is one such player. Plan creative brand communication and graphics to send the message across. Don't clutter the website, and make sure that your design adn development team minds negative space.
Special Packages
Some virtual reward platforms have evolved packages as well to give users the liberty to engage only in activities they find interesting. Make provision of something similar in your store to lure users of growing platforms like ZoomBucks, Belly, Shopkick, and NatureBuck.
There are many other such online reward platforms that follow the exact same or similar business model. For instance, Microsoft's Bing Rewards, which lets users earn credits by doing internet search using Bing search engine. These credits can be redeemed as gift cards for different online retailers.
Final Rewarding Thoughts
Given the popularity such platforms has gained in recent past, it seems like the perfect industry to get started in. But as a startup based on the same business model, you need to add new innovative features to distinguish your online reward portal. And this is what an experienced team of analysts, designers and developers can help you with.
Choose a ready clone script but make sure it has all the website features listed in this post. Also confirm its flexibility so that feature additions and enhancements can be undertaken.
Check how much a digital rewards clone website will cost you
Ask Experts