Updated on November 02,2018
Do you want to start a shopping website and think Shopify is the best option? Well, it could be and it could be not. Shopify's homepage claims that it has more than 400,000 merchants. However, impressive stats don't mean that it is the best ecommerce solution for your online store.
In this post, you will find why Shopify has become such a big thing and what makes some entrepreneurs choose custom ecommerce and other turnkey solutions over it.
Let's start with benefits of Shopify;
As an ecommerce shop creator, Shopify brings a number of advantages and this has added a lot to its popularity. However, we will only be listing some of the most important advantages of Shopify;
Easy management:
Managing a normal ecommerce website requires technical knowhow and normal store owners shy away from that. Shopify eliminates the need of any technical insights  by giving centralized dashboard through which you can easily manage content, product items, graphic changes and blog as well. People buy a Shopify store because it automates the technical part and make the whole process seem effortless.
Setup features:
Business owners who want to take their stores online are not usually well-versed in setting up online shops. By simplifying this task, Shopfiy has occupied the top spot. Becoming Shopify website owner is very simple with its easy setup. With more than a hundred customizable templates to choose from, store owner can create the website of his/her choice.
In case any of the templates doesn't match your taste and requirements, you can also go for customized Shopify templates. There are many creative design firms that offer affordable themes for Shopify based store.
Vast payment options:
For an ecommerce store, there is nothing more painful than losing a customer because of limited payment options. Shopify gets rid of this limitation by empowering credit card payments and offering integration with more than 70 payment gateways.
Light on pocket:
The starter package of Shopify comes at $9/month (without an online store). One of the major reasons small store owners start a Shopify store is that it comes at a very little monthly cost. To make sure people try the platform at least once, it also offers free 14-day trial.
Ready help from team & community:
Start Shopify business or any online project, and you will realize the importance of support. The online store has a dedicated team that is always there to help shop owners assist with any kind of issue.
In case you want unique store design, there is also a large community of service providers that can develop Shopify apps and premium themes. All you need to do is share you needs and the exact thing will be delivered.
Marketing advantages:
Shopify comes with built-in SEO features and integration with Google Analytics. To help store owners promote their store and get in touch with buyers, it also makes provision of Google AdWords and Facebook advertising credit. Start online Shopify store and you will also get lots of tools that will help sell more.
Time for disadvantages of Shopify
Shopify may be the leading contender for the spot of top ecommerce store creator but it still lags behind in some areas. Let's highlight some fields where Shopify can improve and become more appealing to people who want to start an ecommerce store.
Account cancellation issues: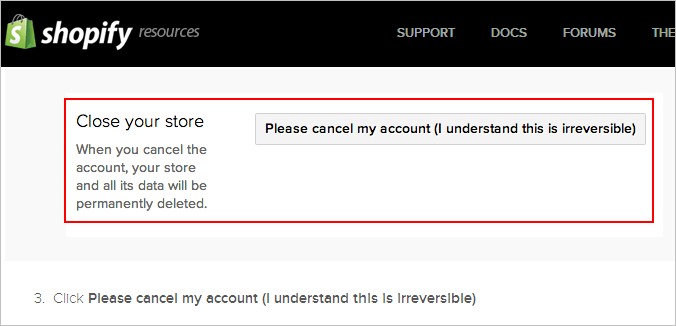 In case you ever consider moving on from your Shopify store, all the data and information will be gone. You will get CSV export of product details but nothing else besides that. Because this action is irreversible, you need to think from the very beginning about your ecommerce goals. Though its competitors like BigCommerce and Volusion work in the same manner, it is still a big negative.
Investing in a custom ecommerce platform however, can tackle this limitation to some extent. Hiring a team of ecommerce developers to build a brand like Shopify is an idea worth considering if you want unique features and design for your website.
New blogging software
If you are habitual of WordPress platform, then, you would surely not be pleased on working with a new blogging system. Shopify comes with a built-in blogging system but it has a learning curve of its own. So, be prepared to invest some time to get habitual to it.
Limited features:
Simplicity of Shopify is also credited to its limited set of features. Advanced ecommerce platforms come with features like recommended products, email to a friend, and contact forms. But Shoipfy's ecommerce software don't have these as its core features. For marketing features, online stores have to rely upon its App store (some of which are paid).
Why entrepreneurs choose custom ecommerce solutions?
Not every ecommerce entrepreneur chooses Shopify, BigCommerce or any other similar solution for creating a website. Some choose to hire a team of ecommerce developers and designers to create the ecommerce website of their vision.
The decision is made with complete knowledge of comparatively high design and development cost. Below points make investors go for custom ecommerce development;
Customization
As a brand, every business wants to have a unique look. Thus, it makes perfect sense for businesses to choose custom ecommerce development over readymade ecommerce platforms. Besides looks, freedom of adding custom features is also essential to cater that target market's need better.
Scalability:
An online shop built on Shopify like system brings up scalability issues in the long term. Restrictions in term of design and code changes are bound to come up. To avoid the frustration and keeping future expansion in mind, entrepreneurs choose to keep the control in their hands and invest in custom solution.
Ecommerce solutions like Shopify and BigCommerce are perfect for small businesses considering their humble expectations in terms of profits and sales. For someone who wants to build a big ecommerce brand, partnering with experienced ecommerce developers is the right strategic decision.
Go for custom ecommerce development to have total control on your store
Click to Know More