Despite Uber owning the lion's share of the online taxi-booking app market, there's no shortage of new businesses vying to get their name slotted somewhere in the list of notable online taxi booking companies. The reasons for this gold-rush like scenario in the online taxi booking industry range from growing internet usage, millennials' changing lifestyle, and the hassle-free booking done through modern mobile apps.
But gaining a firm footing in the online taxi booking industry isn't all that simple. You need to offer something among the likes of Uber, Lyft or Grab to gain visibility and even with that, it's not certain that your mobile apps will sell. Why? The online taxi booking market has already undergone a paradigm shift with the advent of Uber and disruptions even in today's time are like a flash in the pan. Moreover, building an Uber-like app from scratch isn't all that easy considering the time and monetary investment that goes into it. So, what should be the approach for aspiring entrepreneurs to build their own taxi-booking mobile app?
White-Label Taxi Booking Software – A Sensible Approach
Whenever you're building a mobile app to be used by masses, time is of the essence. A slackened pace in finishing the development or arriving late to the launch date can prove costly if your competitors get their mobile apps rolling out in the nick of time. It's a known fact that custom development is complex and often a lengthy process and it's not in every businesses' interest to go down this route.
That's where white-label or off-the-shelf solutions come in handy. But what really is a white-label solution? Well, in simple terms it's a software developed by one company, rebranded and then sold to another company. When it comes to software, it's basically a redesigned and slightly customized build to incorporate the purchasing businesses' branding.
How White Label Solutions Are Built?
One common way to build a white-label solution is by using the backend codebase but with visible changes in the frontend of the app, giving a much different look and feel to match the buyer's branding.

The other way is by creating a multi-tenant app; in this way, each app instance remains the same but each tenant can experience a different set of features. It's a mechanism applied in software as a service(SAAS) platforms, which are a lot more complex to build and maintain.
Key Features to have in a White-Label Taxi Booking Solution?
White-label taxi apps are usually offered in packages consisting of separate driver, rider apps along with an Admin panel. Following are some of the key features that one should look for in a white-label app: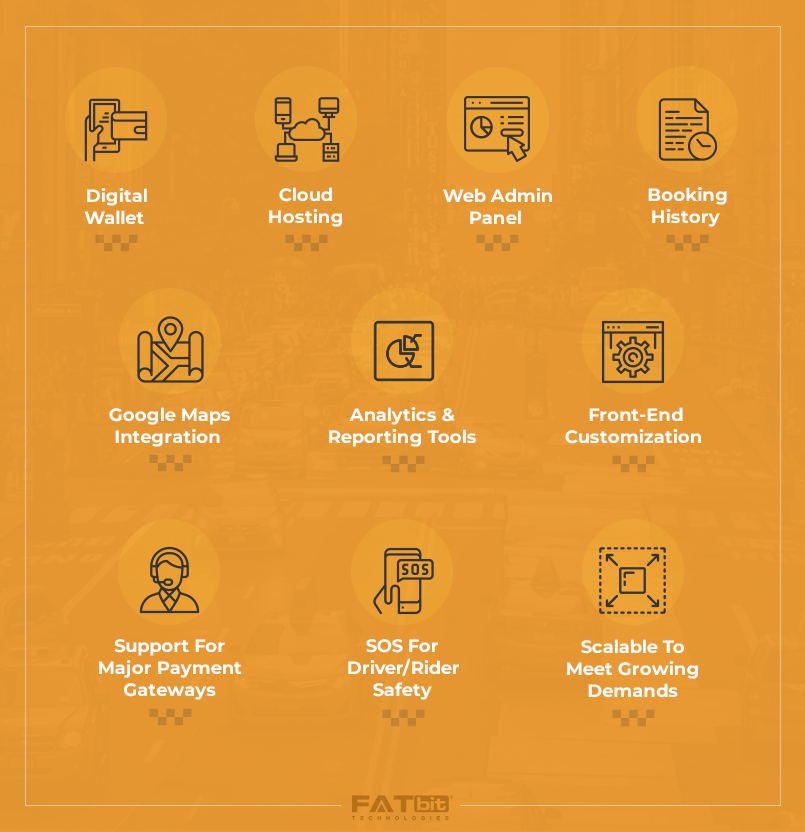 Most Common Business Models For White-Label Taxi Software
Subscription-based business models are most common among developers of Saas products. Under this model, the fee is charged in two stages – initially as a set-up fee and then a recurring monthly fee which is calculated on the basis of drivers registered with the app.
But not all white-label software have recurring monthly fees. VivoCabs – white-label taxi booking software can be purchased for just $999 for a lifetime license.
Major Benefits of White-label Taxi Booking Software?
Speed to Market
Right off the bat, the main advantage that white-label solutions offer is speed to market. The classic example would be an existing offline taxi business with a sizable fleet that wants to start offering mobile apps to gain a competitive edge in the market. With on-demand services becoming all the rage, it's a reasonable supposition that taxi drivers and users would both benefit from the availability of mobile apps. But between the app idea and the app reality, there's a huge gulf(planning, designing, development, testing & deployment)that can take months to even out. Not every business is prepared to wait this long to get their mobile apps ready and that's where white-label taxi booking software proves useful.
Low Upfront Investment
Building an online taxi booking mobile app of the scratch involves major capital investment. Initially, you'd hire the services of a business analyst to understand how your service can/would work. After that, you'll have to work with a professional designer to capture your business' identity in the product. Not every entrepreneur has the necessary funds to carry out these operations.
It's not a surprise then to see many companies opt for a white-label software which gives speed to market at a much lower upfront investment. Furthermore, white-label apps are highly customizable so the business doesn't lose out on maintaining its brand image.
Post-launch Support
Custom app development of a taxi booking mobile app is a costly affair. From selecting a server, adding support for the application once it's deployed, optimizing the code and ensuring the operations run smoothly, a dedicated team of developers or system administrators is needed. For most startup businesses with limited budgets, this approach isn't always viable. On the other hand, white-label taxi booking software comes with a minimum of one-year post-development support for any technical issues. This is both an affordable and convenient way to gain entry and sustain an online taxi booking business.
Risk Mitigation
As mentioned earlier, white-label solutions don't involve huge capital investment. They're ready to be used with minimum customization and rebranding. Compare that with custom taxi booking app development which can take months and 10x or more development cost. On top of that, there's no guarantee how the mobile apps would fare in the real world. In contrast, a white-label software is already deployed in the real world by one or the other taxi app business.
Questions To Ask The White-Label Service Provider
There are plenty of companies offering online taxi booking white-label solutions but not all of them are built the same way. Businesses should look to perform their own research about the solution-provider to minimize their risk of making a bad purchase. Initially, this could be done through online forums, communities, existing user's reviews and testimonials and so on. Moving on, it's crucial to understand the solution provider's policies with regards to the maintenance, data recovery, security, and updates. Some of the questions based on these two chief aspects of a white-label software could be:
Maintenance & Data Recovery
How will the developer export/import data to/from server or database? 

Does the developer guarantee data backup. If yes, what's the process behind it? 

What kind of disaster recovery support is offered by the developer in the event of a hardware failure?
Security & Maintenance
Is the white-label software compliant with the critical security requirements of the transport industry? 

What kind of software tests are performed by the developer and their frequency? 

What updates are offered by the developer and their frequency?
Conclusion
With exciting benefits in the form of affordable prices, speed to market and post-development support, it's fair to say that white-label solutions are an ideal way to kick-start an online taxi booking app business. Since these solutions are both customizable and scalable, they allow businesses to progress at their own pace and meet their growing demands with relative ease. If you're interested in a white-label software to build a taxi booking app for your business, do check VivoCabs – a FATbit owned taxi booking app solution.