Online learning and consultation bring convenience in the life of students and working professionals alike. For entrepreneurs, this adds a new opportunity in the list of profitable online business ideas waiting to be leveraged. In this blog post, information on eight different online learning and consultation niche ideas is shared. The eight niche ideas are:
Online Learning Business Ideas:
Online Consultation Business Ideas:
Online Learning Business Ideas
E-Learning Business
Many schools, colleges, and universities are closed due to the COVID-19 pandemic. Among such educational institutions, many are adopting online learning. However, the pandemic is not the only reason behind the adoption of online learning or e-learning. One of the many reasons also includes the rising college tuition fee.
Students of all age-groups from around the globe appreciate the value-added through online learning. However, there are different pain points of different age groups that should be addressed beforehand. One of the most recent stories is of a woman from Israel.
The recent outburst of Shiri Kenigsberg Levi, a mother of four, provides insights that online learning also influences the lives of people who are related to students attending the class from their home. The case of Levi is a unique and insightful one and should be studied by schools as well as online learning businesses to provide a better user experience.
Famous E-Learning Platforms – Udemy and Coursera
Udemy – The online learning platform, Udemy, was developed in May 2010. Being a leader in the industry, Udemy offers courses in over 65 languages to more than 50 million students. In addition to regular classes, the online learning platform provides paid certifications.
Coursera – Launched by two Stanford professors, Coursera focuses primarily on massively open online courses and degrees. Just after operating for nearly two years, the online learning platform achieved 1 million USD in revenue by September 2013.
How does an e-Learning platform like Udemy work?
An online learning platform, like Udemy, can have three basic types of users – admin, teacher, and student. Useful features are provided to teachers to plan their course, record the video, and engage with the community. Provision to execute marketing campaigns such as flash sales and discounts are also included.
Online Language Learning
According to John Knagg, a consultant at the British Council, there were around 1.5 billion English language learners worldwide in 2014. The number has seen an increase over the years. Multiple dynamics play an essential role in the economy that pushes people to learn different languages.
There are multiple instances when business leaders use a language (other than their mother tongue) while entering a new market. One such case took place in 2014 when Mark Zuckerberg, CEO of Facebook, addressed students of Tsinghua University, Beijing, in Mandarin.
The Economist Intelligence Unit revealed that nearly 90 percent of executives report communication as an asset to grow their business internationally. Almost all businesses depend on strong ties with different nations to sustain and understand the transaction cost of languages. Hence, entrepreneurs can enter this segment and start their online language learning websites.
Famous Language Learning Platform – Verbling
Launched nearly a decade ago in 2011, the online language learning platform, Verbling, aims to solve one of the primary problems in international business – language. Through a series of funding, Verbling raised $1 million in 2012 and $2.7 million in 2015.
How does an Online Language Learning platform like Verbling operate?
Verbling gives freedom to choose a teacher as per the budget and schedule of a user. Once a user has selected a teacher, he can attend the class inside the browser and leverage flashcards to learn the language. In addition to regular courses, Verbling has a separate plan for enterprises that wish to train their entire teams.
Looking to Build a Language Learning Platform like Verbling
Online Fitness Coaching Business
COVID-19 pandemic has taught different lessons to businesses around the world. One of the many industries impacted by coronavirus is – fitness. Entrepreneurs in this industry have found alternatives and are leveraging the video streaming capability of different social media platforms. Few platforms that have witnessed an increase in video streaming activity are – Facebook and Instagram. Another relevant example is YouTube.
However, video streaming over a social media platform is not an organized way to monetize the knowledge of a fitness consultant. By creating an online marketplace where people can book online fitness classes, the entrepreneur can monetize in the right way. Thought needs to be given on the unique selling proposition (USP) behind starting an online fitness consultation marketplace.
Fitness is a broad term and can include a plethora of sub-categories. To breakdown, courses on three types of fitness can be offered on the online fitness consultation marketplace website. The three types of fitness are physical, social, and mental. Here is a brief on the three types – physical fitness involves eating right and keeping the body fit, social fitness enables one to act during situational pressure, and mental fitness is about the emotional and spiritual health.
Famous Online Fitness Coaching Business – HealthifyMe
HealthifyMe is a health and wellness platform that started in 2012. The platform provides guidance from qualified health experts, yoga instructors, nutritionists, and more. The company launched an artificial intelligence-based nutritionist by the name of Ria, which is capable of having a conversation in different languages such as English, Spanish, German, Italian, French, and more.
How does an Online Fitness Coaching platform like HealthifyMe work?
A platform like HealthifyMe may work on a freemium model. While users can join the platform for free but to get guidance from a certified health and wellness expert, one has to buy a premium subscription. Furthermore, tools can be added to provide value. Such tools are – calorie counter, nutritional information checker, and more.
Online Culinary Coaching Business
Competition among restaurants is steadily exceeding. At the core of a restaurant business, there is mouth-watering food prepared with creativity and science. Daniel Boulud, owner of Daniel – one of the best restaurants in New York, shares his wisdom on hiring new staff members in one of his recent interviews. "We'll keep training them, for sure, but we want a good foundation.", he admits.
In this industry, it is a creative challenge and years of hard work to grow from prep chef to sous-chef. Enabling passionate people who want to become a chef one day gives rise to a new business opportunity – online culinary coaching. To grow a career as Sous-Chef or Chef, one has to go through different stages and earn excellence in them. From simple applications such as chopping vegetables to managing the meat station, online culinary coaching can provide support to add value.
Experts in this field, such as Chef Massimo Bottura, owner of Osteria Francescana, tend to motivate his staff to keep an open mind with creative thinking and playfulness. One such instance was when he burst into the kitchen and gave the challenge to prepare a new dish based on a song Take a Walk on the Wild Side by Lou Reed. Hence, for the complete growth of a prep chef, an entrepreneur may have to introduce additional topics such as culinary creativity in the online marketplace.
Famous Online Culinary Coaching Business – Rouxbe
Rouxbe is an online culinary school that was founded in 2005. The company has provided instructor-led training (ILT) to over 300,000 cooks, students, nutritionists, and more. Rouxbe has evolved over the years and modified their school curriculum to plant-based education that is taught in more than 180 countries.
How does an Online Culinary Coaching business like Rouxbe work?
An online culinary school website may have separate logins for teachers, students, and the admin. By leveraging live video sessions, teachers or instructors can guide the students. In addition to the video functionality, premium culinary video content can also be uploaded to make the learning experience more student-friendly.
Online Music Coaching
There are more than a hundred musical instruments, and each instrument has its soul, which takes years of practice to understand and play skillfully. Few famous musical instruments include Guitar, Piano, Bass, Ukulele, and more. There is another aspect of these instruments which may appear challenging at first, but with the right coaching, can be mastered – Music Theory.
The art of music is not complete on its own. Singing is yet another essential element that compliments the music and together makes one divine combination. The world of music is further divided into different genres, such as pop, classical, hip hop, blues, country, rock, heavy metal, jazz, folk, and more. People from all walks of life enjoy music, and teaching music can prove to be a profitable business opportunity.
If an entrepreneur decides to adopt a business model for online music coaching, then a marketplace model can be given preference over others. While following a model, it is essential to note that the learner might be interested in any of the genres or instruments mentioned above. Hence, to provide relevant music coaching online, the marketplace model can support the end-users' requirements by enabling different music teachers to sign up with the marketplace.
Famous Online Music Training Website – Lessonface
Lessonface was founded in 2012 and expanded into multiple niches over the years. For instance, the instructors on the website provide lessons on music instruments, such as guitar, piano, organ, violin, harp, banjo, mandolin, ukulele, trumpet, drums, conga, bongo, harmonica, singing, acting, music theory, beatboxing, singing, and more. In addition to musical instruments and singing, Lessonface provides online classes to teach different languages.
How does an Online Music Training website like Lessonface work?
The teacher can sign up and start providing lessons after getting approval from the website admin. A website like Lessonface can work on a commission revenue stream. For instance, Lessonface charges 15% on the lesson tuition fee. To pay the tuition fee, a student can make the payment using the payment gateway provided on the website.
Start an Online Learning or Consultation Business with Yo!Coach
How can Yo!Coach Help to Implement Online Learning Business Ideas?
Yo!Coach is a solution that reduces the time it takes for an entrepreneur to launch his online learning business. It offers essential features for an entrepreneur to manage his online learning website. The operational workflow of an online learning marketplace website is shown in the following diagram: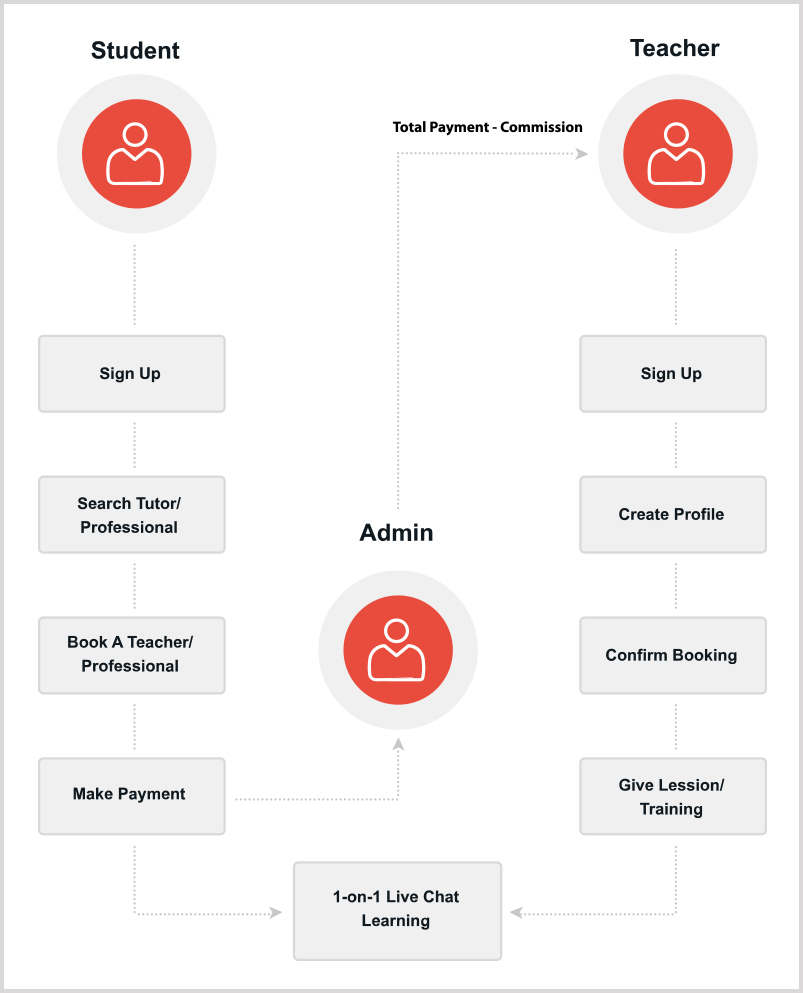 Online Consultation Business Ideas
Online Doctor Consultation
In healthcare, different pain points exist that may impact the patient and provider experience. Few such pain points are – dependency of the healthcare vertical on brick and mortar setups, more time consumed during in-person visits, external factors like Covid-19 pandemic, and more. Introducing telehealth or online doctor consultation can dramatically improve patient convenience level and has the potential to solve the existing pain points.
However, introducing a telehealth solution is easier said than done primarily due to existing processes and technology in healthcare. To move forward and start an online doctor consultation platform, one has to set up a pilot project and analyze the response. One such case is of Brigham and Women's Hospital. In 2015, Adam Licurse, MD, Medical Director for Telehealth at Brigham Health, overlooked the telehealth initiative.
They tested different approaches before introducing telehealth. While addressing the pain points mentioned above, they included patients who required frequent follow-ups. Today, they are adding value through innovation by providing programs such as virtual visits at a nominal cost of 25 USD per visit. Over the years, the virtual visit program has seen the most success in psychiatry as well as general medical consultation.
Famous Online Doctor Consultation Platform – SteadyMD
SteadyMD was founded in 2016 and has members in all 50 US states. The company primarily focuses on primary care, functional medicine, and pediatric care. Over the years, SteadyMD has identified different niches where it excels at providing online consultation, such as SteadyMD for mothers, weightlifters, runners, and more.
How does an Online Doctor Consultation platform like SteadyMD work?
The SteadyMD platform has many functionalities to connect the users and service providers and engage in a better way. The experience enhancement starts right from the beginning with SteadyMD's onboarding technology. Onboarding also involves a quiz to pair up users with service providers.
Separate tools are provided for users and providers to make their lives easier. For example, to keep track of upcoming appointments by users, service providers get a kanban type tool. Furthermore, the platform is accompanied by user-friendly mobile apps to add value.
Online Professional Services Consultation
Disruption can commonly be experienced in different areas of professional services. One area where white-shoe firms are facing competition from upstart competitors is – legal and management consultation. There are a number of reasons behind the fact mentioned above. For instance, the business model of legal consultation has not changed in the past many decades.
While consultation firms have long been understood to have opacity, prospects often have to trust a firm's previous clients and reputation to make the hiring decision. Key disruptors like AdvanceLaw and Lawyers on Demand (LOD) have complimented the statement "Yelpification of law" made by Firoz Dattu, Founder of AdvanceLaw. A recent disruptor that is reducing the opacity in legal consultation is – digitization.
It is quite common for large enterprises to outsource their legal work under the supervision of corporate general counsel. For startups and small-medium businesses (SMBs) operating on relatively less budget, outsourcing the legal work can still be expensive. Hence, the next logical option that businesses may prefer is online legal consultation that can fit their budget.
Famous Online Lawyer Consultation Platform – LegalAdvice
LegalAdvice enables regular people by answering their legal questions. The company offers sound advice in different legal areas such as accidents, bankruptcy, business, child custody, child support, criminal, divorce, drunk driving, immigration, real estate, social security, and more.
How does an Online Lawyer Consultation platform like LegalAdvice work?
A website like LegalAdvice can support three different user types. The user types are – client, attorney, and website admin. In addition to regular consultation, there can be a separate provision to handle pro bono cases for those in need. The platform can support three primary revenue streams, such as – featured listing, commission, and advertisement.
Online Astrological Consultation
According to the news website, Independent, the mystical services market is worth 2.1 billion USD. For an entrepreneur, starting an Uber for astrological readings can turn out to be a profitable venture. The stats further provide an insight into how profitable this niche segment is. To observe the popularity of such apps, take a look at the case of Co-Star. Co-Star is a birth chart comparison mobile app that was downloaded more than three million times.
To start an online astrological consultation business, there are different suggested as well as must-have features. Few examples of suggested features are – daily horoscope reading, artificial intelligence-based chatbot, third-party integration using an application programming interface (API) to fetch star movement, and more. Other must-have features can be user management, payment gateway integration, multi-lingual, live video consultation capability, and more.
Famous Online Astrology Consultation Business – The Faculty of Astrological Studies
Founded in 1948, The Faculty of Astrological Studies offers state of the art education. The company provides an online learning environment, offers diploma courses, and hold examinations as well. In addition to courses, the Faculty of Astrological Studies organizes events and sells online.
How does an Online Astrology Consultation business operate?
An online astrology consultation business can have marketplace features where astrologers can be listed and provide services to seekers. To perform optimally, other essential features include user management, video conference option, and more. The website can make use of revenue streams such as advertisement, commission, and featured listing.
How can Yo!Coach Help to Implement Online Consultation Business Ideas?
Starting an online consultation business is not an easy project. One may face competition and lack the technical expertise to build an online consultation website. With Yo!Coach, an entrepreneur gets essential features such as video conferencing, instant messaging, and more to manage an online consultation business efficiently. Here is the basic workflow diagram: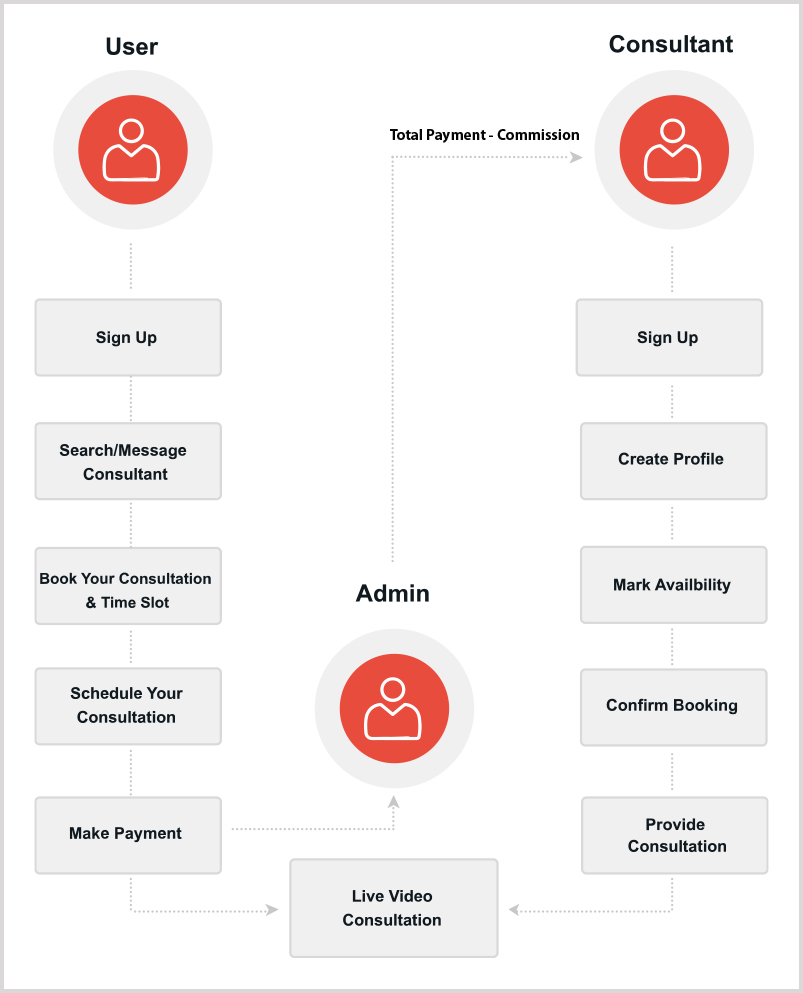 Conclusion
The coronavirus pandemic has brought a new set of challenges with itself. Nations are being pushed to adopt the online learning and consultation approach as it is the need of the hour. Entrepreneurs can fulfill this need by starting an online learning or consultation business with a market-ready solution like Yo!Coach.
Set Up Your eLearning Portal with Yo!Coach