The grocery industry is being reordered in Europe as consumers are migrating to several online grocery delivery channels rapidly. This transition is propelled by a number of motivating factors – convenience being the foremost. According to SPER market research, the Europe Online Grocery Market is expected to reach USD 552.32 Billion by 2033 at a CAGR of 16.13%. That said, in this blog, we discuss various online grocery businesses in Europe, but before that, let's go through the online grocery market trends in the country.
Europe Online Grocery Market Trends
Technological Advancements
Advancements in technology and the availability of the internet have catalyzed the market growth of online grocery delivery in Europe. Innovative solutions such as grocery delivery mobile apps elevate the shopping experience of customers and make it more user-friendly and personalized.
Sustainability – A Key Driving Factor
According to a Eurobarometer public opinion survey, European customers are focused towards sustainability and the environment. They understand that production and transportation of food is responsible for 25% of worldwide greenhouse gas emissions. Therefore, grocers need to take sustainability seriously. Moreover, in a survey conducted by McKinsey, customers across Austria, Germany and Switzerland are willing to pay a premium for sustainable groceries, personal care products, home items and health products.
Decoding Country-Wise Analysis of Grocery Retail in Europe
The Rise of Grocery E-Commerce in Denmark
The changing shopping habits of the Danish population have been pushing the development across all the retail channels for the last few years and grocery retail is one of them. According to research, the online grocery market in Denmark reached 1.8 Billion Danish Kroner roughly in the first quarter of 2023.
Key Grocery Players in Denmark

1. Coop
Coop is one of the largest retailers of consumer goods in Denmark with a market share of 40% and operates well-known supermarket chains such as Irma, SuperBrugsen, and Kvickly.
2. Nemlig.com
Nemlig.com is an online-supermarket founded in 2010 and is famous for providing groceries & other daily-used items to the Danish population.
The Rise of Grocery E-Commerce in Norway
The online grocery market is expanding in Norway. A few key driving factors include high access to the internet and rising urbanization in the country. According to Statista, Norwegians between 35 to 44 were the most active buyers of online groceries in the year 2022. Furthermore, almost 3.2 out of 4.95 Million Norwegians love to shop online and this number is increasing day by day which predicts that the online grocery sector will continue to grow in the foreseeable future.
Key Grocery Players in Norway

1. NorgesGruppen
It is a Norwegian grocery wholesaling group that runs various grocery outlets. The company has more than 1800 grocery stores in almost 89 percent of Norway's municipalities.
2. REMA 1000
Rema 1000 is a multinational no-frills soft discount grocery chain headquartered in Oslo, Norway. The company was founded by ODD Reitan in 1979 and is owned entirely by the Reitan Group. 
The Rise of Grocery E-Commerce in Sweden
With an internet penetration rate of 94.5%, the eGrocery market in Sweden is growing rapidly. According to Statista, in January 2023, there was nearly 5% food retail sales in Sweden due to eCommerce channels. This was due to two main fulfillment options: home delivery and click and collect.
Key Grocery Players in Sweden

1. MatHem.se
MatHem is an online retailer of grocery products in Sweden that allow Swedish consumers to place orders either from its website or mobile apps. The company has been awarded as "The Grocery Website of the Year" in 2010, 2011, and 2013 by the Swedish online magazine "Internetworld." 
2. Matsmart
Matsmart is one of the renowned retailers of grocery products in Sweden. The company offers groceries and food products at discounted prices and its primary focus is to reduce food wastage in the country.
The Rise of Grocery E-Commerce in Finland
Whether it's for retail, groceries, or other products, e-commerce has become a viable option for the people of Finland. Estimates suggest that eCommerce accounts for around 3% of the country's overall grocery trade. Households with kids and aged are keen on shopping for groceries online to save time and money needed to go to the traditional grocery stores. This interest of the Finnish population towards e-shopping has forced offline retailers to go online and develop online grocery shopping platforms to maintain customer satisfaction in the last couple of years.
Key Grocery Players in Finland

1. Alepa
Alepa is a grocery shop chain founded in 1918 in the Greater Helsinki region of Finland. Currently, the company is owned by HOK-Elanto, a part of the nationwide cooperative S Group. 
2. Lidl
Lidl is a Germany-based supermarket chain that operates over 10,000 stores across Europe and the United States. The company has been operating in Finland since 2002 and currently owns 188 stores in the country.
The Rise of Grocery E-Commerce in UK
Over the years, the online grocery market has seen a massive increase in the UK.  Before the pandemic, online grocery had a concentrated appeal among young, affluent families and so on. Now, the online grocery shopping market is driven by the sandwich generation who spend over a third of their income on online grocery shopping in the UK. 
Key Grocery Players in the UK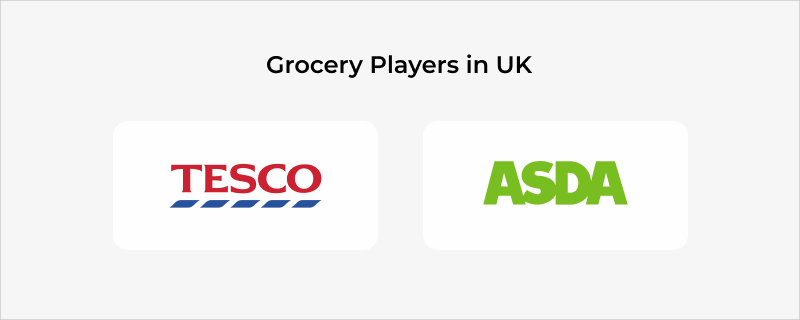 1. Tesco 
Tesco is a leading grocery retailer in the UK with over a 26% market share. It was founded by Jack Cohen in 1919. Now, Tesco is owned by Tesco PLC from the United Kingdom.
2. Asda
Asda is a British supermarket chain that was founded in 1949 when the Asquith family merged their business with the Associate Dairies company of Yorkshire. Since 2021, it has been jointly owned by Issa Brothers (Mohsin and Zuber) and TDR capital.
The Rise of Grocery E-Commerce in Germany
On-demand grocery delivery services are seeing a rapid growth in Germany as customer demands are becoming increasingly clear, i.e. grocery orders to be delivered to their doorstep in the shortest possible time. According to Statista, the grocery delivery market is expected to reach USD 7.45 Billion by 2023 and is anticipated to grow at a CAGR of 17.12% from 2023-2027, resulting in projected market volume of USD 14.02 Billion by 2027. 
Key Grocery Players in Germany
1. Gorillas 
Founded in 2020, Gorillas is a popular grocery delivery service in Germany. Its application features a wide range of fresh fruits, vegan products, vegetables and more.
2. Yababa
 This is a German grocery delivery platform that enables the ordering and delivery of grocery items. It was founded in 2021 and claims to deliver grocery orders on the same day.
The Rise of Grocery E-Commerce in France
The online grocery market in France has grown significantly in recent years. This is because of the rise in mCommerce as it facilitates doorstep delivery of groceries with the click of a button. According to a survey by Statista, scheduled delivery of grocery products is going to make up 12% of the whole food-at-home market in France by 2030.
Key Grocery Players in France
1. La Belle Vie
La Belle Vie is an online grocery delivery platform that was launched in 2014 in Paris. Using the platform or its apps, buyers can order meat, dairy, groceries and more.
2. Cajoo
Founded in 2020, Cajoo is an online grocery delivery service that revolutionizes everyday shopping of groceries by offering fast last-mile delivery. It manages its own inventory of products and operates dark stores.
Launch an Online Grocery Delivery Platform in Europe
Shopping for groceries online is alluring, which is why Europeans are transitioning to digital shopping, thereby taking advantage of convenience offered by digital platforms. So, if you are planning start online grocery business in Europe then you can opt for Growcer – a readymade online grocery delivery software. It comes at a one time price, offers 12 months of free technical support and is equipped with mobile apps for android and iOS both. Furthermore, Growcer encapsulates rich features and powerful dashboards for seamless user experience.
Key Highlights of Growcer 
Multilingual 

Multicurrency 

Inventory Management 

Reports and Analytics 

Tax Management 

Customizable 

Scalable 

Mobile Apps (Android and iOS)

PCI Compliant

12-Months Free Technical Support 

Zero-cost Installment
Launch an Online Grocery Marketplace in Europe with Growcer
Conclusion
The grocery retail landscape in Europe is changing with consumers becoming more and more technology driven. Therefore, to remain competitive, grocery retailers/entrepreneurs need to have an online presence and embrace sustainable practices. Further, with continued growth of eCommerce, the future of the online grocery market in Europe looks promising. Both new and old players can tap into the potential of this growing market in the coming years.