The baby products industry is vastly driven by sentimental values, due to which parents often tend to buy a lot of equipment, including the ones they may never use. Additionally, inflation rates in the industry make baby equipment very expensive and there's a need for repeated purchases at various growth stages of the infant. Thus, after usage, all unrequired baby equipment, despite being in a good and reusable condition ends up creating a lot of waste. As a solution to this problem emerged several baby equipment rental stores.
An online baby gear rental business primarily targets parents looking for safe and hygienic baby gears for long durations. To fulfill these requirements, rental businesses provide properly cleaned and sanitized products. If you want to join the online equipment rental industry, you will need to make a proper business plan and invest in equipment rental software. You can take help from this quick guide to get a general overview.
Table of Contents
Exemplary Business Plan for an Online Baby Gear Rental Business
In our exemplary business plan, we have covered everything you need to set up your online rental website or marketplace and start your business operations.
1. Figure Out Your Requirements
You need to analyze and understand consumer buying signals, their shopping patterns and on-going trends to find out what you really need on your online baby gear rental store. This will include things like figuring out the type of inventory, warehousing, delivery partner, and ways to resolve numerous customer pain points.
Types of Baby Equipment you can Lend
Cribs

Cradle

Strollers

Car seats

High seat chairs

Bathing products

Toy packages

Bouncers and swings
You can also consult the business analyst of an equipment rental software provider to help you refine your requirements and find the right solutions. Based on our analysis, you will require the following features on your rental software.
Features to Look For on a Rental Software
Booking Calendar:

An online calendar to select rental booking dates. This feature is also helpful for invoicing and preventing double booking.

Overdue Returns:

An option to view all pending returns and send timely reminders for returning the equipment or extending rental period.

Order Cancellation Module:

An option to set and define varying cancellation periods and penalties for recovering lost order processing costs

Rental Security Management:

To reimburse any product damages and collect penalties for overdue returns and late cancellations.

Maintenance Buffer Periods:

An option to define custom maintenance periods for inspecting returned products. The product is only added back to the inventory after completion of the maintenance buffer period.

Request-for-Quote:

A module to accept and fulfill custom quotation requests. This option is helpful to attract large orders and negotiate pricing.

Rental Add-Ons:

Rental add-ons enable business owners to add and sell complimentary products, such as bed sheets for cribs, child pillows, plush toys, etc.

Duration Discounts:

Custom rental duration discounts to encourage long-term rentals.

Marketing Features:

Various marketing tools and features like meta tag optimization, social media sharing and discount coupon management

Reports and Analytics:

Support for various types of reports such as sales reports, marketing reports and inventory reports.
Explore The Most-Feature Packed Baby Equipment Rental Software
2. Select the Software Type
For effective digital enablement, you are also suggested to select an off-the-shelf equipment rental software. Off-the-shelf software solutions are comparatively more cost-effective than custom development and expertly developed to deal with a number of challenges and reduce time to market. Custom development, on the other hand, is only suggested in cases where off-the-shelf readymade solutions are not able to match your business requirements and can also be very costly.
Some types of rental software available in the market are:
Self-Hosted Software:

These types of software are hosted on your own servers. You can either set up one on-site or purchase third-party hosting. A top benefit of using self-hosted 

equipment rental software

is that you can opt for a secure or faster server. There are also no monthly recurring costs involved.
SaaS or Hosted Software:

The term 'SaaS' refers to Software as a Service. This type of software is pre-hosted on the software provider's server and as suggested, is available for businesses as a service, which is charged on a monthly basis.
3. Do a Competitive Analysis
We can consider this industry to still be in its nascent stage. However, this does not mean that the industry is free of competition. The competition might be low but can help you figure out various market dynamics and consumer demands. You can also learn a lot from your competition, such as their pricing strategy, marketing channels, sales channels, shortfalls, and more. Getting a competitive advantage can be helpful in the long run and thorough competitive analysis will help you gain the same.
Top Players in the Online Baby Equipment Rental Businesses
| | | |
| --- | --- | --- |
| Top Companies | Startup Year | Revenue |
| BabyQuip | 2016 | $9.3 Million |
| Traveling Baby | 2010 | $5 Million |
| Baby's Away | 1991 | $3.3 Million |
| Rockabye Baby Rentals | 2006 | $1.3 Million |
4. Set Rental Pricing
After conducting a thorough competitive analysis, you will gain insights on competitive pricing. You can set the rental fee of your baby equipment based on your competitor's pricing and introduce attractive discounts. Apart from this, there are also various other pricing strategies that you can implement:
Cost Plus Margin:

This is the most economically viable pricing strategy in the rental industry. It primarily focuses on recovering capital costs in the shortest period of time to start earning profit. For example, you can set the rental fee of a $200 cradle as $20 a day to recover the capital cost within 10 days and enter the profit stage from the 11th day. 
Bundle Pricing:

Don't rent out certain items as standalone. Instead, bundle them together to set a higher but discounted pricing. The discounted pricing motivates customers to rent the bundled equipment instead of one product and thus will increase the average order costs for you.
Demand-based Pricing:

You can charge a higher rental fee for certain brands or product categories that are high in demand. Similarly, low demand products can be lent at a lower prices to manipulate and increase their demand, or simply for loss minimization.
How Much Does an Equipment Rental Software Cost?
5. Diversify Income Streams
The digital capabilities of online mode of business also offer an opportunity to diversify income streams. This simply means that along with earning by lending baby equipment alone, you can aggregate several other sources on your rental marketplace to increase your revenue.
Some additional online income streams you should consider are:
Subscription packages

Third-party advertising

PPC marketing

Rental Add-ons

Paid delivery
You can also make your business asset-light by developing a community of contributors just like BabyQuip. This will make your rental business a peer-to-peer rental marketplace where you don't need to own any inventory. Instead, various contributors will upload their products and you only need to manage the website and marketing. If you plan to launch an equipment rental marketplace, then you will also get the access to the following revenue streams:
Rental commissions

Featured listings

Paid listings

Delivery services
Your software requirements may also vary in case you wish to launch a peer-to-peer equipment rental marketplace.
6. Create a Marketing Strategy
To finally step in the industry you will require a marketing strategy that keeps the targeted audience in the center. For this, you initially need to find out your brand propositions and Unique Selling Points (USP). They will help you create effective ad copies and show value to customers in your baby equipment rental store. Once your USPs are clear, you can begin with the execution of a proper marketing plan.
The marketing plan of your online rental store can include the following:
Search Engine Optimization (SEO)
Being an online business, appearing in Google search results is an imperative. The higher the rank you get on Search Engine Result Pages (SERP), the better you can reach customers and increase awareness about your business. A common approach to do so is Search Engine Optimization, where you optimize your website content for search engine rankings.
Search Engine Advertising
Another way to get better visibility in SERPs is to do search engine advertising where a small ad snippet of your rental business will be displayed right above the search results. You can also create custom landing pages for search engine advertising.
Social Media Marketing
Social media marketing assists in developing a likable brand identity and increasing business awareness. The main purpose of social media marketing is to increase engagement with customers, which can be done by uploading and sharing quality social media posts. Additionally, you can also use your equipment rental software's marketing features for promoting discounts and offers.
Referral Marketing
Reaching a wider audience should be the goal of startups to expect more leads and conversions. Along with digital marketing, word-of-mouth marketing is also very effective at building that audience. To encourage your customers for word-of-mouth marketing, a proper referral marketing strategy is highly recommended. You can give some discounts to your customers for inviting their family and friends to your online rental store.
7. Launch and Manage Your Business
Once everything is ready, it is time to launch your online baby gear rental business and expect to receive orders within the very first month. Use your rental software's administrative features for managing orders, taxes, inventory, returns, user profiles and more. Over time, there will also be a need to update the banner image for promoting new products and discounts. Regarding other areas of management, business owners are also required to gear their efforts towards business accounts management, rental security management, handling customer data and providing effective customer support.
Most Recommended Rental Software for Online Equipment Rental Businesses
While there are many software solutions available in the market, we recommend you Yo!Rent equipment rental software that comes with both single-vendor and multi-vendor variants. With its help you can launch both B2C and P2P equipment rental businesses and use its advanced features to simplify your business operations. Furthermore, Yo!Rent is also self-hosted and available at a one time cost. To check complete functionality, you can also check Yo!Rent's instant and free to explore demos.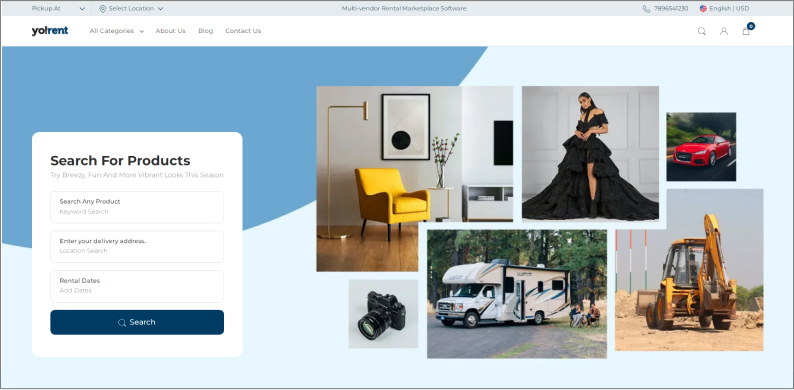 Why Select Yo!Rent? 
There are not one, but multiple reasons to select Yo!Rent for your baby equipment rental operations:
Advanced feature set including rental security management, rental add-ons, Request-for-Quote, late cancellation/returns, and many more. 

Fully customizable software to support any additional or preferential requirements

Fully scalable to support unlimited listings, transactions and user profiles

Up to 90 roles and permissions for sub admin accounts

Available at a one-time cost

One year of free technical support
Attend One-on-One Personalized Demo for Better Understanding
The Bottom Line
Every startup venture is challenging and launching an online rental business is no difference. However, with clear goals and a straightforward approach, you can accomplish even the riskiest assumptions. For this, you need to plan ahead and gauge the market from multiple perspectives. Be it technology, logistics, team, finance or marketing, with everything in your foresight, you can draft an effective strategy that takes your business idea to feasibility.