Last Updated: March 23, 2022
The peer to peer car rental market is projected to grow by 700% in the next eight years. There are multiple reasons driving this growth, including the reduced carbon impact leading towards a greener environment and increasing global preference for a minimalist lifestyle. In the P2P car rental industry, both incumbents and new entrants are focused towards inducing a sustainable and minimalist growth, out of which, Turo is a major player.
Table of Contents
What is Turo?
Launched in the year 2010 under the name RelayRides, Turo is a P2P car rental platform with a current fleet size of over 350,000 cars. In its overall existence of more than a decade, Turo has accomplished the following milestones: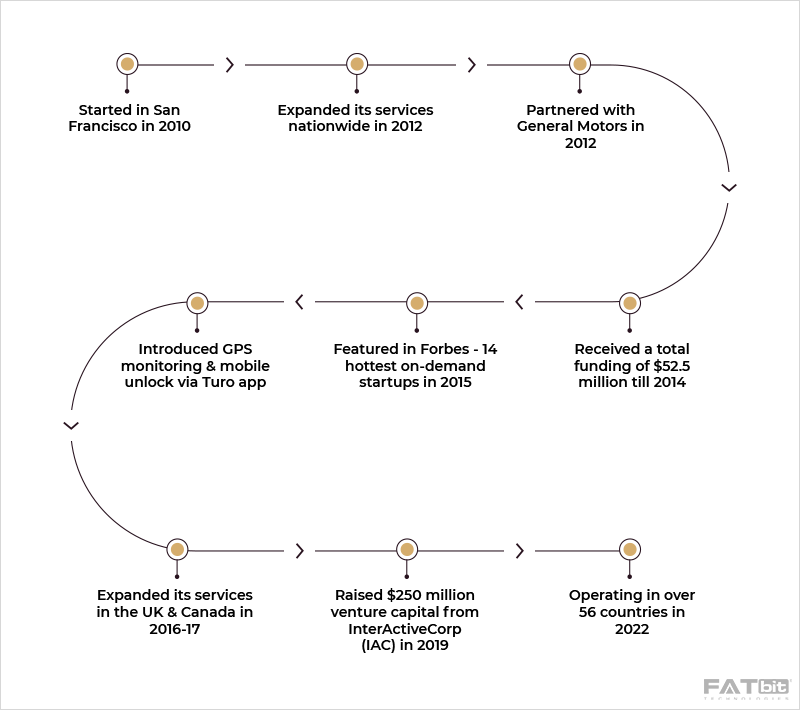 Other Businesses like Turo
The P2P car rental industry has gained global existence, followed by the rise of many players. Out of the broad range of entrants in the car rental industry, the following have reached the same reputation levels of Turo:
| | Get Around | Car2Go | Drive Now | Car Next Door |
| --- | --- | --- | --- | --- |
| Founded In | 2009 | 2008 | 2011 | 2011 |
| President | Sam Zaid | Paul DeLong | Sebastian Hofelich | Will Davies |
| Annual Revenue | $30 Million | $56 Million | $6.8 Million | $1.2 Million |
How Turo Works?
The online P2P car rental industry emerged only in the 21st century after digital business models came into existence. However, a single business model was not fit for all. To make existing digital business models suitable for P2P car rental operations, Turo had to make several refinements and set up a functional model that not only simplified car rental operations but also helped in managing payments.
In this section, you can find both the business model and revenue generation model of Turo. 
Business Model:
Car owners list their cars on Turo, specifying everything from the car's make model, color, and transmission. Prospective customers browse these cars and rent out the one that best fits their requirements. Turo rents out cars for anywhere from a few days or weeks. For car owners, it's a great way to make money if their vehicle is sitting idle for a long time.
Car Rental Software for Numerous Business Models
Revenue Model:
P2P car-rental platforms primarily make money by charging a nominal commission from every car rental booking, which differs from platform to platform. On Turo, the rental commission on every transaction is 25%, which means Turo gets to keep 25% share of the rental fee paid in a transaction.
Along with a rental commission, Turo also charges extra to its customers for additional miles. Further adding up to Turo's revenue generation model are host fees such as order cancellation charges, damage claim filing charges (only applicable if the host does not upload pre and post trip vehicle condition photos), maintenance policy violation charges, vehicle misrepresentation charges and more.

Turo also charges various types of guest fees to its customers. Some of these fees are EV charging fee, gas replacement charges, additional usage charges, claims processing fee, guest no show fee, late return charges, and smoking and pet policy violation charges.
What Makes Turo Successful?
There are a number of value propositions and USPs that helped Turo gain a large customer base. Along with them, the various pros of the business model, multiple funding rounds and Turo's strategic terms and conditions also contributed towards the platform's success. 
1. Resilient Business Model
Turo's P2P business model was quite unique at the time of its launch. Despite being a risky project in 2010, Turo's business model helped the company overcome various challenges that existed in the traditional car rental business model. For example, Turo's car rental business model eliminated inventory management and car delivery troubles. Moreover, the involvement of user-owned inventory led to the creation of user generated content: ranging from product listings on the platform to word of mouth marketing on social media. 
2. Diverse Market Regions
A strong value proposition of Turo is that its services are available even in the diverse regions of the country. For example, Turo's services reach those market regions where traditional car rental businesses cannot reach or do not exist. A few examples of such markets are rural areas, distant towns and less populated areas.
3. Lower Chances of Inventory Shortage
Regular car rental businesses are susceptible to fleet shortage at various times. They also have to spend the revenue generated on fleet management. However, Turo incentivizes people to use the platform for renting out vehicles. This incentivization ensures Turo a near regular availability of fleet without the presence of any acquisition and maintenance costs. 
4. Turo Roadside Assistance
Turo provides 24/7 roadside assistance to all its customers. In case of any breakdowns or any other car related issues, the customers can get in touch with Turo, who then dispatches a service vehicle totally free of cost. This on-road assistance ensures the customer safety on the platform and makes Turo a reliable car rental business. 
5. Turo Insurance and Vehicle Protection Plans
Turo offers car owners (hosts) and customers (guests) various types of insurance plans. These usually cover car damages for the host and third-party insurance for the guest drivers. It is because of these insurance plans that car owners feel safe to list their cars on the platform. Along with the roadside assistance, these insurance plans make the platform reliable for customers as well. 
6. Data Driven Marketing Strategies
Turo takes customer feedback seriously and tracks various KPIs to plan a comprehensive strategy for tackling business problems and leading the marketing efforts in the right direction. Turo's CEO, Andre Haddad, made the following statements regarding the company's data-driven measures:
"It's not just financials, it's also about the customer metrics, how are we doing by geography, our traffic numbers, how are our apps doing, customer support SLAs, conversion metrics, supply and demand growth metrics."
Top Features on a P2P Car Rental Marketplace
Basic Features
User Management:

User management features, such as the option to view all user profiles, booking history, all completed and failed payments are important on a P2P car rental marketplace.

Rental Security Management:

This module is inclusive of features to collect rental security and deduct reimbursements to cover costs for any car damages.

Booking Management:

To view existing and new orders, track booking status, see rental period, customer details and car owner details.

Booking Calendar:

A UI-based feature to help customers select rental dates. A booking calendar also assists in invoicing and checking vehicle availability.

Location-based Search:

Important to allow customers to find vehicles in their close proximity. This reduces the decision-making time and simplifies the rental experience.

Chat Messenger:

A communication module between customers and car owners to clear any pre-booking queries.
Advanced Features
Custom Information Fields:

Required collect and display most relevant information about the cars from car owners. These fields can be edited, added or removed anytime. Some examples of these fields are 'pet-friendly', 'non-smoking', 'snow tires', etc.

Product Comparison:

To allow customers to compare multiple rental cars based on make, model, fuel type, engine, seating capacity, boot space and even the admin created custom fields.

Product Inspection:

Required to inform the admin and car owner of any damages already present on the vehicle at the time of pickup/delivery.

Document Verification:

To collect and verify important documents such as the customer's driving license, vaccination certificates, and more.

Agreement Management:

To sanction and manage the respective terms and conditions of individual car owners.

Rental Add-ons:

To sell complimentary products and services such as car wash, body cover, child seats, chauffeur, insurance, extra miles and more.

Later Cancellation/Return Charges:

To recover any financial losses due to late cancellation or late return from the customer's side.
Build a Car Rental Website with Advanced Rent-centric Features
How to Develop a P2P Car Rental Business like Turo
There are two ways to develop a P2P car rental platform:
High-code Programming
High-code programming involves manual programming of a software from scratch. The developer has to gather all the feature requirements, do feasibility analysis,  prepare designs, write code and test the software to build your P2P car rental marketplace. Due to all these stages of the software development life cycle (SDLC), high-code programming is often expensive and time consuming.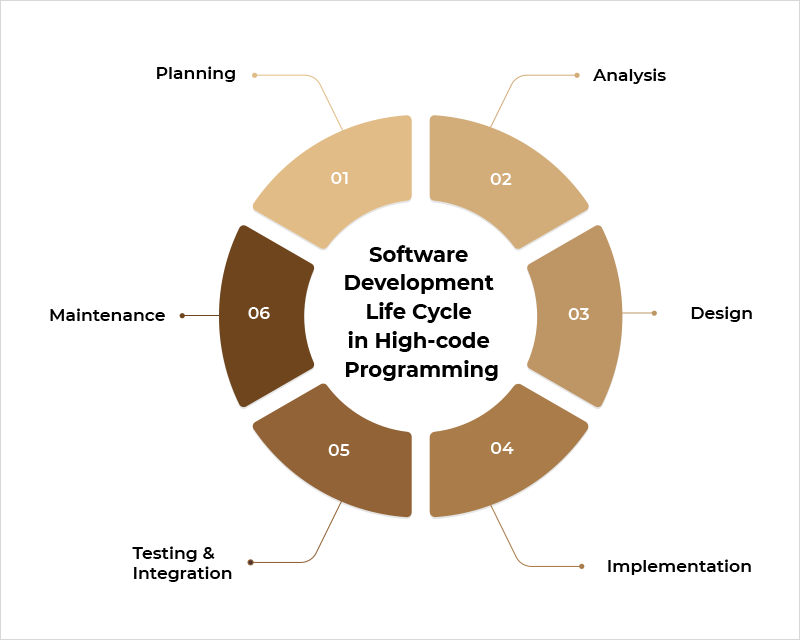 In the modern world, high code programming is only suggested for entrepreneurs who want their platform to be built on a very specific technology. Other entrepreneurs can go for low-code programming.
Low-code Programming
This development approach involves using a ready-made software (be it SaaS or Self-hosted) to launch an online platform. The main aspect behind low-code programming is to reduce the need for manual coding. However, the approach can still involve minor programming based on the selected readymade software or business requirements.
Readymade Software by FATbit Technologies
Due to the absence of SDLC stages, low-code programming is both time and cost-effective for all entrepreneurs.
Developing a Mobile App for P2P Car Rental Operations
While both high-code and low-code programming approaches can be applied to develop a mobile app, the latter is not recommended due to scalability problems and frequently changing consumer patterns in mobile app usage.
To elaborate, market competition and dynamic consumer behavior requires businesses to update their mobile apps on a regular basis. The mobile apps of renowned companies are often developed using agile methodology (a part of high-code programming), due to which they are able to incrementally improve the app and push frequent updates over a short period of time.
However, with a ready-made solution (low-code programming), it is not possible to match the required frequency of updates. Due to this problem, car rental businesses using a readymade mobile app often fail to compete with the businesses that are able to add new features and send timely software updates. 
Conclusion
Selecting a car rental software, business model and revenue model for a P2P car rental business are just a few steps of the entire roadmap. After these, comes the development of the online P2P car rental platform, and while the platform is under development, entrepreneurs can work on licensing, branding, do pre-launch marketing, set up newsletters, select delivery channels and plan announcements.
How Much Does Developing a P2P Car Rental Business Costs?
Frequently Asked Questions
1. Why is a P2P car rental marketplace considered a low-risk business?
Entrepreneurs all over the world consider P2P marketplace business models low risk as these models are based on the asset-light ideology. An asset-light business only requires the entrepreneur to invest the bare minimum in capitals. In a P2P car rental business, the owner is also required to make minimum investments, which are on the developing software platform, administration and marketing whereas the inventory uploaded on the platform is owned by respective car owners. Thus, the inventory basically requires no investment from the business owner unless he/she decides to.
2. Who lends and rents out cars on a P2P car rental platform?
Many car owners and families with multiple cars tend to rent out their old and idle cars. The customers who rent these cars are often families, students, young professionals, tourists and immigrants. Some purposes for which P2P cars are rented are for leisure, travel, tourism and even daily commuting. 
3. How can I promote my P2P car rental business?
There are several ways to promote a P2P car rental business, beginning with social media marketing, press releases and referral marketing. To appear amongst the search results along with the competitors, Search Engine Optimization (SEO) is important. Along with this, the platform can offer reward points to customers and seasonal discounts. 
4. What is the difference between a self-hosted and SaaS car rental solution?
A self-hosted solution is hosted on the company's own server. On the other hand, SaaS car rental solution is a cloud software installed on the solution provider's servers and charged at a monthly recurring rate. While a self-hosted solution offers more security, especially for the businesses that only run online, a SaaS solution relieves the business owner of server maintenance responsibilities. 
5. How to collect payment on a P2P car rental platform?
As the platform owner receives a commission for every transaction, the entire payment is first given to the platform admin. After the rental commission is deducted, the remaining amount excluding the rental security is transferred to the car owner. Regarding payment methods, online modes such as card payments and e-wallets are preferred over cash payments in a P2P car rental business.