eCommerce platforms have reshaped how various service-based businesses such as transportation, food delivery, and lodging operate.  Moreover, technology has made it quite easy for new startups to enter these markets and establish their identity. The real catalyst behind all these changes is the simple concept of sharing economy. Businesses can be up and running without actually owning any major assets.
No industry epitomizes this transformation better than Peer to Peer(P2P) car rental. Besides booking cabs, people have also started preferring renting cars that they can drive themselves. Realizing this growing need, many peer-to-peer car-rental platforms such as Getaround & Turo in the US and Drivy in France have started offering their services. 
Within no time, the concept of P2P car rental has gained wider currency and that underlines this business model's both need and efficacy. Since the P2P car rental market is still in its early stages, there are tremendous opportunities for startups to make their mark here. The FATbit team recognized the potential of this business idea and performed an in-depth analysis of the P2P car rental business model and essential website features to enable entrepreneurs to enter this booming market with all the necessary preparation.
Table of Content:
Peer-to-peer Car Rental Business Model
P2P Car Rental business model is based on the collaboration of car owners and car renters. Car owners list their cars on the platform, specifying everything from car's make, model, color, and transmission. Prospective renters can look up these cars and rent out the one that matches their requirements the best. The cars can be rented out for anywhere from a few hours, a day, or a week. For car owners, it's a great way to make money if their vehicle is sitting idle for a long time.
The following explainer video by Car and Away shows how a P2P car rental marketplace actually works.
Many popular P2P car rental platforms have found that on average, a car sits idle for about 22 hours a day. Getaround, a popular car rental platform claims that by using its website, car owners can earn up to $10,000 a year.To attract more car renters and owners, most P2P car-rental platforms offer insurance coverage on all rentals, as well as 24/7 roadside assistance.
How do P2P car-renting platforms make money?
P2P car-rental websites primarily make money by charging a nominal commission from every car rental booking, which differs from platform to platform. Other common revenue generation channels may include banner ads and on-site car promotion (to appear at the top of results).
Now that we have discussed the business model of peer-to-peer car rental platforms, let's take a look at the features that are crucial for a car rental marketplace to stay competitive.
Major Players in the P2P Car Rental Industry 
P2P car rental is gaining popularity in both the developed and developing countries with Asia pacific emerging as the fastest-growing segment. The Asia Pacific region individually holds more than 40% share of all car rental vehicles operating globally. The major players in the P2P car rental industry across the globe are:
DriveNow and Car2Go (operates globally) – Europe

Getaround and Turo – USA

Car Next Door – Australia

CarUnity and Tamya –  Germany

Carenty – Russia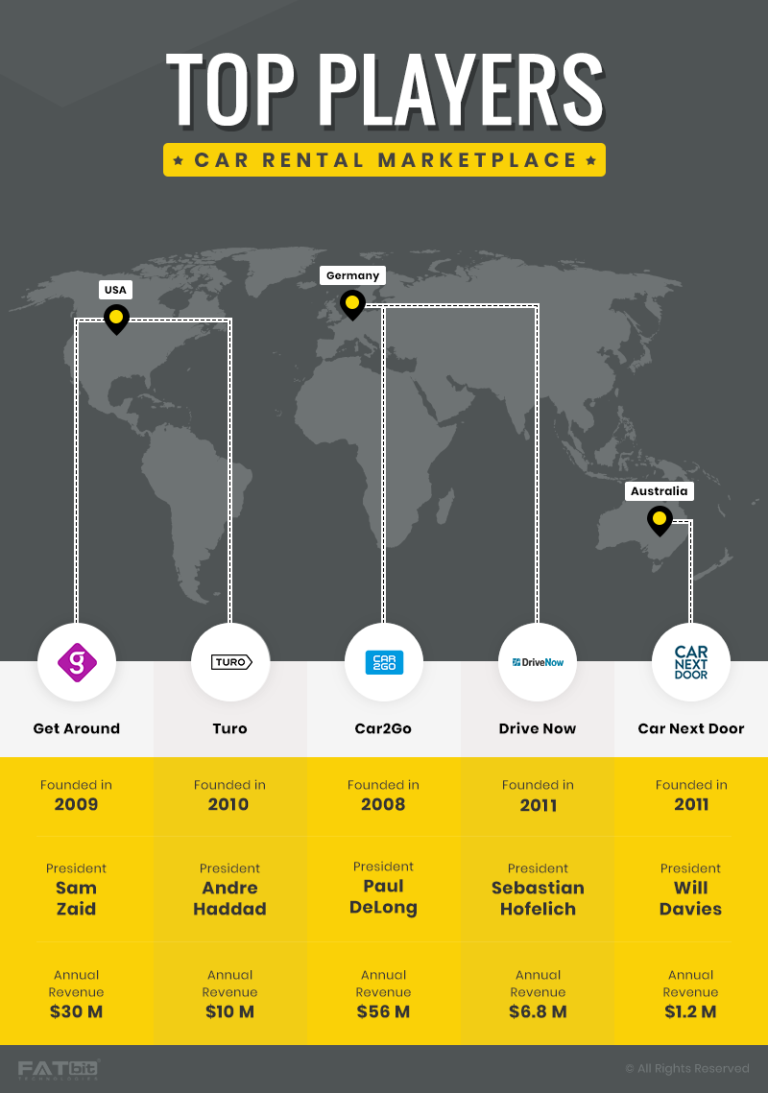 Source: Owler
When it comes to geographical distribution, the United States has the most active number of players followed by Europe and Russia. According to TechCrunch, the car-sharing startup, Turo has raised $250 million in a Series E round of funding from IAC. The overall growth rate of the company has been around 2x over the last two years. Indeed, the peer to peer car renting business model has gained widespread popularity in recent years, with companies like Turo and Getaround setting an excellent example for the service.
Also Read: How to Build a Truck Rental Website- Business Model & Key Features Analysis
Essential Website Features for P2P Car-Rental Platforms
While on paper the business model a p2p car rental platform doesn't seem like a complicated affair, the codes, logic, and design that make the system tick certainly are quite complicated. Still, by defining the scope of your system and setting measurable milestones, the implementation can be simplified. When creating a P2P car rental platform, it's crucial that you don't miss out on the key features that your users will come to use quite often. Following is a list of some of these features:
Renting a Car
The first step towards renting a car on your website should be a simple yet powerful car search feature. Placing the search feature on the homepage banner can be a good choice. You may also list some popular rentals below the first fold to give visitors an idea about the car rentals right away. Make sure that the car search toolbox has the following search fields:
Location (or address)

Pick-up date & time

Return date & time
Car Search Results
Most car rental websites use map-view to show rental results. We suggest you follow the same approach since it helps renters to know right away how far the car's location is. Plus, the vertical panel, next to the map view, can feature the basic rental details such as year, rent, etc.
Following  filters should also be present on the search page:
An important functionality to implement here is that as users hover over the list results, the corresponding map results should get highlighted. Investing in a vehicle rental software that enables this would be a good idea.
Booking a Rental
Only registered users should be able to book a rental. To make things easy for users, you can go for social media login for your P2P car-rental portal. The checkout process should be short and simple. It should have the following important text fields and options:
Detailed personal information (name, age, contact)

State & driver's license details

Payment options (credit card/ debit card/ PayPal etc.)
Listing a Car
There should be a distinct 'List Car' option on the top navigation bar. Since listing a car would require the car owner to input a lot of detail, the process should be divided into steps. Here, we have roughly drafted these steps:
In the first step, car owners should be asked the basic details such as location (zip code), car make, year, license plate, trim, style, etc.

Next, the users should be asked various car features & specifications (preferably through checkbox selection).

In the next step, car owners should be asked to provide any instructions to renters regarding pets, smoking, and mileage.
These are pretty much the steps & fields you need for the car listing option in your P2P car-rental portal. In addition to that, you can include following prominent offerings to make your online car rental marketplace platform more relevant for your customers:
Car Photos: Help car owners in taking nice clicks of their car so that they can attract more renters.

Insurance: Provide adequate insurance for every listed car. Have the provision for charging renters a penalty fee in case renters return the car dirty or don't follow the instructions provided by the owners.
Important Sections in P2P car rental Website
How It Works Section
New and unique online business models must have a 'How It Works' section. Typically, it should be a 3 – 5 step explanation of how things work on the website for your target audience (car owners and renters in this case).
After carefully analyzing some popular car-rental websites, we've identified a few features that enhance the How It Works section
For example, RelayRides' (now Turo) How It Works' section features an infographic that explains how things work for car owners and renters side-by-side along a timeline.
GetAround's 'How It Works' section is mostly in the textual format and is very detailed yet concise. All in all, its comprehensiveness eliminates the need to rely on the Help/FAQ section for every piece of information.
On the other hand, Drivy has come up with a very creative video to explain how things work on P2P car-rental platforms.
All these ideas portray a great deal of brainstorming, and implementing a combination of these approaches in your P2P car-rental marketplace can take the user experience to new heights.
User Profile Options
The user profile should be packed with rich features for both types of users – car renters & car owners. It would be a good idea to feature a user's listed car on the dashboard. There should also be dedicated tabs to log rental car & trip history of a user. Apart from that, basic account management options should certainly be present. If building on a P2P car rental marketplace, confirm these features beforehand.
Now, let's discuss a few more features that can make your P2P car-rental marketplace more valuable to your target audience.
Car Page
While renters should be able to view car details in the search results, there should also be a dedicated page for each listed car with extensive details to help renters choose the one as per their needs. Here are the car details you should put on the car page of your peer-to-peer car rental website:
Multiple photographs of car's interior & exterior

Car's per hour, per day & per week renting cost

How much renting the car will cost for the selected trip

Option to share car page with friends on social media or via email

Car owner details

Car features & specifications

Precautions renters need to take while using the car

Location & availability chart with the pick-up location information

Mileage cap

Option to book the car
Referral Program
A referral program can greatly help you get visitors during the initial stage. However, make sure that your referral program is well-planned to work and motivate users to recommend your car-rental business to more friends. Here, you can take some insights from Getaround's referral program.
Under Getaround's referral program, registered users refer their friends to the website by offering them $50 as Getaround credits. Once the friend books his first car on the website, the user earns $50 Getaround credits back. In addition to that, when the friend lists his first car on the website, the user gets a bonus amount.
By including the money in the process, Getaround has made sure that their referrals don't go empty.
Help Section
Make sure that you have a comprehensive Help section that is very neatly divided into categories & subcategories ('For Renters' & 'For Owners'). Registered users should be able to search for an answer as well as ask questions if they cannot find the answer they were looking for.
A comprehensive Help section will greatly enhance your appeal.
Blog
Through a blog, you can keep your user base well-informed about your latest offerings and other relevant information related to the car-rental marketplace. By publishing informational posts and stories on the blog, you can also have a better chance to appear on top of the Google results.
Car Rental Mobile App
Having a mobile app is essential if you are serious about launching an online P2P car-rental business. Car owners should be able to access their car location anytime, anywhere. What better solution is there in this context than a mobile app?
Make sure that your peer to peer car-rental mobile app has all the necessary features that allow both users (owners and renters) to manage their rental easily. Of course, getting an app at the very beginning will cost more. If you don't want to invest more, then go for a responsive website.
Augment your Car Rental Business with Mobile-Ready Solution
The sharing economy is booming and the idea of collaborative consumption of resources is spreading like wildfire. There are P2P platforms for renting bikes, music gears, dresses, camping gear, equipment, tools, textbooks, office space, and the list goes on and on. And each of these marketplaces is raising money and turning profits.
It is clear that P2P marketplaces have a bright future ahead and lots of opportunities for startups. But in order to survive the competition & to establish a brand, it is important that you step into the market well-prepared.
In a nutshell, the increasing cost of private ownership and environmental concerns are giving the peer to peer car renting portals a great scope in the coming years. Therefore, it is the right time to divulge in the online rental industry to cover a greater portion of the market share.
Including above-listed features in your car-rental venture with the help of an expert designing & development team will improve the probability of your success. If you're searching for a readymade solution to quickly build your online car rental marketplace, then take a look at Yo!Rent V3. Extending from Yo!Rent's previous version, Yo!Rent V3 is a fully customizable platform with unlimited users and listings.  It's a fully customizable and scalable platform with all the key features necessary to run an online rental marketplace.