Today, almost 6500 languages are spoken around the globe. Various researches demonstrate learning a second language boosts brainpower, encourages cultural empathy, and enhances new career prospects. Moreover, with globalization, there has been a steady rise in the demand for people who are able to communicate in multiple languages. Government agencies, organizations such as educational institutes, hospitals, media outlets & international companies rely heavily on multilingual employees to smoothly execute global communications and operations.
The post focuses on the points mentioned below:
Table of contents
Language Learning – The Digital Shift
The increase in smartphone penetration along with a surge in demand for digital learning has shifted a very large user base from traditional classes to online language learning platforms. The convenience and flexibility offered by platforms to learners & tutors make it the preferred way to learn a foreign language. The increasing adoption of these platforms is substantially contributing to the growth of the online language learning market in various countries.
Along with other parts of the world, the online language learning market in Europe is also flourishing.
Market Overview – Language Learning Business in Europe
Europe is home to more than 100 languages. The vision document for European Education Area drafted by the European Commission recommends knowing two languages in addition to one's mother tongue should be standard. In fact, in most European countries, it is already a national requirement for students to learn multiple languages, and therefore, students begin studying their first foreign language as a compulsory school subject between the ages of 6 and 9 years.
Russian, German, and French are the top 3 languages spoken in Europe followed by English, Turkish, And Italian.
Corporations are also jumping the bandwagon and are heavily investing in online language learning programs to bridge the communication gap for their employees. As per Technavio, another leading global research company, the corporate online language learning market is expected to grow by USD 698.85 million during 2020-2024. 
In order to increase learner's competencies, the use of digital technologies is highly promoted in European classrooms. The adoption of online language learning platforms in the workforce is also having a positive impact and significantly contributing to the growth of the market. 
These are some indications that the language learning market in Europe is likely to grow in the coming years. 
Now, let's have a look at our analysis of the few European countries.
Country Wise Analysis
Online Language Learning Business in the UK: 

The market in the UK is led by large language service companies, multiple mid-market players, and plenty of small companies, making the estimated active count of around 1600 players. People in the UK believe that linguistic skills are important for long-term career prospects and for the economy, and therefore, the country has several language learning platforms evolving to make it easy for people to learn foreign languages.

Online Language Learning Business in Germany: 

The number of international students in Germany is increasing at a phenomenal rate due to which the country is dominating Europe's online language learning market. According to Eurostat, around 35% of the population in Germany learns two or more foreign languages. The

penetration of digital education

and demand for advanced language learning platforms has also contributed to the growth of the online language learning market of Germany to a large extent.

Online Language Learning Business in Poland: 

Polish citizens

understand t

hat learning English will boost their career prospects and help them find better jobs, both domestically & overseas. Studies reveal that more than 25% of Polish are already learning or aspire to learn English and around 60% would like to reach an advanced level. This clearly shows that now is a suitable time to enter the language learning industry of Poland.

Online Language Learning Business in Greece: 

The number of immigrants living and working in Greece is steadily increasing which has become a social as well as educational challenge for the country. To help the immigrants integrate well into society, the government has introduced several language learning programs. Around 97% of the population in Greece learn two or more foreign languages, according to a report by Eurostat. Another survey indicates high interest by immigrants in learning Greek to mix into society and also have easier access to the job market. 

This clearly shows the present and future scope of language learning

platforms in the Greek market.

Online Language Learning Business in Russia: 

Russians show a strong interest in studying foreign languages. The language learning audience in Russia aged between 25-64, counts over 1 million people. The language learning market is gradually shifting online and will only keep increasing.

It is expected that by 2021 the size of the Russian online language learning market will grow to 10.7%.
Top European Language Learning Platforms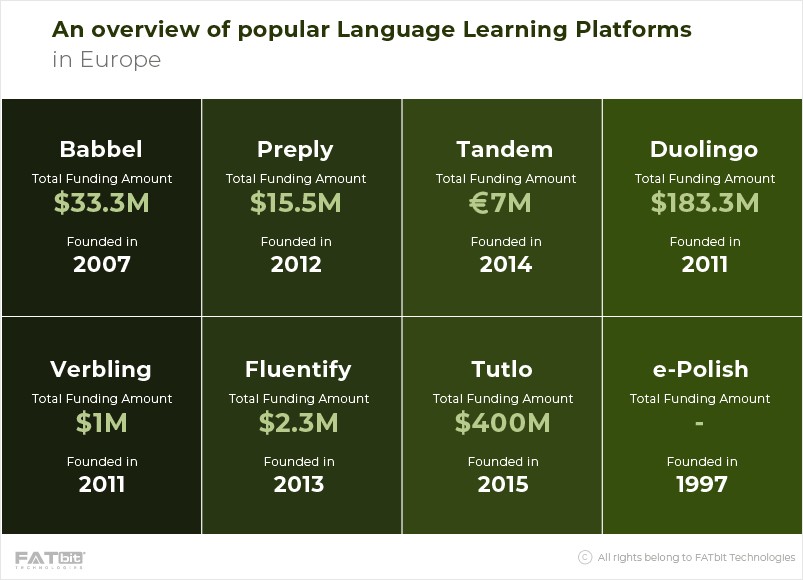 Babbel:

Operating since 2007, Babel is a Berlin-based language learning platform that uses a subscription business model and is available in 7 different languages. Available for web, iOS, and Android, the platform makes it easy to learn 14 different languages. Babbel has raised a total of $33.3 million in funding to date and has more than 120,000 downloads per day. An average customer uses the platform for more than a year which is quite an engagement rate compared to other platforms.

Preply:

Initially launched as a marketplace for online SAT and ACT tutoring in 2012 & headquartered in Kyiv (Ukraine), Preply is an online language learning platform that connects students with private tutors remotely via online chat. Operating in Russia, Poland, Ukraine, Mexico, Brazil, it has a network of 10,000 tutors teaching 50 languages across the globe.

The company has recently received funding of $10 million to upscale its market in North America and Europe, including France, Germany, Spain, Italy, and the UK.

It will also allow Preply to develop its mobile offering, streamlining its app to be more efficient and user-friendly. 

Tandem:

Tandem is an app for iOS and Android that connects language learners with native speakers via text, audio, and video chat. The company was founded in 2014 in Germany & supports more than 300 languages which include 20 signs, 20 indigenous, and 6 fictional languages. The company has raised a total of $8.3 million to date.

Duolingo:

Founded in 2011 by Luis von Ahn & Severin Hacker

, Duolingo is a language learning website & mobile app which offers

98 different language courses in 38 languages.

It has more than 300 million users registered on it. With a revenue of around 36 million USD in 2018, the company has raised around $183.3 million to date.

Verbling:

It is an online language learning platform

pairing students with language teachers via video chat. In 2015, the company raised $2.7m to expand its technology to more platforms and broaden its market. Having a network of more than 10,000 teachers offering classes in 43+ languages, the platform also has Android and iOS apps launched to deliver the lessons more easily. 
Suggested Read: How To Build An Online Language Learning Website Like Verbling– Business Model & Key Features
Fluentify:

Founded in 2013, it is a fast-growing language learning startup using AI and ML to help individuals learn a foreign language for both conversational and business use. The platform has also raised $2.1M for developing and expanding its offering into the French market. 

Tutlo:

It is a modern language learning platform that allows 1-on-1 live learning sessions. It has over 200 teachers from different parts of the world including Australia, Canada, United Kingdom, the United States.

e-Polish:

The platform addresses the people who are interested to learn Polish. Perfect for basic as well as advanced Polish learning, e-Polish has lots of customized courses for the students at different levels. The platform has professional Polish tutors with a passion for Polish teaching.
Scope for New Entrants in the Market
According to a report by The Insight Partners, the online language learning market in Europe is expanding at a staggering speed & is expected to reach $3.20 billion by the year 2027.
Since the market of online language learning is in no mood of slowing down, this could be the right time for the entrepreneurs to plan & launch a language learning platform. 
Launching an Online Language Learning Platform
Usually, the steps of setting up a language learning platform include:
Planning the business model

and revenue

model

Assessing market trends

Analyzing the competition

Jotting down the essential technical features required

Launching the platform
At the same time, it also requires in-depth planning of new and innovative features for the users as per the market requirements. However, all this is worth the time and effort.

Become the next budding edupreneur
Marketing Strategies to Ensure a Successful Start
A business without a marketing plan is like winking at a girl in the dark. It is important to have a proper marketing plan to make your business appealing and valuable to potential customers. Staying at the top of your marketing strategies will help you to attract new customers and retain the existing ones as well as enhance your presence among your key targets. 
Below listed are some efficient and effective marketing strategies to stay ahead of the competition.
UI/UX Design Strategy:

User Interface (UI)/User Experience (UX) should make the digital interaction of the users as simple, intuitive, fluid, and efficient as possible. Make sure the platform has an optimized user interface to offer easy to navigate and intuitive user experience maximizing the opportunity to convert visitors into users.

Offer Discounts: This is a strong promotional strategy that can give you an edge over your competitors by increasing sales and improving your reputation.

 It not only helps the tutors and learners on your platform but also your business. 

Start Local:

Starting the platform with one city, dominating that niche market, and then expanding nationally or internationally is a suggested initial strategy. It makes more sense as you are closer to the market, competition is less, and you can customize the platform and its features to the unique needs of the local market.

Free Trials or Subscription:

Offer free trial sessions to learners so that they can evaluate the quality of tutors on the platform and pay after they have made a decision. Free subscription for initial days could trigger tutors to learn more about the platform and explore its features in detail. 

Launch a  Referral Program: Referral marketing could develop a huge customer base very quickly. It allows your users (tutors/learners) to promote your brand for you. As more than 90% of people trust personal recommendations, there is no marketing plan that can match the potential of this strategy.
Engagement Strategies to Keep Ahead of the Pack
When it comes to online learning, retaining and engaging students is a challenge. This is why it is needed to keep them motivated on the platform and offer them compelling & interactive features. 
The key players in the market have adopted such strategies which have provided a boost to their growth. Let's have a look at the list of strategies and techniques to keep the users engaged and stay ahead of the curve.
Keeping the Competition Alive: Learners are extremely competitive these days, so incorporating a competitive element into the platform keeps the learners motivated and encouraged. Creating a league board where learners are ranked according to their performance is a superb idea to keep the competition alive.
Interactive Teaching: Having interactive features on the platform enables learners and tutors to experience a seamless journey. Learners can learn the language efficiently and without too much hassle. Video/audio chat helps learners to understand the pronunciation of new words clearly and quickly.

 

Experienced and Native Speakers: Native and experienced speakers make the best tutors to teach languages. Practicing language with a native speaker exposes you to idioms, dialects, and slang. It makes learning a new language and a new culture more enjoyable.
Introducing Gamification: Most people prefer to play online games rather than learn a new language. To tackle it, combining the learning and gaming process on the platform is a good idea to keep the users interested. Gamification will add a fun element to the platform to which users will become addicted.
Wrapping Up
It is no doubt that the increasing adoption of digital education and implementation of the advanced level of foreign language curriculum in education are the key drivers of the online language learning market in Europe. Also, the European region is anticipated to provide numerous profitable possibilities for the players in this industry. 
The online language learning market is competitive where existing players face tough competition from new entrants. Therefore, it becomes crucial for all players to expand their portfolio as well as continuously innovate.
Launch Online Language Learning Platform with Yo!Coach