New website owners and startups are struggling each day to get traffic to their website. They are usually found wondering why despite featuring a revolutionary product, their website has no traffic. FATbit marketing team is often approached by such website owners and marketers who wish to create new sources of traffic and customers. Here is a step by step guide prepared by FATbit's SEO and online marketing experts that will teach you how to create multiple sources of traffic for your website for free (well almost);
Search Engine Optimization:
1. Relevant Keywords optimization of content
If you have a tight marketing budget then you cannot rely only on online advertising and offline sales team to generate all the traffic for you. You need to enable your website to generate the right kind of traffic that will stay and buy from you. For that optimizing your webpage content and architecture for the most relevant keywords is very important.  Plus all the content that you generate for brand building, knowledge sharing and marketing communication, both on-site and off-site, must also be keyword optimized. You can choose multiple tools to find the relevant keywords and search queries eg.
Google Trends (http://www.google.com/trends/)
Google Auto Complete Suggestions
Terms used by people in related discussion forums
Ubersuggest (http://ubersuggest.org/)
 2. Diverse Content Production
Invest in diverse content production and content marketing. Generate content specifically according to the people who will be buying your product/service and market it to them. Don't just start blogging about topics that your competitors are already talking about. Find your niche and stick to it. Your customers should know exactly what you specialize in. In the year 2014, people are already exposed to too much content. To prevent your company from looking like a "me too", produce diverse content like:
Slideshows to target the executives and share them on platforms like Linkedin, SlideShare, Google+, etc.
Make videos about your work culture, processes, and quality assurance procedures to connect with your audience through YouTube, Facebook, Vimeo, etc.
Interesting graphics, creative and informative infographic designs that share valuable data, etc through Facebook, Twitter, Instagram, Flickr.  You can use free tools like Piktochart (http://piktochart.com/) and Canva (https://www.canva.com/) to design these graphics.
Conduct Webinars with industry experts on Google Hangout to get some instant visibility.
Sharing your content on external platforms will improve your company's overall online presence and help in building these platforms as a constant source of traffic. If your content is worth reading and sharing, it will become a recurring source of traffic for your website. Hence, your content is helping you increase targeted website traffic at an affordable cost.
Also Read: How to increase an online store's traffic in 60 days [Case Study].
3. Try improving domain Authority
Try guest blogging on relevant, high authority domains. Such blogs rank well on search engines, have a good subscriber base, generate relevant traffic and have an established social network that you might not have. So try earning a valuable back-link by sharing your content through such blogs and divert traffic to your website's marketing pages. It will help you improve your website's domain authority and improve your website's overall search engine ranking.
Ever since unethical link building has been penalized by Google, everyone is looking for guest blogs where they can share their content at low cost; hence giving rise to loosely moderated low-quality blogs. Don't "buy" free website traffic when you can get it yourself.  Rather establish multiple FREE high authority blogs on Weebly, WordPress, Quora, LinkedIn, etc, share informative content and divert traffic to your main website. FATbit's SEO team advises online marketers to adopt this technique to avoid a future penalty.
4. Optimize for location specific searches
If you are an offline business, register your business details and website in relevant directories, classifieds and portals. Every country has its own popular classifieds and yellow pages that list businesses. There are some databases that also list similar online businesses. These act as specialized search engines and send traffic your way. Try to share multiple locations where your service are available, business details, contact information, website URL and customer reviews, etc.
You will need a dedicated team to constantly generate content, optimize it for search engines and promote it.
Hire an SEO team at affordable prices
Increase Referral Traffic:
5. Strategic business alliances
Tie up with complementary service providers to make them act as referral sources.  The travel industry has been capitalizing on this for quite some time and you can do it too. When you buy a holiday tour package it usually includes some hotel reservations. This very hotel is "recommended" by the online travel agent, because it's basically a strategic tie-up. Similarly, you can try to explore options where you can partner with websites and establish referral programs. They can act as your affiliates and send traffic, mature leads and business your way. This will help you limit your expenditure on online marketing and sales team maintenance in exchange for a pre-decided commission.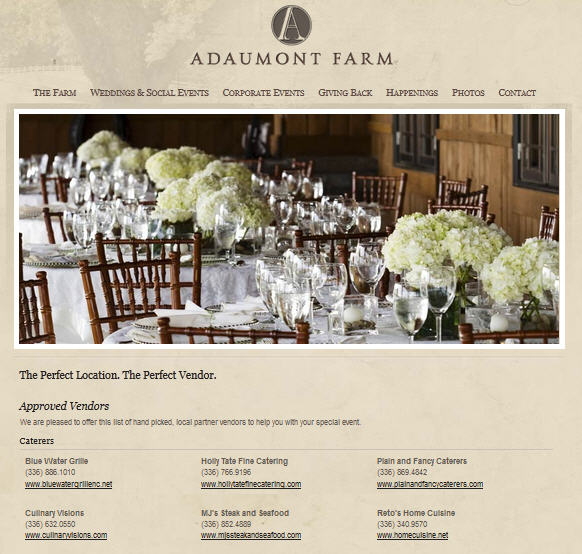 Adaumont Farm acts as an affiliate for selected caterers (http://adaumontfarm.com/vendors.html) and helps generate traffic for their respective websites.
 6. Promote referral programs
Businesses can also promote a social referral program through their website. Here existing customers can be promised attractive discounts on their next purchase or some freebies every time they share updates about the company with their network. It can be executed by sending mails or asking their friends to join through social media platforms. These referrals tend to perform better than advertising to the masses.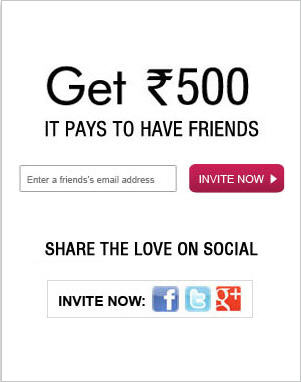 Try Increasing Repeat Visits:
7.  Give Incentive for Repeat Purchase
The probability of making a sale to your existing customer is 60-70%. The probability of selling to a new visitor is 5-20% and it even costs 5 times higher.
People feel that the online marketplace is highly price sensitive but there are some people who are brand loyal because they trust very limited service providers for genuine products and timely delivery.  FATbit advises marketers to maintain a proper database and find out who their loyal customers are. Reward your loyal customers and give them an incentive for repeat purchase (eg. a discount on next purchase, loyalty points which can be redeemed, etc). This can turn out to be the most inexpensive way to increase website traffic, and sales.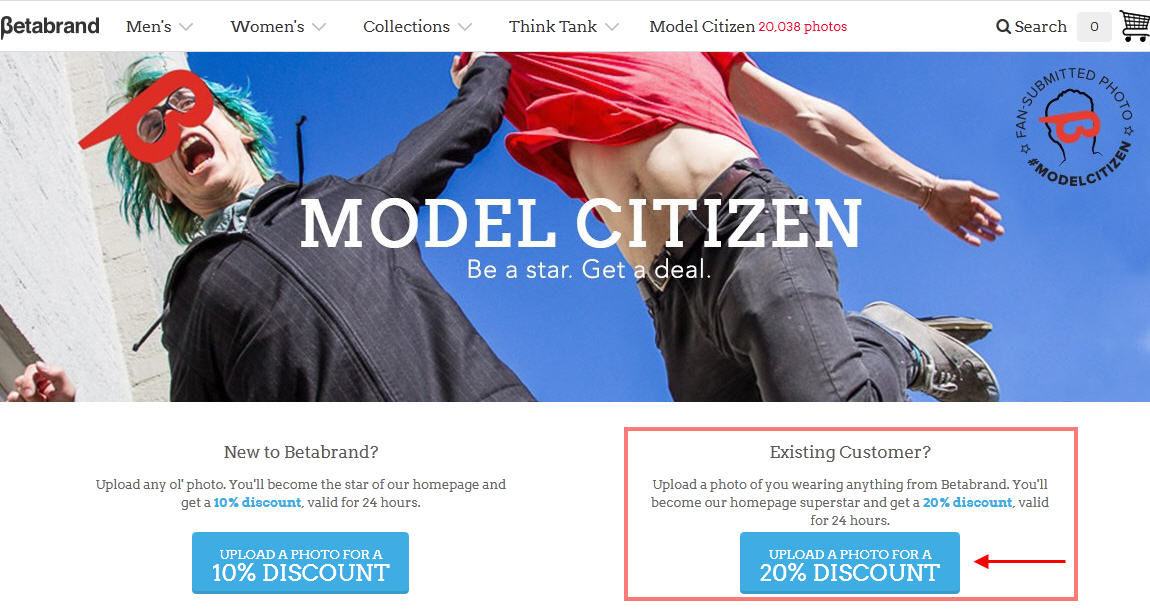 Betabrand (http://www.betabrand.com/modelcitizen) is doing a great job at promoting repeat purchases. They are engaging their customers by asking them to upload pictures of themselves wearing what they bought from Betabrand (+getting user generated content for FREE). In return, they are not just giving a discount but adding an element of urgency by putting a time limit of 24 hours on the offer.
8. Use retargeting effectively
Adroll (http://www.adroll.com/retargeting) – a popular retargeting solution says that approx 2% of visitors buy/ subscribe on their first visit to an online store. Effective retargeting techniques bring can help make the remaining 98% revisit your website. A repeat visitor has higher probability of buying than a new visitor, because he already knows what you have to offer.
Retargeting tracks the people who visit your site with the help of cookies and displays your retargeting ads to them as they visit other sites online. These are basically the ads that follow you around. Use efficient filters to choose who will be a part of your retargeting ad campaign to save on the expenditure.
If you do not wish to use paid ads, you can also use email marketing by sending your subscribed users details of the products that they almost bought. Just hire an expert developer to program your website for retargeting. You will also need specialized landing pages to get the maximum returns from retargeting ad or email campaigns.
9. Increase your subscribed user base
Try to increase your subscribed user base in order to increase repeat visits. The subscribed users will constantly get updates about new product launches, latest offers, your blog content, and PR activities.  When used effectively, this can turn out to be one of the most affordable ways to get repeat traffic and more customers.
It is also easier to maintain a close relationship with your subscriber base than with the audience at large. Such visitors are more probable of coming back to your website. Just make sure of the following things when you try to expand your subscriber base:
Do not force opt-ins.
Do not use irritating pop-ups that completely freeze the website.
Do not force people to subscribe just because they wish to buy from you. Allow guest checkouts.
Do not spam their mailboxes with excessive emails.
You do not just need a website but efficient marketing to generate regular traffic for your website.
View FATbit's online marketing services
Relationship building:
10. Social Media Marketing
If you want to connect with your target audience, you or your social media marketing team needs to stay active on all social platforms where they are active. This might not get you direct sales but can act as a recurring source of free traffic. Share your content and the latest updates with them. If you have limited manpower, improve your presence on only relevant social media platforms. Speak the language of the targeted platform and share only platform relevant content. People do not wish to see you sharing professional slideshows on Twitter and funny graphics on LinkedIn.
11. Initiate discussions
Take part in discussion forums and communities where your target customer segment is active. This is one of the very old, tried and tested way to increase website traffic and customer base at a fair cost. Share your valuable insights in your industry related discussions, share your content links and service page links wherever you feel is relevant and permitted. Such participation in discussions makes you more accessible and increases your company's visibility.
Usually a lot of companies start writing promotional content in discussion forums and populating them with links, which is a big no-no. If someone finds your comment useful, they are naturally bound to tracing you back to your company website. Ask your employees to take part in discussions through their personal profiles as people prefer talking to other people rather than companies.
12. Give away something for free
Giving something free to your customers gives you instant acceptance and brings you one step closer to your customers. Companies launching a new or lesser known service/product must come out with a limited period demo or trial version to make new people try it. Something given out for free gets shared frequently through positive word of mouth, gets talking about in guest blogs and is more often shared through social media platforms. All these act as multiple sources of free traffic. You can also give out free ebooks, guides, etc. for download to your customers which carry valuable insights about your product/service/industry and can be helpful to your customers. In return you can ask for a subscription to your newsletter.
We hope that these tips will help you kickstart your online business and start generating traffic for it at almost negligible costs. If you feel that you have a great product but do not have the time and expertise to market it, it is advisable to hire professionals for the task.
What other techniques you use to generate FREE traffic for your website?
Hire professional marketers to generate multiple sources of recurring traffic for your website.
Get a FREE quote from FATbit