In a world of shared assets, renting economy has become a ubiquitous concept. Sharing economy or collaborative consumption has disrupted a number of industries, emerging as a global trend valuing more than 335 billion U.S dollars by the year 2025.

As per a Report by Nielsen, 68% of global respondents are willing to share or rent out personal items and around two-thirds likely to use products and services from others. The growing momentum of online renting is not likely to dissipate soon and is rapidly emerging as a force with industries like cars, equipment, textbooks, clothing etc rising to let people sell and rent out idle assets and grow profit margins on shared platforms.Not just the physical assets, people are renting out intellectual property through lessons or services.
The trend which might have been seen as unfathomable a few years ago is now leveraging people to use the unused capacity of owned assets. Based on figures published by the American Rental Association (ARA) and the European Rental Association (ERA) – the two largest rental industry bodies – the global rental growth rate in both 2018 and 2019 will be between 4.5% and 5.0%. That's for a market that is valued globally at between US$90-100 billion, with approximately 80% of that generated in Europe and North America. 
Peer to peer renting and selling business model has made it possible for used items to  be rented or sold to another person who finds it valuable. Read the post to know the critical requirements before setting up an online rental marketplace.
Table of content:
Successful Peer-to-Peer Rental Marketplaces

The peer-to-peer renting and selling is a disruptive business model that is expanding across different industries. These industries are flourishing extensively with the concept of sharing and renting underused assets, be it tangible or intangible. Here are some successful marketplace brands from different industries:
Car Rental and Sharing Marketplace

– GetAround, DriveShare, Turo

Online Clothing and Accessory Rental Marketplace

–  Rent The Runway, Le Tote  

Online Furniture Rental Marketplace

– Furlenco, Cort, Rent-A-Center

Electronics Tools Rental

– Fat Lama, Peerby 

Textbook Rental Marketplace

– Chegg, Amazon

Equipment Rental Marketplace– DOZR, EquipmentShare, Tenderd, GearFlow

Business Model of Renting and Selling Marketplace: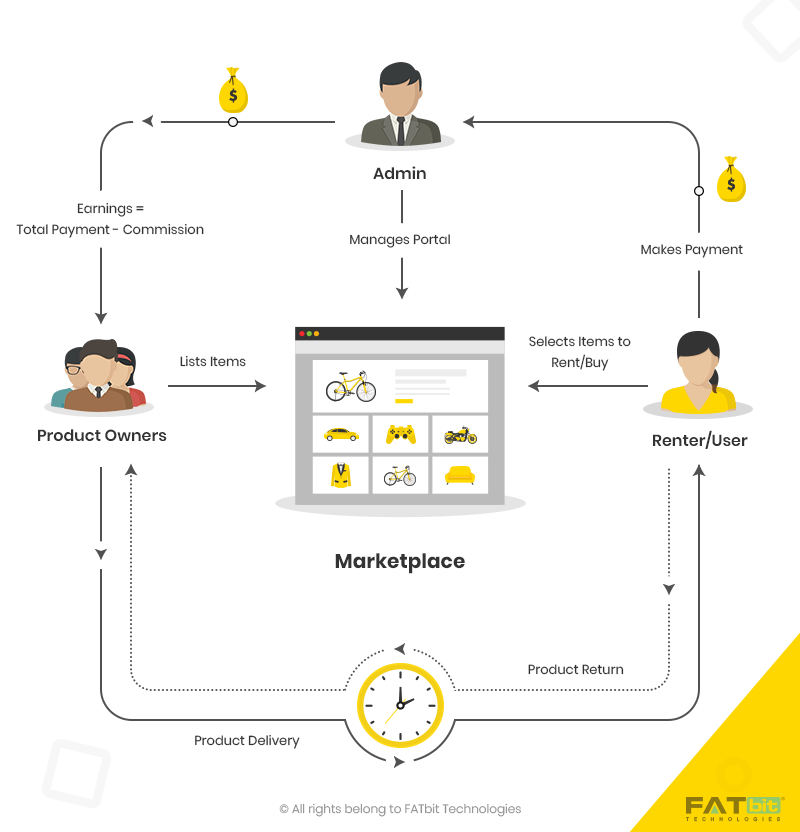 The online renting and selling marketplace is a common platform for owners to rent out their personal products and lenders to rent those products. The product owner can rent out equipment, dresses, gears, electronics depending on the market trends. Here's how things work on the online rental marketplace:
Product owners list their products with original photos.

Price can be adjusted as per the dates and product value.

The product renter (lender) can browse listed products based on the hourly/weekly/monthly rent rates.

Select the desired product from list of products. Rent the product for a specific period of time depending on the amount of money is calculated.

Then marketplace sends the booking request to the owner and the owner has to approve the request.

After 24 hours of reservation, the owner gets their money through the website, from which the commission is cut.

At the end of the reservation period, the renter returns the product to the owner.
Also, the renter can search the products based on their location and view the availability of that product in their locality.
Online Product Rental Business Revenue Models
The most important way any marketplace owner makes money from the website is through commission revenue model. Whenever a transaction happens on the website, the owner deducts a commission fee from the amount of the sales and release the rest to the vendor.
Beside, commission, there are some other ideas that the business owner can add in their revenue generation stream:
Advertisements
The revenue in case of advertisement,  depends on the cost per click (CPC) or cost per thousand (CPM). The website owner charges the advertiser for displaying their ads on the site.
Featured listing 
To add extra revenue to the marketplace, featured listing can be another great idea.  Since there is always intense competition among vendors, the marketplace owner can encash the opportunity by showcasing the product of certain vendors on the top. Vendors willing to pay to be highlighted to their customers can pay for this service. 
Subscriptions
The website owners can earn through membership or subscription fee. These annual or monthly subscriptions help the users and sellers to access some perks after successful registration.
Yo!Rent is a Perfect Solution to build a product renting and selling marketplace
Yo!Rent is the perfect solution for all the entrepreneurs who want to be a part of the growing online renting industry. Yo!Rent is developed as a solution to build a renting and selling marketplace. Yo!Rent has been developed after thorough research and analysis of the market. Here are some clearly articulated features that will make your online product renting and selling marketplace stand out:
See Yo!Rent in action. Learn more about it's features
Yo!Rent Features
Multi-vendor Functionality
This ecommerce rental marketplace solution allows multiple vendors to open their stores at common storefront. The more vendors on the platform, the greater will be the range of products available for the customers. This functionality has taken the online retail industry one step ahead, facilitating the owner and vendors with greater profit margins.
Social Media Integration
With the advent of social media as ecommerce channel, users can easily share products on their social media. Embedding social media sharing buttons on the product rental pages make it completely hassle free for users to share and add to conversions of the rental website. 
Smart Review Management
The smart review functionality in Yo!Rent provides a quick access to the marketplace owner to manage the reviews. This enables the owner to maintain Strict quality assurance and hygiene checks in an online rental marketplace.  
Reports and Analytics 
The reporting and analytics feature in Yo!Rent provides a holistic view of all the important aspects like rents, sales, traffic, conversions etc. The graphical representation of the statistical information helps the business owner to take more informed decisions and formulate the business strategies accordingly.  Here's what all is covered in the reports:
Sales Reports: Date wise sales report 

Users Report: User wise sales report 

Shops: Shop wise sales report

Products: Product wise sales info

Tax: Shop wise tax report 

Commission: Site Commissions & Revenues Statistics/Reports
Now Yo!Rent rental software is even better with the much enhanced version Yo!Rent-V3. Inclusive of all important online rental business management features like, RFQ management, document verification, product comparison, product inspection, eSign, agreement management, paid cancellation, self-pickup slots and more, Yo!Rent-V3 is one of the most advanced rental marketplace solutions available today. Check out full features of YoRent online rental software.
Benefits of building Product Renting and Selling Marketplace with Yo!Rent 
Customized Rental marketplace solution
The biggest advantage of starting an online rental marketplace with Yo!Rent is the customization. The rental marketplace solution customizes the store according to the business requirements and key elements that appeals to the target audience. Any feature or functionality can be added or removed to enhance the browsing experience of the target audience.
Mobile optimized 
In order to provide a seamless experience on all the devices, Yo!Rent has been completely optimized for different screen sizes. The responsive and user friendly design offers smooth cross browser compatibility.
Rent + Sale
Yo!Rent allows the product owners to rent and sell their items on the same platform. The functionality has been added to provide maximum customer satisfaction. When the customer rent's a product from a rental section, in case they liked it, they will need to go to some other marketplace to buy it. Now this is where the purchasing module comes to help.
Unlimited listing of products and services
Yo!Rent does not have a  limit on the number of users and products. But in case, the number is beyond 100,000 users and 10,000 products a more powerful server/ hosting service may be required.
Technical support for 1 year 
Along with the comprehensive and robust functionality, the solution provides 12 months free technical support to tackle bugs and errors. 
Surpass user satisfaction with intuitive and user friendly ecommerce rental solution
Rental Ecommerce Marketplaces built with Yo!Rent 
Below are some of the rental ecommerce marketplaces built with Yo!Rent. The list includes the different niche based rental marketplaces
Gearflow.com
This is an online equipment rental marketplace to buy and sell construction equipment. The website has been completely designed according to the client requirements. The overall look has been fabricated to give it a feel of an online equipment rental store.
Gearflow received their first seed funding on January 2019.  They also recently partnered with Alert Management Systems, to deliver a seamlessly integrated eCommerce solution for equipment rental businesses. Users on alert will have the ability to automatically upload and update their entire inventory on to Gearflow. The integration enables equipment rental businesses to be smarter about the disposal of their inventory while maximizing the utilization of their assets.
 MALTAMARKET
This is another rental marketplace powered by Yo!Rent. The website offers intuitive web design with smooth navigation.  Built with Yo!Rent's GoQuick version, the website has a clean categorization of products which further enhances the user experience.
 RENT FOR ALL
The website was designed completely according to the client's requirement with Yo!Rent's GoCustom package. The website has specific feature to let customers rent out on specific dates and also to purchase the product.
Yo!Rent Client Testimonial
Here's what Yo!Rent's client has to say about the product:
Mobile application for the online product renting and selling marketplace 
Mobile applications have become a significant solution to capture a greater part of the audience. With an approach to meet higher customer satisfaction and deliver a unique shopping experience, ecommerce has extended to new opportunities. Mobile applications have become a great source for business expansion. Similar is the case for online renting marketplaces, it has become crucial to develop mobile app.
Yo!Rent comes with mobile application to help business owner to multiply the reach of the audience.
Industries that can be covered with Yo!Rent 
Here we have compiled the top product industries for building a marketplace with Yo!Rent.
To cater to the needs of growing niche based rental websites, our team of developers built Yo!Rent.Yo!Rent aims to revolutionize the renting economy by providing aspiring entrepreneurs with a swift and solid way to launch a scalable marketplace. Popular B2B software review platforms, FinancesOnline and CompareCamp have bestowed Yo!Rent with their Great User Experience Awards and Rising Star of 2018 Awards.
Now launch single-vendor rental store with YoRent- Contact us now.
Starting a Rental eCommerce Website with Yo!Rent is Easy
All you have to do is follow these 4 simple steps.
1) Select a Package – Yo!Rent comes in two packages – Go Quick and Go Custom. Select the package that best meets your marketplace requirements. 
2) Setup & Installation – Once you've bought a package and acquired Yo!Rent's license, the software can be installed on the server of the hosting service of your choice. 
3) Add Products – With Yo!Rent installed, now you can configure different settings and start adding products on your marketplace. 
4) Launch & Manage – Once everything is fine-tuned to your requirements, you can launch the marketplace and start your business' journey in the online world. 
Get more detail about Yo!Rent's 4 easy steps to launch a rental marketplace.
Conclusion
The business idea of opening a renting marketplace where owners of less used items can rent or sell their product on the website and renters/buyers can buy it at a lower price. These websites have great potential as they can be set up in any geographical area without being direct competition to the conventional ecommerce businesses.
Yo!Rent has been designed and developed keeping in mind, this lucrative business opportunity. The advanced ecommerce rental marketplace solution enables entrepreneurs to launch their own renting and selling marketplace without any hassles. The perks of starting an online rental marketplace with Yo!Rent is fully customizable and multi-vendor capabilities. You can start your rental business with one-time payment and no recurring fees.
If you are planning to launch a renting marketplace, make sure you read reviews, check demos and verify the solution for all the functionalities pertaining to your business needs.