Last Updated: July 8, 2022
Both rental businesses and multi-vendor marketplace businesses operate on low investment. In terms of rental businesses, repurchasing of inventory is rarely required. The business owner generates revenue by renting out the same inventory again and again. The more the owner rents out a product, the more its profit-margin. And in a rental business, the profit margin is ever increasing until the product can no longer be rented out.
On the other hand, multi-vendor marketplaces are already asset-light. They do not require the marketplace owner to own any of the inventory. Different product owners or vendors sign up on the platform instead and rent out their products. While the vendors earn through a rental fee, the marketplace owner earns money through rental commission and many other sources.
Now, in a multi-vendor rental marketplace, the business owner can earn via both rental commission and rental fee. Apart from businesses, normal citizens, especially the environmentally aware younger generation prefers to rent out things and is a potentially huge market in the peer-to-peer (P2P) business model.
Yo!Rent is a rental eCommerce solution that, along with P2P rental marketplaces, can also be used to launch B2B and B2C rental marketplaces. Before moving on to how Yo!Rent can help you launch your rental marketplace business, let's take a look at some of the popular online rental marketplaces, their business model and revenue streams.
Table of Contents
Successful Online Multi-vendor Rental Marketplaces
As per a Report by Nielsen, 68% of global respondents are willing to share or rent out personal items and around two-thirds are likely to use products and services from others. Capitalizing on this opportunity, below are some businesses that generated millions in revenue in the past decade:
Car Rental and Sharing Marketplace

 – GetAround, DriveShare, Turo

Online Clothing and Accessory Rental Marketplace

– Rent The Runway, Stitch Fix

Online Furniture Rental Marketplace

– Furlenco, Cort, Rent-A-Center

Electronics Tools Rental

– Fat Llama, Peerby 

Textbook Rental Marketplace

– Chegg, Amazon

Equipment Rental Marketplace

– DOZR, EquipmentShare, Tenderd, GearFlow
Business Workflow of a Multi-vendor Rental Marketplace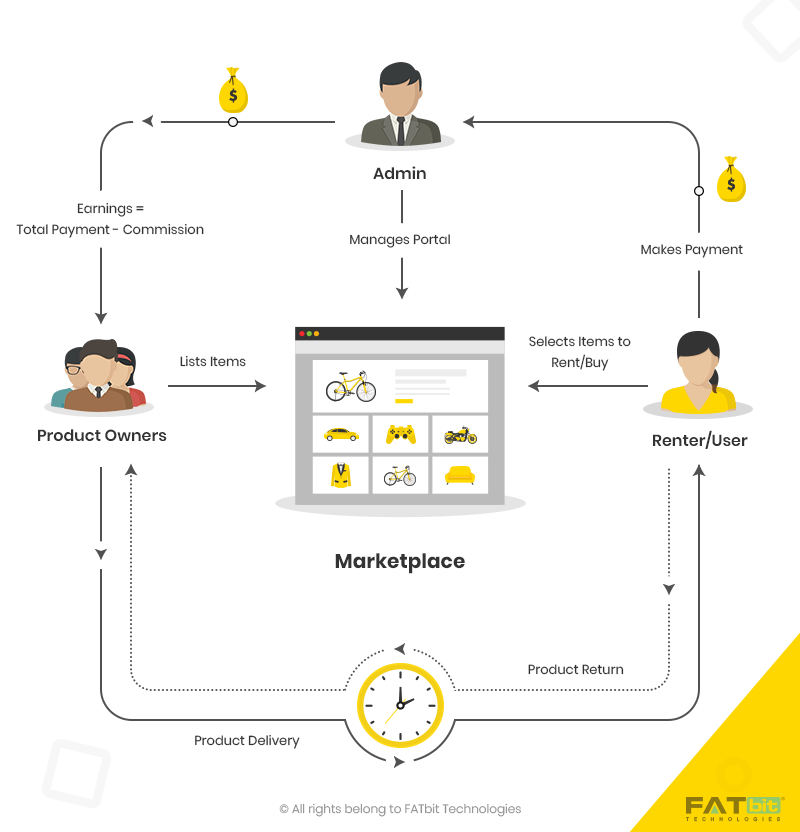 A multi-vendor rental marketplace operates on the following workflow. Note that the following workflow is only for representational purposes and businesses often have to introduce some changes to accommodate the workflow for their business.
Product owners register on the platform and upload detailed product listings.

Customers browse the products and place an order with the help of booking calendar.

To complete the payment, customers also submit a rental security deposit along with the rental fee.

The rental fee is added to the product owner's virtual account or e-wallet whereas the rental security is managed by the marketplace owner or admin. 

The product owner delivers the product to the customer via the selected delivery/pickup method.

At return, the product owner inspects the product for any damages.

In case of damages, the product owner informs the admin who deducts the reimbursement from the rental security and returns the remaining security amount to the customer.

In case of no damages, the rental security amount is returned to the customer in full.
Revenue Generation Model of a Multi-vendor Rental Marketplace
The most important way any marketplace owner makes money from the website is through commission revenue model. Whenever a transaction happens on the website, the marketplace owner receives a small cut of the entire transaction as rental commission. However, there also some other revenue generation models via which the owner of a multi-vendor rental marketplace can earn money:
Revenue Channels of a Multi-vendor Rental Marketplace

• Display Ads

• Featured Listings

• Monthly Subscriptions

• Rental Add-ons

• Service Fees

• PPC Campaigns
How Yo!Rent Helps in Building a Rental Marketplace
Facilitating rental operations involves a lot many variables such as the rental dates, rental duration, product availability, security amount, etc. Regular eCommerce solutions are not built to work with all these variables. Although various plugins are available to make those solutions support rental operations, even after their integration, the solutions lack important features and do not work quite as efficiently as dedicated rental software.
Yo!Rent is one such dedicated online rental software that has been built accounting all processes involved in rental operations. It is capable of handling complex orders, accepting accurate rental dates, automating invoicing and recovering late return or late cancellation charges.
Yo!Rent Features
Some of its core features that streamline rental marketplace operations are:
1. Advanced Booking Calendar
Enables customers to see the availability of rental products and select booking dates with precision.

Yo!Rent's booking calendar also manages late bookings by displaying delivery dates as unavailable. For example, if the delivery time for a product is four days, the customer cannot place an order for it a day ago.

Lastly, the booking calendar assists in accurate invoicing by fetching accurate booking dates.
2. Rental Security Management
Yo!Rent allows the business owner to collect rental security for each and every order placed.

This rental security is used to reimburse any product damages that occur during the rental period.

Along with reimbursing damages, Yo!Rent's rental security management can also be used to levy late cancellation and late return charges.
3. Product Inspection

With product inspection features, Yo!Rent allows customers to report any damages on the rental product within the first few hours of delivery.

With product inspection, the customers can also request product exchange or return.

If the customers want to start the rental duration despite the damages, then they can simply report the damages to the business owner and start the rental period.
4. Rental Add-ons
| Rental Business Type | Rental Add-on Products/Services |
| --- | --- |
| Car Rental | Body cover, child seats, driver, miles |
| Equipment Rental | Equipment operator, attachment heads, signal lights, protective gear |
| Fashion Rental | Ties, hats, fashion jewelry, dry cleaning |
| RV Rental | Trailer, bike mount, grocery, grill guard |
5. Agreement Management and eSign
Yo!Rent also allows product owners to ratify their terms and conditions by uploading their rental agreements.

Customers are required to sign these rental agreements with the help of an e-sign feature.

In case of any violation of terms mentioned in the agreement, product owners can share the details with the marketplace owner and request reimbursement from rental security
Some examples of common rental conditions are:
| Rental Business Type | Rental Conditions |
| --- | --- |
| Car Rental | No smoking, no pets, no off-roading, daily kilometers, etc. |
| Fashion Rental | Compulsory iron before return, do not wash policy, no brooches, etc. |
| Truck Rental | Loading capacity, parking policy, livestock prohibition, restricted zones |
| Furniture Rental | No pets, indoor use, weight capacity |
6. Document Verification
7. Volume Discounts
The marketplace owner can increase order value by using the bulk volume discount feature on Yo!Rent.

This discount can be applied manually on individual products and the owner can set the minimum quantity eligible for the discount and also the discount percentage.
8. Custom Filters and Product Comparison
Yo!Rent allows marketplace owners to create their own custom filters for products. Product owners are required to fill these custom filters at the time of uploading product listings.

These custom filters are used to compare different products within the same category. For example, different computers on an electronics rental website. However, a computer cannot be compared with a smartphone.

Yo!Rent can compare up to four products at once.
(The product comparison feature is more important on a rental store than on a sales store as the rented equipment is often not new. The same equipment is rented out again and again and used by multiple customers)
9. Request-for-quote (RFQ) Management
Yo!Rent comes with a Request-for-Quote Management module to handle complex and bulk orders. An example of a complex order that you can handle with Yo!Rent includes multiple categories of products required in high volume for different rental durations.




With Yo!Rent (RFQ) module, customers can discuss their requirements with the product owner and request for a custom quote.

The feature also allows the customer to place a counter offer to the vendor's quote.
10. Multi-currency and Multi-lingual
To help businesses target immigrants and tourists, Yo!Rent comes with multi-currency and multilingual functionality. These two functionalities are highly required in niches like car rental, bike rental, adventure gear rental, etc.

The multi-currency support of Yo!Rent is further complemented by 20+ payment gateways that ensure smooth transactions all over the world.
See below to find the complete feature list of Yo!Rent.
Yo!Rent Features

Late Fee Module

Pre-integrated APIs

Price Surge (Special Price) Module

20+ Payment Gateways

Tax Management

Multilingual and Multicurrency

Bulk Image Upload

Twilio SMS API

Product Inspection

Map Listing View

Rental Return Module

URL Rewriting

Sitemap Upload

Personalized Homepage

Pickup from & Shipping to Filter

Product Reviews

Products Catalog

Duration Discounts

Advanced Search Functionality

Product Comparison

Seller Subscription

Import/Export in Admin

New Reports

GDPR Compliance

Add-on Services with Rental Products

Hourly & Daily Rentals

Messaging

Order Cancellation Module

Limited Payment Methods

Theme Color & Font Management

RFQ Module

Shipping Management

Discount Coupons

Real Time Inventory Management

Industry Specific Solutions (Design & Functionalities)

Rental & Sale Orders Segregation

Rent & Sell Option

Affiliates Management

Rental Agreement & eSigning

Tiered Pricing (Daily, Weekly & Monthly)
Benefits of Launching a Multi-vendor Marketplace Platform with Yo!Rent
1. Customized Rental Marketplace Solution
The biggest advantage of launching your multi-vendor rental marketplace with Yo!Rent is the customization. Marketplace operations are more comprehensive and inclusive than single vendor operations and thus come with various unprecedented feature requirements. To match such requirements, entrepreneurs can easily customize Yo!Rent by getting in touch with our experts.
2. Multi-admin Support
Being more complex, multi-vendor rental marketplace platforms also require rigorous administration. For this purpose, Yo!Rent supports multiple sub-admin accounts where a business owner can set up an entire team for administration and also assign various access and edit rights to different team members.
3. Mobile Optimized
In order to provide a seamless experience on all the devices, Yo!Rent has been completely optimized for different screen sizes. The responsive and user friendly design offers smooth cross browser compatibility.
4. Rent Plus Sell
Yo!Rent allows the product owners to rent and sell their items on the same platform. The functionality has been added to provide maximum customer satisfaction. When the customer rent's a product from a rental section, in case they liked it, they will need to go to some other marketplace to buy it. Now this is where the purchasing module comes to help.
5. Unlimited Listing, Transactions and User Profiles
Yo!Rent does not have a limit on the number of listings, transactions and profiles. This makes the solution fully scalable to support startup to enterprise level operations. Yo!Rent is capable of handling your online rental operations at all stages of growth without ever making you feel the need to migrate to another solution because of scalability issues.
6. Lifetime License
Yo!Rent comes with a lifetime usage license that provides business owners with lifetime ownership of the software at a one-time cost. 
7. Technical Support for 1 year
Along with the comprehensive and robust functionality, Yo!Rent also comes with 12 months of free technical support to tackle bugs and errors.
Keen to Start a Product Rental Marketplace?
Multi-vendor Rental Marketplaces Built with Yo!Rent
Below are some of the rental ecommerce marketplaces built with Yo!Rent. The list includes the different niche based rental marketplaces.
| | | | |
| --- | --- | --- | --- |
| Marketplace | Niche | Country | URL |
| GearFlow | Heavy Equipment Rental | USA | https://gearflow.com/ |
| StageWing | Audio-Video Rental | USA | https://www.stagewingapp.com/ |
| RentBubba | Multi-Category | Canada | https://rentbubba.com/ |
| FAINDaMAQ | Heavy Equipment Rental | Mexico | https://www.faindamaq.mx/ |
| JustRENT | Multi-Category | Greece | https://www.justrent.gr/ |
| Upabuild | Construction Equipment Rental | Philippines | https://upabuild.com/ |
| Machinfo | Heavy Equipment Rental | Vietnam | https://machinfo.com/ |
| Rent My Wardrobe | Fashion Rental | Ireland | https://rentmywardrobe.ie/ |
| Eventudu | Party Rental | Malaysia | https://eventudu.com |
| RentHAUS | Multi-Category | Nigeria | https://www.renthausng.com/ |
Starting a Rental eCommerce Website with Yo!Rent is Easy
All you have to do is follow these 4 simple steps: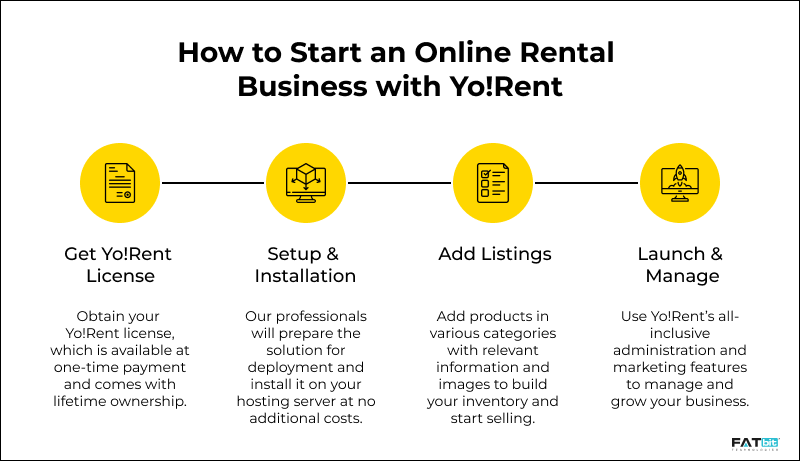 Looking for a Single Vendor Solution?
Conclusion

Multi-vendor rental marketplaces are not only one of the most asset-light businesses but also unique when compared to regular sales eCommerce sites. This also means that rental marketplaces require some distinctive features to facilitate and simplify rental operations. Yo!Rent is inclusive of all such features with many more. Yo!Rent is easy to set up, is fully customizable, highly scalable and comes with one year of free technical support.
To know how Yo!Rent can help you with your multi-vendor rental marketplace idea, feel free to book a one-on-one personalized demo.