COVID-19 and its variant, omicron, has taken a toll on the economies of various countries 

In combination with purchasing staples the traditional way, e-grocery businesses are also witnessing a rush for various household supplies. 

The concept of "contact-less" deliveries has been invented which includes making grocery deliveries via autonomous drones. 

The extent of the pandemic is yet to be discovered. Thus, it will continue to impact the grocery business around the world.
Keep reading to gain knowledge about the current grocery retail scenario and to understand how the spread of novel coronavirus has affected online grocery marketplaces.
The Viral Impact
COVID-19, a lethal and contagious virus has indeed shaken the whole wide world. With cases being reported almost daily due to the rapid spread of the virus, consumers have become more aware. Gradually, businesses are understanding that online ordering is becoming the new normal as the pandemic may take more time to fade away due to a new variant, Omicron.
In an attempt to limit the exposure, consumers have started to make purchases for daily essentials via online grocery marketplaces. Major spikes in the online sale of particular grocery articles were noticed as shoppers feel instigated to stock up.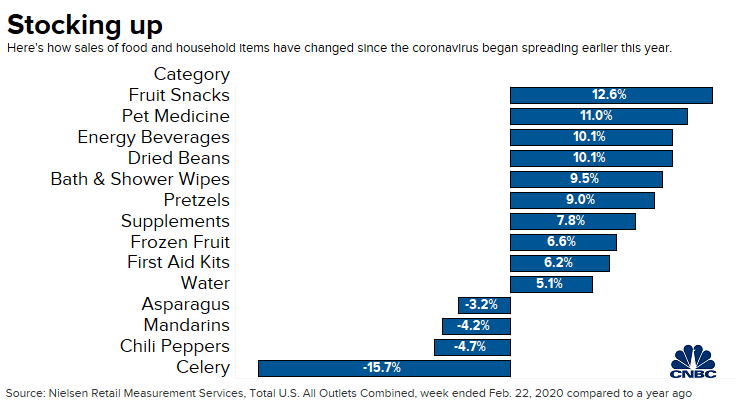 According to the recorded statistics, the U.S. dollar sales have gone up for various consumer goods. The sale for hand-sanitizers increased by 54%, for maintenance masks the sale jumped by 179%, while commodities such as aerosol disinfectants saw a spike in the sale by 19%. The total number of average daily users on e-grocery platforms rose up to 40,000 as a direct result of coronavirus.
Renowned on-demand grocery eCommerce giants such as Woolworths Supermarket reported: "We witnessed a sharp jump in the demand for pantry items with longer shelf life and various household staples recently. This has resulted in the partial shortage of stocks across many stores." While many others such as Thrifty Foods and Walmart have responded on the topic and shared their concern on the impact of COVID-19 and its variants like Omicron on eCommerce grocery businesses.
More Buyers, Fewer Supplies: Coronavirus Havoc Increases Panic Shopping Spree
The total number of people who will be affected by COVID-19 remains unknown. But, the impact has brought the global stock market down. This is indicative of the fact that your business will suffer and the conversions will fall. Items such as toiletries, hand sanitizers, disinfectants, and packaged drinking water bottles are flying off the shelves, thus, minimizing supplies.
This has resulted in a sudden shortage in the availability of various commodities. An increase in the online sales of groceries was witnessed as people started making impulsive purchases to stock-up and prevent getting infected through physical contact.
As per BBC reports, "trials for curing coronavirus in affected humans have begun. However, it can take a year or more to determine its effectiveness. Pharmaceutical companies and clinical laboratories are working against time to test the effectiveness of the vaccine and decimate COVID-19."
Government authorities all over the world are taking proactive steps to combat COVID-19 (coronavirus) and eradicate it. Scientists are putting all efforts to fast-track research and ascertain the effectiveness of the preventative vaccine. However, even after vigorous research, the vastness of the pandemic remains unknown.
Transition in Grocery Shopping Habits Amidst COVID-19 and its Variant – Omicron
As an outcome of the quick spread of the viral infection, people have become skeptical about visiting traditional grocery stores and making purchases to avoid any physical contact.
In an attempt to navigate this lethal flare-up, grocery eCommerce marketplaces need to brainstorm and devise strategies to restore the confidence of the grocery shoppers. Along with the critical evaluation of the persistent demand and transition in the consumer's buying habits, a strong framework that can handle the influx of orders and meet customer's demands is required.
Apart from this, eCommerce marketplaces will also have to reconsider their current delivery strategies. Following a dependable approach like keeping the customers informed with clear and precise information about the available products might impact their grocery purchasing habits.
Challenges Being Faced 
Amidst the spread of the COVID-19 pandemic, grocery retailers are experiencing a trail of challenges. Some of them have been enlisted below.
Traditional grocery stores and supermarkets are having a difficult time managing frenzied shoppers and disruption in supply-chain. 

Another possible challenge for the brick-and-mortar stores is to assure customers that they are shopping in a safe environment. Since coronavirus is contagious, shoppers are hesitant and wish to avoid any physical contact with fellow shoppers and support staff.

According to 

research

conducted by Coresight, it was projected that more than 27% of internet users in the U.S. reported that they had stopped visiting any public places, grocery markets, and entertainment centers. The other 58% reported that they would prefer purchasing groceries online using "contactless deliveries" to avoid getting exposed to the viral infection.

What if the delivery workforce falls prey to the infection? This is a potential challenge for online grocery marketplaces. The delivery staff is a core element that helps wedge the gap between consumers and grocery vendors on an eCommerce grocery marketplace. Since the delivery partners work on a contractual basis, they might not show the willingness to perform in such difficult times.
Since the degree of the impact is not yet clear, the grocery industry will continue to witness a shortfall in the supply chain of consumer goods. Food stocks are breaking all records as the fear of the viral infection looms. Organizations will have to revise their stocking capacity and eCommerce grocery business operations to meet consumer demands.
"Contactless Delivery" System or Self-Pickup
With new coronavirus cases being reported each day, grocery delivery service providers have now started making zero contact drop-offs in an attempt to minimize exposure to germs causing infection. The importance of making drone deliveries at such times has also been highlighted. It is a reasonable measure that can help curb the spread of COVID-19 and its variant, Omicron.
Recently, amidst the coronavirus chaos, a Beijing based online food ordering company "Meituan" invented the unique concept of making contact-less deliveries. It is compulsory for the delivery staff to wear face masks while making door-to-door deliveries. They can simply leave the parcel at the door-step of the consumers informing them about the same using automated SMS text messaging and online communication channels.
Shoppers have become cautious since the rise of this viral infection. Grocery businesses have to thus focus on the practical application of these delivery methods to ensure on-time delivery of groceries and meeting consumer demands.
Precautionary Measures To Limit Exposure to COVID-19 and its Variant – Omicron
The cure for preventing coronavirus infection has not yet been discovered. However, there are certain steps that will help avoid any exposure to the virus. Since COVID-19 is a contagious disease, there are certain steps that a person can take to avoid the spread of the infection.
Take a look at the below mentioned precautionary measures that you must follow to prevent COVID-19.
Keep your hands clean:

Cleaning your hands often is advised after a trip to public places. Use soap to wash your hands for at least 20-30 seconds. You can also use a hand sanitizer with 70% alcohol content. Refrain from touching your mouth, eyes, and nose with unclean hands.

Avoid person-to-person contact:

Avoid close contact with anybody who is sick. Maintain at least 6-meters distance to avoid catching the infection. While going to public places, wear a face mask and always carry a hand sanitizer.

Disinfect regularly:

Disinfect surfaces and objects that are touched/used regularly. This includes tables, switches, doorknobs, faucets, public toilets, etc. Disinfectants that are easily available in the market can be used.

Build immunity:

To avoid getting exposed to COVID-19 and its variant – omicron,

 strengthen your immune system by consuming vitamin-C & D rich fruits and supplements. A strong immune system works as a defense against infectious diseases such as coronavirus.
What to do when Sick?
According to the World Health Organization (WHO), the most common symptoms of coronavirus are:
Coughing

Sneezing

Fatigue

Shortness of breath
If you or someone you know is experiencing the above-mentioned symptoms, then it is suggested to isolate yourself and critically monitor the symptoms. Make sure you contact a learned practitioner as soon as possible. The doctor will examine the symptoms and ascertain if tests for COVID-19 need to be performed.
Suggested Read: Online Business Ideas in 2020 That Are Worth Investing Amid the COVID-19 Pandemic
To Conclude
Coronavirus (COVID-19) has raised a global health emergency. The risk is even more now as a new variant, Omicron, of COVID-19 is identified. Under such circumstances, eCommerce grocery businesses must emphasize on increasing their Corporate Social Responsibility (CSR) practices. Organizations should focus on inventing strategies keeping the safety of their employees and the end-customers in mind.  Growcer- a grocery eCommerce solution suggests following all precautionary tips diligently.
Know more about eCommerce grocery industry – Click Here