With markets going online across the entire world, there is a paradigm shift in customer behaviour leading to the massive popularity of eCommerce and eLearning businesses. Due to the ease and flexibility it offers, the eLearning industry is in full bloom and creating new opportunities for the market leaders. As per a recent survey conducted by Coursera, online courses are more effective in providing technical knowledge and polishing skills related to a subject than traditional education. With marketing giants like Forbes launching their own eLearning platform (Learn@Forbes), this emerging market is expected to reach $275.10 billion by 2022.
Download our whitepaper to learn more about the various aspects of the e-learning industry.        

Starting an eLearning business to enable users to learn a new skill and expand their knowledge, addresses an important pain point of society. If you've been planning to kickstart an eLearning business like Udemy, Coursera, or Verbling, it's the right time to jump in. Here are some tips that could help you start an eLearning business that performs well:
Table of Contents
Selecting the Appropriate Business Model 
Before you decide to launch an eLearning business, it's recommended to consider the business models associated with it. There are 2 types of business models in eLearning and based on the business you would like to run, you can choose the one that matches your needs:
The "Night School" Model

The "Academy" Model
The "Night School" Model
Considered as a classic business model for eLearning, it's been widely used in most of the schools and institutions around the world. In this business model, learners have to pay an up-front fee only once for gaining access. There is a fixed curriculum from beginning till the end which learners have to follow while their progression is effectively tracked with the help of quizzes/tests. The best part about this business model is it doesn't let you deviate from the main topic or involves any "extras" (except for the additionally bought ones).
As far as the selling of the courses is concerned, there is no defined limit. It's usually advised to develop one that solves the major issues of your audience. Depending on the content and the utility of the courses, you can sell them from $10 to $5000 or even more.
Who is it Ideal for?

Being a flexible business model for eLearning, it can be easily adapted by most online schools or teaching institutes. Catering to a myriad of eLearning businesses over the last few years, this model is considered to be ideal for:
New businesses as it helps to test your products and get feedback from your audience. 

High-ticket businesses that involve selling products at a one-off value of $2000+ or more.

Online businesses that include selling one-off courses without the support of a "school" environment.      
However, there are some cons to choosing this method which involves:
The consistent launch and relaunch of products is required to update the course content

To get results, you need to create high-quality courses that involve more time and effort

As every course has a unique sales funnel, you need to create multiple funnels for every course 
The "Academy" Model
This business model is referred to as the Netflix of online education. There is a recurring monthly fee that enables the learners to gain access to your eLearning portal. Same as Netflix, the students can select the lesson they want from your library at any time. They are authorized to learn anything inside the eLearning portal till they're paying the fixed monthly fee. 

This business model comes with various community features involving Live Q&As, Facebook groups, Coaching calls, and more. Using this model, you will experience many benefits out of which passive income is the most significant one.
Who is it Ideal for?
For those planning to start their eLearning business, an academy business model can prove to be effective if:

You're an expert who needs to teach a broad range of skills in a particular niche 

You're a health/fitness enthusiast who wants to share up-to-date guidance with your clients 

You're a creative professional looking to teach numerous artistic practices 

You're a trainer responsible for providing corporate training 
However, there are some cons associated with this business model which are: 
You need to periodically create as well as update new content 

The initial earnings would be less as it takes time to establish momentum  

To captivate the audience, your content should involve a broad range of topics
Deciding The Niche
Once you've determined the business model, it's time to decide the right niche you would be targeting. Since catering to every customer in a target market is not possible, focussing on the identified market segment always boosts your sales. Selecting a niche lets you invest your hard-earned money and efforts on those people who are more likely to buy from you. Now the question arises on how to effectively choose an ideal market to target. Here are some tips for the same:
Self-Analysis of your Product/Service
Create a feature list of your product/service along with the benefits that it will provide to the customers. Leverage strategic thinking to seamlessly identify the key differentiators which makes your offering unique. You need to recognize the abstract of your business that makes it attain a brand name in the market.
Targeting the Right Prospects  
Once you have analyzed the realm of business endeavors, it's time to take a look at the prospects that value your key differentiators more than the others. These people are most likely to purchase your products and invest in your services. Also, you need to keep a check on your competitors, i.e. whom are they targeting?
Recognizing the Characteristics of Your Target Segment
Considering factors like age, gender, occupation, educational level, and income level can help to identify the customer segment that may need your product/services. Also, determining the customer's behavior, interests, personality traits, or values can help in acknowledging their thought process like what features do they find appealing, how are they going to utilize the product? Do you need to find out if small businesses prefer your services over large enterprises? Is there any specific location (urban or rural) where it is preferred? Based on your segmentation, you will easily find the characteristics of an easy-to-convert prospect.
Challenges of an eLearning Business
Let's take a look at the challenges and understand how to overcome those obstacles: 
Delivering a Best-in-Class eLearning Experience 
To deliver an engaging user experience, you need to add innovation to the dull & drab subject matter. Also, implementing social learning tools that empower learners to connect with other users and internal subject-matter experts for exchanging information could help. This way you can authorize your users to generate the content of their own and share the knowledge with other learners, thus helping them connect and grow.  
Lack of Motivation Among Learners
As every learner might not be completely committed to eLearning due to distractions or lack of motivation, it's essential to provide them with an immersive learning experience that matches their interests and aligns with their specific goals. If you want them to become an active participant, you need to provide the value that they're seeking. 

Keeping up with Technology
As the market welcomes new gadgets, software, and digital innovations every year, it gets really difficult to choose the ideal technology that could help to intensify your eLearning business. By attending eLearning events and technical conferences, reading blogs, and case studies based on technologies could help you stay up-to-date with the latest trends.
Catering to a Wider Audience
When it comes to creating eLearning content, there is no one size fits all. With your audience comprising different generations (having their different requirements), it becomes a challenge to create a generic experience that targets them all. You can overcome this by building learner personas that help to customize the eLearning experience as per the tech-savviness of the learning group.
Facing a challenge while starting an eLearning website?
Creating a Sales Funnel 
To make your marketing strategy work successfully, you must focus on creating a sales funnel for lead generation. For reaching your goals and generating sales effectively, you need to target potential clients who are in the awareness stage of the sales funnel.
The key components of a sales funnel involve lead generation, selling an eLearning course, long-term marketing, as well as the buying process. Also, automating the sales process to include fewer human resources can effectively scale the marketing budgets which in turn skyrockets your revenue. With the right marketing strategy, it becomes easy to captivate prospects that are in different stages of the sales funnel.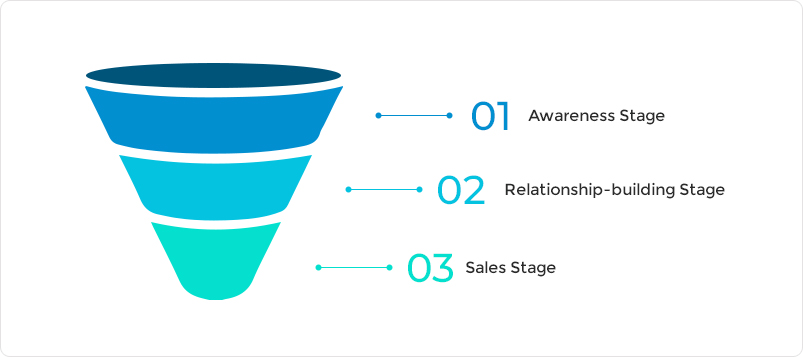 Here are the 3 stages involved in the sales funnel:
In this stage, the prospects are exploring options available in the market, they are primarily looking for solutions to their problems, and are reaching out to you through Google, advertisements, and social media. Educating those prospects with the power of your content (blog posts, datasheets, case studies, YouTube videos, etc.) can help to provide information and generate awareness.
 Relationship-Building Stage
In this stage, the transformation of a prospect into a warm lead takes place. Using email marketing, you can offer them a free marketing asset and make them sign up for the newsletter. Online marketing makes it easy to track, manage, as well as scale your business. Using platforms like AdWords, LinkedIn, Facebook, or YouTube could be a great idea for paid marketing.
In this stage, you start pitching online courses to convert the lead into a customer. And once the customer has consumed your course and experienced the benefits, it compels them to keep coming back for more courses to excel in a specific skill. 
Here are the tools that can help to boost your eLearning business successfully:
Email marketing software can help business owners to effortlessly communicate with their clients (learners) and sell their courses online. Using powerful email marketing software like MailChimp, ActiveCampaign, ConvertKit, and AWeber, the business owner can streamline marketing efforts.
Referral and Affiliate Tool
Using a referral management tool can be expensive and you need to check some tools before settling for the one that works best. By leveraging affiliate management tools, it becomes easy to promote your courses by recruiting the students as affiliates. By inviting the students, partners, and influencers to join your affiliate program, you can give your eLearning business an edge over the competitors.       
For running an eLearning business seamlessly, it's essential to use an LMS that supports the use of video conferencing between the learners and teachers. Also, some video conferencing tools enable you to record Instructor-Led Training sessions that can be made available later. 
Application Programming Interface (API) is a set of definitions and protocols used for complex connections & custom work on the eLearning website. Whereas plugins are ready-made chunks of code that are used to enhance the functionalities of the eLearning platform with high-performing features and capabilities.        
Want to start a feature-rich and engaging eLearning website?
Conclusion
As online learning is the need of the hour and people across the world are increasingly relying on eLearning, the idea of starting an eLearning business perfectly fits in the current dynamics. For entrepreneurs planning to start their own eLearning website, it's essential to consider the challenges and technical know-how involved. And that's where this article serves as a useful resource.