The pandemic has caused huge disruption to both learners as well as professional educators. At the same time, it has massively accelerated the adoption of technology for all stakeholders in academics and the online tutoring industry. 
According to a research report by Global Market Insights, the global eLearning market is projected to exceed USD 375 billion in the next 5 years growing at over 8% CAGR between 2020 and 2026. Concurrently, the global market for tutoring which was projected to reach at US$173. 4 billion in 2020, is also likely to grow at a rapid pace in the coming years.

Although countries across the world are not far behind in adopting online education & remote learning, certain nations have embraced it more than others. ICEF Monitor (a market intelligence resource for international education) has listed the countries that have stepped up the game which include – United States of America, India, China, South Korea, Malaysia, the United Kingdom, Australia, and South Africa.
Not only in academics, but these countries have implemented online learning platforms in several niches like online tutoring, language learning, music teaching, fitness training, and many others. Recent trends indicate that online tutoring continues to grow at a very high speed due to its benefits for both tutors as well as parents & learners. It allows the tutors to be their own boss, set their availability, determine the hourly rates, and take as many or as few clients that fit their schedule.
Equipped with automation, most online tutoring platforms allow tutors to focus on content creation and monitoring students' performance. Advanced online tutoring platforms also assist tutors to analyze and see where most of the students are facing difficulty and identify the scope of improvement.
Decoding the Growth of Online Tutoring Market
New Generation Prefers Interactive Education:

Facts state that students retain 25-60% of the information presented online while the retention rate of offline classes is as low as 8-10%. This shows that the interactivity and gamification included in the online learning process helps learners to retain the knowledge they receive during online learning. Moreover, the flexibility and cost-effectiveness of these platforms also boost the growth of online learning, making online tutoring one of the most promising areas for a business startup.

Unavailability of Tutors:

Although big cities have usually all kinds of tutors for every subject, the remote areas lack this facility and online learning platforms are the only way to get access to skilled and qualified teachers.

Covid 19 – Game Changer:

The changes in the lifestyle and global economy in 2020 after the pandemic has forced online education to play at the forefront in the education & learning industry. It has boosted startups and tutors to shift online to sustain in the current situation as well as after the COVID fades as many students and teachers will continue to use it afterwards too.
Believing the market potential of this industry, it is a great business opportunity that can generate a significant amount of revenue for the tutors & entrepreneurs. Also, the changes online learning brought to the table for the education industry are too immense to be rolled back after the Covid 19, giving a whole new set of opportunities in Online Learning to the tutors & entrepreneurs to step into this industry. 
If tutors are planning to join this growing market, now is a great time to start an online tutoring business.
How to Start an Online Tutoring Business
There are two routes tutors can take to start an online tutoring business:
Register on popular online tutoring platforms like Chegg, Preply

Launch your own online tutoring platform
Before picking any option, it is recommended to perform a cost-benefit analysis, evaluate long-term goals and infrastructure requirements which can assist in making a thoughtful decision.  Both routes have different requirements and choosing one depends upon the availability of resources and individual preferences.
Register on Tutoring Platforms
This is the faster option to enter the market. Tutors need to create a professional portfolio on the platform and they can start tutoring. This option is preferable if you don't have learners or an audience to start with. The platform itself helps tutors to connect with learners which reduces the necessity of building an entire client base from scratch.
Most of the tutoring websites charge a percentage of tutors' earnings, so there should also be room for this expense. 
The popular websites where tutors can register for online tutoring are:
Chegg

Preply

Skooli

TutorMe
Build or Launch your own Tutoring Platform
In this case, you will be the owner. The option is usually recommended if one is looking to build their own tutoring brand.

Contrary to the popular belief, setting up your own tutoring platform is affordable & quick to launch. Having a small or growing client base is a huge plus. 
Yo!Coach, our flagship product allows tutors & entrepreneurs to launch their own tutoring marketplace within a few days. It is fully customizable and has been used by several tutoring businesses around the world. In addition, the platform owner can invite other tutors to start tutoring on the platform & bring more diversity for learners.
Build Your Own Tutoring Brand With Yo!Coach
Finalise your route 
Launching an online tutoring platform brings several other benefits with it such as:
Customized Features:

You can create the platform as per your preferences and offer a great user experience by adding custom features.

Brand: 

Having your own tutoring platform allows you to build your own brand, which is not possible if you register on an already existing tutoring platform.

Multiple Revenue Channels:

Launching an online tutoring platform offers multiple revenue channels to the owner. For example, one can earn from subscription fees or lesson fees from students depending upon the business model. The owner can also earn from the registration fees paid by new tutors on their first sign up. Furthermore, sponsored listings increase the visibility of tutors when they pay an additional fee.

Save Commission Payment:

Online tutoring platforms usually charge tutors a commission fee which can be saved by building their own platform.
TIP: Not to forget, that the amount of registration/commission fees a tutor pays on a tutoring platform annually is equal or maybe even more than the cost of the solution to launch an online tutoring marketplace.
Successful Tutoring Websites Powered by Yo!Coach
WTutors
Hong Kong-based David Chin had the vision to deliver the uninterrupted and engaging learning experience for learners. He reached out to FATbit Technologies to curate an innovative and technologically driven e-learning platform – WTutors for the learners to continue learning without any hassle. 
The platform offers one-to-one private tutoring & learners can pick the tutors based on their choice.
The platform has currently 600+ tutors registered on it specialized in different subjects and languages, helping WTutors reach a very large user base of learners.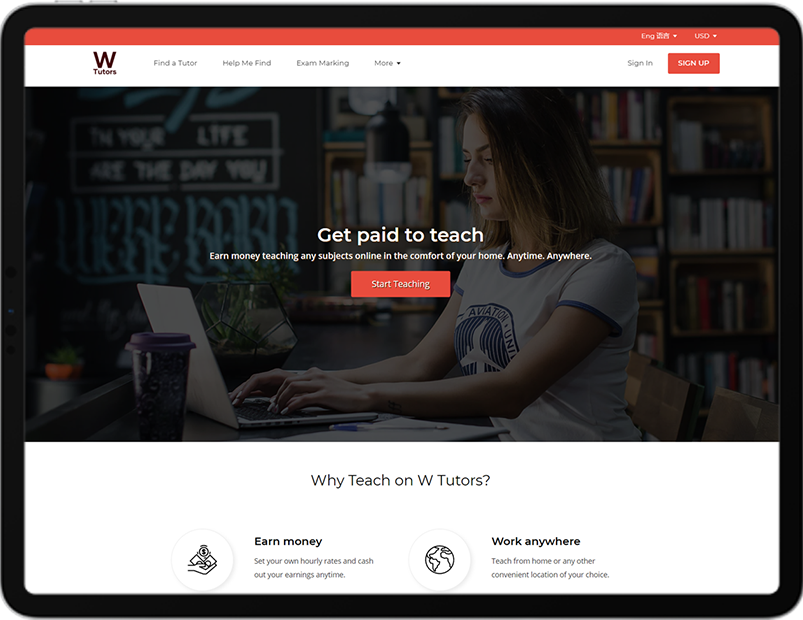 Words from David Chin, CEO, WTutors
WeYakYak
 Kelly Carroll, Founder of WeYakYak, believed that the most effective way to learn a new language is to speak & interact with the natives. With the mission to connect learners with tutors who are experts in their native language and can teach as per learners' learning style, Kelly came up with the idea of WeYakYak. 
Moreover, she wanted to overcome the limitations of the already existing platforms which did not suit the tutors' schedules, family life, and income.
With more than 60 tutors registered on the platform, WeYakYak is redefining the way of online language learning and ensuring effective collaboration between the learners and tutors.
Learnege
It is a marketplace of tutors and learners with the mission to help people learn the language of their choice. Khalid Rashid, the founder of Learnege realized the need to switch online when he grew out of space at his coaching centre. 
He now works with the goal to provide online learning that is fun, engaging, and to equip students with the skills in their chosen subject of study.
The platform currently has more than 700 tutors registered who are available to take classes on various subjects and languages.
Idioma Tutors
With a belief that the ability to communicate in more than one language opens doors for personal and professional growth, Jaimi Saunders, the founder of Idioma Tutors, launched Idioma Tutors. 
He understands the fact that finding the right tutor is not an easy task, and therefore, strives to bring the best tutors on a single platform. With the principle, "when learning is interactive, engaging, and fun, students learn", Idioma Tutors is looking to revolutionize the way of language learning. The platform has more than 40 tutors already registered on it.
Language Explorer
Dr. Mario Innaro used to be a language trainer in Italy before starting her own online tutoring venture. She wanted to efficiently communicate with learners and at the same time, teach at scale.

Therefore, she started an online language learning platform named Language Explorer, with a mission to help people connect and communicate in the language of their choice. Language Explorer has a number of qualified and experienced teachers registered on the portal who are always ready to help learners.
Portal Teach
Rey D Angelo, the founder of Portal Teach believed that a minuscule virus should not be allowed to disrupt education and came up with this thought of moving his offline coaching classes to an online platform. 
His mission is to develop the largest online learning platform that connects students with qualified teachers/tutors for private sessions through live video chat and a suite of the latest technology available.
The platform has tutors specialized in different subjects and topics to help you with anything from music to science. Portal Teach allows tutors to teach one-on-one and see the impact right away and evaluate their performance.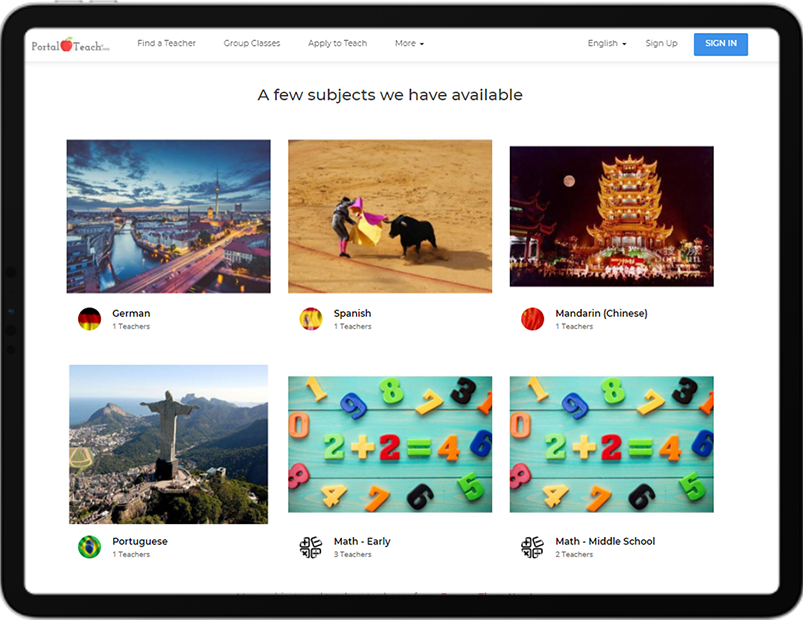 HireViser
 HireViser is a portal that helps aspiring professionals and candidates in career coaching, interview practice, and job application support. Shehzad Khan, the founder of HireViser wanted to help the skilled and talented professionals to get ready for the challenges in their careers and therefore, launched a platform where they can browse through different coaches and select the one who matches their requirements. 
HireViser makes it easy for working professionals to learn and enhance their skills while not disturbing their working schedules. The platform has a number of experienced and well-qualified coaches who can help seekers with interview practice, career coaching, and job application support.
Online Tutoring Business: Future of EdTech Sector
With the surge in demand for acquiring new skills online, starting an online tutoring business promises a successful and bright future. As we steer towards a learning system dominated by technology, online tutoring is all set to become one of the most renowned businesses, likely to dominate this sector in the coming years.
Be the next entrepreneur in the online learning industry.