Last Updated: 20th November, 2023
Starting an eCommerce website is one of the most profitable business ideas of recent times. Earlier, managing an eCommerce marketplace was not easy, but as innovators pushed the boundaries of technology, one can manage an online marketplace effectively by choosing the right eCommerce platform.
Revenue in the eCommerce Market is projected to reach US$2,928.00bn in 2023. Revenue is expected to show an annual growth rate (CAGR 2023-2028) of 9.94%, resulting in a projected market volume of US$4,703.00bn by 2028. A wave of factors is responsible for the ever-changing landscape of the eCommerce industry.  Not only are eCommerce platforms a game-changer for entrepreneurs, but for large organizations, it is a sure-shot method of driving more leads.
Entrepreneurs can add loads of features to their eCommerce marketplace, which can help them execute strategies effectively. But, what are the most fundamental things which should be considered before choosing an eCommerce platform? 
Let's find out.
Building eCommerce Capability. What Is The Best Way?
Below stated are two different excerpts for developing a better understanding.
Scenario 1 – Luke works at a supermarket and often thinks of being his own boss. Being an employee at a retail chain, he has the know-how of a retail business and would like to launch his own business. He sets out to explore the available options. After spending a few weeks researching on eCommerce, he learns that developing an eCommerce website from scratch may eat up his savings. Considering the budget factor, he decides to choose an eCommerce platform.
Scenario 2 – Scott is the visionary CEO behind a large organization who often thinks about sustainability and rising competition. One day, while coming back after watching an exciting game between the Red Sox and Yankees, he mind drifts back to the world of business and starts thinking about the rising competition. Scott finally decides to share his concerns with the CMO of his company, Maddy. They talk about different topics such as building new capabilities, investing in new technologies, and entering new markets.
After reading, you may have guessed that scenarios 1 and 2 represent startups and large organizations respectively. The business goals and needs of the two entities are different and so are the deciding factors for opting for an eCommerce platform. 
Read Also: How to Build eCommerce Marketplace – Everything to Know
As projected in the image below, for eCommerce startups, factors such as price and website features are vital. For large organizations, factors such as reliability of team and solution, agile delivery, and scalability are important to achieve goals like capability building and improving the Time To Market (TTM).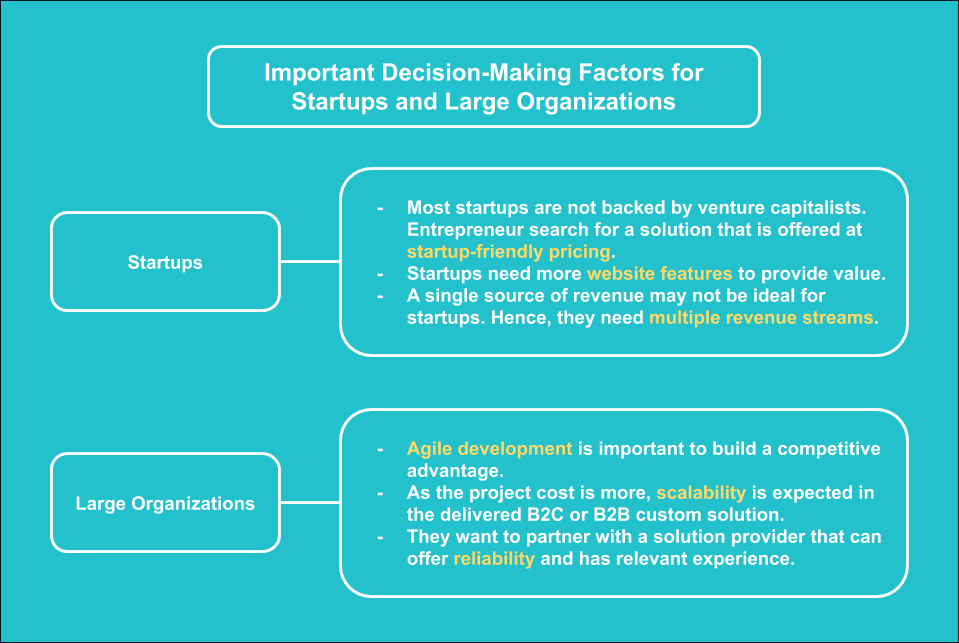 Important Decision-Making Factors for Startups and Large Organizations
Startup-Friendly Pricing – The eCommerce platform should be well within your budget
Although starting an eCommerce website is a profitable online business idea, investment, and planning of various other factors are vital for its progress. It is thus important to ensure the strategic channelization of funds and choose a suitable eCommerce platform that suits the budget while satisfying business requirements. The basic plan for most eCommerce marketplace platforms is offered at a startup-friendly price, which aspiring entrepreneurs can choose to establish their business. Depending on the requirements of the business, entrepreneurs can choose an advanced package at a later stage.
Important Questions to Ask a Sales Representative:
Do you offer the solution at a recurring cost or one-time price?

Is your solution license-based?

If so, which is the ideal licensing model (budgetary norms)

Which additional costs arise while purchasing the solution?

Do you offer a discount or referral commission?
Customizable – Reliable base to build eCommerce capability 
Different eCommerce platforms offer an option to add new features through the plugin store, while some others offer the addition of features through custom ecommerce development. However, by not opting for custom development, entrepreneurs can put their eCommerce portal at risk of online threat. The reason behind this is, during custom development, new features are added by an experienced team of programmers and changes are made in the rest of the code as well, improving the overall security of the marketplace. Therefore, it is advised to prefer custom eCommerce website development.
Important Questions to Ask a Sales Representative:
Can your eCommerce platform be integrated with our ERP system?

How much time do you need to deliver a minimum viable product (MVP) or shared requirements?

Is your eCommerce platform compatible with the technology/software we use?

Do you provide developer documentation so that our team can customize the eCommerce platform?
Scalability – Scalable and complement the growth of your business
In the case of a multi-vendor eCommerce marketplace, the product list can easily grow to more than 10,000. Therefore, it becomes important to choose such an eCommerce platform, which does not put a limitation on the number of products a marketplace can have. You do not want your business to suffer because of more loading time or errors. An eCommerce marketplace should be able to handle maximum orders, peak traffic influx, and maximum page visits.
Important Questions to Ask a Sales Representative:
Will the platform provide enough flexibility and control?

Will the eCommerce platform support a multilingual feature?

Will th eCommerce platform support ShipStation integration?

Does the platform support multicurrency functionality? 
Customizability – Support for integration with third-party applications using APIs
eCommerce is a broad term and gives rise to many profitable business models. With each business model, entrepreneurs face a different challenge, which an eCommerce platform helps to solve. For example, an eCommerce marketplace owner may wish to see different KPIs, which were originally not a part of the stock eCommerce platform. The owner can approach eCommerce development company and ask for a custom solution. With an in-depth research on the required website features, one can go with a custom solution. Such a custom solution will enable an entrepreneur to be in better control of his eCommerce business by using the right tools at the right time. 
Important Questions to Ask a Sales Representative:
Does it have the ability to expand its features and design?

Will the platform grow with your business needs?

What are the marketing features that the platform offers and are they customizable?

Are there options for specific API integration?
Features – Capability to Attend Multiple Use-Cases and Customer Pain Points
Although all ecommerce platforms offer almost similar features, those features can vary in terms of usability and extent. For example, an order management module can simply have view and cancel order options, or it can include a complete list to view, edit, cancel, schedule and create manual order features. In this way, you should attend product demos or avail free trials to check out the various use cases and problems the platform can help you resolve. 
Important Questions to Ask a Sales Representative:
Will the platform grow with your business needs?

What are the marketing features that the platform offers and are they customizable?

Are there options for specific API integration?
Get Fully Customizable and Fully Scalable eCommerce Platform
Conclusion: How to Choose an eCommerce Platform
If you are at the stage to select an eCommerce platform, it means you already have a great business idea and are almost 80% ready to materialize. Without a doubt, budget, customizability, scalability and features are the most essential things to look for in an eCommerce platform. However, you can also prioritize other things as per your business requirements and stay flexible. In the end, a platform that falls within your budget and meets your maximum requirements is the best one. 
FAQs
How to choose the best ecommerce platform?
There's no specific guidelines to select the best ecommerce platform. However, after confirming the functionality, scalability and customizability of shortlisted platforms, you can find the solution that is most reliable for your business.
What is the cost to build an ecommerce platform?
The cost varies from platform to platform and your selected development method. For example, if you select a platform that does not require any customizations, then you only need to pay the platform cost. However, if you opt for customization or scratch development then you can be charged anywhere between $50-$100 per hour in the US, Canada and UK. For countries like Philippines, India, Mexico and Iraq, the cost can vary from $25-$75 per hour. 
Which is the best ecommerce platform: Saas based or Self-Hosted?
Both types of ecommerce platforms have their own benefits. While self-hosting gives the choice of server to business owners, SaaS is more affordable. However, this is where the benefits end for SaaS. 
In the long run, SaaS has never ending costs and its packages are designed in a way to require upgrades everytime a business wants to grow. This is because you only get full scalability and features in the top package of SaaS solutions. 
On the other hand, you get all the features of a self-hosted platform right from the beginning. You can use the solution any way you want and don't need to pay recurring charges.
What will you consider before opening an eCommerce marketplace? Share your thoughts with us by commenting below.