The meal prep delivery industry is still in its nascent stage when compared to similar industries like grocery and F&B. However, the impact it has made in the 15 years of its existence is quite significant to challenge the prominence of aforementioned incumbent industries. According to statistics, the meal prep industry was valued at USD 10.26 billion in 2020 and is projected to grow at a CAGR rate of 13% in 2021-2028.
With such promising growth and increasing popularity, meal prep delivery businesses were inevitably going to rival food delivery platforms. In this guide, we will learn more about meal prep delivery apps in detail and shed light on their revenue and business model.
Table of Contents
What is a Meal Prep Delivery App?
The general population was gradually introduced to food delivery apps that provided on-demand food delivery to customers right at their doorsteps. Going one step further, meal prep delivery apps allow those customers to cook and prepare the food themselves.
On the meal prep apps, customers browse various meals and the business owner or vendor delivers all the ingredients along with the recipe to help the customer prepare the ordered meal.
Some other notable differences between food delivery and meal prep delivery apps are the interface, features and user journeys. It is also important to note that as meal prep delivery apps are exclusive of cooking, they are easier for startups to manage.
Why are Meal Prep Delivery Apps Popular?
The popularity of meal prep delivery apps has chiefly contributed to the convenience and consumer sentiments. Customers perceive self-cooking as a comparatively healthier option than ordering full-cooked meals of restaurants that can include unhealthy oil, adulterated ingredients and unsafe substances. Along with the healthy perception of meal prep-kits, customers also see them as an alternative to grocery shopping.
In  this section, we will be studying the most significant reasons behind the popularity of meal prep delivery apps in detail:
Alternative for Grocery Shopping:

Meal prep deliveries fit in the modern lifestyle where students and working professionals find it inconvenient to go grocery shopping especially in the age of the internet. Meal prep delivery apps on the other hand provide groceries at the doorstep. 

Time Saving:

Although meal prep deliveries save time on grocery shopping, they are pre-planned and packed with ingredients beforehand, saving a lot of time of planning, cooking and cleaning. 

Easy to Clean:

The consumer-friendly packaging of meal prep-kits make it easier for customers to clean up after cooking. In some kits, vegetables are already peeled and chopped into appropriate pieces, which reduces the clutter on the kitchen slab. Packaging boxes used for delivery are also easy to dispose of and reduce the number of utensils to be cleaned. 

Reduction in Food Waste:

The food waste footprint of the meal prep industry is substantially lower than that of F&B industry. The main reason behind this simply being the accurate proportion of ingredients and quality packaging. 

Pandemic:

During the pandemic, industries such as hospitality, F&B and consumer packaged goods felt the need to adapt online business models as the means to survive.

One of the means was launching or partnering with meal prep delivery businesses. This also gave rise to the popularity of meal prep delivery apps especially when household brands started collaborating with meal prep brands.
Gourmet Food:

Exotic food is expensive and difficult to find even in several developed cities. Even when available, consumers find it easier to prepare exotic meals instead of ordering. This saves money while bringing good quality gourmet food right at doorsteps.
Top Markets to Launch a Meal Prep Delivery App
Meal prep delivery apps are proliferating into new regions year by year. They are attracting more consumers than ever and leading to serendipitous disruptions across the globe. However, in the following countries, meal prep apps have established the strongest footprint:
USA

Canada

China

Japan

South Korea
* Information as per the regional insights of Grand View Research report.
Types of Meal Prep Plans
The variety in meals offered by meal prep apps resonate with consumer preferences. In this way, the types of meals add more value to a meal prep business and sound appealing to customers. Till 2021, we have witnessed the emergence of following types of meal plans in the meal prep industry:
Heat and Eat Meal Plans:

Heat and Eat meals are single serving meals that are ordered in high proportions by the younger population. They are the easiest to prepare and mostly require just heating and seasoning.  These types of meals are also available as quick grab options or late night snacks.

Gourmet Meal Plans:

Gourmet meals are considered as fine dining and their quality ingredients and exotic significance justify their high-pricing. As the world entered the internet era, consumers started preferring cooking gourmet meals. Considering gourmet food to be an important symbol of lifestyle, gourmet meal plans have gained immense popularity in the meal prep industry.

Goal-Oriented Meal Plans:

Bodybuilders, sportspersons and other athletes and sportsperson require goal-oriented meals to accomplish their varying health goals. These types of meals include nutritional diets handpicked by dietitians and health industry experts to assist in accomplishing their fitness  goals.

Prescribed Diet Meal Plans:

Some  kinds of meals, such as dialysis meals, diabetes meals, dairy-free meals, iron-rich meals, and gluten free meals are prescribed by doctors to kids and patients. All these types of meals are included in prescribed meal plans.

Pet Meal Plans:

Veterinarians recommend special diets for pets such as cats and dogs in pet meal plans. The demand for pet meals have increased in the past few years as owners have started to acknowledge the efforts of pet food brands towards manufacturing nutritious diets for the optimum health of our four pawed friends.
Top Online Meal Prep Businesses Like HelloFresh
Although the meal prep industry has flourished well, it is still in its nascent ages where it is less saturated than its competitive industries. However, this does not imply absence of fragmentation in the industry or low competition. In the past decade, the following incumbents have dominated the meal prep industry and maintained the competitive scenario:
| | | | |
| --- | --- | --- | --- |
| Meal Prep Business | Starting Year | Revenue | Owner Name |
| HelloFresh | 2011 | $1.65 billion | Dominik Richter |
| Blue Apron | 2012 | $124 million | Matt Wadiak |
| Fresh N' Lean | 2010 | $100 million | Lauren Asseo  |
| HomeChef | 2013 | $14.4 billion | Pat Vihtelic |
| Sun Basket | 2014 | $92.6 million | Adam Zbar |
| Gobble | 2010 | $30 million | Ooshma Garg |
| Freshly | 2012 | $96 million | Carter Comstock |
How Does Meal Prep Delivery App Work?
Deeming the aforementioned information, entrepreneurs can offer any or multiple types of meal plans on their meal prep app and target various regions. For optimizing processes and operational efficiency, a wise option is to follow a specific workflow that will streamline deliveries and eliminate bottlenecks.
For demonstration purposes, we have mapped the basic workflow for both single-vendor and multi-vendor meal prep delivery apps. However, the actual workflow can vary from business to business.
Workflow of a Single Vendor Meal Prep Delivery App:
The business uploads various meals on the app along with the list of their ingredients

Customers browse all uploaded meals and select some to order

On the checkout page, the customers personalize the recipe by editing the ingredients and informing the owner about preferences and allergies

The customers pay for the meal kit and place an order
Workflow of a Multi-vendor Meal Prep Delivery App
Multiple vendors sign up on the meal prep delivery platform and upload meal details.

Customers browse those meals and select some to order

They customize and place the order just like in single-vendor workflow

The amount of the order is sent through the platform, which deducts the commission for the business owner before transferring the rest to the vendor

The vendor or the business delivers the meal kit
Important –
The workflow for weekly meal subscribers is the same where the payment for all meals or the subscription fee is paid at once and the meal prep app owner or the vendor handles the delivery of all meals.
Whitelabel Solution to Support All Meal Prep Workflows
Revenue Model of a Meal Prep Delivery App
One important reason behind the rapid shift to digital business models is the feasibility of multiple revenue streams on the internet. Similar is the case with meal prep apps that generate revenue via multiple streams. These include performance-based channels, additional service offerings, forming business partnerships, etc.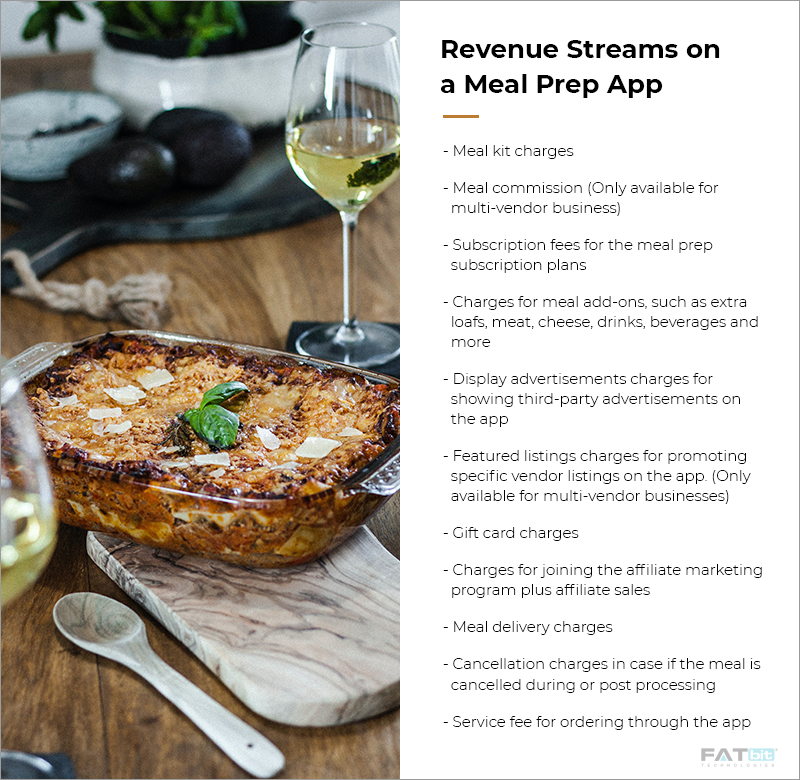 Must Have Features on a Meal Prep Delivery App
Feature selection of the apps should facilitate easy operations while emphasizing consumer trends and app interaction behaviour. Again, the selected features can vary from business to business, location to location but for general assistance, we have divided some into categories:
Backend Management
Order Management:

The meal prep delivery service owner should be able to view all orders at a single dedicated page. From this page, the owner should also be able to cancel and update orders or send push notification updates for the same. 

Catalogue Management:

Catalogue management features allow the business owner to add and manage existing meal listings. The owner should also have the option to add and update listings, including images, details, variations, etc. Furthermore, the option to disable and enable listing, change meal categories will also help the owner in business management. 

Tax Management:

Various meal prep delivery apps come with the option to create custom tax slabs or select tax from pre-existing categories. Once selected, the app automates tax collection on each and every meal booking. 

Analytics:

Analytics options, such as weekly, monthly and quarterly sales analytics, website traffic, clicks, bounce rate, etc. help business owners in reviewing sales performance, measuring marketing efforts and creating data-driven strategies to boost sales, improve customer retention and accomplish various other goals. 

Multi-User Content Management System (CMS):

For mid to large size businesses where the business owner can hire a proper team of system admins, there is a clear requirement of a multi-user CMS that enables the creation of multiple sub-admin accounts. The admin of the platform can assign various view and edit privileges to sub-admin accounts for a hierarchy-based operations management.
Front-end Management
Meal Categories:

Businesses offering multiple types of meal plans should display all categories on the navigation bar to make meal search and selection easy. These meal categories can also have subcategories. For example, anti-allergic meal plans can have subcategories like gluten-free and lactose-free meals.

Meal Menu:

The menu option makes it easier for customers to browse through the weekly planned meals. It also gives them the flexibility to order a meal of their choice and brings transparency to your business. 

Cooking Manuals or Videos:

All the meals provided through a meal prep delivery app are required to be prepared at the customer's end. For preparation and cooking purposes, meal prep services are required to provide customers with the proper cooking manuals or videos. Although you may provide a printed manual along with the meal, several customers consider viewing the cooking method as important for ordering a meal.

Meal Customizer:

Meal customizer is another important feature for a meal prep delivery  app. When ordering a meal package, it is obvious for customers to ask for minor customizations such as extra ingredients, cutlery and condiments. Instead of speaking to a person over a phone call, customers find it more convenient to customize their meals right on the app itself.

Multiple Payment Gateways:

Multiple payment gateways on an eCommerce platform resonate with trust and innovation. Having highly-reputed payment gateways such as CCAvenue and PayUMoney build the brand image for your meal prep delivery app. More payment gateways also mean you can collaborate with more vendors in the future by offering them their preferred gateway and also offer lowest transaction fees to customers.
Marketing
SEO:

Search Engine Optimization (SEO) settings will help you rank better on search engines. SEO rankings have the potential to bring more traffic and customers. Some basic yet important SEO features that you should have on your meal prep delivery app are slug generation, meta tag generation, and alt tags option. 

Promo Codes Option: According to a survey conducted by Blipper with 5000 subjects, 36% of promo code users switch to a competitor brand if they cannot find a promo code to use. Similarly, customers who use promo codes tend to spend 24% more than those who don't. Both these facts highlight the importance of having a promo code section at checkout on your meal prep delivery app. The section will help you promote your business and offer a satisfying ordering experience.
Push Notifications:

Business owners use push notifications to inform existing customers about any offers and discounts. These notifications can be sent on both desktops and mobile devices. 

Newsletter Subscriptions:

Statistically

, subscribed emails receive an impressive open rate of 22%. Some reasons why customers prefer to subscribe to these newsletter emails are special  discount benefits and official brand updates. On newsletters, meal prep services can also send promotional codes, introduce new recipes and keep their loyal customers engaged with the brand. 

Social Media Sharing buttons:

Social media still remains one of the most popular ways to spread word of mouth marketing. Having sharing buttons on your meal prep delivery app to directly send a meal recipe to friends and family via social media will help you increase brand awareness and is also capable of improving conversions.

Reward Points or Loyalty Programs: 52%

of repeat customers in the US join the loyalty programs of their favorite brands. In the food industry, customers are also more likely to turn into repeat customers if they like the quality and pricing of food. Thus, to generate more and attract more customers, meal prep businesses can use loyalty programs. In these programs, they can offer customers reward points for every purchase and promise future discounts, freebies and special privileges. To manage loyalty programs, your meal prep delivery app should have the options to add/deduct reward points and use them at checkout.
Customer Assistance
FAQs:

The FAQ section on a webpage provides customers with helpful content to resolve the most queries and doubts. This section will also help you reduce expenses on customer care and save productive hours. 

Chat Messenger:

The variety of meals and recipes can confuse customers who are not well-informed about gourmet food and cuisines. Some customers can even need help in placing an order and have queries unaddressed in the FAQ section. In such scenarios, it is always better to provide a customer care professional who can resolve doubts via chat, place the order and process refunds.

Review and Ratings:

Consumers consider reviews and ratings as highly trustable sources of information in comparison to the unreliable marketing creatives and collaterals. The option to provide ratings and upload reviews also motivates vendors to sell on the marketplace platform and assists customers in meal selection. 

How it Works section:

This section is important to explain the ordering process to first-time customers. A 'how it works' section is highly-recommended for meal prep businesses as their workflow is quite unique from other eCommerce platforms. 

Vendor Profiles:

Dedicated storefronts or vendor profiles help customers in meal search, meal selection and finding other information about vendors such as hygiene ratings, food images, reviews and ratings, and top meals. These profiles can also have the contact information of  the vendors based on your business workflow.
How to Build a Meal Prep Delivery App?
There are three approaches to building a meal prep delivery app. All three will require consulting from software developers. Below, we have sorted the approaches ranging from the low to high cost effectiveness and time effectiveness.
1. Scratch Development
This approach requires the submission of a  complete Software Requirement Specification (SRS) document, based on which the developers use agile or waterfall methodology to build the meal prep delivery app (entrepreneurs can also take the help of software developers for the preparation of SRS). A big problem with this approach is that the final product takes a very long time to market and costs very expensive. 
2. SaaS Solutions
SaaS solutions are templatized eCommerce solutions that need to be customized to launch your meal prep delivery app. They run on the solution provider's cloud server and are chargeable on a monthly, quarterly or semi-annually basis based on the selected serviced plan. The main con to use SaaS solutions is their unlimited recurring costs, which makes them very costly in the long run. Due to these recurring costs, ridiculous limitations (such as limited number of users, admin accounts, listings and transactions in base packages) and high-transaction charges, businesses are bound to migrate to a different platform sooner or later. 
3. Readymade Meal Prep Delivery Solutions
Using this approach to launch your meal prep delivery app is the most efficient in terms of money and time investment. Readymade solutions can be deployed very easily and often come at one-time costs that can be divided into installments. Another benefit of opting for readymade solutions is the self-hosting option that allows entrepreneurs to select a hosting service provider of their choice. Moreover, entrepreneurs can also host the platform on their own servers.
Launch a Meal Prep Delivery App with market ready solution
Conclusion
HelloFresh is a leading business player in the meal prep delivery industry with its inception in the year 2011. Within a span of a decade, it contributed significantly towards the development of the industry. To gain a competitive edge and start selling, new entrants will need to establish a strong brand presence, for which the aforementioned information will help them. Backed by knowledge and in-depth research, entrepreneurs can take all essential steps to launch their meal prep delivery app and excel towards growth.
Regarding our suggestion for a meal prep software, Yo!Meals is a highly-advanced readymade solution with multiple revenue streams and multi-vendor functionality. It is also fully customizable to accomodate any additional features. Lastly, the solution also comes with one-year of free technical support.