As the world slowly pivots from managing the impact of Covid-19 crisis to reopening economies, consumer behavior has been changing radically from brick and mortar stores to eCommerce platforms. And, the transition is evident with grocery being one of the nascent categories (of eCommerce) that is on an upward trajectory.
According to a report shared by Winsight Grocery Business, the expected growth for grocery eCommerce in 2022 is 21%. Riding on this wave of higher consumption in the growing market and maturing supply-side dynamics, FreshDirect, an online grocery delivery platform has historically thrived and achieved significant success, dominating the space of fresh food delivery.
Covered in this blog are insights on critical areas in the field of strategy, execution, and how an app like FreshDirect can be made.
Table of Contents
Business Model of FreshDirect at Glance

FreshDirect describes itself as a leading innovator in the grocery eCommerce industry. Founded in 2002, the company has a team of skilled professionals who carefully select organic vegetables, fruits, dairy products, meat, and more. The delivery is done from a sophisticated warehouse in Bronx, and a separate facility in Prince George's Country in Maryland – finding the shortest distance from farms, fisheries, dairies to the table. The produce delivered to the customers is fresh and the grocery items are from popular grocery brands, all for less price. That said, the business model of FreshDirect comprises of:
Ordering through Digital Sphere

W

arehouse Processing

Transportation and Delivery
1. Ordering Through Digital Sphere
The app and website of FreshDirect let users browse and buy a variety of grocery items based on their location. To make it more interesting, users can log on to the FreshDirect app and browse through categories like top-rated products, fresh deals, or buy products with available coupons, round the clock. The payment for the order can be done by debit cards, credit cards, Paypal, and EBT (Electronic Benefit Transfer cards).
2. Warehouse Processing – The Complete Cycle from Buying to Dispensing
The skilled merchants of FreshDirect, purchase fresh products from the suppliers. This stock is then taken to the company's warehouse and is kept in a temperature-controlled environment. As FreshDirect emulates the just-in-time manufacturing so the order is sorted, prepared, and packaged only when it is placed. This keeps the supply fresh and wastage is considerably reduced. Once the packaging is complete, the order is dispatched for delivery via their refrigerated trucks.
3. Transportation and Delivery
The transportation and delivery of FreshDirect is impressive. It owns several temperature-controlled vehicles. Shipments are sorted and packed on a daily basis, the delivery fleet delivers the order to the destination. The global positioning system, notifications and alerts, safety warnings, and more, make sure that the items are delivered safely to the customer's door.
Operating Model of FreshDirect
As FreshDirect has no physical grocery stores, it combines retail and wholesale functions into one unit. The orders are fulfilled from the distribution center of FreshDirect and in regard to perishable products, FreshDirect has created strong ties with local producers to make sure of an adequate supply of goods. The freshness of every product is monitored and assessed throughout with the help of a quality control app.
Alignment of Business and Operating Models
As earlier mentioned, the business and operating model of FreshDirect capitalizes on the lack of physical grocery stores. Being an online grocer, FreshDirect does not have the same amount of overheads as other grocery chains (regional and national). This is the reason that the company is able to offer products with cost-effective pricing to its customers – the first instance of alignment.
The other significant instance of both the models aligning can be seen in FreshDirect's seafood department. Here, the business model achieves the goal of providing high-quality products by shortening the supply cycle through the help of the operating model. FreshDirect has employees stationed at the docks in lower Manhattan to place the seafood orders.
At 11:00 PM, FreshDirect stops taking orders for next-day delivery and specifies the quantity of seafood required. By 3:00 AM, the specified quantity reaches the distribution center. As a result, the customer receives seafood from the dock to the door in less than 24 Hrs. When compared from a quality perspective, the seafood from the traditional supply chain carries seven to nine days of inventory. Hence, in this case, the business model of FreshDirect perfectly leverages the unique qualities of the operating model.
Efficiently Manage your Grocery Delivery Services with an App like FreshDirect
What are the Revenue Channels of FreshDirect?
FreshDirect mainly earns money through delivery fees. The customer is charged a minimum fee on the delivery of every order. Delivery charges are based on the location of a customer. Unless the customer has a DeliveryPass, then the service offers free home delivery.
| Area | Min. Order | Delivery Fee |
| --- | --- | --- |
| Manhattan | $30 | $5.99 |
| Queens | $30 | $5.99 |
| Brooklyn | $30 | $5.99 |
| The Bronx | $30 | $5.99 |
| Staten Island | $30 | $5.99 |
| Nassau County | $30 | $6.99 |
| Suffolk County (excluding the Hamptons) | $30 | $6.99 |
| Westchester | $30 | $6.99 |
| Rockland | $30 | $6.99 |
| Fairfield | $30 | $6.99 |
| Northern New Jersey | $30 | $6.99 |
| Central New Jersey | $30 | $7.99 |
| Southern New Jersey | $30 | $7.99 |
| Greater Philadelphia Area | $30 | $7.99 |
| Delaware | $30 | $7.99 |
| Washington, D.C | $30 | $5.99 |
| Jersey Shore (summer only) | $30 | $9.99 |
| Hamptons (summer only) | $99 | $15.99 |
Industrial Analysis of FreshDirect
In an era of smartphones, the space of grocery eCommerce is not just trendy but is becoming crowded. FreshDirect, however, has been able to establish itself, boasting the fastest delivery of fresh produce where the threat of rotten products is minimized to zero. Considering the industry environment and the geographic market where the company operates, assessment of various factors is a must. In this section, we share insights on various methods of analysis done to meet the high-quality and demand standards of the market.
1. Analyzing the External Influences through PESTLE Framework
PESTLE analysis gives a birds-eye view from different angles, assessing the macro-environment, critical while contemplating an idea/plan. Mnemonic for political, economic, social, technological, legal, and environmental, the factors are discussed below in detail.
| Political Factors | Economical Factors |
| --- | --- |
| The public presentation of FreshDirect is greatly influenced by political and legislative conditions in the states of operation. Considering the jurisprudence, retail merchants are encouraged to offer employment chances so that associates can innovate, grow and have successful careers. Also, the strengthening of democratic institutions fosters greater transparency when businesses like FreshDirect operate. | The economic factors of a country or a region directly affect the attractiveness (potential) of a given market. Being extremely dependent on the market of U.S.A, any lags will affect FreshDirect earnestly. Certain factors that are to be evaluated include GDP growth rate, disposable income, inflation rate, and more, both in the present market and the one which is to be entered. |
| Social Factors | Technological Factors |
| Certain social factors such as power structure in the society, women's participation in the workforce, demographic trends, and more, have a deep impact not only on the economy of the country but also the level of consumer demand and workforce talent availability. Consumers are also progressively cognizant of wellness jobs so ethnographic research should be conducted to understand that the attitude towards nutrients is invariably altering. | Technology is a major disruptor and plays a significant role in the way consumers, businesses, or industries operate. This is because it has the potential to alter habits or systems. Technological factors impacting the macro environment include developments in artificial intelligence, use of big data analytics and machine learning to predict consumer behavior, and more. New technologies benefit both company additions and client satisfaction, as the services provided by FreshDirect can be more individualized or made more convenient. |
| Legislative Factors | Environmental Factors |
| Legislative factors such as conditions to enter a market, the procedure to resolve disputes with any stakeholders, laws to operate in the market, and more, often govern. If the legal system is not strong then FreshDirect can face numerous challenges varying from shakedowns from authorities to consumer petitions. | Changing ecosystems and climate change are the leading cause of the extinction of 20% of species on the planet. Policymakers, regulators, consumers are increasingly concerned about factors that contribute to the change in the ecological community. For customers who are concerned about emissions, FreshDirect indicates that certain time slots are "eco-friendly," i.e. there are slots selected by your neighbors, choosing the same minimizes the driving. Similarly, for waste management, FreshDirect can adhere to the waste management requirements (policy) in the market. |
Build a Grocery Delivery Services App like FreshDirect
2. PORTER's Five Forces that Determine Fresh Direct's Industry Structure
Porter's five-force analysis model helps businesses formulate their corporate strategy. It gives a global overview rather than a detailed business analysis technique and helps in determining the industry structure based on the key five forces. These are:
Threat of New Entrants
If the new entrants in the space of grocery eCommerce are strong then there is a chance that FreshDirect will willingly earn fewer profits to reduce the threat and have promotional activities along with better distribution. 
Bargaining Power of Suppliers
Suppliers can be vulnerable to the immense capability of merchandisers to put their groceries at low level-monetary values. But, if suppliers have strong bargaining power then they can extract a higher price from FreshDirect Steaks.
Bargaining Power of Customers
Any product that becomes standard or uniform, will have a lower cost of alteration giving more power to purchasers. This usually tends to drive the prices down, limiting the potential of FreshDirect to earn sustainable profits. 
Threat of Substitutes (Products and Services)
The nutrient industry is seen product-by-product. So, if a product is to be substituted, then the clientele of FreshDirect is in danger of toggling. If the threat of replacement is high then the stakes of FreshDirect either have to continuously invest in research and development or the company risks losing out to the industry disruptors.
Bargaining Power of Rivals
There has been a momentous expansion in the domain of grocery eCommerce. The increase in players makes the market extremely competitive, encouraging a degree of development. If the competition becomes severely intense it will become difficult for FreshDirect to earn sustainable profits.
Measuring the Business Performance through SWOT Analysis
The analysis of FreshDirect by its strengths, weaknesses, opportunities & threats is termed as SWOT Analysis. Here, strengths and weaknesses are internal factors, and threats and opportunities are external factors. Refer to the table below.
SWOT Analysis of FreshDirect

Strengths

Weaknesses

1. Offers fresh food at a lower price to the customers' door.
2. Offers custom-made grocery orders through just-in-time practice.
3. Specializes in offering different products, otherwise not found in grocery stores such as different cuts of meat.
4. Good delivery protocol.

1. Only accessible to customers through the internet.
2. Lack of advertisement.
3. Lack of management solidity.
4. Organizational culture is not aligned with strategic or business objectives.


Opportunities

Threats

1. Expansion (stores have increased in the US).
2. Development in artificial intelligence for predicting consumer demand.
3. Provides employment opportunities.
4. Increase in purchasing power parity leads to an improved lifestyle allowing space for the consumption of different varieties.

1. Intense competition.
2. External changes (Taxes, politics, fuel prices, policies of the government, and more).
3. Substitution of products.
4. Lack of long-term contracts with suppliers.

Key Drivers Behind the Success of FreshDirect
FreshDirect has been indispensable in terms of internal operational efficiency. Mentioned below are the factors responsible for making it a trailblazer.
Trade Name and Repute
FreshDirect serves with a strategic advantage and is a hallmark in itself. To smoothen the advancement of improved running – goods enlargement, inspection, and repair development of the company have been re-engineered. Besides capitalizing on its powerful trade name repute, the company has also advanced its ways to acquire better buyer shopping cognition by broadening the skylines of economic science.
Information Technology Integration
The operations of FreshDirect have become necessities as many young professionals living away from home work for long hours. They prefer the delivery of fresh produce at their doorsteps. But different perishables require different temperatures to stay fresh. For instance, the temperature for a banana is not the same as the temperature for a tomato so the distribution center relies on an intricate and specific set of temperature controls to keep separate spaces, sometimes within the same room but at different temperatures. This is facilitated by the seamless integration of sophisticated technology which lets the company manage its inventory, maintain stock records, forecast customer demand, and much more. 
Supplier Management
Staying true to their motto of keeping the food fresh and delivering it fast, FreshDirect has a scheme of having an exclusive relationship with providers, avoiding intermediaries, as a part of supplier management. With the support of a streamlined, efficient hub, FreshDirect is able to sophisticatedly add inventory, expanding their customer base while also improving the overall quality. The company also follows sustainable packaging practices and uses significantly less fuel than the distributed retail environment.
Partnering with local organizations to make a positive impact is an important part of FreshDirect's mission. It strongly believes in supporting the neighborhood and in giving back to the community.
How to Build a Grocery Delivery Services App like FreshDirect?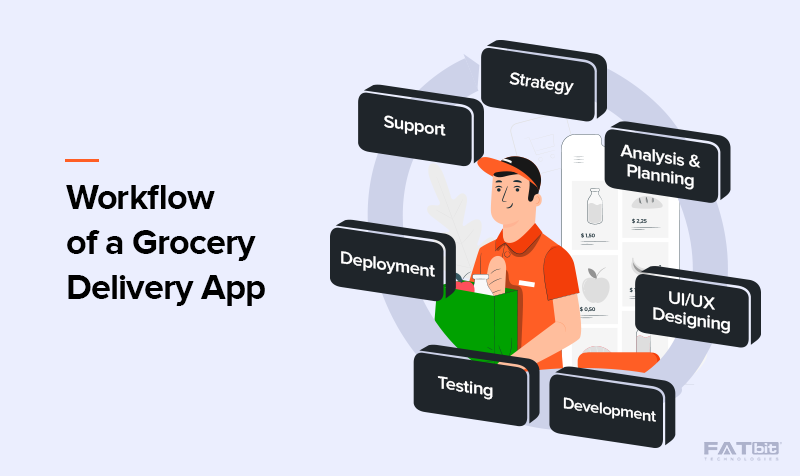 Building a grocery delivery services app like FreshDirect requires in-depth planning. Regardless of the size and project's scope, it must be kept in mind to focus on the feature list. Moreover, the simplicity, user interaction, and functionality users are known to like should be incorporated. Mentioned below are the steps towards grocery delivery services app development like FreshDirect.
1. Strategy
The first step of building an app like FreshDirect is identifying the consumers and their needs. The goals and objectives of the application will also be determined in this phase through market research. Here it is also important to think about having a delivery app, other than the buyer app, and an admin panel for the overall management. 
2. Analysis and Planning
In this stage, the idea starts taking the shape of a project. Comprehensive functional specifications are also described in this phase. Post requirement identification and prioritization of features, the product's roadmap is prepared. As a start-up or an entrepreneur, in this phase, you can decide the application development architecture. If cost, development time, and availability of resources are a concern, then you can build a minimum viable product. 
3. UI/UX Designing
The purpose of an application like FreshDirect is to offer a seamless experience to its users. UI/UX designers, in this phase, create mockups, wireframes, and prototypes of an aesthetically pleasing app. The polished UI designs ultimately help with early adoption and can increase the app's engagement by offering an intuitive user experience.
4. Development
Developers in this phase put life to the design. Once the technical architecture is defined, the technology stack is decided, and the development milestones are defined. Then a team of developers starts writing the code as per the coding standard. As each milestone is completed, the code is passed to the testing team for validation. 
5. Testing
The next step includes testing the grocery delivery application. For comprehensive testing of the application, test cases are prepared. Here, the application is tested for stability, usability, and security. The testing results are recorded with tracking fixes for retesting and are shared with the developers. 
6. Deployment
When the bugs are fixed, the application is deployed on a testing or staging environment. Once submitted to the iOS and Apple store, it is reviewed as per their development guidelines. Then the application is released. 
7. Support
Post-deployment support is an important part to resolve issues reported by the users. Frequent patching with improvements, prompt support for end-users, is vital to keeping users engaged. Furthermore, a dedicated team that tracks the key performance indicators helps in measuring the application's success.
Conclusion
Led by Covid-19, the rapid adoption of digital technologies has been a tipping point of historic proportions. While a few changes are going to be for the long haul, companies like FreshDirect who have encompassed digital strategies, a wide range of shelf-stable and fresh products, are constantly evolving to maintain a strong position in one of the most competitive markets, i.e. grocery eCommerce. So if you are an entrepreneur who is inspired to build a grocery delivery services app like FreshDirect, look no further, Growcer, developed by FATbit Technologies, is a readymade grocery eCommerce software that can aid in building an app like it.
Holistically Manage your Grocery eCommerce Platform with Growcer
Frequently Asked Questions
Q1. How does FreshDirect make money?
Ans. FreshDirect generates revenue by charging its customers a delivery fee. Unlike, AmazonFresh which charges an annual membership fee of $299, FreshDirect modestly charges a delivery fee on a minimum order of $30, based on the customer's location. For example, for Manhattan and Queens a delivery fee of $5.99 is charged.
Q2. Which is the best software to launch an online grocery delivery platform like FreshDirect?
Ans. A software like Growcer, which has a proven track record, is equipped with well-engineered apps, is customizable and scalable, apart from being cost-effective, can be used to launch an online grocery delivery platform like FreshDirect.

Q3. What is FreshDirect's business model?
Ans. The business model of FreshDirect is similar to any eCommerce shopping site. The prime aim is to bridge the gap between consumers and merchants by providing a door-step delivery of orders. The business model comprises:
Grocery Suppliers –

Partner with FreshDirect to supply their fresh produce like meat, seafood, poultry, and more. 

Skilled Merchants (Buying, Warehousing, Dispensing) –

The skilled merchants of FreshDirect check and purchase fresh grocery supplies. The purchased stock is taken to the warehouse and stored in a temperature-controlled environment. When an order is placed, the merchants prepare it which is later delivered by a refrigerated truck to the customers door.

Customers –

To purchase groceries online (24×7), customers can log on to the FreshDirect app. The payment for every order can be done through credit cards, EBT (Electronic Benefit Transfer) cards, debit cards, or PayPal.
Q4. What are similar apps like FreshDirect?
Ans. There are a number of competing apps in the grocery delivery segment. Instacart, Rappi, Burpy, Shipt, and goPuff, offer similar services to FreshDirect.
Q5. Is starting an online grocery delivery business like FreshDirect profitable?
Ans. Yes, as per research online grocery is expected to grow to $250 billion by 2024-2025 worldwide. This is because customers have started to buy groceries online due to the pandemic.
Q6) What are the USPs/ perks of FreshDirect?
The main USP of FreshDirect is to provide fresh products such as meat, vegetables, fruits & more. However, FreshDirect offers the following benefits to its consumers who are looking to purchase groceries online.
24×7 Availability:

Buyers can place and modify grocery orders using FreshDirect from the comfort of their homes at any given time.
Customer Support:

In case of any query related to their grocery order, consumers can get in touch with the team of FreshDirect's customer service.

Scheduling Order Delivery:

Buyers can schedule online grocery deliveries on the basis of available time slots.
Q7) How Much Does it Cost to Build An App Like FreshDirect?
The cost of building an app like FreshDirect will vary depending on the features and functionalities. Still, the development of a grocery delivery services app like FreshDirect can approximately cost anywhere from $20,000 USD to $50,000 USD. On the other hand, a readymade grocery delivery services app will cost less. Here, we would like to apprise you with Growcer, a readymade grocery eCommerce software that comes equipped with mobile apps for both buyers and delivery staff (Android and iOS) at a discounted price of $1999.