Seeing the growing trend and popularity of mobile apps like Yelp and TripAdvisor, it made a lot of sense for Heini to have a similar platform for wines as well. That's when Vivino was launched, to turn a smartphone into a perfect partner in wine. The idea was to fill the gaps in people's knowledge and accessibility of wine. 
By simply scanning a wine label, users could get information such as the price, where they can buy the wine, and see how other wine drinkers have rated it. Soon, Vivino revolutionized how people purchased wine across the globe. However, Heini had still higher hopes to go beyond being a mere  source of recommendation to evolving Vivino into a full-fledged online marketplace for wines.
Vivino burst onto the scene with the aim of becoming the world's largest wine community. It relied on crowd-sourced data to personalize wine recommendations so people would feel more confident as they made their wine selections. The crowdsourced ratings actually offered a competitive advantage over individual wine experts and helped to scale the company.
However, as their popularity grew, so did their competition. As other similar services began to emerge in the market, Vivino needed to stay ahead of the curve. And, this was the time in 2017 when Vivino was launched as an online wine marketplace, which Heini had in mind since its inception.
Today, it has an ever-growing community of 50 million wine enthusiasts, who turn to the platform for its personalized recommendations, transparent rating system, and expansive selection of wines from more than 700 marketplace partners worldwide. The app is available in 15 different languages to cater to a global audience
Vivino currently has 12.5 million wines listed on its database, which is constantly increasing. As a testament to Vivino's impact on the wine industry, it was named the 2021 Retailer/Marketplace of the Year by the Wine Enthusiast Magazine. 
Vivino's Business Model Explained
As a wine marketplace, the business model of Vivino revolves around pairing wine enthusiasts with their choice of wine. To start a wine search, users click a photo of a wine label of their choice or enter its name in the search bar. This brings up the wine's ratings, reviews, tasting notes, and even suggests food pairings. Not just that, the app also suggests plenty of similar wines to the users using big data and artificial intelligence. Users can then directly purchase the wine within the platform or save it in the wishlist for future purchases.
Vivino also allows its customers to discover new wines based on their previous purchases, reviews, and wish list. In addition, the annual Vivino Wine Style Awards highlight the world's best wines to help users make better wine choices. For wineries, Vivino has a separate platform where they can set up their business profiles, sell wines, and gain personalized data insights.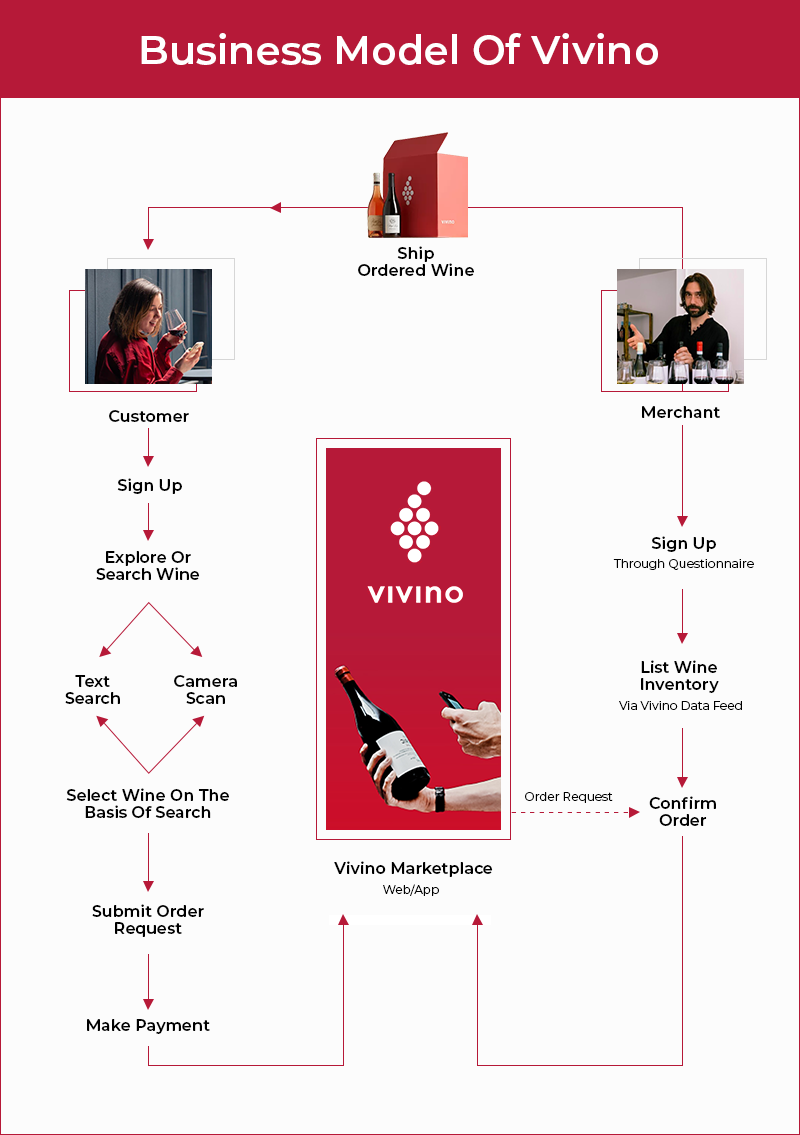 The responsibility of collecting and distributing money to the wineries lies with Vivino. It has its payment process system integrated into its app and website for smooth and hassle-free online transactions. Just like Amazon, Vivino also works on the product curation business model.
The business model of Vivino also offers a lucrative Club Membership where the member gets six bottles of the world's best-rated wine every six months for joining the club.
Revenue Streams of Vivino
Vivino has several revenue generation strategies explained below:
Commission
A significant portion of the revenue comes from the marketing fees charged to the partners whenever a sale is made through the platform. The fee is a certain percentage of the selling amount which is based on a contractual agreement between the individual winery and Vivino. Wineries that are less-known pay higher fees than their established counterparts.
In return, wineries get multiple benefits like tapping into a much greater audience and exposure than ever before. Moreover, Vivino itself strives hard to promote wines on its marketplace, for instance, through its annual Wine Style Awards and educating customers by showing what to best pair their wines with.
Subscription
Another revenue stream for Vivino is selling subscriptions to its loyal customers. Vivino started a group called Vivino Wine Club against a membership fee of $120. The members of this club receive a curated shipment of six bottles of wine every six months based on their taste profile and activity log.
Vivino Wine Club not only generates huge cash inflow in the form of the subscription fees, it likely generates a good margin from those wines.
Advertisement
Vivino gets a lot of organic traffic on its app and website, which in turn attracts advertisers from wine or other related industries to showcase their ads. Vivino collects advertising fees from such advertisers based on the competitiveness of the ad category and the duration of the ad campaign.
Selling Aggregated Data
Vivino has aggregated tens of millions of data points of consumer purchasing behavior. Not useful only for Vivino, but this data is potentially valuable for other wineries as well. It helps them determine which wines are currently in trend and must-have for their business giving them extra power to stay ahead.
Vivino sells this data at a handsome price making it an additional source of revenue.
Payment Methods Supported By Vivino
Vivino offers multiple payment methods to buyers which include VISA, American Express, Discover, Google Pay, Apple Pay, PayPal, and Mastercard. The available payment methods vary from seller to seller and can be checked when the buyer enters the product page. Payment methods supported by Vivino are:
Geographic Extension Blueprints
Out of the 50 million Vivino users worldwide, about 800,000 of them are from Australia which makes it a significant reason for Vivino to take off in the Australian market. The company is all set to launch in Australia and is offering 50% off to the wineries on commission if they offer their wines on the platform.
Customer TouchPoints Making Vivino Stand Out
Some of the standout capabilities that accentuate Vivino's customer experience include:
Scan Wine:

Through image recognition technology users can scan a bottle of wine and in seconds receive plenty of information about that wine.

Research Wine:

Vivino's search feature lets users get useful information about any wine in the form of ratings, taste characteristics, wine type, region, grape, and even the suggested food pairing.

Buy Wine:

Users can buy wine right from the Vivino app or website in two easy clicks by connecting to a network of 500-plus partner retailers.
Vivino's Attempt to Capitalize on Customer Behaviors and Opportunities
To drive engagement, conversions, and loyalty, Vivino focused on a few key parameters discussed below:
Education & Discovery:

Through merchandising or paid channels based on the taste profile, Vivino suggests wine to the users which they have not tried.
Customization Through Unique Taste Profiles:

Vivino uses data to take the user tastes into account based on their ratings, likes, and dislikes, and show wines to the users that they will enjoy.

Match Percentage:

The most-talked about match percentage feature apprises users of a customized match percentage of every wine that is unique to them.
By identifying the gaps in the market and working on these unique parameters, Vivino was successful to outpace the competitors and moved ahead acquiring more new customers.
Capitalize on the USPs of Your Business by Custom Feature Development With Our Turnkey Solution
How to Launch a Wine Marketplace like Vivino
Primarily, launching a wine marketplace like Vivino requires knowledge and industry insights. Apart from that, a readymade marketplaceeCommerce solution with all the essential marketplace features is required to run a successful and profitable wine marketplace. Yo!Kart is one such popular multivendor eCommerce solution that offers everything you need to build and launch a fully-featured wine marketplace.
From free templates and easy product management to robust email and reporting tools, Yo!Kart is a comprehensive eCommerce solution that can maximize your sales and scale up the operations of your wine marketplace. To enable businesses to maximize their business potential, Yo!Kart comes with a mobile app for Android and iOS platforms embedded with features such as intuitive navigation, voice search, and multilingual support delivering a superior shopping experience.
Let's have a look at the key features of Yo!Kart that can help build a flourishing wine marketplace.
Localization
This feature in Yo!Kart helps you build a global platform without any limitation of currency, language, and time. The solution is equipped with real-time currency conversion functionality to enable sellers and buyers to transact in their regional currency. In addition, the functionality in 70+ languages truly extends the platform's reach and usability.
The time zone of the platform can also be set as per the preference of the users to serve them efficiently.
User Management
Yo!Kart makes user management a hassle-free task. Admin can easily manage buyers, sellers, and affiliates with its advanced user management features that handle email verification, bank account details, reward points, GDPR requests, and more.
Order Management
Yo!Kart helps admins and sellers to streamline orders right from order placement and track them from dispatch to delivery. Moreover, the system optimizes the distribution of orders with real-time analytics.
Product Management
From import/export products to managing their inventory, category, and reviews, the product management module in Yo!Kart enables the admin and seller to seamlessly manage the products and their information.
Abandoned Cart Recovery Management
Abandoned cart recovery is a continuous problem plaguing eCommerce retailers for a long time now. With the abandoned cart recovery module in Yo!Kart, admins can automatically send reminders to customers who have left products in their cart without completing the order.
The reminder makes sure to stay in touch with customers while the store is still fresh in their minds. The module comes with an intuitive dashboard that shows abandoned carts, removed from cart, and carts recovered.
Multiple Payment Options
Integrated with secure, convenient, and buyer-centric payment methods, Yo!Kart helps in facilitating more cashless transactions. Be it debit/credit cards, eWallets, payment gateways, bank transfers, or the good old COD, Yo!Kart has everything covered. The PayPal Payout integration allows admins to automatically disburse the sellers' payments. 
In-Built Analytics & Reporting
Yo!Kart helps admins analyze the performance of their store and make informed decisions based on facts and numbers. Numbers like traffic insights, sales reports, conversion statistics, and top-selling products are essential for the admin to understand customer behavior and eventually reduce marketing costs.
Shipping Management
Yo!Kart comes pre-integrated with shipping APIs like ShipStation and AfterShip to set up a manageable shipping cart, minimize the cart abandonment rates, and streamline the delivery process. To take admins one step further, Yo!Kart automates cumbersome tasks like managing shipments, creating shipping labels, tracking shipments, and retrieving shipping rates.
Tax Management
Ensuring sales tax compliance in different states is a complicated yet crucial step for an eCommerce seller. Yo!Kart comes with a pre-integrated tax-management module to ensure automatic and hassle-free sales tax calculations.
PWA Compliant
Yo!Kart is PWA compliant delivering an app-like experience to the users within their web browsers. Offering an immersive full-screen experience, the PWAs can even re-engage the users with web push notifications.
Customization
Being a 100% white label solution, the framework of Yo!Kart is fully customizable which can be tailored to fit the specific niches. Industries like fashion, grocery, home furnishing, digital products, etc. can be catered to keeping in mind the business's target audience and gain a competitive advantage.
One of the best examples of Yo!Kart's capabilities in customization is Africa's biggest liquor marketplace built using this highly customizable and scalable software. Our in-house team of developers worked together to build an MVP and refined the MVP to strengthen its features.
Launch a wine marketplace with a market-ready solution
Ready for Disruption
Wine is a $300 billion industry but considering its online share i.e. wine eCommerce, it seems like a drop in the bucket. Given the popularity of online shopping among modern consumers, entrepreneurs interested in wine eCommerce have tremendous potential to strike big. With a reliable eCommerce marketplace solution like Yo!Kart, you can ascertain quite easily how to sell wine online, and thrive in the market.