Covid-19 has brought a categorical disruption, changing the landscape of the grocery retail industry. Consumer transition to online grocery shopping and reordered lifestyle has created attractive opportunities for grocery delivery businesses.
Meeting the pent-up demands of consumers with amplified quality expectations has put pressure on grocers'. Thus, retailers and entrepreneurs with grocery delivery startups will need to strive for efficiency and find margin pools to grow profitably.
Covered, in this blog – the COVID-19 and its new variant, Omicron in a rearview, how it has pushed entrepreneurs and grocery delivery startups to nurture nascent capabilities and adopt specific trends to grow and maintain their market leadership in the space of online grocery delivery industry.
Table of Contents
Journey of Various Grocery Delivery Online Businesses During COVID-19 and its new Variant, Omicron
The reception rate for online grocery shopping has been exceptionally high during the pandemic. Mentioned below are various startups (country-wise), with their enthralling journey of surviving and thriving during the pandemic, and eventually making it to an impressive marketshare.
Farmstead (USA)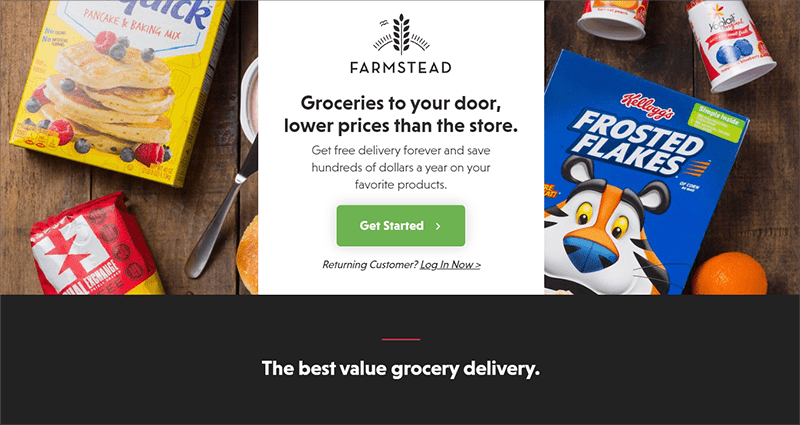 Farmstead is a US-based startup, operating an online grocery business. It allows grocers to list their brands on the application and website of Doordash to sell and provide one-hour delivery. Farmstead employs its own warehouse staff and provides delivery from "dark stores" that are exclusively dedicated to online grocery service. After collaborating with DoorDash, Farmstead has expanded its coverage area and has bolstered its delivery options.
Challenge: In one of the media statements, Pradeep Elankumaran, co-founder and CEO of Farmstead said, when the company started in 2016, the warehouse model was unattractive to everyone else as it had operational headaches and expenses.
Solution: The underlying issues were addressed by re-orchestrating warehouse operations. A software was built to make the operations smooth and efficient. By doing so, Farmstead was able to reduce food waste by 3-4x, thousands of orders were served per day across a 50-mile radius from each warehouse "hub", and there were no delivery charges.
Funding: In series A, Farmstead raised a total of $14.7 million. Moreover, in 2020, Farmstead's customer base ballooned, indicating customers' likeness towards the platform. By this time, it also raised $7.9M in new funding for its expansion to a third city.
Technology Stack: Heroku & Ruby on Rails
Revenue: $69 Million
Jokr (USA)
Headquartered in New York, Jokr is a hyperlocal grocery and retail delivery platform that was founded in 2021. With an aim to democratize retail, Jokr brings together global suppliers, local brands to support small businesses in every neighborhood while minimizing waste.
Delivery of assorted grocery and retail items is provided to customers' doors in less than 15 mins. As the goal of the company is to enable small businesses to sell their goods via the platform, the company is able to expand its reach without its complex logistics system while building sustainability into the model.
Challenge: The biggest challenge for Jokr was existing supermarkets and online grocery propositions. This included getting closer to the supermarket offering by providing different grocery categories, and building eco-friendly infrastructure to meet consumer demands who are inherently spread out. 
Solution: The management of Jokr shared that they are solving retail challenges through innovative ways. Jokr is integrating vertically by procuring directly, cutting middlemen, and building their warehouses. It covers a minimum number of SKUs(Stock Keeping Unit) for customer requirements and bargains with the suppliers to negotiate lower prices.
This allows Jokr to tap into a higher margin pool than that of traditional online marketplaces. Scenarios like out-of-stock inventory are also avoided by optimized inventory allocation.
Funding: Jokr has sealed a $170 M Series A funding round, which gives them a realistic chance to expand retail across America and Europe.
Tech Stack: Javascript & Apache
Revenue: The company hasn't yet registered its first annual turnover stats.
Check a Ready-to-launch Solution for your Grocery Delivery Startup
Cajoo (France)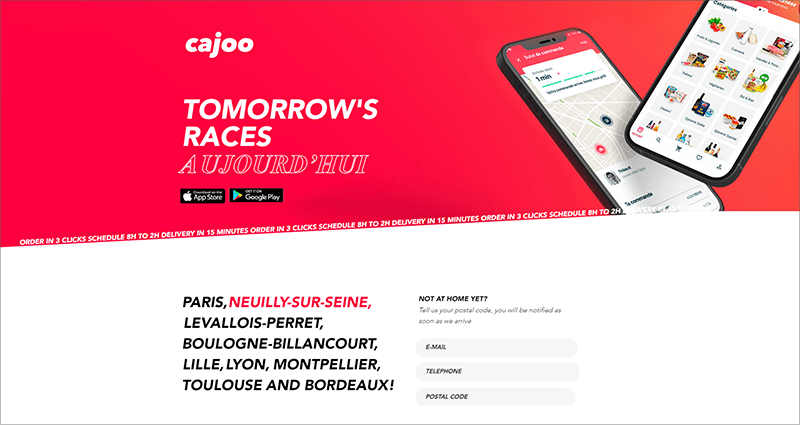 Launched in 2021, Cajoo is the new French startup that specializes in delivering everyday groceries in less than 15 mins. It has an attractive delivery app, using which customers can purchase daily groceries at reasonable prices.
Currently available in 10 cities of France, Cajoo charges a delivery fee of €1.95 on orders less than €40. It operates its own micro-fulfillment centers and tries to differentiate itself with a full-stack approach.
Challenge: There was no player like Instacart in France, in the space of grocery delivery business. Instead, many supermarket chains were offering deliveries. Customers could order from websites and applications and get their grocery order delivered in a day or two. People demanded quick delivery, just like Deliveroo and UberEats. 
Solution: The company reverberated with the requirements of the customers. To provide faster delivery, Cajoo started selling directly to its customers from its micro-fulfillment centers and manages its delivery to provide a faster delivery fleet. Just like a local grocery store, Cajoo offers everything from frozen foods, sweet and savory grocery products, fresh and organic fruits, household hygiene products, board games, and more, that can be ordered online, using its application. 
Funding: Cajoo has raised $7.3 Million, which the company plans to use for recruitments and to expand its services across Paris.
Tech Stack: Bootstrap & Sentry
Revenue: $5 Million approx
Weezy (UK)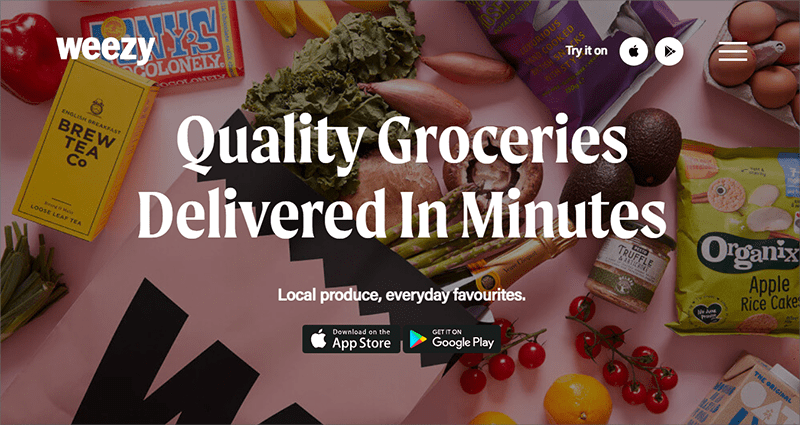 Launched in July 2020, Weezy is a hyper-local on-demand supermarket in the UK. Customers use Weezy's app to purchase items such as vegetables, fresh fruits, over-the-counter medicines, alcoholic beverages, cleaning products, and more. 
Weezy's service runs between 10 am and 10 pm every day and the couriers are fulfilled via its strategically located fulfillment centers, within 15 mins. A delivery fee of £2.95 is charged on every order and the groceries are sourced from local businesses as well as selected wholesalers.
Challenge: Weezy's founders Kristof Van Beveren and Alec Dent spotted a gap in the online grocery service market. Primarily due to the audience of professionals who have less time and parents who wanted a speedy on-demand service but without it being prohibitively expensive.
Solution: Weezy's CEO and cofounder Van Beveren said that they are able to optimize the space for fast packing and picking through their hyperlocal fulfillment center model. The prices are kept in check due to low property and fit-out costs, while the company is able to offer a premium range of products.
Funding: Led by New York-based venture capital fund Left Lane Capital, Weezy has raised $20 Million in series A funding. Weezy will open two fulfillment centers across London with the raised funds and expand its grocery delivery services across the broader UK and London. 
Tech Stack: Backbone.jx & Nginx
Revenue: $5 Million approx
Lyfa (Switzerland)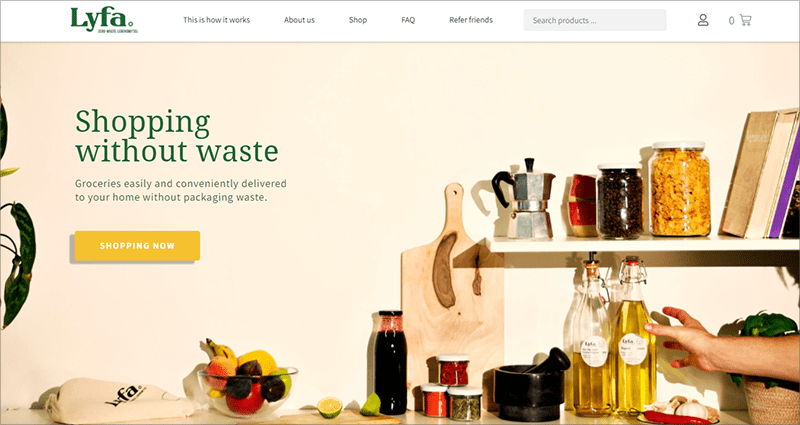 Founded in 2019 in Basel, Switzerland, Lyfa is a zero-waste supermarket. It provides home delivery for fresh products like milk and vegetables, dry products like cereals, coffee and nuts, and more.
The orders are delivered by couriers who use an emission-free bike. The packaging of the products is done in plastic-free reusable containers, made of glass and fabric. These containers are collected after use in subsequent deliveries.
Challenge: Lyfa is at an early stage and is looking to expand its business and infrastructure. They aim to reach operational profitability by expanding out of Basel to Zürich and Bern by the end of 2021.
Solution: The founders of Lyfa, Michael and Lewys, showcased their abilities and built Lyfa that covers two trends – eGroceries and sustainability. Also, by implementing a compelling MVP, Lyfa was able to raise funds.
Funding: Lyfa secured a total funding amount of $225.9K to expand its operations and product range.
Tech Stack: .GSAP 1.20.3 & Mustache 3.0.0 frameworks
Revenue: $36,000
Suggested Read: How to Start a Grocery Delivery Business
Scale Business Growth with Growcer
Why are Grocery Delivery Online Businesses Receiving Huge Funding?
Growth in grocery e-commerce has acted as a catalyst for the grocery industry to serve more consumers. The surge in numbers is showing an upward trend. Here, are some probable reasons why the grocery industry and other niches are receiving huge funding:
The COVID-19 Pandemic and its New Variant Omicron

Sophisticated Business Model
The COVID-19 Pandemic and its New Variant Omicron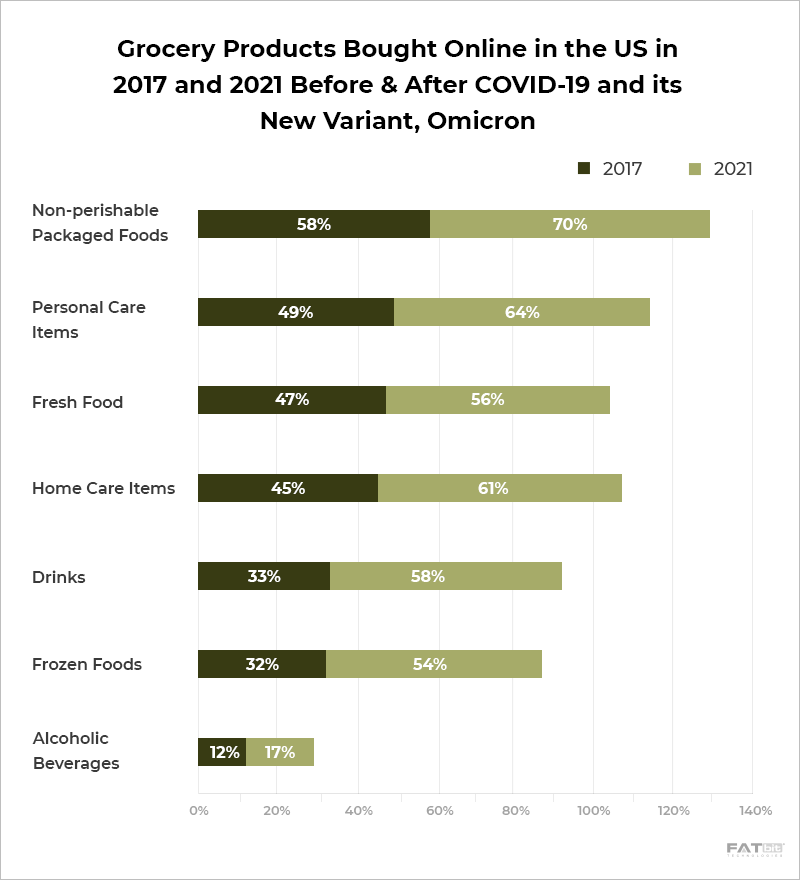 The novel coronavirus certainly had a hand in multiplying the online grocery orders manifold by pushing numerous people to shop groceries online. Imposed lockdown restrictions, fear of catching the virus, and maintaining social distancing have helped startups in capitalizing on the wave of consumer transition to grocery eCommerce platforms.
Local startups with on-demand and speedy delivery models are breaking records with an all-time surge in grocery orders and their delivery. These operate dark stores with a small delivery radius. Customers are allured to shop groceries online by tapping a few buttons on the phone and receiving orders in less than an hour.
Suggested Read: Online Business Ideas Worth Investing Amid the Coronavirus Crisis
Sophisticated Business Model
Most startups receive multiple funding rounds because they have proven their business model's strength and capability. By meeting consumer demands, they re-instantiate to their shareholders that they can deliver.
Startups might also receive funding once they display exceptional execution by reaching maturity and are looking forward to scaling. Ultimately, investors are trusting entrepreneurs with their money. Underneath, a relationship of trust needs to be built where the startups prove that their business model is robust and agile.
Though, there are a few companies that turn $1 million into $100 million. These are the ones who have proven themselves over and over again, thus, making it to the news. Sometimes successful funding also boils down to networking taking precedence over certain factors in an investment apart from having a strong business model.
Trends That will Shape Grocery Landscape According to CEOs of Businesses
The pandemic has acted as a catapult for most of the online grocery delivery platforms. People have embraced placing orders online for groceries and have rethought their priorities with their impact on the environment. With the growing consciousness and changing consumer behavior, a few trends are bound to shape the grocery industry. These are:
Streamlined Inventory Management Systems
An inventory management system is used to track stock, supplies, purchases, and more. Modern and sophisticated inventory management systems track stock locations and also predict the time to reorder supplies based on data.
The most streamlined form of inventory management is that predicts changes in consumer demands. Various factors need to be accounted for when forecasting demands. To improve forecasting, capturing data related to all the factors such as sales, figures to weather patterns, and consumer needs is pivotal.
Streamlining the inventory management system of a grocery business also helps in reducing costs and boosts productivity while meeting consumer demands more efficiently. Using tools provided by an inventory management system, calculating inventory from purchase and sales in the real world becomes easy. The count can be taken from barcode scanners or RFID readers. 
More Demand for Organic Food in Pursuit of Health
As a preventive health measure, consumers have started to purchase more organic foods. The forecast period from 2021-2026 is expected to show a growth of about 20.5% CAGR and reach USD 2,601 Million by 2026.
Studies reveal that organic food has more antioxidants compared to conventionally grown food that contains harmful chemicals. It is healthier and tastes better with very little price difference compared to inorganic food. Other reasons for its demand include:
Fitness, Health, and Wellbeing-

The energy and fitness levels increase after consuming organic food. As the food does not contain harmful pesticides, certain allergies and health ailments decrease on consuming organic food.

Environmental Protection-

Strict cultivation standards are followed by organic farmers, which have a positive impact on the environment. Natural farming practices conserve biodiversity and maintain a natural balance of the ecosystem. Organic food also helps fight global warming as it is distributed locally, reducing carbon dioxide emissions. 

Food Safety-

Organic foods are considered high quality and are considered safe for both health and the environment. The certification process further makes it clear that organic food is grown and processed according to the certification standards.
Increasing Role of DTC in The Grocery Delivery Industry
Grocery landscape has undergone seismic changes, and the consumer transition to online grocery purchases has set the stage for DTC (Direct to Consumer). Initially, retailers owned the part of maintaining customer relationships, but amidst the ongoing pandemic, brands have pivoted to DTC and have brought disruption, changing the ordinary order of things. 
Sooner, these big grocery brands can take the position of relationship owners by collecting consumer data. By knowing their consumers better, brands will be able to serve them better and capitalize on their brand recognition. When consumers sought to shop from the comfort of their homes, companies started selling directly as part of their eCommerce expansion.
That said, Grocers who adopt early and take advantage of this market opportunity with a robust DTC program are bound to reap rewards. By monetizing their existing customer bases, grocers can expand beyond their physical store footprints and enhance their consumer reach.
Change in Government Regulations
Grocery retailers play a key role in safeguarding public health. By complying with the federal and state governments, grocery retailers must have strategic partnerships with delivery and supply chain partners to ensure that grocery items being sold to consumers are free from chemical, physical, or biological adulterants.
As the demand to purchase groceries through eCommerce platforms increases, retailers must collaborate with omnichannel models to improve operational efficiency, guarantee food safety and also meet consumer demands.
Federal and state regulators need to address underlying risks posed by careless delivery methods, including problems related to food contamination during transit if not kept at the optimal temperature.
Primarily, the main goal of the online grocery industry is to have a broader customer base, but by prioritizing food safety, retailers can commit to protecting public health. By having best practices and food safety parameters in check, grocers can have a profitable, user-friendly grocery eCommerce platform that works towards keeping the community safe through a safer supply.

Path Towards Personalization
Data-driven personalization can make customer experiences relevant regardless of the channel. Customers want immediate access to the devices of their choice to make a purchase. If they do not feel appreciated, they will not hesitate to look up competitors' sites. As a result, personalization is becoming a critical differentiating factor.
To bridge the gap between grocery retail industry and a digitally connected world where shoppers expect a seamless experience, retailers need to know their customers. Some consumers focus on nutritional aspects, some like to experience different tastes and textures, while others have dietary needs.
A company named Halla has launched Taste Intelligence as per reports. It is a human preference engine built specifically for grocers to develop deeper knowledge about customer's preferences to deliver personalized recommendations, search results, and substitutions.
Generally, for a retailer's success, a positive customer experience is critical. By personalization, retailers can yield 20% higher customer satisfaction rates and boost 10- 15% sales conversion rates. It all comes down to finding the preferences of customers and capitalizing on them. 
How can Growcer help?
Growcer is a ready-made grocery delivery solution, specially designed to act as a bridge to connect retailers with consumers. Built with exemplary features and functionalities, Growcer comes equipped with robust and user-intuitive mobile apps for both buyers and delivery staff. 
The rich interface provides a user-friendly experience and helps clients scale business profit. Other niches that can be catered using Growcer are – pharmacy, pet supplies, electronics, liquor/wine, and more. Apart from these benefits, Growcer offers:
No development time (ready to install)

Customizable

No extensive knowledge of technology is required

Self-hosted and comes with a lifetime license

Free installation

1-year free technical support

CMS management

Tax management

Wallet management 

Inventory management

Delivery schedule

Click-and-collect

Multiple-payment options

Multi-lingual

Push notifications
Online Businesses that Growcer has Empowered During COVID-19 and its Variant, Omicron
With its impeccable and user-friendly interface, Growcer has empowered many startups during the pandemic, enabling them to do more. A few of them are mentioned below:
1. RX Delivered
Is a drug delivery platform in Africa that enables hospitals, pharmacies, and patients to order authentic and high-quality drugs for delivery. 
2. Yodigibuys
Is an online shopping platform that facilitates buyers to purchase groceries, farm products, electronics, fast foods, hardware, and more, for door-step delivery.
3. Docaan 
Is an online grocery platform with the mission to digitalize local convenience stores in the UK.
4. Navibazaar
Is an eCommerce platform from where groceries, home and kitchen appliances, home decor items, and more can be purchased.
5. Tap Retail
Is a localized delivery platform. Buyers can order from local stores, book a delivery slot and get the orders delivered to their doors, the same day.
6. Pravasi Cart
With Pravasi Cart, buyers can purchase their favorite cuisines and groceries from the web or the application.
7. Backyard Bushel
Backyard Bushel is an online marketplace with the main goal of community building and providing small farmers with access to local markets. They can simply make their profile and start selling their homegrown produce.
8. Superkiwi 
Superkiwi is another online grocery marketplace built with Growcer that provides agile delivery of groceries purchased online, using the platform.

9. Pop to Shop
Pop to Shop also delivers local produce with its trusted drivers to consumers' doors in the UK. If users do not have internet access, Pop to Shop also takes orders traditionally via call.
Attain Business Scalability with Growcer's Holistic Management
Conclusion
In a pandemic-minted world, where consumer demands are ever-changing, novel business challenges for grocery retailers have emerged. But, if grocery retailers are to succeed in a transformed landscape, expanding into adjacencies and adopting new strategies is of the utmost importance.
Developing a clear strategic roadmap to build a grocery delivery platform is a well-poised approach. It provides an opportunity for customer delight while also garners wallet share. To seize competitive advantage by building a grocery delivery platform, partner with Growcer.