The primary point of concern for the majority of buyers and sellers is online grocery delivery. Perishable items, edible items and everything else that revolves around groceries need to be delivered on the same day.
This is where the on-demand goods delivery model comes to save the day. The on-demand grocery business idea works on the principle of immediate and quick delivery of goods as per the time preferred by the customer. As a matter of fact, online grocery shopping, online food ordering and CPG (consumer packaged goods) depend on this delivery model to keep their operations running.
Additionally, such a model relies on these sectors to thrive. And given the fact that online shopping is not a fad anymore, but a common thing now, it only depends on service providers, especially online grocery delivery service providers, to make sure things happen pretty quickly because customers don't like to wait.
How Does On-Demand Grocery Delivery Model Work?
In its true essence, this particular model works on the principle of picking up an item from the vendor and delivering it to the customer as per the latter's preferred time. It's as simple as that, and there are several ways in which the on-demand grocery delivery model works:
Suppose you are an online grocery delivery service provider, and you have tie-ups with offline grocery vendors who do not offer home delivery. You build a marketplace where you have mentioned all the local grocery vendors. The customer chooses the vendor nearest to their locality, buys the items from your website, and you deliver the items at their doorstep. This option also comes in handy if the vendor they've chosen doesn't deliver in their area.

The second alternative is that you can simply put up the grocery items on your website, from where people can choose the item needed and its quantity. You get those items from the grocery vendor and deliver them to the customers. They won't know which vendor you got it from, but that doesn't matter as long as they are getting their groceries on time.

The third option is where an offline grocery store owner decides to start an

online grocery delivery business

and provides ordering option too. The website owner manages all three aspects, from warehousing to logistics to delivery.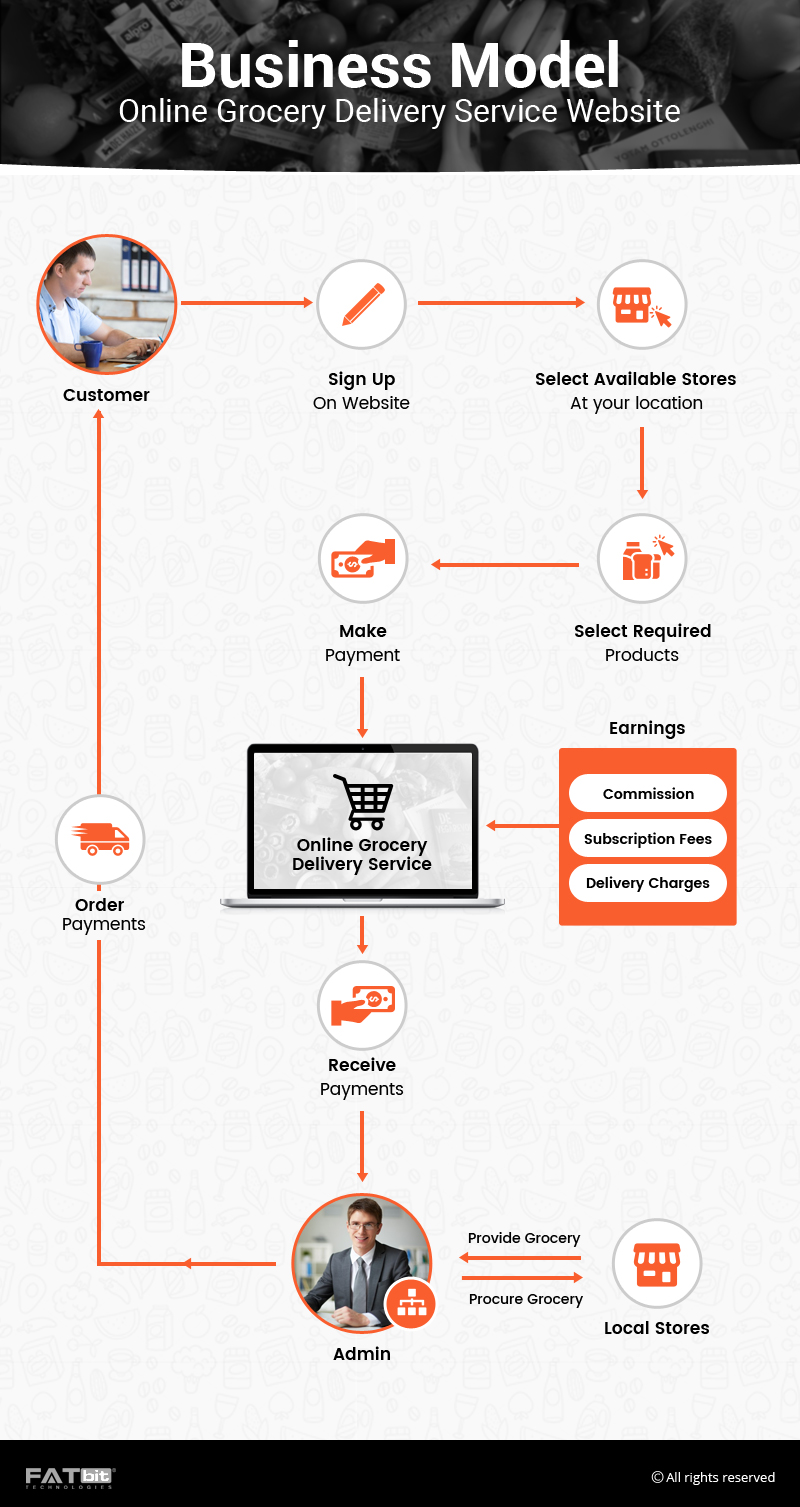 Prominent Names in Grocery Delivery Service Model
Now that we know what the grocery delivery service business model looks like, and how it works on the core, it's time to take a look at the major players in the market.
Postmates
Postmates is inarguably the most prominent player in this industry. With their service spanning over more than 15 states in the USA, Postmates enjoys a massive presence and serves a huge number of customers every hour, every day, every year.
Since its inception in May 2011, they have delivered more than a billion goods and generated revenue exceeding 250 million dollars. Now that's a number!
Instacart
Instacart is another major online grocery delivery service provider with a massive reach.
As of March 2017, Instacart delivered daily items to more than 1200 cities in 25 states of the USA, with groceries delivered close to a worth of $3.4 Billion.
UberRUSH
Currently providing their service in New York City Area (Manhattan, Brooklyn, and Queens), San Francisco and Chicago, UberRUSH is an on-demand grocery delivery service initiative by Uber, a brand that doesn't need any introduction, unless you are living in a cave or under a rock.
While Postmates and Instacart work on a B2C model, UberRUSH works on a B2B model. Moreover, UberRUSH does not offer delivery services for restaurant orders since they have UberEATS for this purpose.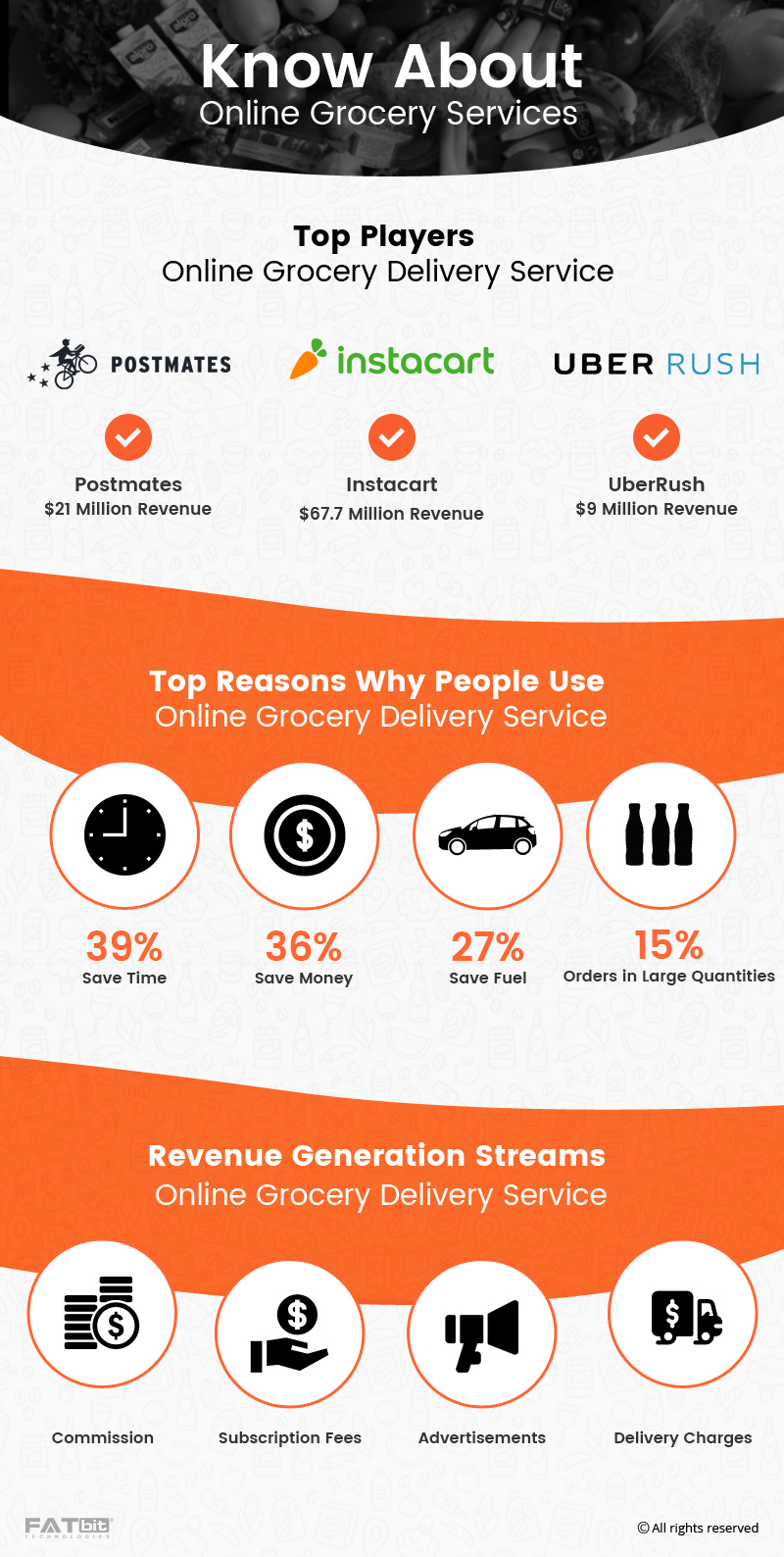 Also Read: Online Grocery Market Size & Analysis (Global Picture Of Online Store Sales)
So how does this model generate revenue for the marketplace owners?
There are three ways in which this model can help the marketplace owners make their online grocery delivery business profitable and scale it. Please note that all these methods have their own set of advantages and conditions. So, let's talk about revenue generation.
Commissions
Commission is by far the oldest and the most preferred revenue model for all the marketplace owners, whether they work online or offline.
Subscription Fees
Also called membership fee, you can use this revenue model to bring in vendors who are not comfortable with the commission model by paying a fixed subscription fee, these vendors can use your service for a fixed period of time (quarterly, bi-annually, annually and so on).
Delivery Charges
While the previous two revenues are vendor-driven, delivery charges, as we all know, are customer-driven.
Furthermore, you can also make additional amount of money through the Digital Marketing methods, you know, like, vendor promotion on your website, banner ads, posting sponsored blogs on your website's blog page, and selling user data to market research firms.
Key Features of an On-Demand Goods Delivery Model Website
There are two stages when it comes to the features that must be included in a website based on this business model; The Front End, when the users have not logged in, and the post-login stage. Let's see what all prominent features a website has from these perspectives.
The Front End
When the end-user has just landed on the homepage of the website and hasn't logged in yet, the page they see is the default homepage of the website. From this perspective, the neutral one, here are some important features that the website owner should focus on:
Page Banner
The banner is located above the first fold portion of the homepage. A banner that states the core idea of the business is an important asset for the venture owner. This portion may seem trivial, but trust me when I say it, this is the point where it all begins.
The Section below the Banner
I like to call this section the garden, simply because this is where you can, and should, put all your favorite and attention-grabbing attributes beautifully.
Suggested Read: Setting up Online Grocery Business in 2018? Here Is What You Need to Know
Post Login Features
The game changes by a great deal when a person has logged into your website. Let's keep the website owner's perspective first, for the owner it is the connecting link between the vendor and the customer to deliver the goods.
From the owner's point of view, easy management, order tracking and notification are the key features to focus on.
From the customer's perspective, below are the key features that you must include in your on demand goods delivery model based venture:
Multi Store
Offering multiple stores to your customers is not only good from their point of view, but you can also enjoy varied commission rates set with each vendor. The more vendors you tie-up with, the better it is for your business.
Cart and Checkout
Needless to say, these two pages are surely an essential part of any eCommerce based venture. Make sure moving from cart to the checkout page is a breeze. The quicker they move, the quicker they buy.
Easy Navigation
Easy navigation is an integral part of great user experience. Going from point A to B should be a stroll in the park, and not a struggle through a maze. I'm sure we all understand that.
Multiple Payment Options
It is crucial for online delivery service provider or any e-commerce store to have multiple payment options for consumers, making it easy for them to make a purchase.
Order Tracking
People like to stay updated with their order status, at all times. Keep them posted and you'll have more happy customers.
Information Security
Whenever your customers are sharing their information with you, they trust you with its integrity and security. You must adhere to sensitive information such as credit card details and personal information guidelines.
And then there is one more factor, which is not a feature of the website, but an attribute that matters the most; transparency and honesty. Whenever you make a promise to your customers and/or vendors, always make sure you keep them. The world of eCommerce has cutthroat competition, and customers don't give a second thought about moving on.
Also Read: Challenges Faced by Online Grocery Businesses & Their Solutions
Conclusion
Being a connecting link between the vendors and customers, you need to make sure the order gets delivered on time, because that's the core of online grocery delivery business model. Furthermore, by delivering groceries on consumers' preferred time, you can leverage the benefits of word-of-mouth marketing and increase your customer base.