Last Updated: 19th May, 2022

The primary point of concern for the majority of grocery buyers and sellers is online grocery delivery. Perishable items, edible items and everything else that revolves around groceries need to be delivered on the same day.
This is where the on-demand grocery delivery model comes to save the day. The on-demand grocery business idea works on the principle of immediate and quick delivery of groceries as per the time preferred by the customer. As a matter of fact, online grocery shopping, and CPG (consumer packaged goods) depend on this type of delivery model to keep their operations running.
Amid Coronavirus, online grocery shopping is not a fad anymore, but a common thing now, it only depends on service providers, especially online grocery delivery service providers, to make sure things happen pretty quickly because customers don't like to wait.
Table of Contents
On-demand Grocery Delivery During Coronavirus Lockdown
The coronavirus is reshaping both the present and future of the on-demand grocery delivery business. According to data from research and polling firm Nielsen and Rakuten Intelligence, the online sales of consumer packaged goods (CPG)- the kinds of things typically sold in grocery stores, grew 56% for the one week ending April 18, compared to the same period a year earlier.
This sudden surge in the online grocery market has pushed the grocery retail sector into a rapid transformation of home confined-buying. And, market researchers believe that this new grocery buying behavior adopted by consumers (grocery home delivery) during these several months of corona-crisis will eventually transform into new habits. That means customers will likely adopt more tech-enabled and omnichannel approaches in the future.
Also, the on-demand grocery delivery services which is a major part of the supply chain are experiencing an alternation, in the form of contactless delivery, health & safety of delivery staff, etc. Therefore, retailers need to make sure their supply chain operations are running smoothly to achieve maximum results.
Future of On-demand Grocery Delivery Business
Please do watch the video to know more about the future of the online grocery business, grocery market trends, and how you can launch a grocery multivendor marketplace:
How to Start a Grocery Delivery Business?
Since the markets seem lucrative for online grocery delivery businesses for years to come, even after the COVID-19 effect subsides, it is most appropriate to set foot in this direction. If venturing towards becoming an owner of a grocery service, considering some pro tips will help set sail in a streamlined manner.
Through this write up we have attempted to lay down the basic process flow that would help set up an online grocery delivery business.
1. Form a Legal Entity and Register for Taxes
One of the essential elements of any business is its entity. Ideally, the primary steps to be taken must be centered around getting the company/business registered. An authentic registration for a name, a form of business, and compliances will help give form and shape to the idea.
Online grocery delivery services need to pay taxes for the online sale of groceries. There is a sales tax and a services tax that needs to be duly paid, so registering under appropriate accounts to pay these taxes is a mandate even for online grocery delivery.
2. Finalise your Business Model
In its true essence, this particular online grocery delivery business plan works on the principle of picking up an item from the vendor and delivering it to the customer as per the latter's preferred time. It's as simple as that, and there are several ways in which the on-demand grocery delivery model works:
Suppose you are starting a grocery delivery service, and you have tie-ups with offline grocery vendors who do not offer grocery home delivery. You build a grocery marketplace where you have mentioned all the local grocery vendors. The customer chooses the vendor nearest to their locality, buys the items from your website, and delivers them to their doorstep.

The second alternative is that you can put up the items on your grocery shopping delivery website, from where people can choose the item needed and its quantity. You get those items from the grocery vendor and deliver them to the customers. They won't know which vendor you got it from, but that doesn't matter as long as they get their groceries on time.

The third option is when an offline grocery store owner decides to start an online grocery delivery business and provides an ordering option. The website owner manages all three aspects, from warehousing to logistics to delivery (this mostly comes under a single vendor online grocery business model).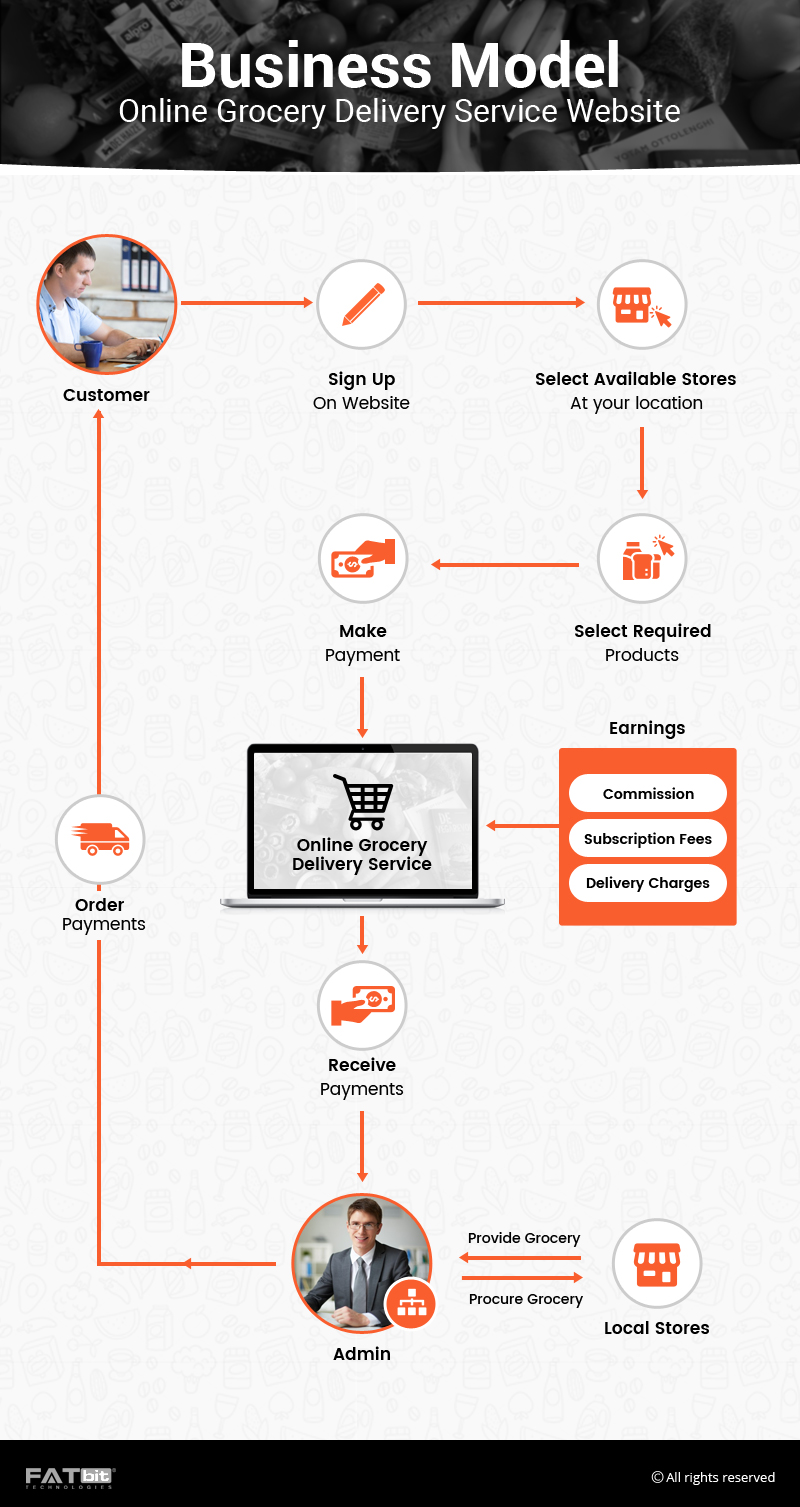 3. Choose a Readymade Grocery Solution
Setting up an online grocery marketplace from scratch involves inputs from experts and professionals from different backgrounds. Developers to market analysts, and design specialists to business experts, different people need to get involved at different stages to launch an online grocery delivery business.
An acceptable option is to connect with a team of experts who offer grocery software solutions on which you can build your business. Based on the offerings for customization, on-boarding assistance, and business model setting, you can choose from the options available. But make sure that the solution offers:
Grocery Buyer Apps
Buyer apps for Grocery shopping provide 24×7 accessibility. They provide pliable options that bridge the gap between real and virtual stores. Shoppers can buy groceries anytime from the comfort of their homes and get them delivered to any location within the area of delivery. The app comes with an array of features and functionalities which provide a seamless shopping experience to the consumers.
Grocery Delivery Driver Apps
Grocery delivery apps are fully equipped with features that aid grocery delivery drivers with last mile delivery. The features include order management, geo-location, wallet management, push notifications and more to supplement delivery staff with convenience for easy door-step delivery.
Get a Live Demo of Grocery Solution From Our Experts
Revenue Model for Online Grocery Delivery Business
There are many ways in which this model can help the marketplace owners make their online grocery delivery business profitable and scale it. Please note that all these methods have their own set of advantages and conditions. So, let's talk about revenue generation.
Commissions
The Commission is by far the oldest and the most preferred revenue model for all marketplace owners. There can be two prominent ways to charge commissions with the sale of groceries online:
Commission on Each Transaction – This is chargeable to the vendor/seller on every sale they make on the marketplace platform. This way, the marketplace owner can earn according to the sales happening on their portal.
Commission on Each Delivery – This commission model charges the buyer and the driver with some amount on their purchase and its delivery, credited to the marketplace owner's account whenever an order is completed.
Vendor Subscription Fees – Also called membership fee, you can use this revenue model to bring in vendors who are not comfortable with the commission model by paying a fixed subscription fee. These vendors can use your service for a fixed period of time (quarterly, bi-annually, annually, and so on).
Banner Ads and On-site Promotion – A good source of drawing revenue from the marketplace platform is allowing vendors to carry out their personalized ads via banners and schemes on the platform homepage. The admin can charge the sellers for the space and number of campaigns they want to run
Such advertisements can act as business-boosting elements for the website as well as for the vendors. A good amount of revenue can come in from certain independent product ads as well.
Key Features of an On-demand Grocery Delivery Website
There are two stages for the features that must be included in a website based on the on-demand grocery delivery business model: the front end, when the users have not logged in, and the post-login stage. Let's see what all prominent features a grocery website has from these perspectives.
The Front End
When the end-user has just landed on the grocery website's homepage and hasn't logged in yet, the page they see is the default homepage of the website. From this perspective, the neutral one, here are some important features that the website owner should focus on:
The banner is located above the first fold portion of the homepage. A banner that states the core idea of the business is an important asset for the venture owner. This portion may seem trivial, but trust me when I say it, this is the point where it all begins.
The Section Below the Banner
I like to call this section the garden simply because this is where you can, and should, put all your favorite and attention-grabbing attributes beautifully.
Suggested Read: How to Start a Grocery Delivery Service?
The game changes by a great deal when a person has logged into your website. Let's keep the website owner's perspective first; for the owner, it is the connecting link between the vendor and the customer to deliver the goods.
From the owner's point of view, easy management, order tracking and notification are the key features to focus on.
From the customer's perspective, below are the key features that you must include in your on-demand grocery delivery model based venture:
Offering multiple stores to your customers is not only good from their point of view, but you can also enjoy varied commission rates set with each vendor. The more vendors you tie-up with, the better it is for your business.
Needless to say, these two pages are surely an essential part of any eCommerce based venture. Make sure moving from cart to the checkout page is a breeze. The quicker they move, the quicker they buy.
Easy navigation is an integral part of a great user experience. Going from point A to B should be a stroll in the park and not a struggle through a maze. I'm sure we all understand that.
It is crucial for an online grocery delivery service provider or any e-commerce store to have multiple payment options for consumers, making it easy for them to purchase.
People like to stay updated with their order status at all times. Keep them posted, and you'll have more happy customers.
Many grocery delivery marketplaces have already realized the benefit of combining online and in-store shopping in the form of the Click and Collect feature. It is an omnichannel strategy where customers purchase groceries online and pick them up at the store or at a common point. During the coronavirus pandemic, the click and collect feature comes as a life savior. According to the Adobe Digital Economy Index, grocery orders placed online for store pickup by consumers from Feb. 24 to March 21 rose 62% over the same period last year.
Whenever your customers are sharing their information with you, they trust you with its integrity and security. You must adhere to sensitive information such as credit card details and personal information guidelines.
These are the must-have features you should integrate into your website while starting a grocery delivery business.
Delivery Staff Management
The platform must allow streamlined delivery management with efficient allocation amongst the drivers on the platform.
Advanced Reports and Statistics
The admin must be able to manage everyday online grocery sale and delivery operations with an informative dashboard, crisply displaying the key numbers needed to make informed and wise business decisions.
Seller Approval and Management
Approving sellers to join the multi-vendor platform should be managed easily by the admin through the platform itself. As vendors register with their details, their application must be primarily screened by the platform owners for them to become registered sellers on the marketplace.
Managing a clean and comprehensive product catalogue through a defined system will enhance the value of the marketplace. The system itself will allow systematic entries so as to display all information comprehendible by the customer.
Tax, Commission and Revenue Management
The tax, commission and revenue management on the online grocery delivery marketplace must be ordered and compliant. The admin should be able to manage all accounts efficiently through the platform's system.
How Much Does it Cost to Start an Online Grocery Delivery Business?
Cost is a critical factor when it comes to developing an online grocery business or on-demand grocery delivery apps. The biggest cost-driving factor is complexity. This includes features and functionality to be added and the time needed to implement.
A sophisticated online platform with high-end features will cost more, though the development of it also depends on the availability of resources and geographical location.
A grocery delivery business can approximately take 1900 to 2400 hours to develop. So, it can cost anywhere from $19,999 to $20,0000.
Instead, you can choose Growcer, a grocery ecommerce platform from FATbit Technologies that would cost you way less. Learn more about  it:
Growcer – A Complete Solution to Launch your Online Grocery Business
Growcer is a readymade, fully customizable eCommerce grocery solution that is equipped with all the necessary modules- admin, sellers, buyers, and delivery staff. Enriched with user-centric features, platforms like Walmart, Peapod, FreshDirect, Instacart, and more, can be built using it. Growcer also offers robust ready to use mobile apps for buyers and delivery staff. 
Being a self hosted-platform, clients do not need to have any technical expertise. Offering a myriad of pre-integrated APIs (more than 15), Growcer is a comprehensive yet cost-effective solution that is built with state-of-the-art technologies. It is a white label solution that offers a plethora of revenue-generating options to business owners. 
Growcer majorly comes with 2 pricing packages:
GoQuick ($2,499)- Default web versions of all modules and delivery apps 
GoQuick Boost ($3,999)- Default web versions of all modules, delivery apps, and buyers apps
Know About Growcer – A Comprehensive Grocery Solution
Providing a rich user experience, Growcer has enabled many startups to do more. A few of the success stories are mentioned below:

Pop to Shop

– Delivers local produce to the consumers' doors in the UK.



Docaan

– Is another online grocery platform in the UK whose mission is to digitalize local convenience stores.

Pravasi Cart

– An online grocery ordering and delivery marketplace working in the USA and Canada.

RX Delivered-

Is a drug delivery platform that enables patients, hospitals, and pharmacies to order authentic and high-quality drugs for delivery in Africa.

Superkiwi –

Built using Growcer, Superkiwi is another online grocery marketplace that provides agile delivery of groceries that are purchased online using the platform.
Start Your Grocery Delivery Business with Growcer
Prominent Names in Grocery Delivery Service Business
Now that we know what the on-demand grocery delivery service business model looks like, and how it works on the core, it's time to take a look at the major players in the market.
Postmates
Postmates is inarguably the most prominent player in this industry. With their service spanning over more than 15 states in the USA, Postmates enjoys a massive presence and serves a huge number of customers every hour, every day, every year.
Since its inception in May 2011, they have delivered more than a billion goods and generated revenue exceeding 250 million dollars. In 2019, the total valuation of the company reached $1.85 billion.
Instacart
Instacart is a North American leader in online grocery as its delivery services are available to more than 85 percent of U.S. households and 70 percent of Canadian households. It has partnered with more than 350 national, regional, and local retailers,  to deliver from more than 25,000 stores. Instacart has raised probably 6 rounds of funding and the company is now valued at $8 billion.
UberRUSH
Currently providing their service in the New York City Area (Manhattan, Brooklyn, and Queens), San Francisco, and Chicago, UberRUSH is an on-demand grocery delivery service initiative by Uber, a brand that doesn't need any introduction, unless you are living in a cave or under a rock.
While Postmates and Instacart work on a B2C model, UberRUSH works on a B2B model. Moreover, UberRUSH does not offer delivery services for restaurant orders since they have UberEATS for this purpose.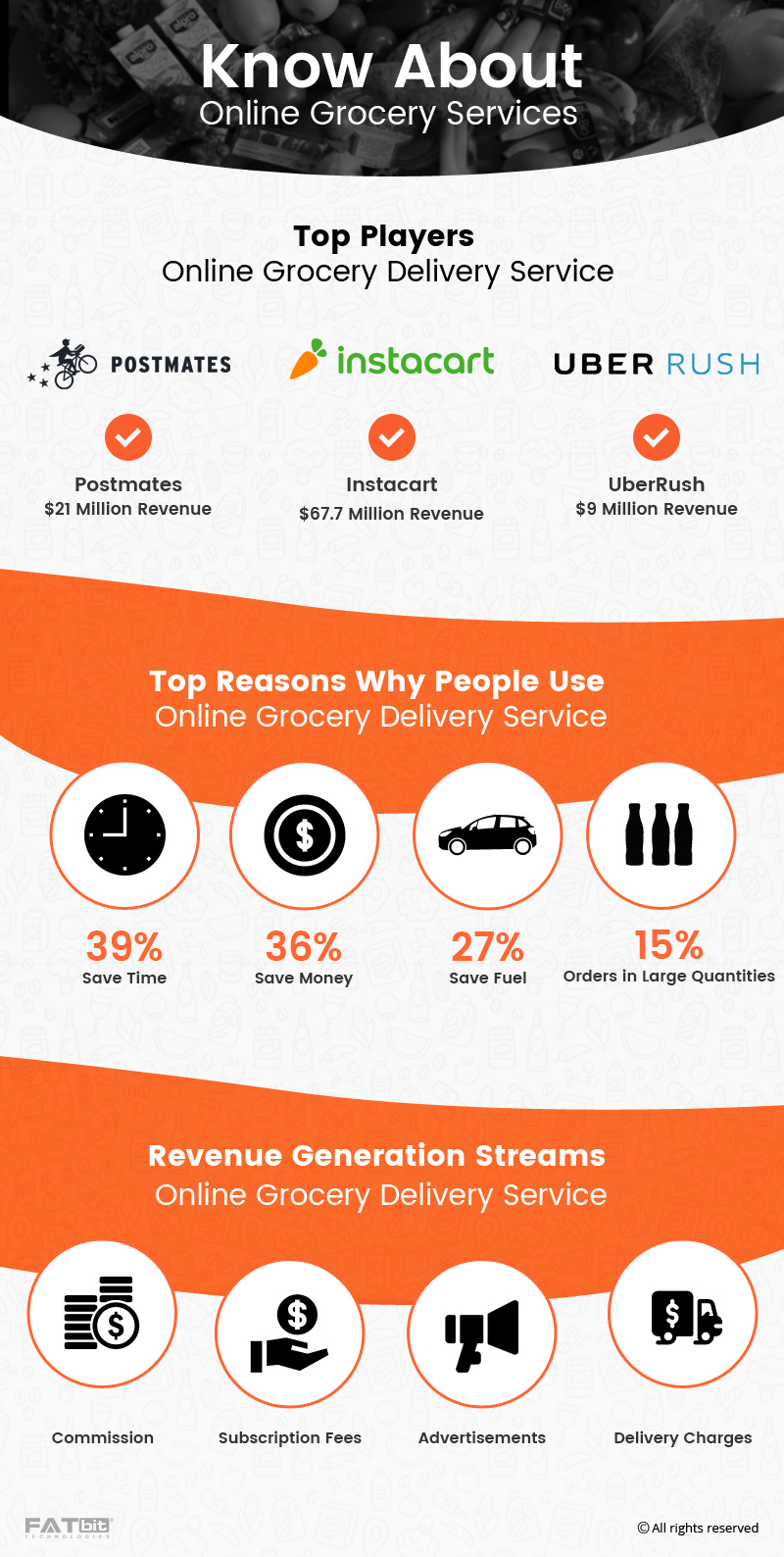 Also Read: Online Business Ideas in 2021 That Are Worth Investing Amid the COVID-19 Pandemic
Conclusion
Concisely discussed pointers above should lay down some basic expectations for setting up a multi-vendor online grocery delivery platform. Considering the available options, picking out a solution that lands your business in the market at the earliest possible should be easy.
Reach out to partner with a team that provides an end-to-end solution, with all the necessary inclusions to begin an online grocery delivery business.
FAQs
Q1. Is the online grocery delivery business profitable?
Ans. Online grocery delivery business is profitable as more people are ordering groceries online. The transition of consumer behavior is evident and the business is expected to remain profitable for the years to come.
Q2. How much can my business earn per grocery order placed?
Ans. Businesses mostly charge a fee of 10% to 15% depending on the order size. A fee of $15-$20 can be charged for a grocery order of $150. If on average 100 orders a day are received, then a business owner can make $1500 to $2000 per day. More orders will ultimately result in good profit.
Q3. How should I acquire grocery sellers on my platform?
Ans. Grocery sellers that are active on other marketplaces can be approached. You can research their expectations and provide them with exclusive offers and also have an approachable seller service support system. Implement useful guides and provide them with buyers on board. Further, you can ask grocery store owners to join your online marketplace and increase their sales/ revenue through your platform.
Q4. How should I acquire customers on my platform?
Ans.  Today's fast-paced life with long working hours, hectic study schedules, and more do not allow employees or students living independently to go out and spend time shopping for groceries. In this context, customers who are looking for on-demand delivery services are ideal as a grocery eCommerce store solves their problem by providing them with flexibility. Buyers can shop any time, from anywhere, and get the order delivered to their doors. You can market your platform on various social media platforms to grab people's attention.