The UAE's e-commerce sales are expected to reach a value of $28.5 billion by the end of 2019. The UAE's F&B market has experienced rapid expansion during the short time span of 2010-2015 at a CAGR of 12 percent. KPMG's survey found that 3 out of 4 people in the UAE have food delivered at their places at least once a week.
On-demand food delivery web and mobile apps have become so popular in the region that in 2018, more than two-thirds of the restaurant operators received an increased number of orders from online food ordering and delivery platforms. Around 32 percent of restaurant owners or food operators credited mobile apps for more than a quarter of their revenue.
Consumers are pushing the envelope towards receiving value for money through online food ordering and delivery apps in the UAE.
Pestle Analysis: In-depth Insights Of UAE Online Food Industry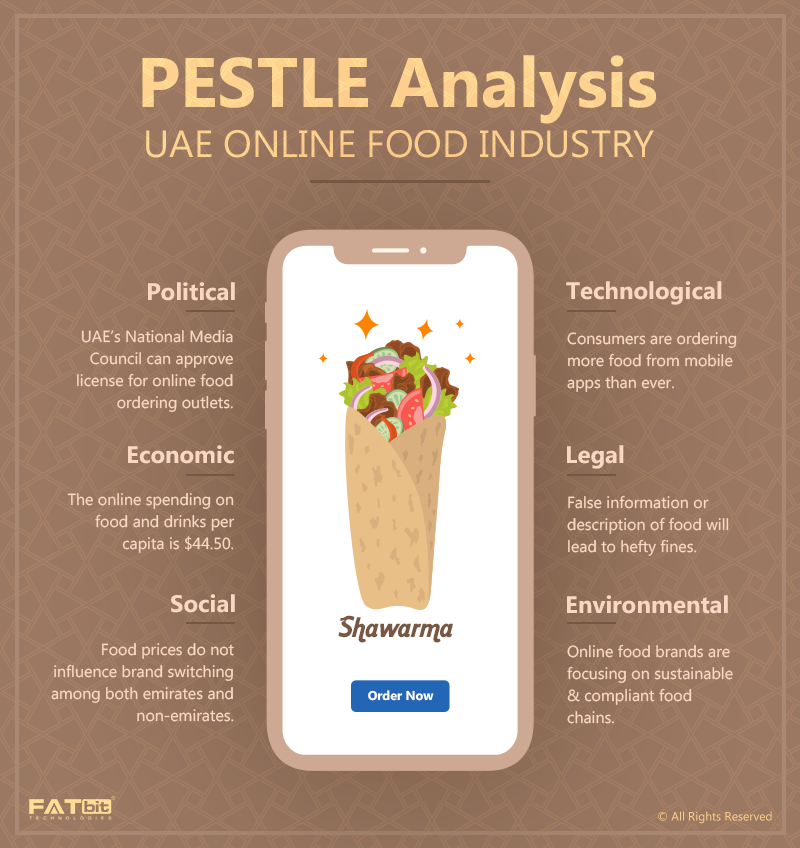 PESTLE Analysis

Political

Each one of the 7 emirates of the UAE has individual governmental organizations. Each has flexible policies to enable entrepreneurs start an online food ordering business without any hassle or restriction.
UAE's National Media Council (NMC) has the authority to approve a license for electronic media including e-commerce and news sites. The regulations provide legal protection for online outlets including food ordering.
For more direct investment in Dubai's ecommerce sector, Dubai Free Zones Council (DFZC) adopts various entrepreneur-friendly measures and policies.

Economic

The online spending on food and drinks per capita in the UAE is $44.50.
UAE's food and beverage market is worth more than $13.2 billion.
According to KPMG, 60 percent of UAE consumers use a mobile application to order food.

Social

The UAE (especially Dubai and Abu Dhabi) has developed as a "go-to" market for brands, chefs, operators, and business owners.
UAE has more penetration of technology, acceptance of internet commerce in the food industry, and positive buying habits. Food ordering and delivery mobile apps have been a major factor in it. From choosing a restaurant to placing an order, customers are doing everything using a mobile app.
Food prices do not influence brand switching among both emirates and non-emirates.

Technology

Drone delivery has already started in Dubai and in the span of the next 2-3 years; it will become common across the UAE market.
UAE consumers order more food from mobile apps as compared to websites.
Delivery trucks that cook your food on the way to your place are also becoming popular.

Legal

Vendors selling food that contains pork or alcohol without permission may face a fine of up to AED 500,000 and a prison term.
False information or description of food leads to hefty fines.
Federal Law No. 1 of 2006 on Electronic Commerce and Transactions and Federal Law No.5 of 2012 on Combating Cybercrimes are in action.

Environment

Many of the online food brands are focusing on having sustainable and compliant food chains.
McDonalds is doing a lot in terms of waste management and recycling.
Strict rules and regulations are being imposed by the Ministry of Climate Change and Environment.
Examine The UAE Online Food Industry Through Porter's 5 Forces Analysis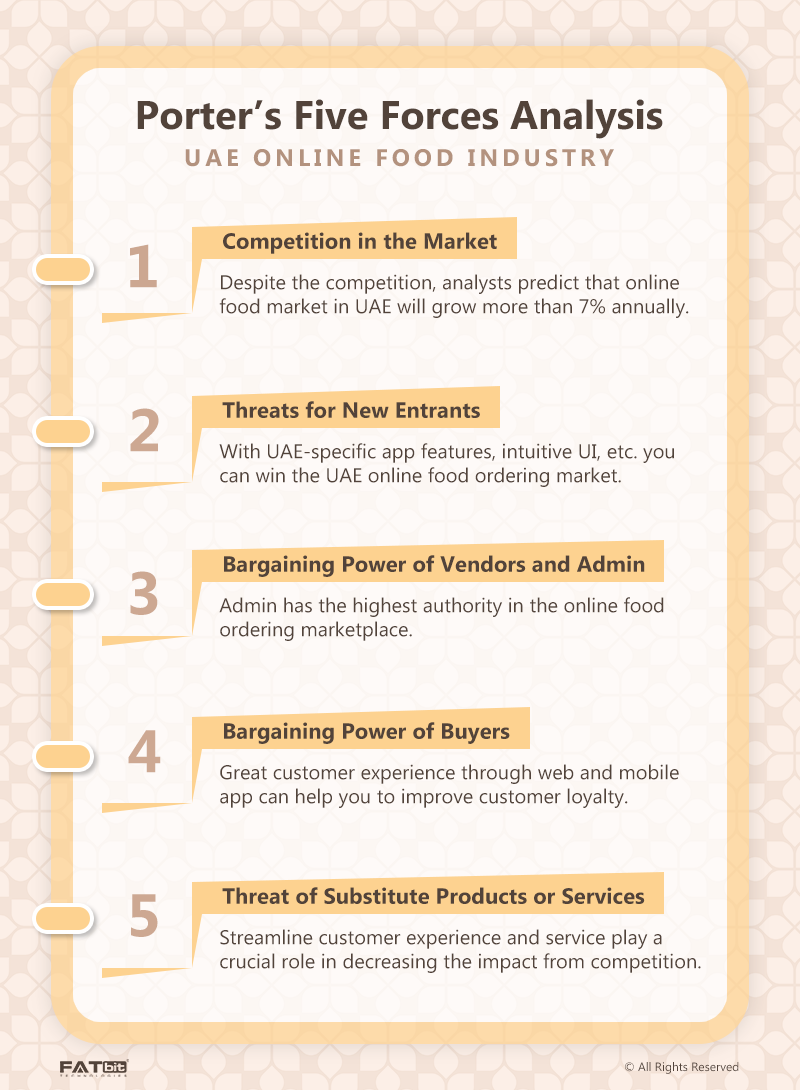 Competition
UAE is considered as a developing market for online food ordering and delivery sector. According to research conducted by MENA Research Partners, the food sector in the Gulf Cooperation Council (GCC) will grow more than 7 percent annually. UAE is the second-largest market for online food ordering and delivery after Saudi Arabia. It means there is a lot of potential in this e-commerce niche. With good quality and feature-rich food ordering and delivery mobile app, entrepreneurs can generate a lot of revenue and sustain a profitable business.
In spite of major brands' presence, the online food ordering and delivery market in UAE, especially Dubai and Abu Dhabi, has a favorable environment and high growth potential for new online food marketplaces and mobile apps. Further, opting for hyper-local marketing is a good option as it is still in a developing stage in UAE.
You can do competitor and business model analysis before entering the market.
Threats for New Entrants
Launching a business is one thing and building a brand image or gaining customer trust is another.
Still, many entrepreneurs are focusing on the US and European markets.
Satisfying customer experience and a perfect competitive strategy can always help in ranking your marketplace higher than the competitors. Further, a food ordering mobile app can make things easier for customers which leads to added trust and credibility.
Bargaining Power of Sellers/Vendors/Suppliers
As the owner or admin of the online food marketplace, you can set various rules that a vendor has to follow.
As the food niche is involved, a code of conduct is followed when it comes to the quality provided by vendors. Also, customers can see vendor reviews and ratings on the web and mobile apps that build the trust factor.
The vendors do not have too many options and are bound by the rules which clearly means that the bargaining power of vendors is on the lower side.
Bargaining Power of Buyers/Customers
The best part of the UAE's online food market is the non-availability of price-sensitive customers.
UAE consumers look for good quality food and great customer experience when ordering food through mobile apps.
If you win customer loyalty through your services, UAE consumers will order food just from your online food ordering and delivery web and mobile app.
Threat of Substitute Products or Services
There is no such threat from food retail outlets as the customers are clinging more towards online purchases (consumers are buying from mobile apps).
With a better quality of food and overall customer experience, you can easily overpass this threat.
Two Case Studies focused on Online Food Ordering on Mobile Platforms in UAE
28 out of 45 Students Use Food Ordering Mobile Apps: Business & Society Study
A study was conducted among college students living in Dubai. The purpose was to understand consumer behavior towards the use of online food ordering app services. It involved 45 students and contains important insights that can be used by the owners of the online food ordering web and mobile apps.

68 Percent of Restaurant Owners/Chefs in Dubai Said that Mobile Apps are Affecting the Business: KPMG UAE F&B Report
In its annual UAE report, KPMG examined the current state of the UAE's Food & Beverage industry. According to the report, online food delivery is the only segment that witnessed a remarkable growth in 2018. The penetration of food ordering and delivery apps was around 86 percent in 2018.
Following are some questions (mentioned in the report) asked to restaurant owners or chefs:

Top Online Food Ordering and Delivery Apps/Websites

Deliveroo
A London-based online food delivery company currently operates in more than 200 cities including UAE. It is one of the most famous delivery apps in Dubai with the standard delivery charge of AED 7.
Revenue: 129 million GBP

Uber Eats
A San Francisco based online food platform that has no minimum delivery requirements. It is also one of the few delivery companies in Dubai that allow booking food up to 5 days in advance.
Revenue: $1.5 billion

Talabat
It is the largest online food ordering company in the Middle East. More than 4,300 restaurants are registered on its website. The company operates across the Gulf Cooperation Council (GCC) and Jordan.
Revenue: $33 million
Ready to Build a Custom Food Ordering Marketplace Together?
Final Thoughts
Till 2018, only 5 percent of mobile app content was in Arabic. It's important for entrepreneurs to understand the UAE's consumer sentiments. Online food ordering and delivery web and mobile apps should be developed in the native language (Arabic) or it can be multilingual (both Arabic and English). Therefore, entrepreneurs can get an edge if they develop their mobile app or website in Arabic.