Fitness tracker app development has benefits for both sports and fitness companies as well as hospitals. To create one, it is essential to learn benefits, features, hardware components, and what pain points a fitness tracker app development solves. In this blog post, we will look at the points mentioned above.
Table of Contents
Use Cases and Benefits of Fitness Tracker Apps
Improves Brand Value for Sports Companies
There is more to fitness tracker apps than capabilities such as – use of sensors, community building, and others. An equal amount of emphasis is given to the brand which the fitness tracker app belongs to. Every minute spent in jogging, sleeping, exercising, and other activities, the app continually reminds the user of the brand. The constant reminder of the brand contributes towards delivering loyalty beyond reason. To elaborate loyalty beyond reason, consider the following examples of consumer behavior:
People waiting for multiple hours to buy a recently launched Apple product
Regular people using laptops or wearing clothes with stickers of brands
Investing in fitness tracker app development gives a unique advantage to brands in the sports industry. Moving beyond traditional marketing and creating an ecosystem that enables a brand to make people take action. Creating a fitness tracking app is just a stepping stone for a brand; the real benefit comes when the app becomes the most critical touchpoint in the customer-brand relationship.
Enables Healthcare to be More Patient-Centric
Many pilot programs are run by hospitals every year. The primary goal behind such programs is to embrace digitalization and make the service more patient-centric. Different pain-points are addressed by running such pilot programs. The primary pain-points addressed in such programs are:
Analyze the patient's vital signs in real-time remotely
Lower the hospital readmission rate
Decrease the number of emergency room visits
While such pain points can be addressed using different solutions, the underlying idea behind them is to provide healthcare services even before any problem surfaces. Fitness tracker applications play an essential role in identifying health decisions taken by a patient, which may evolve into a severe problem. Hence, adding timely value in healthcare.
Popular Fitness Tracker Device Types
1. Smartphone
Smartphone offers a balanced set of hardware components for the fitness tracking app to operate. Such applications enable the user to gain insights into the daily fitness activities performed. For example, a fitness tracking app can record information on steps walked, the number of hours slept, burned calories, and others. After recording, the next important capability of such an app is displaying the data in a visually pleasing way. Fitness apps can be developed to show data, data charts, maps, and others to show the progress made by a user.
2. Smartwatch
A smartwatch adds convenience in the life of a patient, fitness enthusiast, and others. Custom applications can be developed for Android or iOS-based smartwatches to address different pain points. Few such pain points include monitoring the cardiovascular health of a patient, urgent care required due to physical injury such as fracture, sharing patient's health data seamlessly with clinics, and more.
Essential Features of a Fitness Tracker Application
1. Exercise Detection
Fitness tracking apps come handy for people participating in different sports activities. For example, the app can know when a person is swimming or going for a jog. While the manual selection of sports activities proves to be useful but to add convenience, automatic detection through sensors play a critical role.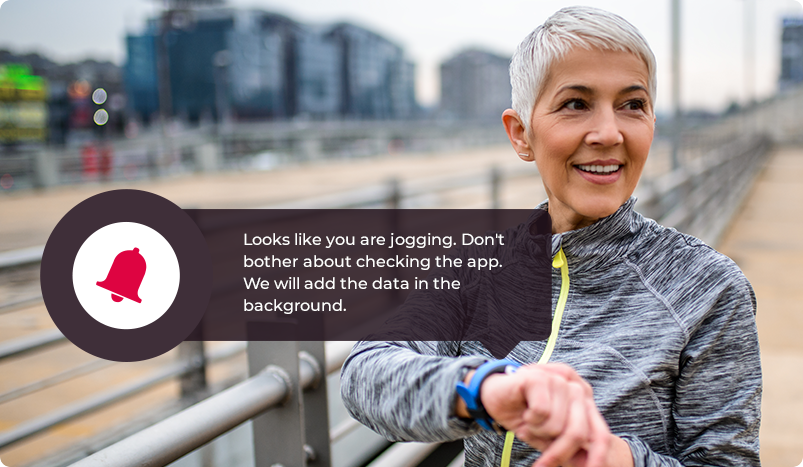 2. Step Counting
The step counting feature is the most basic requirement of any fitness enthusiast. Irrespective of which sports activity a user is part of, he is likely to monitor the daily steps key performance indicator (KPI). Business owners need to understand the importance of the step-counting feature and implement its fitness tracker app development.
3. Heart Rate Monitoring
As capabilities are added to mobile devices and wearables, more health monitoring benefits can be leveraged. One such capability is heart rate monitoring. Additional value can be provided to users who experience unusual changes in the heartbeat and receive irregular heartbeat notifications using sensors and advanced software capabilities.
4. Sleep Tracking
Often underestimated, sleep is perhaps an essential activity for any sports or general fitness enthusiast. Businesses operating in the sports industry can leverage this feature in their app and enable their users to – identify sleep patterns, monitor sleep quality, and more.
5. Music
One of the common behavioral traits among fitness enthusiasts and athletes is – listening to music while working out. Businesses should provide this capability along with their fitness tracker app to improve the overall user experience. As the music ecosystem is vast, the option to integrate a third-party music app using an application programming interface (API) can be explored.
Important Hardware Components for Fitness Tracking Apps

1. GPS
The use of GPS is not limited to people who enjoy running. This capability is leveraged by mobile apps that provide features for cyclists, hikers, and others as well. Nearly thirty satellites are used to know the exact position of the user. Later, this data is processed and presented in a visually pleasing way.
2. Heart Rate Monitor
While there are external devices such as chest straps that enable the fitness tracker app to monitor the heartbeat rate, effective use of this capability can also be leveraged through the use of smartwatch. Take an example of two widely popular smartwatches that are powered Android and watchOS by Apple. Few smartwatch models use optical sensors while others use ECG sensors.
3. Ambient Light Sensors
Fitness enthusiasts favor an odd time to practice their sport. Some may prefer to follow their fitness routine during the day when light is abundant while few may prefer early morning before sunrise or late at night after the sunset. Due to varying daylight, it may be inconvenient to view the screen when the daylight is too low or too high. Hence, ambient light sensors add value to the life of a fitness enthusiast.
4. Essential Group of Sensors
The essential group of sensors is an integral part of most fitness tracker app development. The three most important sensors are – accelerometer, gyroscope, and compass. To understand their working in a better way, here is a brief explanation:
Accelerometer – Used for measurement of acceleration.
Gyroscope – Identifies the orientation of the device.
Compass – Determines the direction.
Recommended APIs to Integrate with Fitness Tracker App
Apple HealthKit API
The Apple HealthKit API enables a business owner to add value to a fitness app that can be a source of health data. Furthermore, by making sense of the health data, a business owner can deliver an informed health and fitness solution to the end-user. The Apple HealthKit is designed in such a way that it respects the user's privacy and offers a secure way to collect, store, and share health data.
 The Framework
The Apple HealthKit framework can be used for several sub-divided tasks. For example, the framework can enable a fitness tracker app to collect the health data after seeking the user's permission, presenting the collected data in a visually pleasing way, and analyzing it. Finally, it offers advanced capabilities to bring the social element in the fitness app.
To leverage the Apple HealthKit framework in a meaningful way, it is recommended to include specific features in the fitness tracker app and start small. The framework enables the fitness tracker app to collect data from multiple sources. Hence, when a particular event like modification of data takes place, the framework can make the necessary changes outside the app.
Here are other important characteristics of Apple HealthKit framework:
To enhance security in the fitness tracker app, the Apple HealthKit framework does not allow a developer to declare custom data types of units. In addition to enhanced security, this adds value to the app by maintaining consistency in different areas to synchronize the data with other apps in a harmonious way.
The framework works exceptionally well within the Apple ecosystem. Apple iPhone and smartwatch work in sync when a fitness tracker app leverages this framework. This can further be explained by considering an example. As the Apple smartwatch has comparatively less memory space than the iPhone, the framework purges the old data on the watch to save the space.
The HealthKit framework makes extensive use of user permissions. For security reasons, the user can modify (accept or deny) permissions for each data type. The framework works in such a way that when the user denies permission for a specific data type, the app will consider that denied data type does not exist instead of knowing that it has been denied the access.
Encryption is one of the key highlights of the Apple product ecosystem. The same applies to the HealthKit framework as well. Due to the importance of health data, the information in the HealthKit store remains in encrypted form when the device is locked. For the fitness tracker app to function correctly, data can be written to the HealthKit store, which can be accessed by an authorized app.
Google Fit SDK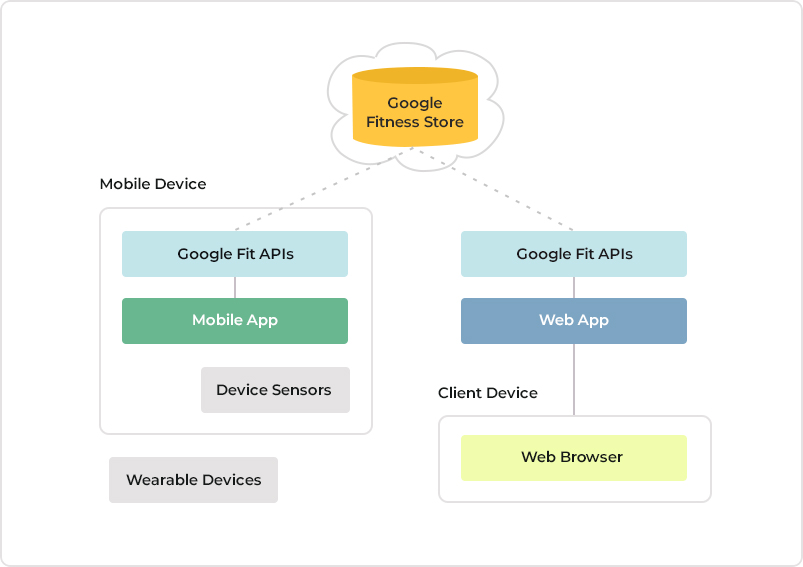 Components of Google Fit Architecture (Source: Google Fit)
Google Fit software development kit (SDK) adds multiple capabilities in a fitness tracker application. It enables an app to read data from a wearable device or sensor, access information gathered by other apps, retain data even if a device is upgraded, and others.
The Google Fit platform is an open ecosystem made up of four components, such as fitness store, sensor framework, permission and user control, and APIs. While the first three are straightforward, the fourth component, APIs, can be further classified into seven sub-components. The seven different APIs in Google Fit are – sensors, recording, history, sessions, goals, low energy Bluetooth, and config.
Get Consultation that can Improve the Success of your Fitness Tracker App
 Conclusion
A fitness tracker app enhances the brand value for a company operating in the sports industry and reduces hospital readmission rates. There are many uses of such apps. However, while creating an app, an entrepreneur may face new challenges. In such a case, consultation can be sought from a quality-driven mobile app development company like FATbit Technologies.