At FATbit Technologies, the endeavor to provide result-driven solutions, that are purpose-built to catalyze clients' success 一 defines us. 
Client requirements form the basis of our work. Analyzing growth drivers, and tailoring solutions in line with shared business objectives 一 has driven online business ventures for our clients and in the process given us satisfaction and recognition. 
We are proud to share that FATbit Technologies is listed as one of the top software development companies in India in Clutch's 2022 B2B leaders list with 18th Rank. This achievement bears testimony to our team's commitment as a premier solutions partner for clients worldwide.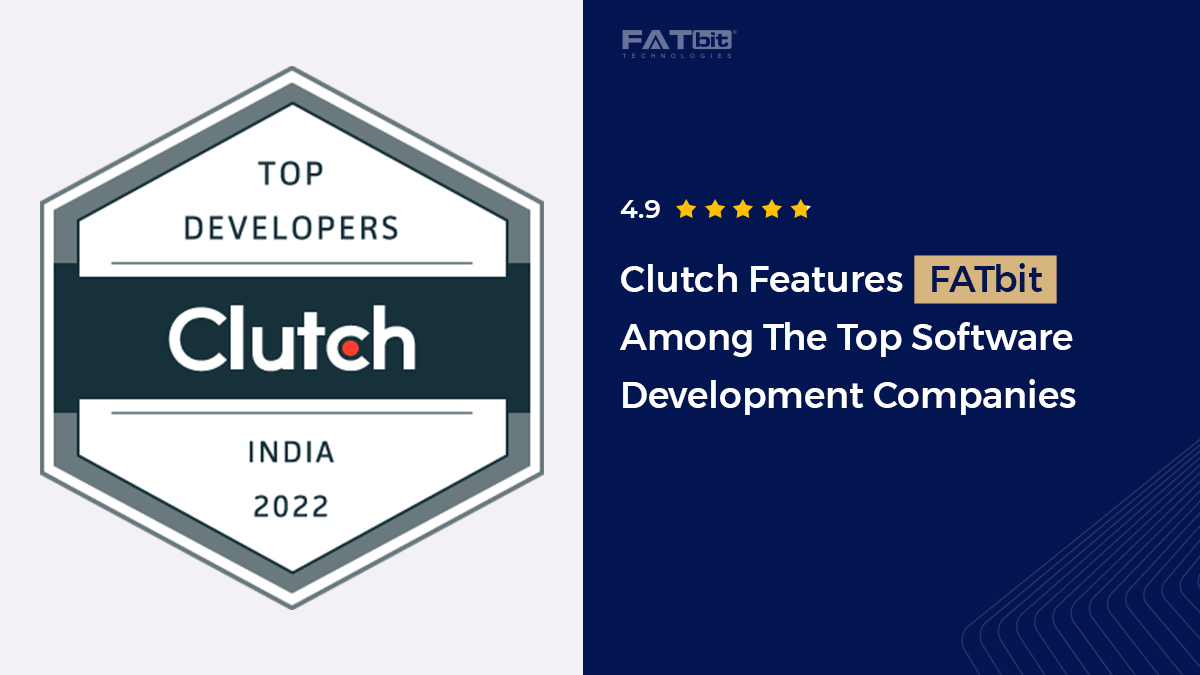 From commencing operations as a web technologies agency in 2004 to a trusted solutions partner of Fortune 500 firms, we have come a long way. 
Our team of 150+ experts strives to deliver end-to-end solutions for all eCommerce requirements.  Our in-house market-ready solutions, custom eCommerce development services, after-sales support, consultancy services, and more cater to individual business requirements. 
Awards from reputed and leading software review companies like Clutch inspire us and keep our team motivated. We've also received another five-star rated review on our Clutch profile. This particular project involved a B2B company that wanted to develop a platform that could connect restaurants with suppliers. As mentioned by the client when writing the review, they choose our standalone eCommerce multivendor software – Yo!Kart, because of our other reviews in addition to our cost and dedication to timelines.
Here are a few insights from the client review: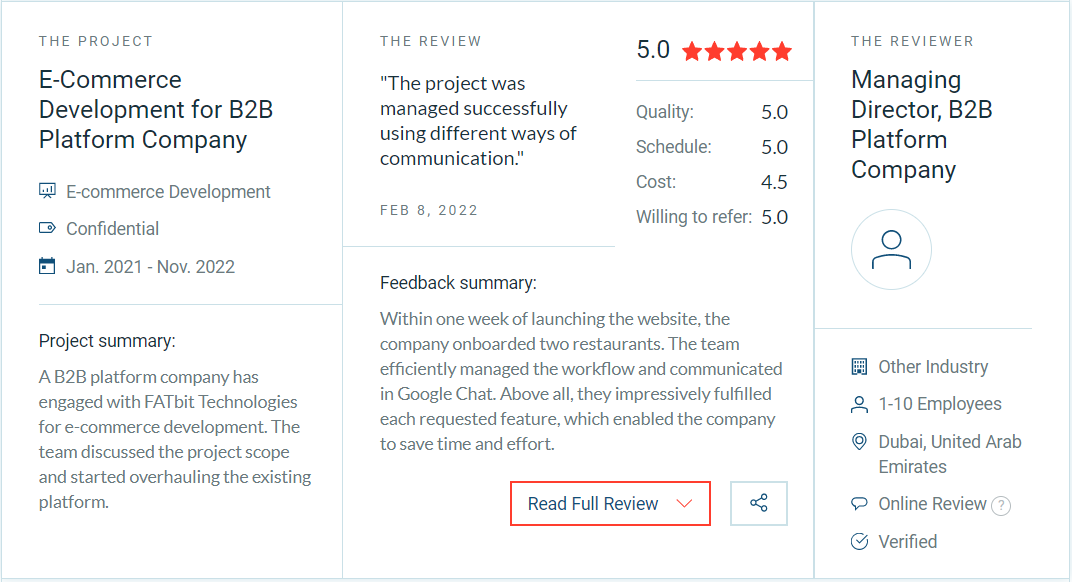 Right off the bat, this proves the power of these reviews to measure the quality of our products and services. Excellent reviews have given the transparency of our services to the clients and have helped us to gain traction via these additional channels. In order to get more details regarding how this project went, we encourage everyone to read the complete review on our Clutch profile.
Also, here is a snapshot of the internal feedback form submitted by the client.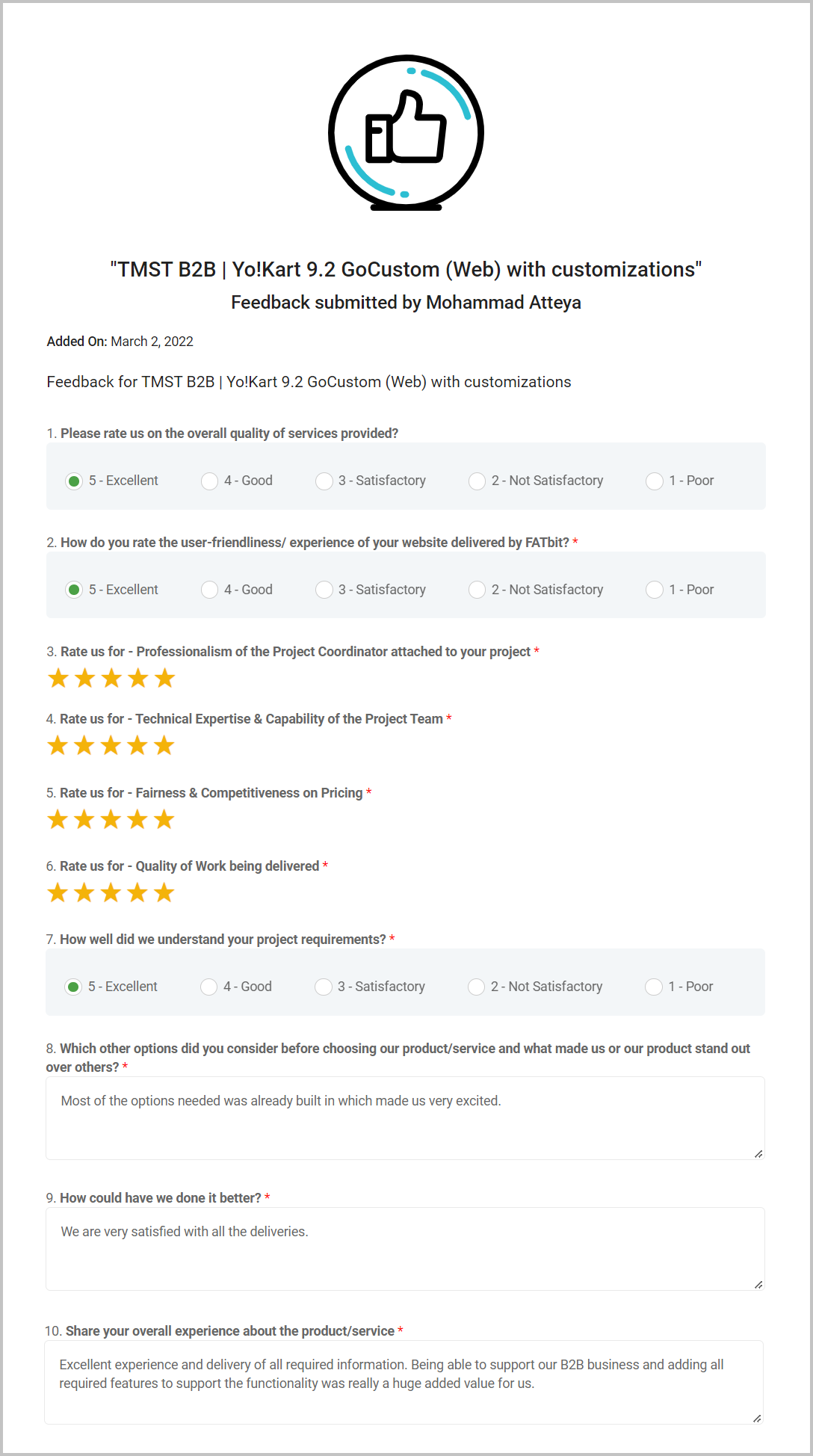 About FATbit 
FATbit Technologies is a custom software development company that implements Agile development to offer analysis-driven products and services. eCommerce is at the core of its services with more than 20 turnkey eCommerce marketplace solutions. The solutions are domain-specific and cover all popular eCommerce industry niches and can be adopted for B2B, B2C, D2C, P2P, and other business models 
Additionally, it provides custom CMS, MVP, platform migration, and business consultancy services. FATbit also offers Mobile apps development leveraging contemporary technologies. In business since 2004, it has been featured in The Telegraph, Inc., Entrepreneur, HuffPost, and more. Visit the website for more information on the services offered. Contact the team to get quotes on your projects or ask questions from the industry's leading professionals.
Domain-specific, turnkey eCommerce marketplace solutions to start, scale, and excel.