As the mechanization of agriculture gains momentum in both mature and emerging markets, there's a subsequent increase in demand for ag tractors and combines. The North American region witnessed a 20% and 7% production increase in ag tractors and combines respectively in 2021, compared with previous year's totals. It was a similar story in the rest of the world(16% & 7% increase for ag tractors & combines). Amidst this boom of production, various rental startups have aligned their offerings to suit the farmer's interests.
Table of Contents:
Farm Equipment Rental – Key Growth Drivers
The farm equipment rental market is certainly progressing at an upward curve. As of 2021, the global farm equipment rental market was valued at $45.82 billion and it's forecast to grow at a CAGR of 6.1% by the end of 2028. There are chiefly two key drivers for this growth viz.
– Cost effective use of equipment and by extension reduced financial burden on the farmers,
– Access to the new, advanced and wide range of equipment.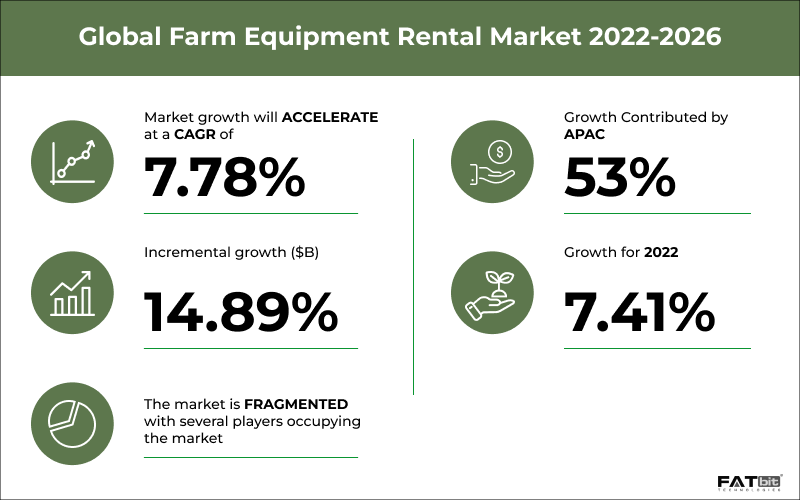 Affordable Cost
The cost benefits of farm equipment rental are manifold. Firstly, the cost incurred on renting can be written off on annual tax returns. Next, some categories of large equipment like forage harvesters, mower conditioners and tillage equipment cost a lot of money and it's difficult to realize profit from them in the short-term. Acquiring these equipment on rental is far more affordable.
Access to Advanced Machinery & Equipment
Majority of the farm equipment rental companies keep their equipment well maintained and that has its benefits in terms of farming output. Additionally, rental companies by means of long-standing ties or vast vendor networks are able to purchase new and advanced equipment at special pricing, which can then be made available to farmers on rental. This gives farmers a major technological edge.
Software Technologies & Their Role in Farm Equipment Rental Management
With eCommerce becoming the force to be reckoned with across all industries and market sectors, it's hardly a surprise to see businesses in the farm equipment rental market adopt the digital technology to manage their operations and adapt to the evolving needs of their clients. Making this digital transition often calls for an eCommerce platform, upon which you can build a system to execute all your online functions; this is usually referred to as a content management system. Before we dive into the specifics, lets' first have a look at how these rental software bring about operational efficiency:
1. Equipment Booking & Reservation
A farm equipment rental software provides customers with a self-service portal where they can search and view rental equipment availability and pricing in real time; a trademark characteristic of the eCommerce industry and one that's associated with increased levels of customer satisfaction. But sophisticated rental management software go beyond this traditional role. They can track multiple meter readings, which allows owners to charge customers an appropriate rate for an equipment, in case of over-usage.
Transparency of effective and expiration rental dates makes the booking and reservation process much more efficient. Customers can easily get the exact equipment as per their needs, minus all the confusion or miscommunication that's involved in the booking process.
2. Streamline Operations:
When you're operating a farm equipment rental business, you need to have quick access to details like assets' inventory, inspection, maintenance, and servicing. This wouldn't be ideal through a large, heavy logbook that's chock-a-block with all manner of entries that certainly lead to more confusion than resolution.
It's much easier to store and retrieve all this information on a software. You could even upload relevant documents like invoices, rental contracts, insurance and certificates of your farming equipment for future reference.
3. Reduce Equipment Downtime
Through advanced equipment/asset management features, crucial metrics like overall usage, depreciation, maintenance and repair schedules can be determined. Depending on an equipment's historical data, predictive or preventive maintenance can be scheduled.
Timely maintenance and repairs increase the lifespan of farming equipment and thereby increase your earning potential from rentals.
4. Reports & Analytics
Decision-making is becoming increasingly reliant on the availability of data and a farm equipment rental software provides plenty of that through real-time reporting and analytics.
Stakeholders can get their hands on data broken down by equipment type, OEM, model and even unique serial numbers. This enables executives to get a microscopic view into overall machines' usability, viz. which are most and least utilized.
This way, strategic financial decisions can be made such as by slashing pricing of low-utilized equipment and increasing that of high-utilized equipment.
5. Integrated CRM
Most farm equipment rental software come pre-integrated with CRM functionality. It provides sales reps a complete overview of customers' profile, their past orders, previous interactions and other helpful information to make focused and confident decisions to close deals. Moreover, businesses don't necessarily need to rely on internet connectivity to implement CRM as they come with interactive configuration and offline sync with the system as soon as connectivity is restored.
See how Yo!Rent manages key operations of a rental business
Key Capabilities To Expect in Your Farm Equipment Rental Software
Having considered different merits, we'll now take a look at the key capabilities that should be considered as you begin your search for a rental business management software.
1. Software That is Pre-Configured For Your Business Operations
Given farm equipment rental is a niche segment of the wider rental industry, it might not be advisable to 'plug and play' any random rental software package. Instead you should look for a solution that offers industry or niche specific templates as a first step. This way you can determine the functionalities that resonate with your business and increase operational efficiency as much as possible.
To sum up, it's best to opt for software that offers you advanced technology along with pre-configured packages. Right away, this leads to quick deployment time as there's no coding involved in deployment. At the same time, operators find it much easier to manage such software.
2. Software That is Adaptive To Dynamic Changes or Disruptions
Rental industry is continuously evolving and while ordinary software with its asset management and quote to invoice might be helpful to some extent, it can't get you through when stakes are high. Therefore, it's advised to opt for a rental software that offers optimum flexibility. This could mean implementing mobile solutions, incorporating new capabilities, expanding offerings, increasing locations, strengthening ties and moving to new online channels.
It's true that predicting future trends or demands can be challenging and even difficult, how a given software will address those uncertain demands. However, software built on a modular approach and a reliable technology base, with easy access to information should fit the billing. It can ensure stability with expansive functionality and flexibility to accommodate any future needs or disruptions.
3. Software That Offer High-Grade Security & Seamless Integration
Any type of customer data is sensitive information and it's something that needs to be kept secure at all times. At the same time, increased security shouldn't become a hindrance to ease of information sharing(role-relevant). For this particular reason, software built with role-tailored security should be the obvious choice as they allow seamless flow of information with proper filtering.
Moving on, how well your software handles integrations should be a point for discussions as the rental landscape is constantly evolving with mobile apps, self-serving portals and IOT becoming the norm. It's crucial to know your software has the capability to handle such integrations.
4. Software That Allow For Innovation & Improving Customer Experience
As discussed earlier, software nowadays is expected to have potential for innovation with mobile apps, customer portals and IOT. Mobile apps make light work of managing various types of equipment maintenance and simplify customer documentation for field technicians. With IOT, you can track the exact location and usage of your rented equipment through metered readings. Lastly, customer portals keep customers apprised with listed equipment and their real-time data.
Interested in a Flexible & Industry-specific Software For Farm Equipment Rentals
Conclusion
We've seen through the course of this blog that software with advanced technology and feature offerings immensely improve the operational efficiency of farm equipment rental businesses. Moreover, software that is flexible and built on a modular approach can be leveraged to tackle the evolving landscape of the rental industry. At FATbit Technologies, we help rental businesses meet their technology needs through our dedicated, multi-niche rental software – Yo!Rent. To learn more about the software, click here.