The online rental industry is proliferating into diverse niches like automobiles, heavy equipment, tools and fashion. With this development, there is a rise of online marketplaces and stores to rent out numerous household items, recreational products and utility equipment. Where launching an online store for any type of business used to be a daunting experience a few years ago, no code software has simplified the task for all entrepreneurs.
In this article, we have shed light on what is no code development and made a fair comparison between no code and traditional software development to help you find the better option.
Furthermore, we have listed the types of no code software you can select to build an online rental marketplace.
Table of Contents
What is No Code Software Development?
The no code software development approach refers to the development method that requires minimum to no programming skills, for example, building the software using form field options or a drag and drop builder. It is perfect for those entrepreneurs who have a clear understanding of their requirements, business workflows and payment methods but lack the necessary programming skills to develop a full-fledged source code.
No code development approach works in a simple manner and adheres to the concepts of abstraction and encapsulation in OOPs to ensure rapid delivery. While the concept of abstraction conceals the incomprehensible and irrelevant processes from the entrepreneur, encapsulation refers to the concept of binding important data blocks together so that a single input from a GUI (Graphical User Interface) is enough to update the source code.
What Makes No Code Software Development Highly Relevant in 2023?
With advancements in technology, adapting to the latest technology makes businesses highly agile. For rental businesses, using the no code software development is more logical because of various reasons:
1. Time Saving
In a recent 2022 business building survey, McKinsey found out that 74% of customers want product availability to be shown online. Meeting this expectation requires rental businesses to have an online rental store and no code development is the fastest way to do so. It significantly reduces the Time-to-Market (TTM) by providing a tried and tested source code that requires no to minimum changes. Moreover, documentation and support is readily available for onboarding.
2. User-Friendly
A no code software is developed with a user-centered approach to ensure ease of deployment and match the expectations of modern day users. It is basically a prototype with next level UI/UX capabilities that requires basic inputs and administrative settings for quick deployment. As a no code software is developed incrementally after taking early adopter feedback, its GUI is more intuitive and user-friendly for smooth interactions.
3. Cost-Effective
The traditional route to software development is inclusive of extensive planning, consulting, and hourly development rates. All of them are heavily cost-inclusive and vary on multiple things. In contrast, no code development does not require programming expertise or resources, It is a tried and tested solution which eliminates factors like hourly development rates, in-depth business analysis and testing. This makes no code development highly cost effective.
4. Easily Accessible
No code development solves the problem of knowledge gap and accessibility. Both technical and non-technical users can develop software with no code development and give shape to their different business perspectives. Some no code solutions allow full customization, which is either managed by API integration or low code programming, all while keeping the integrity of the no code development approach.
5. Business Specific
No code software is expertly developed after conducting a thorough research of the targeted industry and resolves numerous consumer pain points. Due to this, a no code solution is very business specific. Today, entrepreneurs can find no code solutions for their rental marketplace startup, cab booking starting, food delivery startup and more. Thus, opting for no code development in the rental industry is more practical than selecting the traditional development approach where you will be first required to analyze the market and do logic designing.
To sum up the difference that no code development makes in one go, have a look at the comparison table below:
| | |
| --- | --- |
| No Code Software Development | Traditional Development |
| More accessible considering it does not require programming skills | Requires programming skills, limited to technical people only |
| Is less time consuming as a base is always ready | Involves everything from initial planning to design, development and testing |
| Is very cost effective | Hourly development rates make traditional development cost-inclusive |
| Designed with problem solving capabilities | Needs efficient planning and development to target user pain points |
| Tested and tried UI/UX design | UI/UX design needs to be developed from scratch and may require enhancements |
| Documentation and support readily available | Documentation is developed separately |
Have Any Query to Ask Regarding No Code Rental Solution?
Selecting a No Code Software for Developing an Online Rental Marketplace
While there are some dominant no code development options for sales operations, such an option is currently missing in the rental industry. However, there do exist no code solutions that are very capable and feature-extensive to support and streamline end-to-end rental operations. You can take assistance from the following points to select the right solution.
1. Types of No Code Solutions
There are two types of no code rental solutions available in the market today:
Self-Hosted Solutions:
Self-hosted solutions give flexibility to the entrepreneur to select a fast or more secure hosting server. He can also host the software on an on-premise server. The key advantage of using a self-hosted solutions is that it gives the entrepreneur complete control over the software. As the rental software is installed on the entrepreneur's own choice of server, there are no monthly recurring costs.
SaaS (Software as a Service) Solutions:
Rental SaaS solutions are installed on the software provider's very own servers and available as a monthly subscription to entrepreneurs. This means that neither do they get full control over the solution nor the choice of selecting a more secure server. Moreover, the storage capacity available is also dependent on the selected monthly plan. However, the entrepreneur can upgrade his plan anytime and benefit from multiple broken down monthly charges.
| | |
| --- | --- |
| Self-Hosted Solutions | SaaS Solutions |
| Hosted on the business owner's choice of server | Hosted on the software provider's server and available as a monthly service |
| Come at one flat fee | Have never-ending monthly recurring charges |
| Cost effective in the long run | Cost-effective in short term, but expensive in long term |
| Entrepreneurs get access to full features right from the beginning | SaaS solutions are designed in a way that the entrepreneur has to upgrade in order to get the most from the solution |
| Difficult to compete with self-hosted technology | SaaS are being used by masses, making it easy to copy and compete with the technology |
| No per transaction commission | Some SaaS solutions have per transaction commission rates |
Self-Hosted vs SaaS: Which No Code Solution is right for you? 
If you want more security against cyber crimes or want a fully-enabled solution, then self-hosted solutions are right for you. On the other hand, if you are a solopreneur or targeting small markets, opt for SaaS solutions. Do note that while SaaS solutions look more affordable at first, they are more expensive in the long run and require one to upgrade to the top package in order to access full functionalities.
2. Features to Look for in a No Code Rental Marketplace Solution
What makes rental software solutions different from sales based solutions is their features and functionality. Due to an entirely different business model, sales based no code solutions cannot support rental operations.
For example, just to accept rental orders, your marketplace needs to have an option to accept rental date inputs. Placing the 'add to cart' button alone in this case won't work. Likewise, your solution needs to have options to manage rental security and verify documents. The majority of sales based no code solutions lack these features.
Along with the aforementioned features, there are various other important rental features that you should consider to select a no code rental marketplace solution. We have made a list of all necessary features below:
Booking Calendar:

A feature to accept rental date inputs. It 

also assists in preventing double booking, showing product availability and invoicing.

Rental Security Management:

The option to collect rental security and use it for reimbursing damaged equipment.

Document Verification:

The document verification option on a no code rental marketplace is important to collect and verify identity proofs, address proofs and any other statutory documents.

Product Inspection:

An option to inspect rented equipment and report any damages or issues to the marketplace admin.

Maintenance Buffer:

A buffer period between two rental duration for the maintenance and surveying of returned equipment.

Late Cancellations Management:

An option to manage late cancellations by defining tiered cancellation periods and penalties. Late cancellation penalties can also be deducted from the rental security. 

Overdue Returns Management:

An option to define tiered late returns period and levy respective penalty charges from the rental security.

Rental Add-ons:

Rental add-ons option in a no code rental software will allow the entrepreneur to sell complimentary add-on services and products. They also act as an additional revenue stream.

RFQ Management:

Some rental options can be very complex, including different rental duration for various products. To support such orders, an RFQ management option is required.

Discounts Management:

On an online rental marketplace, business owners can provide various types of discounts such as flat rate discounts, percentage discounts, bulk volume discounts and rental duration discounts.

Separate Seller Registration Form:

Apart from custom sign up, a rental marketplace should have a separate  vendor registration form.

Minimum Withdrawal Interval:

The option to select a minimum interval period for vendors to withdraw balance from their ewallet.

Minimum Withdrawal Limit:

There should also be a minimum threshold limit on a rental marketplace that the vendors should reach before being able to withdraw their balance.
Check Functionality of a No Code Rental Solution
How YoRent Helps in Creating No Code Marketplace?
YoRent is a next-gen rental marketplace software that automates the daily operations of a rental business. From taking orders to managing inventory, returns, vendors, payments and marketing, Yo!Rent is highly capable of dealing with your numerous rental business use cases. Furthermore, being a self-hosted solution, Yo!Rent is available at a flat rate pricing which makes it highly suitable for growing businesses. Some other benefits of Yo!Rent are:
It is a fully scalable no code solution. With its unlimited listings, user profiles and transactions, Yo!Rent can support your rental marketplace operations at all stages of growth.

Yo!Rent is built with an industry specific approach. After analyzing and encompassing all popular rental niches, Yo!Rent has been divided into four primary industry specific solutions, which are multi-niche rental software,

equipment rental software

, fashion rental software and automobile software. These primary solutions can be used to launch a rental business in all types of rental niches like car rental, truck rental, furniture rental, AV equipment rental and more.

For targeting diverse audiences, YoRent comes with multi-lingual and multi-currency support. Both can be used to target non-native English speaking audiences.

At one-flat fee, business owners also get a lifetime usage license and 1 year of free technical support including training, documentation and bug fixes.

Along with the rental model, Yo!Rent has full functionality to support sales operations as well. Meaning, it gives business owners the flexibility to lend and sell products on a single marketplace.

Yo!Rent comes with 20+ pre-integrated payment gateways that simplify payment solutions for both the business owner and customers.
Click below to see All Features of YoRent.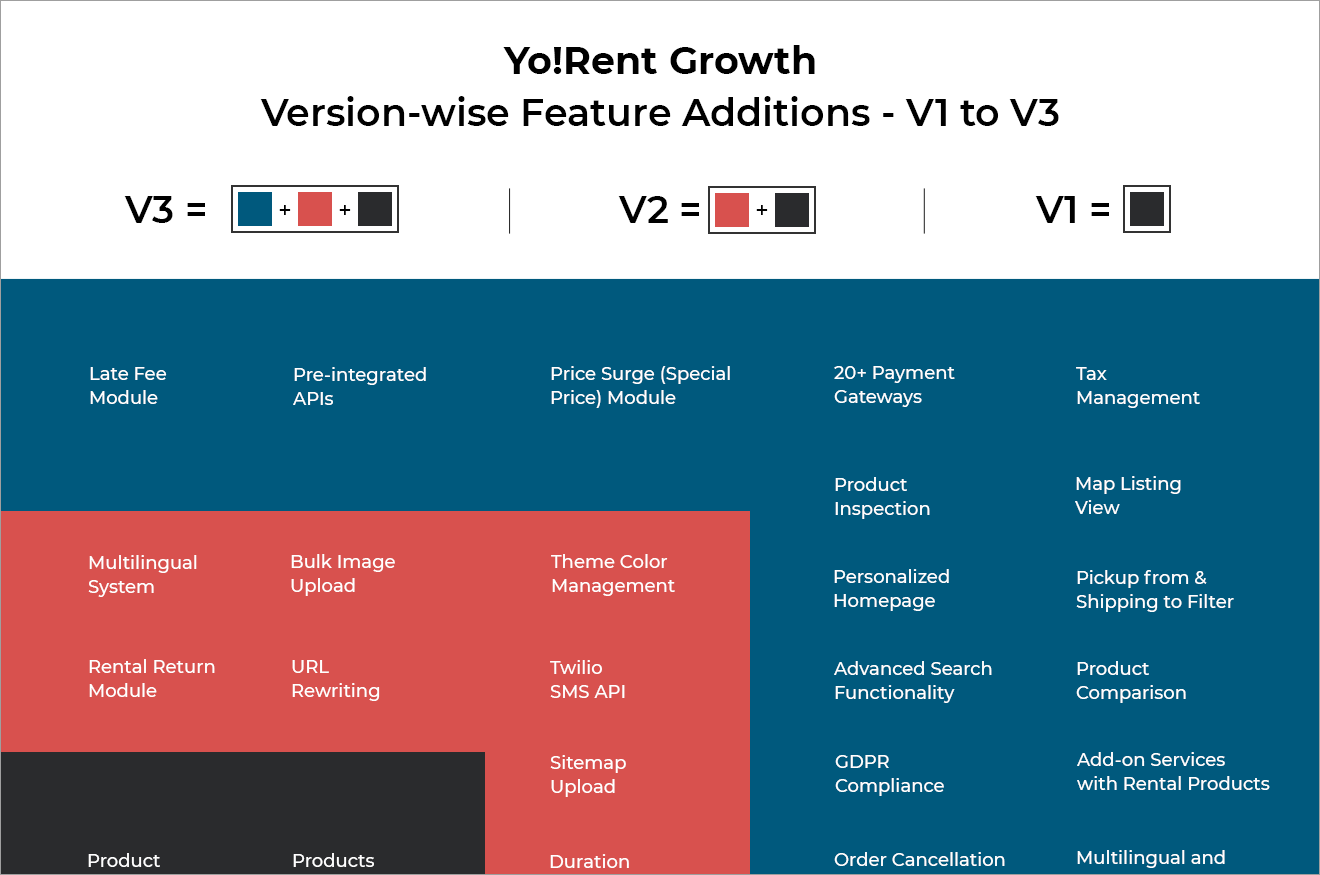 Conclusion
No code software development methods have helped thousands of businesses in materializing their online business ideas. Even in the rental industry, no code solutions are powering highly advanced rental stores. Major reasons behind the popularity of no code solutions are their increased accessibility and cost effectiveness that even allows non-technical business owners to create highly-functional online stores. If you begin with the no code software development method today, you can create and launch your online rental marketplace in less than a month.