The emergence of the Omicron variant of Covid-19 is driving many people across the Gulf Cooperation Council (GCC) to turn to e-commerce platforms in getting their essential needs met. e-Groceries have witnessed an unusual spike in sales as people prefer to stay indoors due to fear of contagion.
A recent study conducted by the Arabian Business, the searches related to the online grocery rose to a massive 560% between January and March in the UAE.
As per the recent reports by RedSeer Consulting, grocery is the most exciting e-commerce category observing over 300% spike in daily order volume in the UAE and Saudi Arabia.
The e-groceries market is currently valued at $200 million in the GCC and Egypt, accounting for a minor 2.4% of the overall e-commerce market, leaving a lot of space for potential growth.
GCC's Consumer Habits Post Coronavirus
A survey conducted by Kearney revealed that GCC's consumers have increased their online spending on groceries during the crisis. The management consulting company surveyed 1,000 consumers in Saudi Arabia & the UAE and almost 80% of respondents have reported a shift in their shopping habits. In addition to that, more than one half of the UAE residents have stated their intention to maintain the altered habits even after the pandemic subsides. However, with the rising omicron variant of Covid-19, it can be assumed that the pandemic will not fade away soon. Also, more than two-third of the Saudi Arabians are expected to continue with their online shopping habits after Coronavirus.

According to another survey by Statista, the usage of online shopping amongst respondents has seen an upward trend in the Middle East and North America since the COVID-19 outbreak.
Kearney's retail leader Debashish Mukherjee stated in an interview: "The COVID-19 outbreak has reshaped the consumer's online shopping habits. This sudden upsurge will undoubtedly change the future of the grocery industry by driving a resurgence in grocery stores across the gulf countries."
Types of Grocery Business Models in GCC
There are three types of grocery business models that the grocery companies are using in GCC:
Omni-Channel Model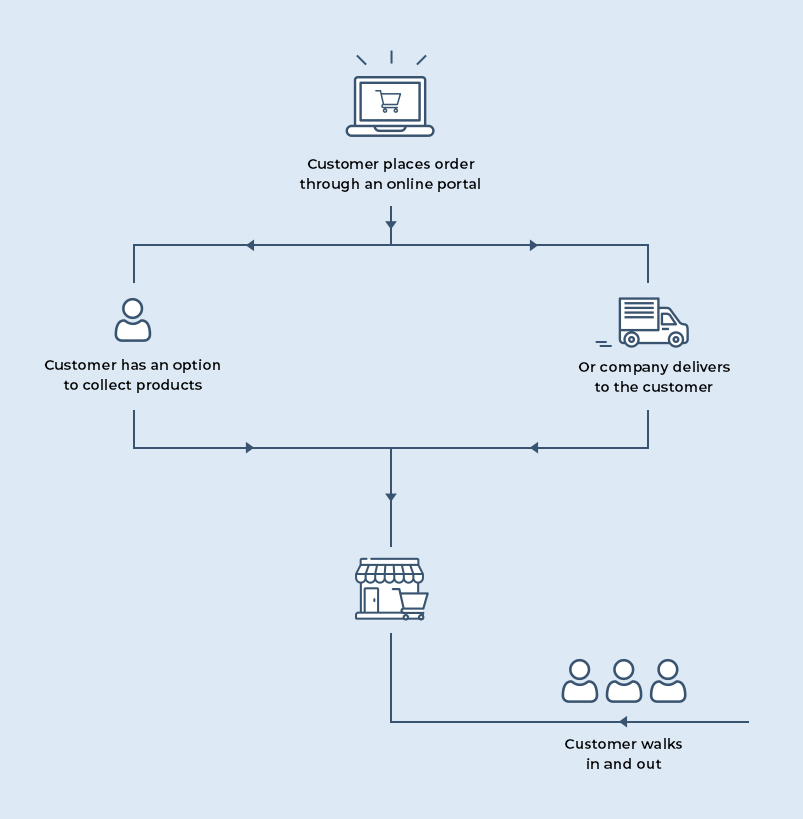 It is a multichannel approach that provides customers with a fully integrated grocery shopping experience across GCC by uniting user experiences from mobile-browsing to brick-and-mortar grocery stores and everything in between.
For example: Gourmet, Carrefour, and e-baqala

Pure Play Model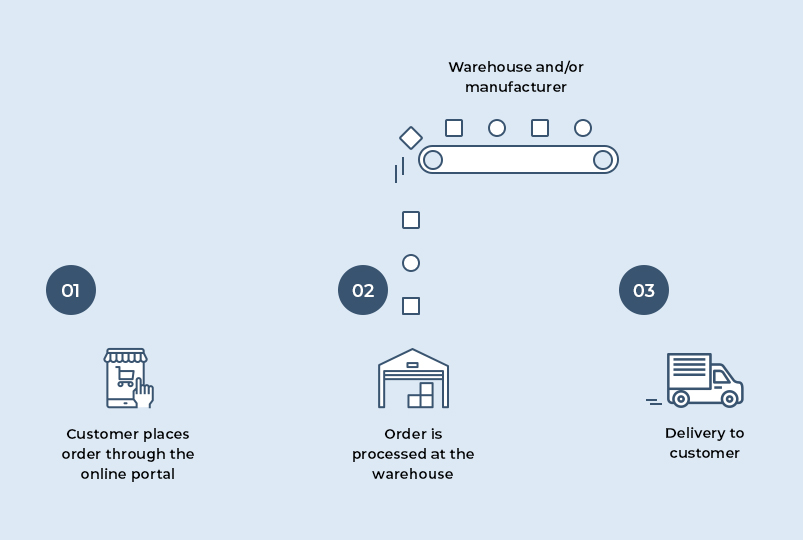 In this business model, an eCommerce grocery company has complete control over logistics and the entire grocery value chain from farm to fork, connecting sellers and customers.
For example: Trolley.ae, Suncart, and The Grocery Shop

Marketplace Model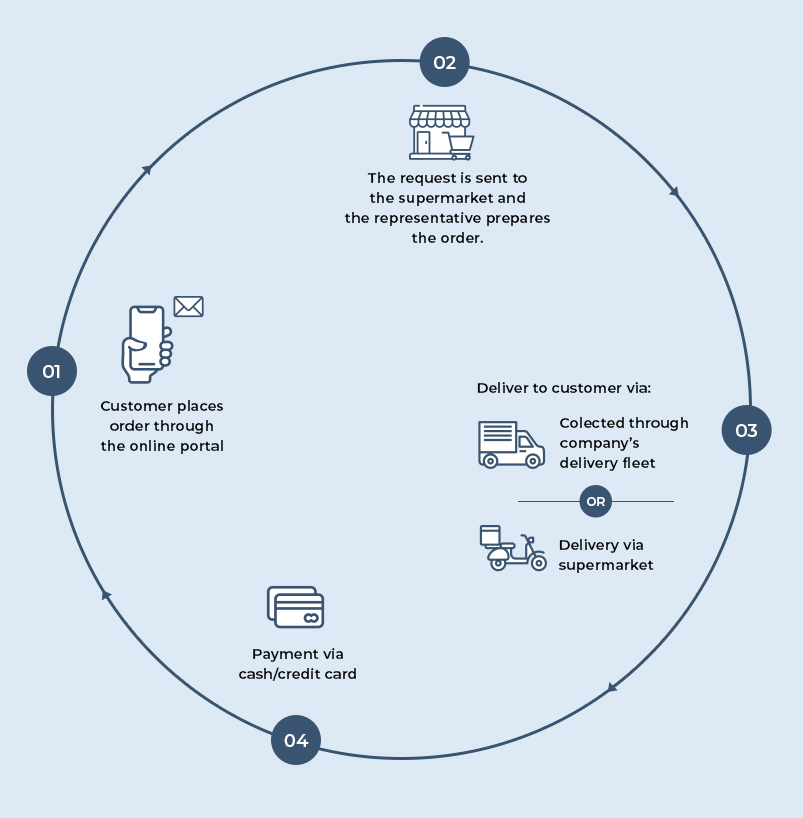 An ecommerce grocery marketplace model fulfills customers' orders on the basis of partnerships with local convenience stores and hyper-local markets through a take-rate model.
For example: elGrocer, Instashop, and Talabat

Country-wise Segregation of Grocery Business
1. Online Grocery Business in UAE
Market Overview
The number of online grocery orders increased at a CAGR of 36.1% from 2016 to 2019.
According to Statista, the share of respondents who have done online grocery shopping in UAE was 53% in 2016.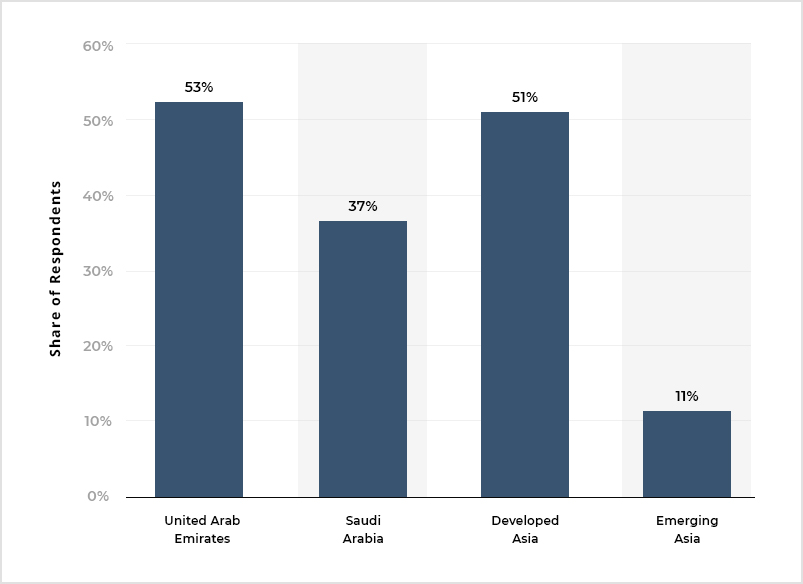 The number of online grocery shoppers was 32.5% of the total population in 2019.  

In the present scenario, more than 50% of the population prefer to buy groceries online.  

The number of online grocery retailers increased at a CAGR of 7.10% from 2013 to 2018.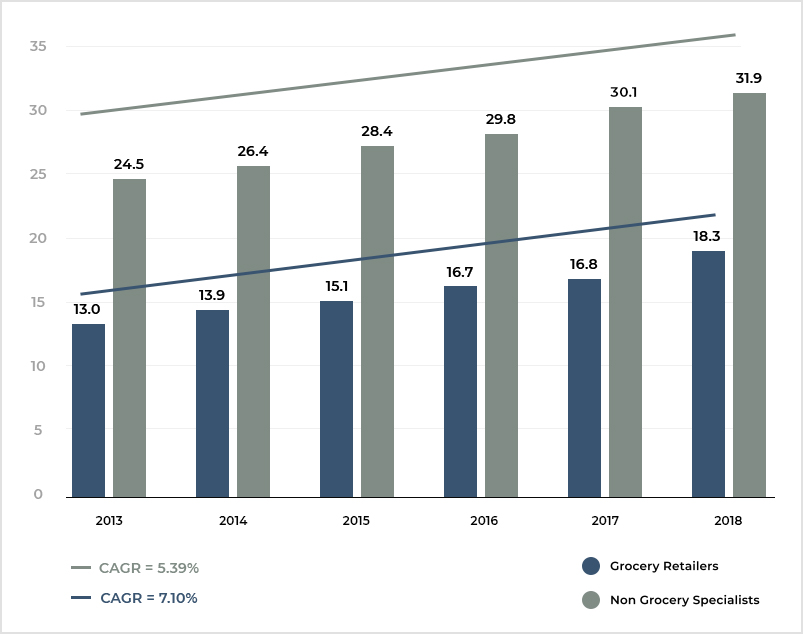 Coronavirus Impact
UAE's eCommerce landscape experienced a visible shift in the market share of online grocery retailers amid Coronavirus. The overall volume of the online grocery orders is expected to grow between 80 to 100 % in 2020 as compared to the previous year. The penetration of online grocery shopping has doubled in the UAE with almost 49% of the online grocery shoppers increased their online grocery spend since the lockdown began.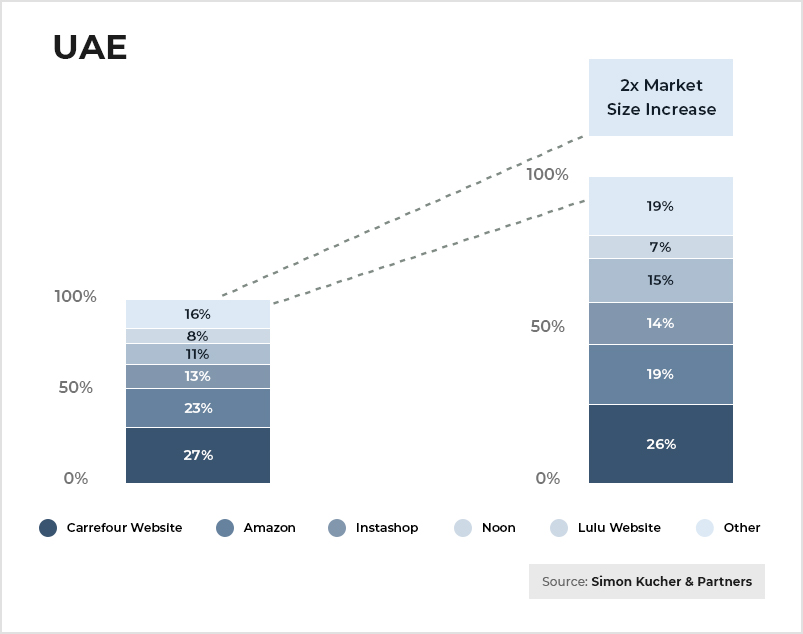 Future of Online Grocery Shopping in UAE
From the above-written statistics, it is clear that the online grocery business in the UAE will thrive in the coming future. The online grocery market is expected to grow to a CAGR of 27 % between 2019-2025 in the UAE. According to Majid Al Futtaim's CEO Hani Weiss, "More people will be looking to purchase grocery products online in the UAE and there will be a drastic increase in the number of grocery shopping apps post Coronavirus."
Leading Grocery Players in UAE
El Grocer
El Grocer is one of the key players among the online grocery delivery companies in UAE that allow residents to order grocery products from the nearby stores with their grocery delivery app.
Carrefour
Carrefour is a French multinational corporation providing a seamless shopping experience to customers across the world since 1958. The company launched in 1995 in Dubai and currently operates 28 hypermarkets & 43 supermarkets in UAE. During COVID-19, Carrefour saw a 59% increase in new online grocery customers.
2. Online Grocery Business in Saudi Arabia
Market Overview
The online grocery market in Saudi Arabia reached $41 billion in 2018.

According to PayFort, online grocery startups witnessed 35% monthly growth in their grocery business in 2016. 

The share of e-grocery penetration of Saudi Arabia is 0.30% and is expected to grow in the future.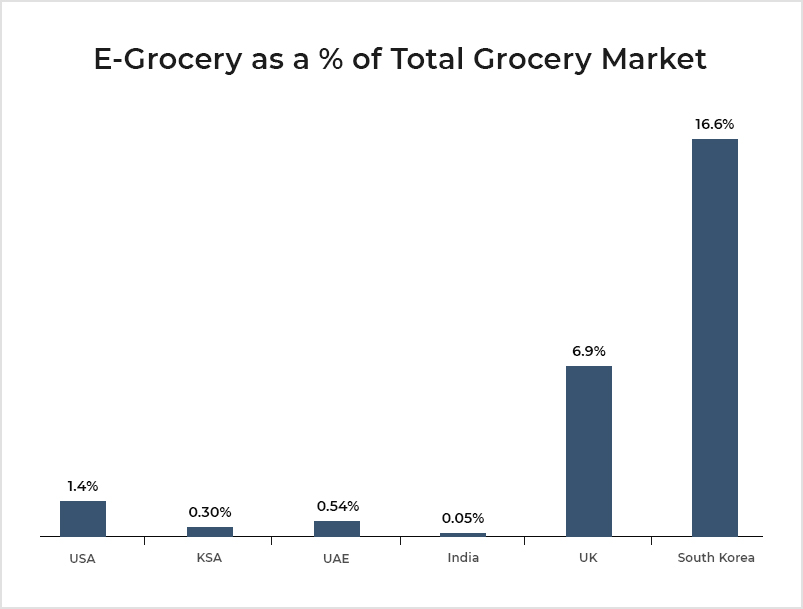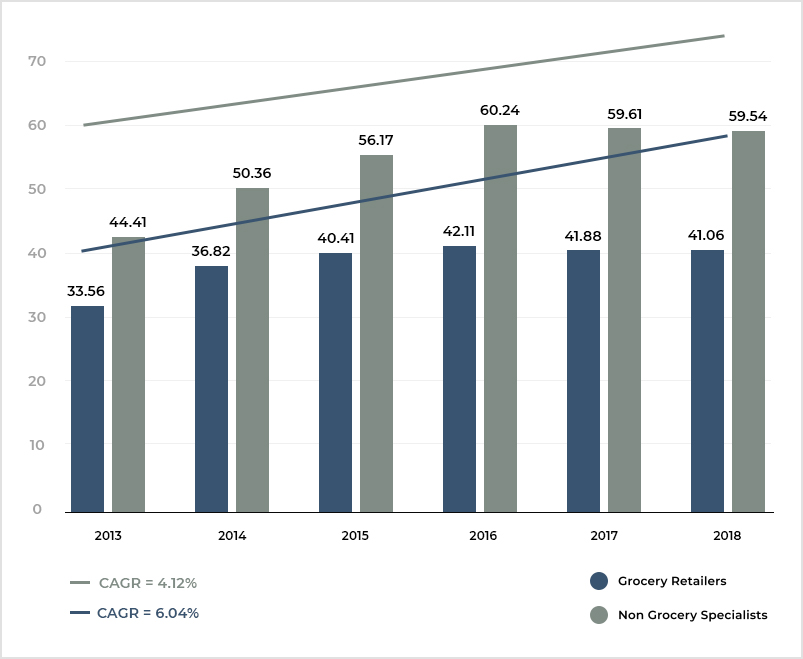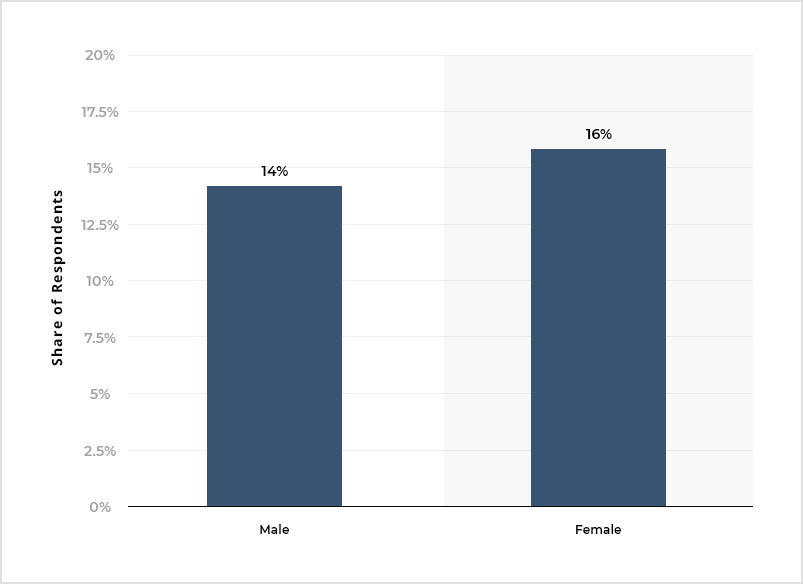 Coronavirus Impact
Many people in Saudi Arabia have drastically ramped up their online purchases of grocery products due to Coronavirus. Almost 55% of the population purchased grocery items online in April according to a report by Food navigator-Asia. BinDawood stores saw a 50% growth in their order values and a 400% increase in their app installations since COVID-19.  
Future of Online Grocery Shopping in Saudi Arabia
Kearney, a global management consulting firm, has revealed that 95% of Saudi Arabia consumers have shifted their shopping habits in response to the lockdown. A local Grocery delivery app, Nana Direct's CEO believes that the sudden shift in consumer behavior will sustain post-pandemic and leads to the rapid growth of e-grocery in Saudi Arabia.
Leading Grocery Players in Saudi Arabia
Souq.com
It is one of the largest eCommerce platforms in the Arab world founded by Ronaldo Mouchawar in 2005. Souq.com is a subsidiary of Amazon and currently acting as Amazon's arm in the Middle East Region.
Nana Direct
Nana Direct is an online grocery platform established in 2016 that provides doorstep deliveries of groceries and other home essentials to the people residing in Saudi Arabia.
3. Online Grocery Business in Bahrain
Market Overview
The eCommerce industry in Bahrain is expected to register significant growth due to increasing awareness among the population of the internet.

Revenue in the eCommerce market is expected to show an annual growth rate of 7.1% by 2024.

According to Statista, eCommerce market revenue in Bahrain is projected to reach USD 348m in 2020.
Coronavirus Impact
Online grocery stores have registered a surge in online shopping for groceries in Bahrain. The demand for the use of online stores in Bahrain increased by more than 20% during March. Amjad Puliyali, CEO of Baqala, stated in an interview that cart value per person of the shopping portal has doubled in March. Approximately a thousand grocery retail stores in Bahrain moved online to sell their products during the Coronavirus crisis.
Future of Online Grocery Shopping in Bahrain
The grocery market dynamics are more than enough to indicate a massive potential for growth in the online grocery market in Bahrain. An increase in the purchasing power of the population and consumer shift towards modern concepts of retailing is further expected to foster the grocery market growth by 2025.
Leading Grocery Players in Bahrain
Get Baqala
Get Baqala is an eCommerce grocery delivery platform that enables shoppers of Bahrain and Saudi Arabia to buy online groceries with utmost ease and convenience. 
Talabat
Talabat is one of the largest online food ordering and delivery platforms that operate across GCC regions. The company was founded in 2004 by a small group of entrepreneurs in Kuwait.
4. Online Grocery Business in Kuwait
Market Overview
The internet penetration in Kuwait was 98% in 2017 which contributed a lot to the growth of the e-commerce sector in the country.

Kuwait has one of the highest concentrations of international retailers in the GCC. 

As of 2018, the country enjoys one of the highest per capita income in the world at USD 34,244 as compared to the global average of USD 11,297. 

According to an online shopping behavior study conducted by Mastercard, over 32% of the Kuwaitis did online shopping in 2014.
Coronavirus Impact
The traditional Kuwaiti market has shifted to digital since the COVID-19 outbreak in the country. Many local grocery stores in Kuwait have started building their mobile apps and activated social media accounts to sell and promote their products online. To practice social distancing and avoid social gatherings, the cooperative societies have also begun to deliver groceries through online ordering services.
Future of Online Grocery Shopping in Kuwait
According to Euromonitor, Kuwait's retail market is set to capitalize on the rise of consumerism in the coming days. Though market penetration of modern supermarkets and hypermarkets is lowest in Kuwait among other GCC regions, the situation is changing in the current scenario. Online grocery delivery players like Lulu and Carrefour are expanding their presence in the country amid Coronavirus. Also, the revenue generation from online grocery stores is predicted to grow at an astonishing rate.   
Leading Grocery Players in Kuwait
Taw9eel
Taw9eel is a Kuwait-based electronic eCommerce company with local sales and logistics offices situated in Riyadh and Dubai. It is the largest online retailer in Kuwait selling a wide variety of goods, groceries, jewelry, perfumes, electronic appliances, etc. to the people across GCC.
Lulu
Lulu Group International is a multinational conglomerate company headquartered in UAE that operates a chain of hypermarkets and retail companies. It is one of the largest retail chains in Asia and is the biggest in the Middle East with 188 outlets in the Gulf Cooperation Council (GCC) countries.
5. Online Grocery Business in Qatar
Market Overview
With more and more people purchasing daily goods online, e-commerce grocery shopping has been on the rise in Qatar for the past couple of years.  

In 2017, the eCommerce market grew by 14% as compared to the previous year.

The average eCommerce spend per user was 3453 USD in 2018.
Coronavirus Impact
According to recent reports by the Gulf Times, the grocery retail sector is performing well in Qatar amid COVID-19. With the rising demand for delivery of grocery items, numerous delivery apps have come up to provide ordering & delivery services to the nearby residents. Suncart. Getit, Beelivery, Jeebline are some prominent players jostling to create space for themselves in Qatar's fast-growing eCommerce grocery market in this pandemic situation and may continue to grow even after the rise of the omicron variant of COVID-19.
Future of Online Grocery Shopping in Qatar
With a high-income population, strong IT infrastructure, and a high level of smartphone penetration, online buying is set to grow exponentially in Qatar. The country's grocery market is expected to witness a sharp double-digit growth in the coming years. The combined size of e-commerce transactions, which stood at $1.2 bn in 2017, is estimated to reach around $3.2bn by 2022. 
Leading Grocery Players in Qatar
Suncart
Suncart is a leading grocery delivery company in Qatar that allows users to order a wide variety of groceries through its android and iOS apps.
QFresh Online
It is an online seafood store that offers fish, meat, veggies, and other food items to the people residing in Qatar. Shoppers can place orders from their website or mobile app available on the play store.  
Challenges that Grocery Retailers Across GCC are Facing and Will Face After COVID-19
Here are some challenges that both online and offline grocery retailers will face after the COVID-19 crisis:
Business Continuity
Grocery retailers have witnessed a major downfall with business continuity being impacted immensely. The sudden shift of consumers towards online grocery shopping due to coronavirus has made business continuity more challenging for both online and offline grocery retailers.
Cash Flow Management
Effectively managing cash flows helps grocery retailers to increase inventory, expand capacity, and penetrate new markets. In the current situation, many small retailers find it difficult to track cash flows as it requires access to high-quality financial reports and business intelligence dashboards.
Supply Chain
Without a doubt, panic buying is stressing the supply chain in the present situation. Due to the increasing demand for home consumption items, grocery supply chain management has become a major concern for all grocery retailers.
Changing Consumer Behaviour
As the COVID-19 pandemic continues to run its course, the second time being the rise of the omicron variant, consumer shopping habits are changing drastically. Therefore, it has become crucial for grocery retailers to understand shoppers' behavior and act accordingly to provide them with a seamless shopping experience.
Safety Concerns
Buying groceries in this crucial time is necessary, but at the same time, it can prove to be risky. As a grocery retailer, it's necessary to implement workplace safety strategies to protect both employees and customers from this lethal virus.
Road to Recovery
Digitization
The coronavirus epidemic has forced a surfeit of grocery retailers to upscale their existing mode of operations and services. To survive in the grocery industry post-pandemic, grocery retailers must create a digital landscape. Implementing digitization will also help them expand their business and track logistics & supply chain. 
Crisis Management
Grocery retailers must build a flexible and nimble crisis management capability to face the grocery industry's challenges in the post coronavirus period. The major challenge will be to adapt to the changing circumstances, where the right decisions on staff management, store operations, logistics, and pricing will vary day by day. 
Demand Planning
As shortages of grocery products start to appear due to stockpiling or supply constraints amid Coronavirus, retailers must understand which products are at most risk and which products have higher consumer demand. They must proactively manage their product pricing, promotions, and logistics to ensure the availability of in-demand products.
Workforce Management
Grocery companies should focus on effectively managing and protecting their workforce from the adverse effects of the COVID-19 as well as its new variant, omicron. They should equip them with sanitizers & gloves and be aware of the social distancing practices so that they could safeguard themselves from the exposure of virus. Moreover, grocery stores can also use workforce management software to address their workforce needs.
Liquidity and Cash Reserves
The novel Coronavirus has resulted in a major cash flow challenge for small and mid-sized grocery retailers. To overcome this obstacle, retailers facing a cash-flow strain should take a closer look at their current and predicted liquidity profile, i.e., how much liquidity they have and how much will be needed in the coming days. With these questions in mind, retailers can map out several different scenarios to manage cash flow challenges.
Suggested Read: Grocery Delivery App Development: Essential Features & Cost Estimation
Conclusion
While online grocery orders are on the rise amid the COVID-19 pandemic, as well as the new variant Omicron, the grocery retail sector in GCC is poised to escalate in the coming days. With the region's growing digital comforts, ordering groceries online will be the new normal. In such a situation, the idea of launching a grocery ecommerce platform in any of the GCC countries is highly lucrative.
For grocers planning to start their online grocery business in the GCC, it's necessary to choose an online grocery marketplace solution equipped with the necessary features and that's where Growcer could turn out to be the best option.   It is a turnkey grocery delivery software that provides ready-made mobile apps and web-portals to set-up an online grocery business with utmost ease and convenience.
Planning to Launch Your Online Grocery Marketplace?