If likened to a car, the global economy at the beginning of 2020 looked all set to go up a few gears. But then it ran into a gridlock that we've come to know by the name of Coronavirus. So on came the brakes, a total standstill and then a turning off of ignition; and the story continues. The analogy of a car is quite felicitous since it's the taxi or ride-hailing industry that has borne the brunt of the COVID-19 pandemic.
Silver Lining For the Ride-Sharing Market
While the current situation of the ride-hailing industry isn't the most promising, it's not all doom and gloom. A recent survey estimates that post COVID-19, the global sharing market size will see a Y-O-Y growth of 55.6% from 2020 to 2021. The major drivers of this growth will be increased need for mobility in the midst of rising urbanization and decline in car ownership. Additionally, increasing internet and smartphone usage coupled with tough CO2 reduction targets will continue to drive the growth of the ride-sharing market.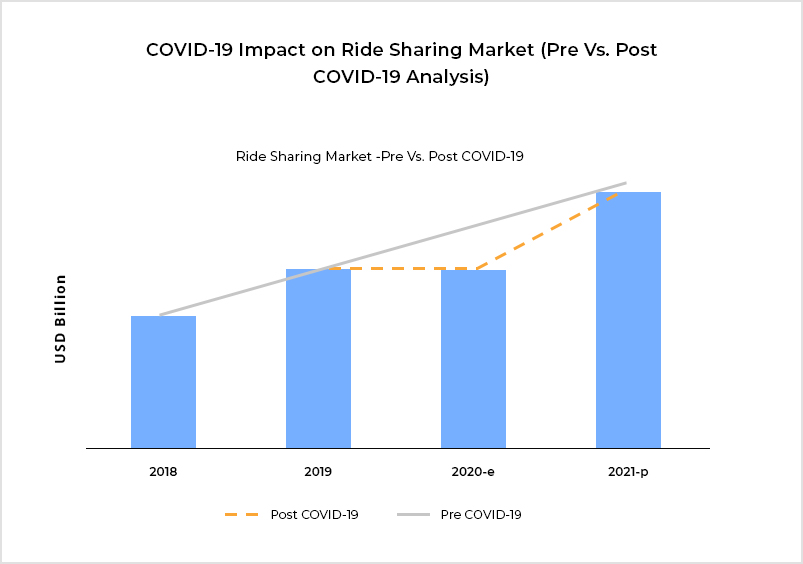 General Guidelines Issued By Uber & Lyft To Combat COVID-19
As many regions start to ease the restriction, people are still bound to have their qualms about using a ride-hailing app. To that end, Uber and Lyft have implemented a set of safety guidelines by working in close association with the CDC and the World Health Organization(WHO). The most significant of these guidelines are as follows:
1. Drivers Will be Wearing a Mask
Both Uber and Lyft have made wearing a face or some form of face-covering mandatory for the drivers. While Lyft simply asks its drivers to self-certify within the app that they're wearing a mask, Uber uses a new app technology that requires drivers to take a selfie before they could log into their accounts. If the technology detects that the driver isn't wearing a mask, then the app will restrict them from picking up riders.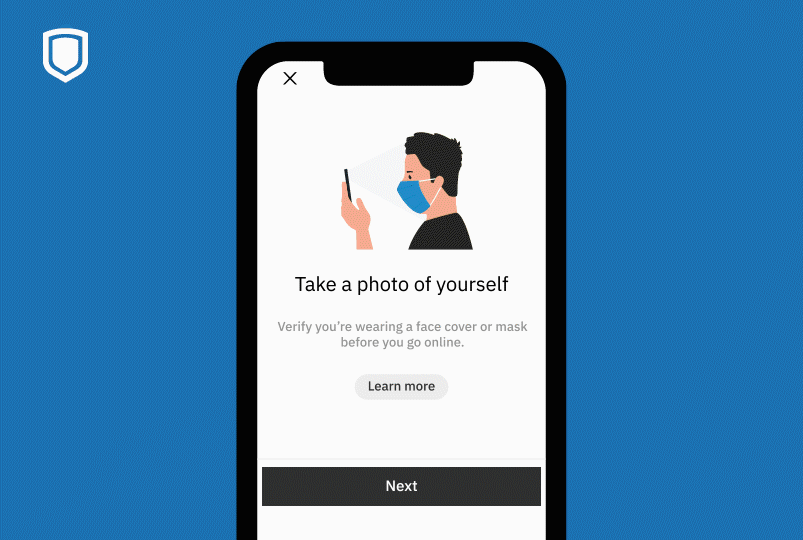 2. Riders Will Be Asked to Wear a Mask
Both Lyft and Uber will require drivers and riders to complete a checklist before booking a ride. This checklist will prompt riders and drivers to confirm things like if they're wearing a mask, and whether they're currently experiencing any COVID-19 symptoms. Both the companies are encouraging drivers and riders to cancel their trips if they find the other user isn't wearing a mask or not practicing other safety protocols.
3. Riders Will Be Required to Wash Their Hands
While it's a bit unclear as to how this particular guideline will be implemented, both Uber and Lyft are asking riders to wash or sanitize their hands before getting inside a car. It's a good move since proper hand hygiene is one of the key steps to prevent the spread of COVID-19.
4. Riders Will Sit in The Backseat
As per the new guidelines, riders will only be allowed to sit in the backseats. It's true that the ideal 2 meters social distancing guideline isn't practical in most cabs but driver and rider can still maintain a reasonably safe distance between each other if the rider sat in the backseat as opposed to the seat next to the driver.
5. Windows To Stay Partially/Fully Open
Both riders and drivers are encouraged to keep the car windows open as much as possible. This is scientific advice since if Coronavirus particles are already present in the vehicle, they can keep on circulating for as long as windows remain shut. Whereas, increased air-flow caused by open-windows will minimize that risk.
6. No More Pooled or Shared Cabs
This one's a no-brainer. Pooled or shared cabs in which riders going to the same destination travel together have been suspended in view of the social distancing guidelines.
Going an Extra Mile To Win Customers' Trust
The aforementioned safety features are definitely a step in the right direction and enforcing them successfully would be crucial for the ride-hailing businesses to get through the pandemic. Additionally, however, businesses can offer a contact tracing feature in their app. Contact tracing is incredibly useful to curb the spread of COVID-19. It can help state and district authorities trace an infected patient's recent movement, and track down people with whom he/she might have come in contact with before testing positive.
Any ride-hailing business offering this kind of feature sends a clear message that it's prepared to go an extra mile to ensure customer-safety. There's no better way to earn customer's goodwill and trust.
Why New Ride-Hailing Startups Will Emerge Stronger At The Back End of COVID19 Pandemic?
On the face of it, pandemic doesn't look a great time to kickstart a ride-hailing startup. But if we scratch beneath the surface, there are definite signs suggesting why it might be the ideal time to get a headstart in the ride-hailing industry.
1. No Weight of Expectations
First off, business owners can get underway without any weight of expectations. This might not sound that much of a game-changer but lowered expectations have their merits. When a business owner isn't worrying about the possibilities of success and failure, he/she is focusing more on the actual business processes and how to best serve the end-user. Such a mindset is primed to conceive innovative ideas and there's no telling what new and superior class of ride-hailing startups we may witness in this pandemic that completely revolutionizes the industry.
2. Economy Will Eventually Get Back on Track
Masks and social distancing may be the new norm for the time being but there's no reason to believe it will stay that way indefinitely. There have been pandemics in the past and yes they certainly brought everything to a halt for a certain time but eventually life did get back to normal. In a way, starting a ride-hailing business in the middle of a pandemic can introduce business-owners to a whole new set of challenges. Tackling these challenges can spur innovation and serve a great lesson on how to get through the worst case scenario, very early in their entrepreneurial journey.
3. Ideal Testing Ground
As highlighted earlier, the pandemic has taken away the weight of expectations off startup's shoulders. The status quo also offers a host of opportunities for businesses to apply their new-fangled ideas and strategies into action and see the response they generate. It's hard to think of this approach in the pre-COVID phase, when businesses like Uber, Lyft and Grab had an almost iron-grip on the ride-hailing market. But things are very different now. By introducing a new technology that addresses customer's health and safety concerns or special offers that reward people for following safety guidelines could go a long way in earning customer loyalty and trust.
4. Grow as Your Learn Approach
While the grow as you learn approach is suitable even under normal circumstances, it becomes a whole lot better when the world's battling a pandemic. Following this approach, ride-hailing startups can kickstart their venture by first building a lightweight solution aimed at delivering the basic needs of riders. It goes without saying that safety measures should remain at the core of even such a lightweight solution. As this solution gains traction and customer feedback begins to roll in, vital improvements, be they design, utility or service-oriented, should be introduced to increase customer acquisition and retention.
Final Thoughts
It's quite clear that the ride-hailing industry has taken a massive blow from the outbreak of COVID-19. What kind of response both new and existing ride-hailing companies come up with will depend a great deal on the scientific advice of leading virologists and medical experts. All things considered, it's a safe bet to say that ride-hailing, not long ago, the most popular mobility service, will see a resurgence sooner rather than later.
Looking For a Custom Ride-Hailing Solution