The software industry is a billion dollar industry with a projected market share of $650 billion in 2023. While the statistics are impressive, they are inclusive of the contributions of numerous startups and incumbents that saturate the industry. To compete with these players, aspiring entrepreneurs require a software product of their own with a unique or better value proposition. However, developing a software product from scratch requires hefty investment in terms of both capital and time. 
Fortunately, there are some options available that allow entrepreneurs to launch a software product based company with no to low investment. They make the business owner independent and capable of launching a bootstrapped business. In this article, we will draw some insights on how these entrepreneurs can launch a product based company with minimal investment.
Table of Contents:
Steps to Start a Software Company with Minimum Investment
In tech startups with limited resources, strategic planning and timely actions are key facilitators of growth and success. Thus, you will need to create a basic outline of the things you will require before procuring the software. These include a business name, a website, hosting service, contact person, etc. Even after including the costs of these prerequisites, you will be staying low investment because of the costs saved on software development.
1. Select the Type of Software you Should Sell
A software helps people resolve a problem or a set of problems. Target the problem that you want your software to solve. It can either be a business problem like project management and client management or a consumer problem like online food delivery, cab booking or simple ecommerce. While finding a white label software for project management and CRM can be difficult, there are many software reseller programs that provide software solutions for conducting ecommerce operations. We will learn more about these reseller programs later in this article.
Business Scope in Selling eCommerce Software
The projected market share of the eCommerce industry by the end of 2023 is a whopping $4.48 trillion. It also has an impressive Compound Annual Growth Rate (CAGR) of 9.30% in the projection period 2023-2027.
This implies a total market share of $6.39 trillion by 2027, which is growth of $1.91 in the next 4 years. These numbers are an implicit indication of new entrants in the ecommerce industry, who will require a quality ecommerce software.
Let's breakdown the industry into some popular niches to shed some more light on the overall market scenario:
Online Food Delivery: Projected market share of $0.91 trillion in 2023 and a CAGR of 12.33% (2023-2027)
Online Grocery Delivery: Projected market share of $0.57 trillion in 2023 with an average revenue rate of $397 per user
Online Meal Delivery: Number of users expected to reach 2.64 billions in 2027
Online Shopping Apps: $0.92 billion revenue generated in 2022 with a CAGR of 7.96% in the projection period 2022-2027 (ending with $1.46 billion market share)
Quick Commerce (hyper-local delivery): Projected market share of $113.80 billion in 2023 with a CAGR of 12.93% in 2023-2027
eLearning: Projected market share of $166.6 billion in 2023. CAGR of 9.22% (ending with $237.10 billion in 2027)
eLearning Platforms: Projected market share of $57.42 billion in 2023. Estimated number of users is 920.8 million by 2027
Online Doctor Consultation: Projected market share of $25.31bn in 2023. CAGR of 8.76% in 2023-2027
Ride-hailing and Taxi Booking: Projected market share of $332.50 billion in 2023. Expected to reach 1.4 billion users by 2027
Car Rental: Projected market share of $99.54 billion in 2023. Average Revenue Per User (ARPU) is $194.30.
The ecommerce industry has limitless business potential for software development businesses. You can also pick all or several ecommerce software categories to move forward with your business venture.
2. Do Some Market Research
Market research is crucial to get a comprehensive understanding of the target market, competition, potential customers and more. It will assist in the development of a data-driven strategy for product development, marketing and sales. For a thorough market research, you can consider the following:
Competitor Analysis: To create a better value proposition with your software, entrepreneurs need to take a look at competitor businesses and evaluate their offerings. This can include preparing a list of features and shortcomings of competitor software, conducting a price point analysis and finding customer support options. Based on the research outputs, you can request customizations in the software or plan better value offerings, such as software pricing, provided support, cost of integrations, etc.

Define Target Market:

For a tailored customer experience and drafting an effective marketing and sales strategy, entrepreneurs need to identify the key customer characteristics, including what motivates them, what are their demographics, needs, and purchasing behavior. When targeting different demographic profiles, you may need multilingual functionality in your software. To make things easy, you can prepare buyer personas which simplify certain marketing decisions.

Solicit customer insights:

After selecting the software and identifying the target market, you can test the market viability with an MVP. Testing the market with an MVP is very cost-effective and will help you launch a low-investment software product business. What MVP tells you is whether your customers will like your software and if it has the expected potential to sell or not. 
By doing proper market research, you can gather and act on all important information required to build a strong foundation for your software company. 
3. Join a White Label Reseller Program
As the business owner is himself not handling software development in a low-investment software company, he will need to find a technology partner. It is best suited to find a technology partner with a white label reseller program.
What is a white label reseller program?
A white label reseller program is a type of a business partnership where a software developer finds partners to rebrand and resell their products. This type of partnership is mutually beneficial for both the partners. First, the product developer increases its business reach, and secondly, the reseller partner gets to resell the software under his own brand name.
Find Feature-Loaded eCommerce Solutions in FATbit Reseller Program
As the partnership typically includes a Non-Disclosure Agreement, reselling partners can sell the software directly to their clients without the involvement of the development partner. However, in this arrangement, the development partner also provides complete training and support so that you can independently deliver software demos to your clients and resolve their queries.
How a White Label Reseller Partnership Works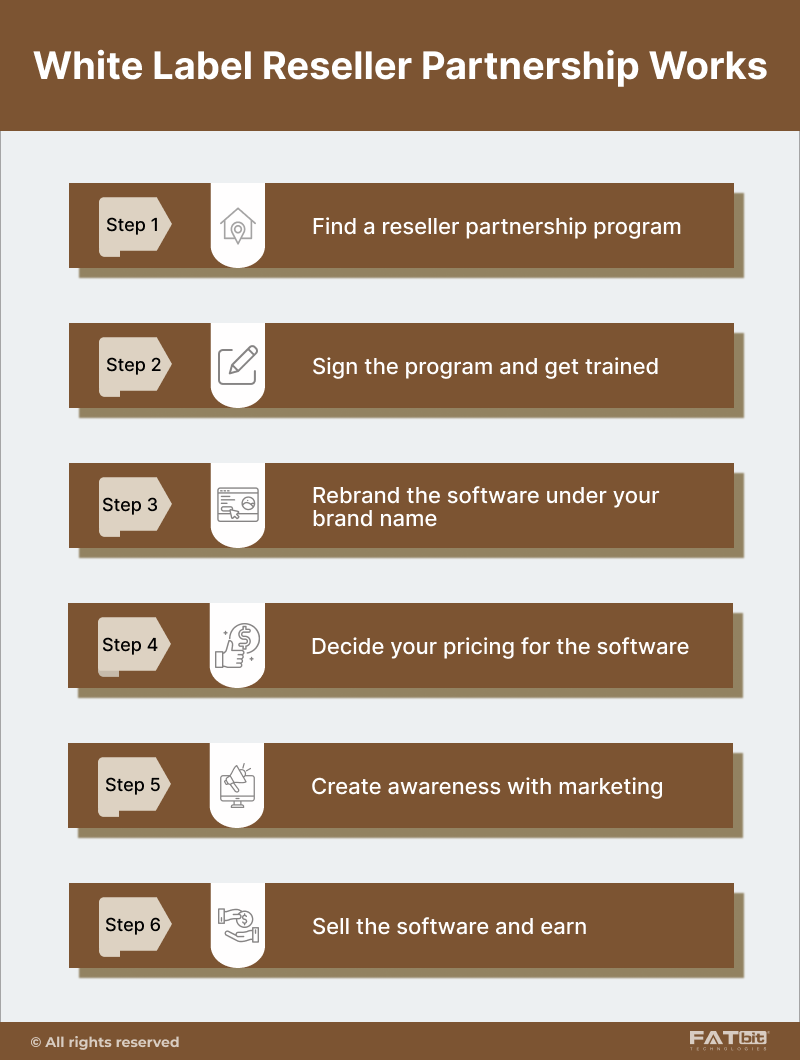 4. Market the Software Product Under your Own Brand Name
To start business operations, you need to begin early with the marketing. After carefully selecting the value proposition, you can initiate a pre-launch marketing campaign. This can include creating a new website with landing pages for each and every software in the partnership program. As you get rebranding rights over the software, you can also change the name of the software on your website. Once these steps are done, digital marketing can further help you out in getting the first few customers.
Three digital marketing strategies to try out for your software business startup:
Search Engine Optimization:

Do keyword research to find out the most searched terms for your software and add them on your website. The content you prepare for these terms should match the user-intent. For example, a search term directly searching for your software should be present on the landing page. On the other hand, for "how to" searches, you will need to create blogs, guides and other content.

Search Engine Advertisements:

For directly attacking the competition and getting noticed by the right people, you can invest in search engine ad campaigns. You can place your bid for important search terms on search engines such as Google and Bing and place ads in different locations on SERPs. Moreover, Google also allows targeted ad campaigning, meaning you select the geographical area and demographic profile where you want your ads to be displayed. Some types of ads are even placed at the very top, even above the search results.

Social Proofing:

When selling a business software, consider word of mouth marketing, which helps in building trusts between customers. You can leverage the ratings and reviews of your customers on renowned websites like Capterra and G2. Furthermore, you also need to create a client portfolio and case studies to build more trust and reliability.
Benefits of Joining a Reseller Program
White label reseller programs in the first place are made for entrepreneurs with low investment budgets so that they can get the most out of their investment. First, they save money and time on software development and secondly, gain advantage in market areas where producing competitive software is difficult. There are some benefits of joining a reseller program that we have listed below:
Assists in Creating a Diverse Product Catalog
Some white label programs provide access to a large range of products that the reseller partner can sell. This increases the product offerings of the business and indirectly reflects in brand value. Later on, the partner can decide to market one or more products on his website but the access to all products in the partnership still remains.
Quick Access to Strong Expertise
Gaining years of hands-on expertise in software development is difficult for startups. However, with a white label program, they get quick access to the expertise of professional developers who have been in the industry for decades. Moreover, they can also get their hands on ready-made tried and tested solutions whose market viability has already been proved.
Modern businesses need to stay agile in order to update their offerings for catching up with the changing market demands and scenarios. Thus, to procure and complete such orders that are necessary to represent the agility in a software business, joining a white label program can help. Not only will the business be able to meet the changing market demands, but can also scale up quickly by matching such demands faster than its competitors.
Imagine developing a software application for years that fails to bring the desired results or even recover the capital costs. This situation is quite common with software development businesses and results in a huge loss because of the heft software development cost and long development cycles. As a solution, gaining access to third-party tried and tested solutions turns out to be a very safe investment that reduces business risk.
What is FATbit White Label Reseller Program?
FATbit is a renowned ecommerce software developer in the market which provides powerful ecommerce solutions for launching startups like online marketplaces, rental marketplaces, eLearning marketplaces, food delivery businesses, cab booking business and more. All its solutions are feature-packed and carefully developed after diving into the complexities of their respective industries to help businesses resolve numerous use cases and consumer problems.
Check all Products in our White Label Reseller Program
All FATbit products are available in our white label reseller program that you can join and resell under your own brand name. Some privileges you get after joining FATbit white label reseller program are:
You Get Complete Control over Profit Margin: We truly believe in forming long-lasting and mutually beneficial partnerships. For this reason, we let our clients decide their own profit margins, meaning they can market and sell our products at any price they want with no limitations from our side.

Leverage our Two Decades of Expertise:

We were founded in the year 2004 and since then, have never looked back. From construction and automobile industry to CPG and fashion industry, we have served thousands of businesses with maximum zeal and developed immense expertise.
Access to 20+ Software Solutions:

Our white label reseller program provides our partners with access to 20+ software solutions. With such an extensive range, they can increase their product offerings, reach different market segments and diversify their target audience.
No Sales Targets:

When you join our reseller program, there are no sales targets to achieve. You can market our products at your own pace or just use them to meet certain client requirements.
Full Training and Support:

We provide you full training and support so that you can be independent at reselling the software. Moreover, we also set up demos on your hosting servers and provide complete technical documentation for each and every white-label software.
Final Takeaway
With strategic planning and timely action, it is possible to set up a software product business with minimal investment. However, in terms of efforts, entrepreneurs do need to spend time on marketing and find a technology partner that can provide the right guidance for business launch. Regarding the type of software that you should sell, there are numerous categories you can think of but considering the aforementioned statistics, the ecommerce industry appears to be the most lucrative.