Ecommerce – An Evolution Toward Specialization
A lot many things in the world have followed this similar trend. Starting with a concept that has more mass appeal, attracting people to the idea – the experience, but gradually evolving to imbibe specialized roles – offering a tailored, custom-built solution to perform these specific roles, better – opening up new horizons, and possibilities.
Retail itself, evolved from ancient human civilization moving from individuals performing all roles to singular roles. The division of Labor led to the barter system, which eventually gave way to open marketplaces. The process was streamlined further in the medieval world with the concept of Shops. Finally, the modern era introduced the idea of departmental stores from the beginning of the twentieth century to mass retailers in the middle period. Nevertheless, the most significant disruption in the retail industry came at the end of the century – eCommerce.
A recent memory bias notwithstanding, eCommerce has truly opened up the door for retail, opening up opportunities like nothing else before it. And in itself, eCommerce has now been following a similar trend. Starting from generalized horizontal marketplaces like Amazon to maturing and accommodating specialized vertical marketplaces for eCommerce Niches.
Although, marketplaces for specific niches have been gaining steam ever since the launch of Etsy in 2005. Some niches are not yet fully utilized. B2B eCommerce is one such niche. However, in recent times, the need for B2B platforms is growing steadily, as businesses are exploring opportunities in the B2B eCommerce space.
If analyzed, a common thread across the evolutionary curve of retail is the supporting role played by innovations – from better equipment, use of currencies, better mobility, to the development of the digital infrastructure. All have played their part in the progression of the retail sector.
Likewise, eCommerce today needs specialized software for specific needs. Unlike in the B2C ecosystem, B2B entails distinct complexities that B2C platforms simply can't support.
In this article, we discuss the growing importance of a purpose-built solution for B2B marketplaces. Furthermore, how B2B requirements are met by result-oriented features of a marketplace platform.
Table of Contents
B2B Ecommerce – Distinct Requirements
One key reason for the relatively slower eCommerce adoption in the B2B industry has been how platform participants engage with each other – buyers are businesses with a different approach to purchases, unlike end consumers. Let's understand this difference with the table below: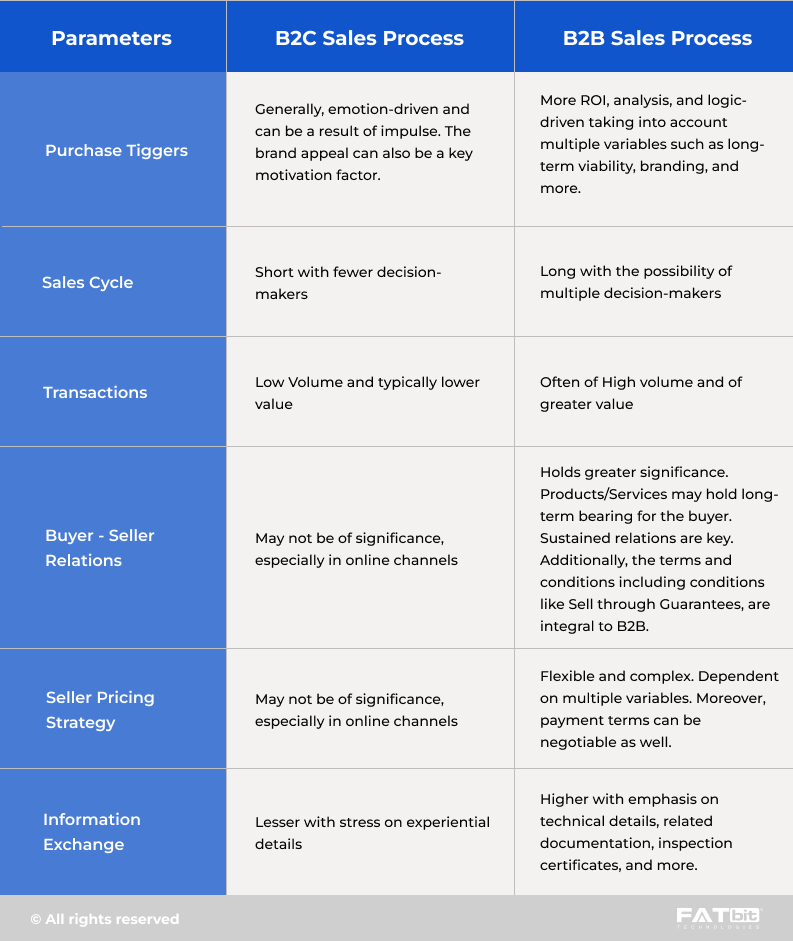 As evident, B2B has a differentiable modus operandi for sales and hence distinct requirements. Thus, a one-size fits all eCommerce platform will not suffice for B2B needs. The platform needs exclusive mechanisms to facilitate businesses in conducting their operations.
And this is where Yo!kart B2B ecommerce software comes in. Let's first, take an overview of why FATbit considered to launch the solution.
Yo!Kart – A Brief Introduction
In 2015, FATbit technologies, with its decade of eCommerce experience launched its first eCommerce platform – Yo!Kart. The solution was built from the ground up, using all the company's accumulated knowledge of the industry.
The idea was simple. Develop a versatile solution to give entrepreneurs/enterprises customizable and scalable software to seize the big eCommerce opportunity. Some key highlights that made Yo!Kart carve its own space in the eCommerce software industry are shared below:
An extensive list of result-oriented features, offered built-in 

A Multi-Vendor marketplace software out of the box 

Self-hosted and license-based. Available for lifetime use with one-time payment 

Customization support from an in-house Agile team 
The software gained instant traction, and ever since 2015, 5000+ global marketplace businesses have been built using the readymade solution.
And in these thriving businesses, there have been B2B marketplaces as well. For instance, UniDiamonds – enterprise B2B marketplace for diamond trade, a liquor marketplace for a Fortune 500 company, Bozinga – America's B2B platform, and others.
Having worked closely with global B2B businesses, from startups to enterprises, Team Yo!Kart has been able to accumulate core learnings about the quintessential requirements that drive growth in this industry.
Based on these interactions, the current market trend, and the rising opportunities in the B2B space, the need for a readymade B2B solution was felt.
Yo!Kart B2B – A Vision to Drive The Future of B2B Marketplaces
Working with its core strengths, FATbit worked to develop a versatile readymade solution that can fit the requirements of B2B marketplaces The solution was developed from scratch, including quintessential requirements, addressing the needs of a broad spectrum of B2B businesses.
The solution meets B2B-specific requirements in the following ways
Flexible and Complex Pricing Strategies
Dynamics involved in B2B relations may warrant flexible pricing strategies by sellers. Factors such as a higher volume requirement, long line of credit (if applicable), branding dynamics, market demand opportunities, or varying supply chain complexities may be some of the multiple factors driving pricing for businesses. 
Negotiations thus can be an essential component of most B2B transactions.
Features in Yo!Kart B2B to aid negotiations:
RFQ Module
An intuitive built-in RFQ module in Yo!Kart B2B marketplace software helps buyers to quote an offer. The sellers can further accept, reject or place a counteroffer.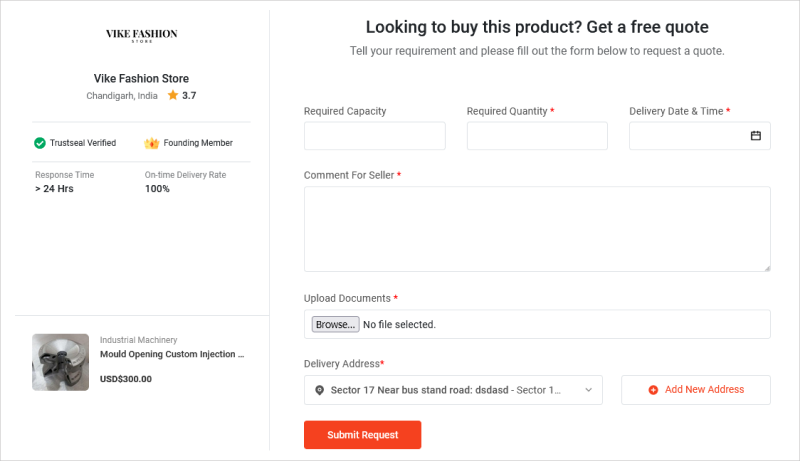 Source: * RFQ form for buyers in Yo!Kart B2B
Suggested Read: How RFQ module works in Yo!Kart B2B marketplace solution.
Hide Product Prices 
To allow sellers to engage in negotiations, there is an option for them to hide the prices for their products and services.
Streamlining Longer Sales Cycles
Although the length of a sales cycle is unique for most companies and directly related to procurement processes within a company. A B2B online marketplace platform can streamline the process with specific features. Some of these features might help to shorten the cycles as well.
Features in Yo!Kart B2B to streamline sales cycles in B2B by allowing sellers to provide requisite product information effectively:
Downloadable Digital Media
To smoothen the sales process, all relevant information regarding the products can be made available on the B2B platform itself. For instance, relevant inspection certificates, product documentation, and others. Once these are available on the platform, all concerned stakeholders and decision-makers can access these and take faster action.
Product Catalog with Extensive Features
Qualitative information will be key to facilitating B2B transactions. An intuitive product catalog for sellers that allows them to add comprehensive product descriptions will help the buyers arrive at buying decisions – better, and faster.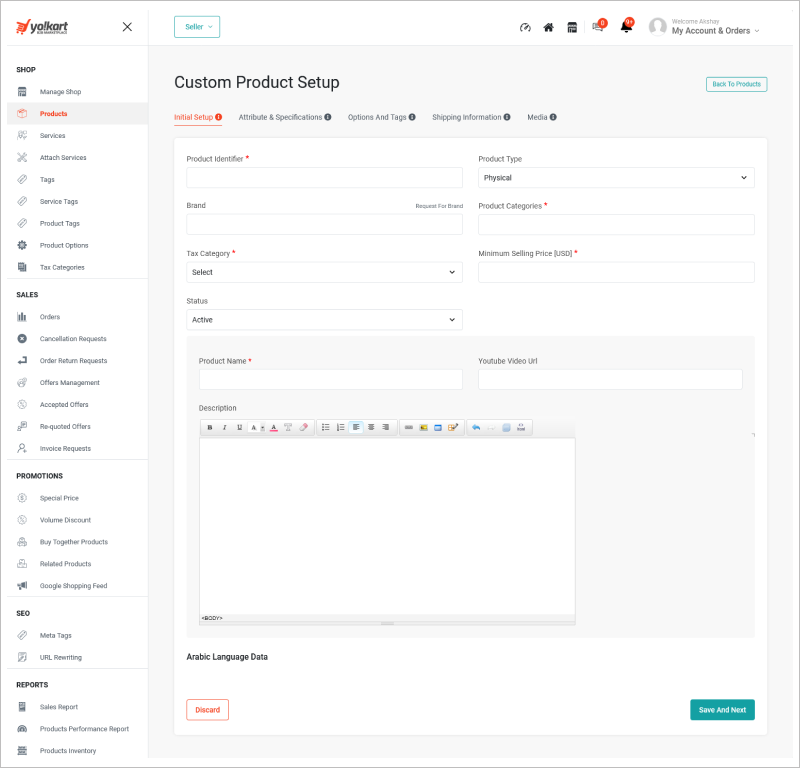 Source: * Seller Dashboard in Yo!Kart B2B
High-Value Transactions
B2B transactions can typically be of high value and greater volume. The B2B marketplace platform can help in both, allowing sellers to encourage such transactions and fostering an ecosystem wherein these transactions are carried on smoothly.
Features in Yo!Kart B2B for high-value transactions:
Bulk Order Discounts  
With this feature, sellers can offer discounts on high-volume orders. By offering discounts, sellers can generate higher sales, by displaying the advantage of buying in greater quantity.
Minimum Order Quantity
Sellers can set a minimum quantity below which they do not wish to entertain orders. This can help them to plan pricing strategies, logistics, and the rest of the business strategies more efficiently ― around the minimum order, they plan to provide.
Flexible Payment Options
With the option of Part-payments in the system ― buyers can manage payment for their purchases and sellers get a window to manage the order. Especially in scenarios where the order requires greater processing times, the business deal extends for a longer period, or the quantity/value of the order necessitates flexible payment terms.
Robust Payment Gateways 
To provide seamless and reliable high-value transactions for businesses, Yo!Kart B2B ecommerce software comes pre-integrated with 20+ payment gateways. This helps marketplace owners to offer a global ecosystem of secure and efficient payment processing.
Buyer-Seller Relationship
Unlike end-consumers, businesses rely more on the long-term viability of their purchases. If the buyers are distributors or resellers and intend to resale the procured products, they will need to procure the products on a consistent basis, to offer a similar product in the market, under their brand. Moreover, a significant effort has to be invested in marketing the products, so trust and a consistent/efficient supply of the sourced products, are even more important.
Similarly, businesses that intend to use the products within their organization may need the products on a consistent basis for predictable, seamless, and sustainable utilization.
Features in Yo!Kart B2B for building trust between buyers and sellers:
Direct Buyer-Seller Interaction
This helps to foster engagement between buyers and sellers in the marketplace, aiding in building trust.
Individual Seller Storefronts 
Customizable individual seller storefronts, help the sellers to establish their brand more effectively. Likewise, buyers can relate more with the sellers.
Broader Scope of the Marketplace
The procurement needs of buyers in the B2B space varies. Buyers can be manufacturers, considering to source products as raw material. Moreover, greater emphasis on ROI means buyers may want to source products at competitive prices, from the source itself.
Yo!Kart B2B allows one to launch and scale their marketplace platform for a broader audience, with the following features:
Offer Services with Products
Services can be offered alongside the products, either bundled with the products or exclusively. Likewise, buyers can buy services exclusively.
Multilingual and Multicurrency 
This can allow the business to onboard sellers from a varied geographical region, allowing the marketplace platform to enhance its scope, and offer more value to the buyers.
Essential Ecommerce Features
Apart from distinct features that allow a platform to cater to B2B specific needs, a B2B marketplace also has to facilitate regular eCommerce operations. Moreover, with the progression of eCommerce across industries, the users are acclimatized to eCommerce from an individual perspective. Even thorough, they may be operating in a business environment, still, they expect the platform to operate similarly to popular B2C marketplaces.
For this reason, a B2B marketplace has to offer essential eCommerce features to the users for a complete experience.
Yo!Kart B2B ecommerce platform has been developed to offer value to all platform participants ― the Admin, Sellers, and Buyers.
Some Key Features in Yo!Kart B2B for effective eCommerce operations are as follows:
Supports Multiple Revenue streams ― Commissions, Subscription Modules, PPC, and Advertisement monetization. 

Extensive Reports and Analytics for data-driven business decisions. 

Dedicated and exclusive user panels for Admin, Sellers, Buyers, Affiliates, and Advertisers. 

Result-driven marketing features along with an Affiliate module to drive conversions. 

Efficient support for eCommerce operations like Shipping, Tax, Accounting, Inventory management, and more. 

API-driven ecosystem with multiple business APIs offered pre-integrated with the system and a versatile architecture that can support further customizations. 
Experience Yo!Kart B2B in Action with Dedicated User Demos
Customizability – Flexibility to Stay Agile
The evolution in eCommerce is in a state of constant flux. In fact, with online sales attracting investments, new startups, and the interest of small businesses to larger ones ― the industry keeps introducing new possibilities.
Likewise, buyers' expectations have been growing – to expect more.
With eCommerce – Change is the only constant.
To steer through these changing times, online businesses have to stay Agile ― defining their presence in the market with a purpose-built platform ― and responding to the change with additional value for all the participants.
And this Agility gives businesses a competitive advantage throughout the eCommerce lifecycle.
While FATbit's versatile Yo!Kart B2B marketplace platform  not only gives businesses the advantage of a platform that meets the needs of a contemporary global B2B marketplace but it also gives them the opportunity to customize the platform considering any specific nuances of their eCommerce strategy.
Furthermore, mid-cycle consolidation, or refocusing on growth after achieving initial goals, can also be well achieved with the customizable Yo!Kart B2B.
FATbit's in-house customization team gives online businesses the opportunity to meet these goals precisely, efficiently, conveniently, and predictably.
Wrapping Up
B2B suppliers have been keen to adopt an online sales channel considering the significant advantages, evolving trends, and consumer expectations. Given the positive market scenario, B2B eCommerce marketplaces have the opportunity to provide these B2B sellers with a purpose-built platform.
Yo!Kart B2B ecommerce platform  has been developed to provide entrepreneurs with a solution that facilitates seamless online B2B interactions. A range of result-oriented features complements a secure and robust architecture, along with a high-performing core engine.
Furthermore, added advantages of one-time payment ownership and the support of in-house customization extend a competitive advantage to businesses for their entire eCommerce lifecycle.
Schedule a Personalized Demo for Yo!Kart B2B