Ever-increasing competition, expectations of better service and faster responses is making healthcare providers use social media to build stronger relationships with patients. As lack of resources and shortage of time often restrict doctors and hospitals from staying connected with patients, social media helps them to quickly respond to patient requirements.
Be it Facebook, Google+, Twitter, You Tube or LinkedIn, medical practitioners are increasingly promoting their services online. This post guides healthcare professionals to make the most out of available social media platforms. Below are the top social media strategies for healthcare industry:
1. Study Target Audience to Plan the Right Media Mix
Each social media platform has a unique user base. The demographics and interests of people on Twitter and Facebook are different from that on LinkedIn. So, to avail maximum benefit, plan unique campaigns for different social media platforms instead of going with one for all social media platforms.
Social Media Marketing is now a full time job. Hire a team of experts with a creative yet analytical approach.
Consult FATbit's marketing experts
2. Handle Patient Queries
Use social media to answer patient's concerns and complaints. Complaints can be handled through online communities and discussion forums on Facebook.
Apollo hospital in their campaign "Just Ask" engaged visitors by asking their team of doctors to answer queries related to specific ailments through the comments section on Facebook.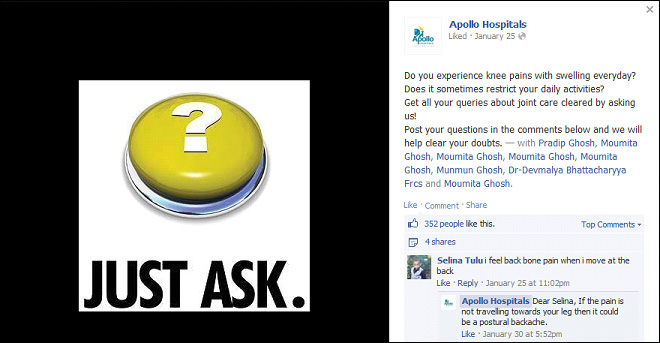 3. Provide Health Information
Provide doctor tips, heath quotes, and share details about live medical procedures through social media. This can be done through images, YouTube videos, infographics shared on Pinterest, Facebook, and Flickr.
Share blog posts on social media platforms like Google+, LinkedIn, and Facebook. Answering health related queries through platforms like Quora and Yahoo! Answers connects you to an active community and also improves search engine ranking. Google+ can help you easily create online communities where specialized doctors and patients can interact through Hangout Sessions (webinars and chats).
The Raritan Bay Medical Center, New Jersey, performed a knee surgery. The details related to the surgery were posted on Twitter and its live video was posted on You tube. The activity was aimed at educating the medical students about the minute details related to surgery.
4. Start Trends & Create Branded Social Media Campaigns
Healthcare brands can use social media channels to engage visitors through online contest. #Hashtag campaigns and quizzes on common health topics give followers a better perspective and valuable information. Include your brand name innovatively in hashtag to create brand awareness (eg. #Ask[BrandName], #[BrandName]Educates). The use of hashtags is no more restricted to Twitter; Facebook and Instagram have also been using them for quite some time now.
#MonsoonMantra, a Fortis initiative for Twitter and Facebook gave away to a lot of amazing health tips for monsoons. Such campaigns, along with Organ Donation updates and self-promotion, have enabled Fortis to get more than 2.6K followers on Twitter.
If you feel that you do not have the brand recognition to create a new trend, then you can start tweeting on latest trending topics.  Try to compliment your tweets with supporting images. @MaxBupa, a health insurance company, did this when #WorldCancerDay was trending on Twitter.
Also Read: How to Increase Sales Of A Business Using Social Media Marketing?
Want to start campaigns and contests on Social media to engage more people online?
Hire us to Plan and Execute
5. Brand Building and Reputation Management
SMM plays a very important role in online reputation management. Social media can be used in spreading positive word of mouth through patient testimonials and gathering new customer reviews, suggestions and feedback. Hospitals, medical practitioners, and medical insurance companies can share customer reviews through social media as well.
CSR activities, offline customer engagement and awareness campaigns can be promoted online. If your business has local reach, you can include some famous regional personalities and promote a cause or campaign with them. This will help increase brand visibility both offline and online. Here is how you can promote an offline campaign through social media: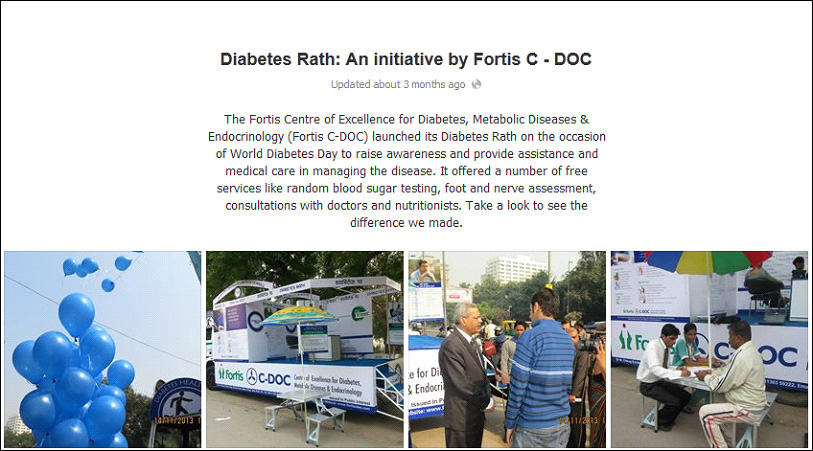 6. Create Relationships and Build Patient Loyalty
Social media marketing is not just about generating new leads. It also helps in maintaining relationship with existing employees and building patient loyalty. Your happy customers will talk about you and expand your customer base.
Asian Hearts Institute (AHI), a cardiac care centre in India launched a campaign Fit2Run which highlighted the perfectly normal condition a cardiac patient develops after being treated at the Asian Hearts Institute. There were updates from runners on their page along with personal quotes from them which gave an emotional angle to the entire campaign.

7. Establish Online Communication Protocols
Every company should have a well-thought out policy for all online communication. Employees must be educated and incentivized to use social media with due care and diligence. They should be strictly warned about breach of ethics and privacy concerns of customers on social media. The content shared as health tips and medical information should be thoroughly verified by experts before publishing.
There should be a system in place to answer patient queries and grievances online. Always monitor what your competitors say about you online and respond professionally.
8. SEO Through Social Media
When people search for doctors and hospitals online, they are likely to find their business profiles on online directories and social profiles on Facebook & Google + in search results. When people search health related queries, then, results on YouTube, Quora, Yahoo! Answers, etc appear higher in search results.
If you want your company's content to appear organically for non-branded searches, then your profile details and shared content should be search engine optimized. Include much searched phrases (like names of diseases, symptoms, remedies, etc) in profile names, profile owner's description and shared content. Always provide a link to your website from these accounts to get direct traffic.
People are already hooked with social media platforms and thus there couldn't be better place on web to interact with them. Sharing capabilities of social media adds more mileage to well planned campaigns. So, use social media smartly to connect with patients and get rewarded with loyalty. Share your social media questions in the comments section for quick answers.
In case you have specific online marketing queries, share them with our team.
Get free advice and consultation