In the words of Moz, keywords define what your content is about. They are the genuine search terms that people use to explore the internet. Without them, it is impossible to take part in the online competition. Keyword optimization is of utmost importance for websites as search engines use keywords to define rankings and bring organic traffic. For those who are unaware, organic traffic is a term that refers to all those visitors who visit a website through search engines.
Organic traffic is essential for a business as it helps in building a reputation, trust and increasing conversions. Suppose, if a merchant that sells smartphones in New York does not optimize its website for queries like 'Where to buy smartphones in New York?', the chances are that its website won't appear in the search results for these particular keywords. The hundreds if not thousands of people who are interested in buying a smartphone in New York, won't be able to find the merchant on the internet. To them, it will be invisible and will not command high trust. Its sales will also suffer. 
When the choice of keywords is accurate, one can expect to receive high organic traffic due to competitiveness and the sheer number of searches for those keywords. However, there are some keyword research mistakes that have become common due to a lack of updated knowledge about SEO. Focusing on these mistakes, we bring you some solutions below.
Mistake #1: Using Broad Match Instead Of Exact Match
Search volume is one of the most important metrics to take into account when looking for the perfect keywords. This is probably the first thing to check with keyword research tools, and it's where the next serious mistake may occur.
Most tools offer three types of keyword matching:
Broad match

contains all your keywords in no particular order and may include other words. For example, if your targeted words are "black shoes," broad match may include "black shoes for men," "shoes for black suit," and so on.

Phrase match

includes your keywords in order and may contain other words. For example, "where to buy black shoes," and "black shoes with high heels."

Exact match

contains only your keywords in a given order – "black shoes."
And there is a huge difference in search traffic of all these keywords. If you do not take this into account and neglect using exact match, you're likely to receive disappointing results.
How to avoid this mistake: When using tools to estimate search volume, avoid using broad and phrase-match figures. Always base your decisions on exact matches.

Mistake #2: Using One-word Keywords
Another mistake is selecting keywords that consist of a single word. It's really hard to rank for one-word terms – they are too general and too competitive. Besides being highly competitive, short-tailed keywords lack context. For example, a person searching for "fans" may also be looking for a big industrial fan, a fan to ventilate their apartment or even a football fan community.
How to avoid this mistake: Try to compose your keyword list of mostly long-tail keywords, as they provide more context. Every additional word should focus more specifically on user intent – this will bring you closer to your target audience.
Mistake #3: Not Taking The Competition Into Account
Ranking for a specific keyword actually means beating your competitors. So to plan an effective keyword strategy, you need to know the competitive landscape. If you choose your target words without considering the competition, you will likely waste both time and money.
How to avoid this mistake: Type your target query in the search field and take a thorough look at the websites that are on the first results page. What are your actual chances of making your way to the first positions with that particular keyword? If your competitors are ranking too high, you should select some other keywords.
What's also great about competitor research is that it helps you get fresh ideas and find new additions for your keyword arsenal. There will surely be some keywords that your competitor is ranking for but they are missing on your website. You can find these words with the help of the Domain vs. Domain tool by SEMrush.
Just type in your domain and the domains of up to four of your competitors. Then you will get a Venn diagram visualizing keywords that these domains share, as well as exclusive ones for each domain.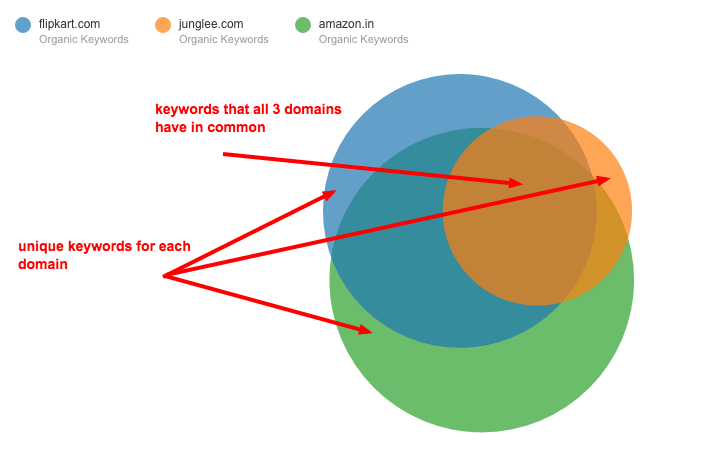 Caption: SEMrush's Domain vs. Domain tool
This tool provides you with a list of all those keywords that are present on the competitor's website. You can sort them by search volume, CPC or level of competition and add to your own list of keywords.
Mistake #4: Not Looking At The Current Search Results
Understanding the search intent is an important part of keyword research. As there are no tools to measure search intent, digital marketers need to be more vigilant. There are three ways they can find out what an internet user is actually searching for and the keywords that will meet that intent.
The first way is by looking at the organic search results. Google is smart and there are likely to be thousands of websites online from the same niche as yours. Meaning, if not all then the majority of them are ranking for the correct search intent. For example, if the SERP is displaying all service pages, it is less likely that the targeted keyword is suitable for a blog. 
Secondly, autosuggestions help in finding the various related keywords and phrases that you can include in your blog. Below is a brilliant example by Ahrefs that also shows what keywords you can consider while writing a general article about Donald Trump.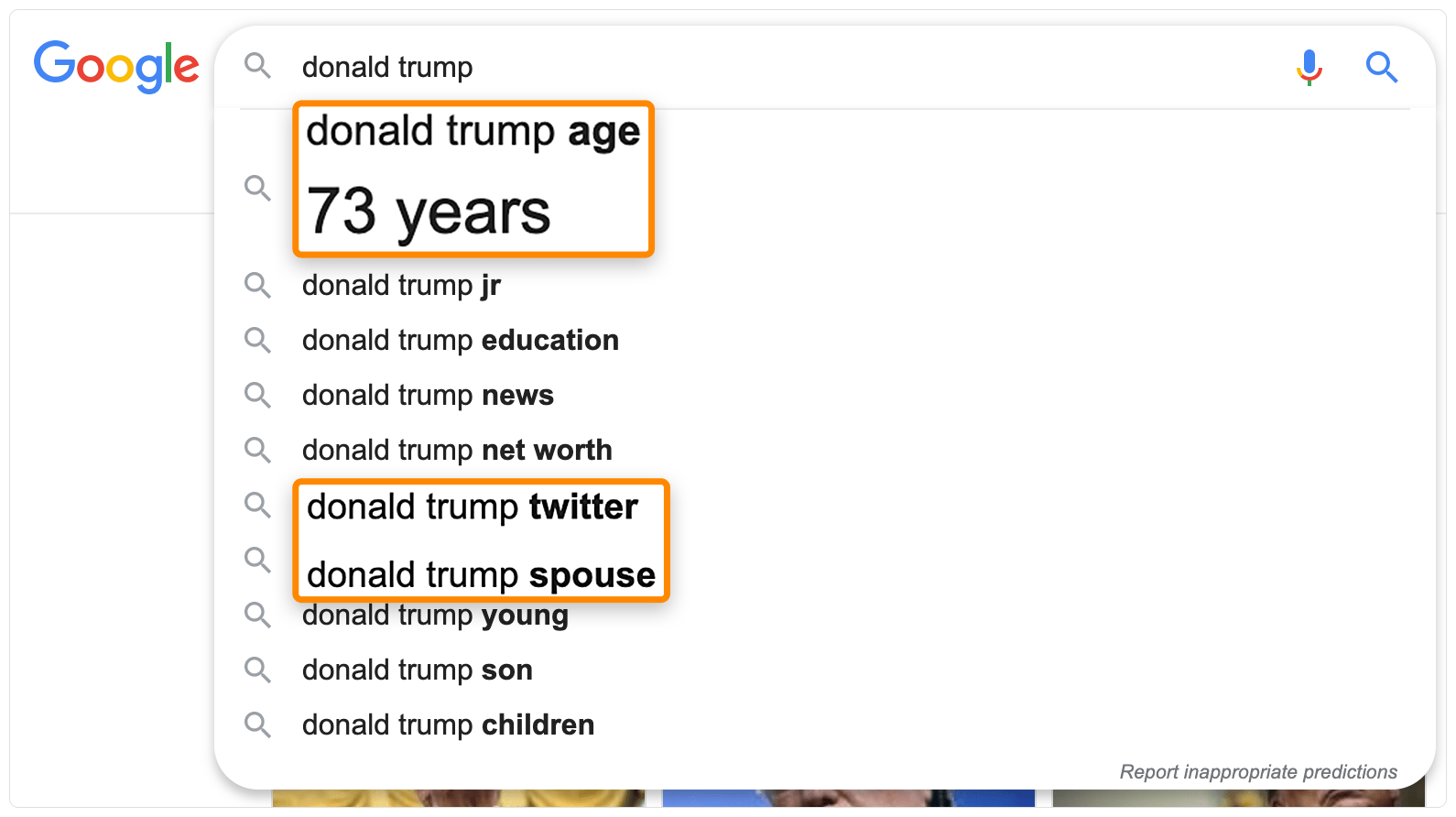 Lastly, the related searches mentioned below the search results indicate some other terms that users commonly search. For example, look at the image below.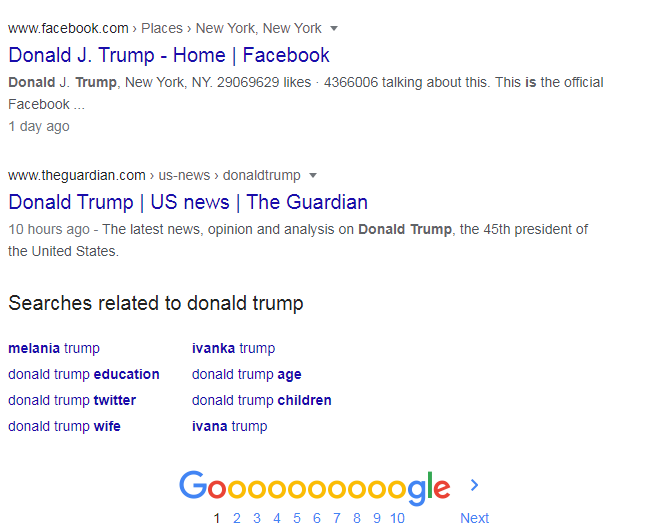 How to avoid this mistake: Taking a look at the current search results can give you a better understanding of the search intent and how you should plan your keywords accordingly. It also suggests related words and phrases that you can include in your webpage.
Mistake #5: Evaluating Keyword Difficulty With Search Tools
Numerous search tools present on the internet provide a keyword difficulty score. However, that score is irrespective of individual rankings and DA of websites. It means that while the score does provide a rough idea of how difficult it will be to rank for a keyword generally, it does not apply to every single site. 
If a website is already ranking high for particular keywords, it is more likely to rank for related high-difficulty keywords fairly easily. On the other hand, even if a high domain authority website writes on an easy-to-rank keyword the first time, the chances are it is not going to do so well against those websites that have covered it before in various topics. 
How to avoid this mistake: While using search tools for keyword research, do not rely blindly on the difficulty score. To actually find how difficult it will be to rank for a particular keyword, you are required to manually audit your website.
Mistake #6: Ignoring Local Keywords
One essential thing that companies tend to overlook is the difference between global and local keywords. If you have a local or regional business, make sure that the traffic for your targeted word comes from your locale. If you only work with customers in a certain geographical location, you don't need to target keywords that focus or are popular in some other region.
How to avoid this mistake: When doing keyword research with tools like Google's Keyword Tool, always filter your searches by location.

Also pay attention to geographic search terms. Many searchers will add the name of their city or locale to their query, so optimized keywords will improve your chances of meeting customers.
Conclusion
To get the desired results in terms of online conversions, you will require well-researched keywords that receive tremendous organic traffic. A popular approach for achieving this goal is the keyword optimization of your website's every page. This work can be intensive and may consume a lot of time. Pages like about us, contact us, portfolio, services, products, are the most important ones on a business website and should be prioritized. When aligned with other digital marketing strategies like social media and paid marketing, keyword optimization can bring impressive results.
Outrank your competitors with best SEO practices