When it comes to improving performance in sports, personal training is way more effective than group exercise. But the trouble is how to find a good coach? Online private coach portals like CoachUp, Trainers4me, and upmysport address this concern for athletes, their parents, and other sports enthusiasts.
Success of these platforms proves that this marketplace is full of opportunities. To aspiring entrepreneurs, who are already thrilled with this emerging business idea, we recommend that they carefully follow insights we have provided in this post that covers business model & must-have website features for private coach search platforms.
Business Model
Simply put, online coach search platforms create a marketplace that connects athletes with private coaches. With details like coach experience, expertise, reviews, ratings, organization tie-ups, etc., these platforms simplify the task of finding the right coach as per athlete's specific needs. The process is as simple as 'search, schedule, and get trained'. Depending on your target market, you can decide which sports to include in your private coach search clone website.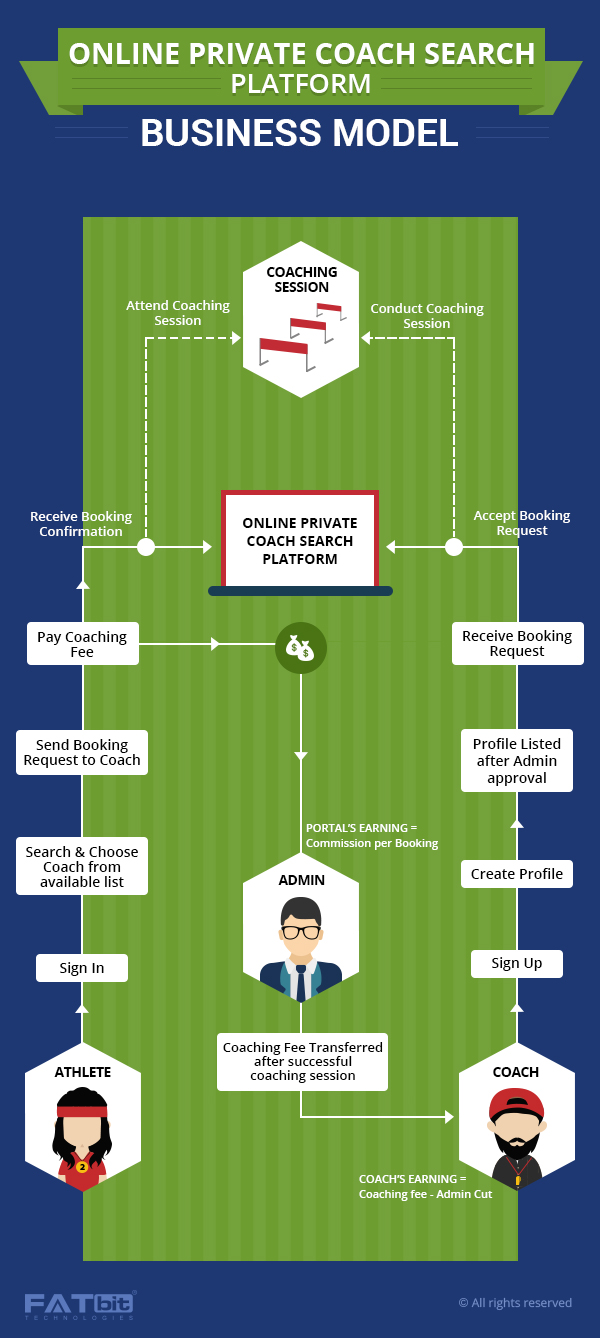 Revenue Generation
Primarily, these portals make money from the commission they cut from the session fee athletes pay to coaches through the website. Other than that, you can include following revenue channels in your business model:
Merchandise sales (which will also help with brand establishment)
Coach background-check fee (special service on client's request)
Banner Ads
Now that we have overviewed the business end of private coach search platforms, let's discuss the essential website features for them.
CoachUp Website Features for Athletes
Your website is about coach search, therefore, visitors should be taken to it right away when they land on the website. This you can ensure by putting a search box in the banner area of the homepage.
Let's discuss the important features you need to implement in the coach search feature.
Coach Search
Initially, there should be following input fields:
On the results page, users should be provided following filters:
Gender preference
Training goal (serious training or for enjoyment)
Distance
Price
Ready to travel (coach to trainee)
Additional sports specific filters (eg. coach for quarterback position for American football)
PROCESS FLOW DIAGRAM FOR BOOKING A COACH THROUGH ONLINE PRIVATE COACH SEARCH PLATFORM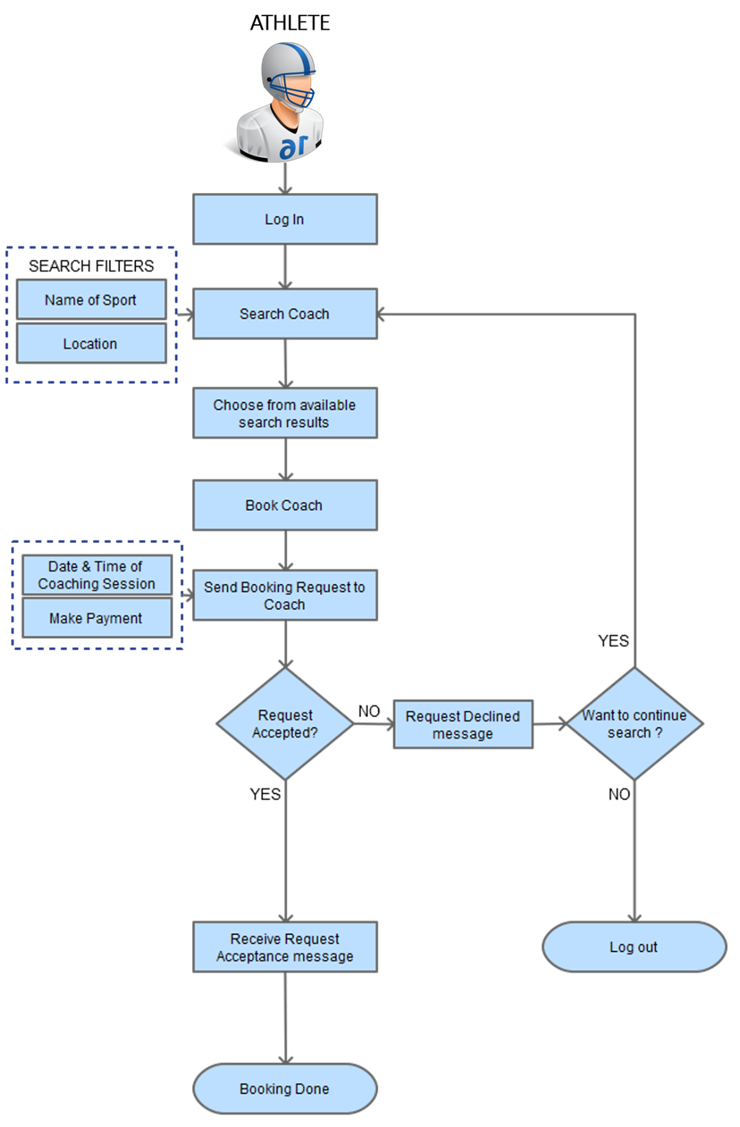 Additionally, the results should have following details & options:
Sort results by distance, price, and recommendation
Coach's location in map-view (with mouse-hover functionality)
Coach profile details such as rating, distance, session fee, etc.
Option to visit coach profile for more details
Coach Profile
To help athletes or their parents make the right decision, you need to design a very informative coach profile page. Here are the major features to consider:
Coach credentials: Experience, College/University associations, and accreditations.
Coaching details: Age group, specialties, etc.
Session details: Duration, maximum session strength, session fee
Ask me a question: The feature allows athletes/parent communicate with coaches through CoachUp team
Coach's personal details: Detailed professional experience, athletic highlights, and session plan
Booking button
Travel distance limit
Availability
Option to share coach's information with social media friends
Option to save coach profile in dashboard for later use
Session photographs and client reviews
PROCESS FLOW DIAGRAM FOR LISTING ONESELF AS COACH ON ONLINE PRIVATE COACH SEARCH PLATFORM
Apart from these, the page should also feature breadcrumbs so that users can navigate back and forth between result page & coach profiles easily. Implementing such features can improve the user experience of your website considerably.  
Improve website UX to get more conversions
Learn more
Scheduling a Session
Scheduling session should be a matter of few clicks once the user is on a coach profile.The booking option should take users to a form that asks them following details:
Whether training for oneself or someone else
Private training or group session
number of sessions
Submitting this form should take users to the checkout page, where they should be asked following details:
Payment details
Whether they want to do a background check on coach
After session schedule request is sent from the user, the concerned coach will be required to respond to it within a certain time frame. You can decide this time frame and what actions need to be taken if the coach fails to meet the deadline.
Now, let's take a glimpse of user profile options to see how athletes can manage their activities on the website.
Also Read: Top Features to Start a Marketplace for Sports and Activities
User Dashboard & Profile Option
The user profile should have enough features to deliver a rich experience. Here are a few features that you must consider for your private coach search website clone script:
Dashboard with search tool box, plus a section that tells users how things work on the website
'Sessions' tab to allows users manage their scheduled sessions as well as records history
'Coaches' tab to list coaches a user has saved and taken training from
'Coaching Requests' tab to record a user's pending coach requests
'Account' tab for editing profile details.
'Billing' tab to display past transactions on the website, as well as to allow users edit or add credit details.
'Notifications' tab to notify users about response from coaches and other important site announcements
Website Features for Coaches
Like any other ecommerce portal that connects service providers with clients, your coach search portal should have a separate module for the service providers (coaches).
Coach Registration
Coach registration should be a simple process, which can be divided into following steps:
Basic Information: Name, email, phone, & how did you hear about us.
Background: Sports, age, gender, mailing address, short bio, and descriptions for profile, personal athletic highlights, and session plan.
Set Pricing: Session length, session pricing, session's maximum strength, ready to travel or not, and specific training location.
Set Availability: A weekly availability chart with rows and columns for days and clock time in a day.
Here you would need an in-house team of experts who can review the coach application thoroughly to decide whether the coach is worth listing on the website. This is a crucial step towards building the credibility for your platform.
Coach Profile Options
Coach Dashboard should have following features:
Basic account details management
Session pricing and plan management
Session booking history, and upcoming session
Availability details management
Client record and history
Set location for sessions
A communication channel to remain in touch with the client
Notification tab to notify about session scheduling requests and upcoming sessions
Option to accept/reject a scheduling request as well as cancel an accepted request (within the allotted time as per website's guidelines)
A feedback log to track athletes' progress
Other than that, you can implement a coach score feature to make your website more engaging for coaches. Here is how it will work:
Coach Score
The better a coach performs, the more points he earns; consequently, more benefits he gets.These points can further help coaches in achieving some shiny titles for their profile as the trust marks.
So, these were the basic marketplace features for your online private coach search website. Now, let's discuss some additional features that can help you make your website more valuable.
How It Works
Prepare separate 'How It Works'  sections for both type of your audience – athletes/parents & coaches. You can either put them on homepage, or on the registration pages separately.
Resources
This section can feature articles, images, slideshow and videos to help out athletes with the basic training tips for different sports. Creating categories based on sports and type of content would make it look nicer.
Help
Your private coach search website should also have a comprehensive Help (FAQ) section to help users understand company's services and policies better. The Help section can be divided into 3 categories – 'for athletes & parents', 'for coaches', and other website policies. You can also add the Help section under the Resources in your clone script.
Partnership with Sports Clubs
You should offer a program under which established sports clubs and coaches can sign long term association with you.  In addition to  that, you can also launch partnership programs to connect with other sports related professionals & businesses such sports journalists, sports good company, etc.
Coach Guarantees
Besides thoroughly analyzing the coach application, you also need to come up with some guarantees related to coach quality for athletes' assurance. For example, you can offer 100% money-back guarantee if athletes (or parents) are not satisfied with coach's conduct.
Gift Certificates
This is yet another feature that would make your platform more valuable. Through this program, users will be able to offer their loved ones monetary gift certificates that will allow them to take training session through your website.
Friend Referral Program
A friend referral program will play crucial role in the success of your business during the initial stage. Create it mindfully. We would recommend you to take insights from CoachUp's friend referral program.
CoachUp has a very smart friend referral program. First, the referral program benefits both, the user and friend. Second, it enables CoachUp to promote its brand further. To the friend, CoachUp offers a $20 discount on their first transaction. And to the user, CoachUp presents with an official CoachUp t-shirt, which referral-by-referral is establishing CoachUp as a lifestyle brand.
Enquire how much building a private coach search website will cost you
Ask experts
Mobile App
You also need to come up with a feature-rich mobile app for all major mobile platforms. The app should have all the features that help athletes in choosing the right coach, as well as help coaches to manage their business on-the-go seamlessly. In case the mobile app seems too much at the initial stage, make sure that your coach search website script is responsive.
Also Read: Start An Online Fitness Business – Study Detailed Feature Analysis
Coach Comparison
An option to do a side-by-side comparison of coaches based on their rating, reviews, experience, pricing, etc. would definitely help athletes and parents in choosing the best match. In fact, many online professional listing directories offer this comparison feature. So, implementing this feature would certainly be a great choice.
Final CoachUp Tips
Online private coach search is a relatively new marketplace and the success of CoachUp, Trainers4me, upmysport and other players has proven the potential it has. Especially in big sporting nations like UK, Australia, China, Japan, India, etc., startups have a huge scope for success. By acting upon the features & recommendations we have listed throughout the post, entrepreneurs can further ensure success of their private coach search website.
And if you need FATbit's help in any way, then, don't hesitate to send your queries!
Make your private coach search website stand apart by choosing pro development team
Get Started Now!