Table Of Contents:
Introduction
Business-to-Business (B2B) sellers are using eCommerce platforms to generate new and repeat customers. According to Statista, the B2B eCommerce sales in the US are expected to reach around $1.2 trillion in 2021, up from $889 billion in 2017.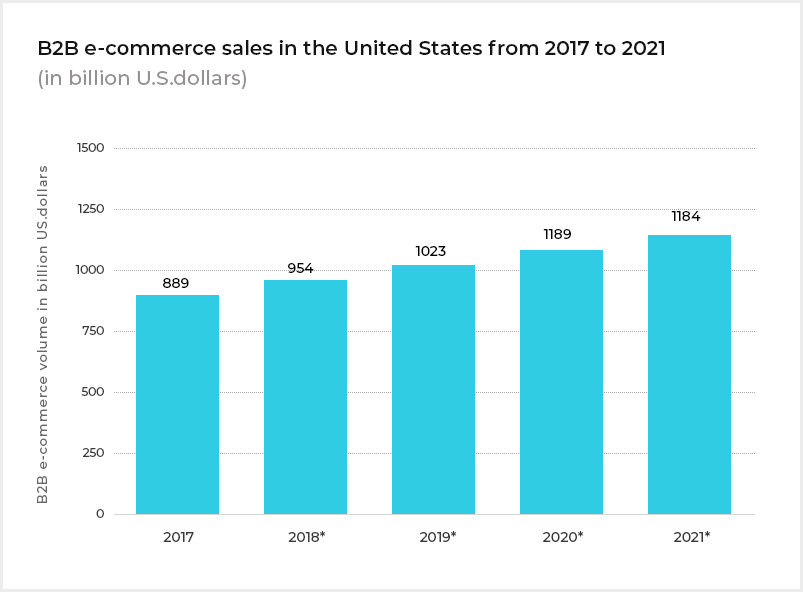 Source: Statista
The B2B eCommerce marketplace is gaining steam and the significant driver of this growth is Amazon Business (B2B marketplace by Amazon) which surpassed $10 billion in 2018. According to RBC Capital Markets – a financial service company, the Amazon B2B marketplace will reach a revenue of $31 billion by 2023. 
In 2018 a survey was conducted on 276 wholesalers, manufacturers, and distributors in the B2B marketplace. Out of these, nearly 60% of manufacturers and 38% of wholesalers and distributors did not operate on any eCommerce sites. But, around 75% of them planned to launch an eCommerce marketplace within two years. Moreover, eCommerce sites accounted for nearly 7.2% of total B2B sales in 2018, and B2BecNews estimated recently that sales percentage will rise sharply in the coming years. 
As retail giants like Amazon business surge ahead, B2B sellers are realizing the importance of an online marketplace to keep up with the competitors. 
B2B eCommerce Business Ideas
A B2B online marketplace includes both manufacturers and suppliers. This makes it easy for a store owner (of electronics, for instance) to place an online order for stock replenishment. Moreover, the order can be delivered either to the store owner or directly to the customers with both online and offline payments possible. The revenue model for B2B businesses like Amazon business is multifaceted. 
From eBay to Amazon, several eCommerce businesses with a unique business idea have successfully established their marketplace in the last two decades. Their success has inspired the next generations and budding entrepreneurs to start their business online. The B2B eCommerce marketplace is fairly complex with several business models for different categories. To ensure that your B2B eCommerce business idea tastes success, it is important to choose the right business model. 
Let's take a look at different B2B models:
As the name suggests, the Supplier-oriented model is a B2B eCommerce marketplace for suppliers to establish and sell goods/services to several businesses. Here, a supplier is entitled to set prices based on the needs of buyers and is searchable through the offered products/services. Cisco Connection Online, for instance, is a popular example of the supplier-oriented model.
This B2B business model revolves around enterprises with greater purchasing power and bulk purchasing. Big corporations often receive several quotations from various sellers and require careful analysis to decide which seller quote is best suited to their business needs. An eCommerce portal based on the buyer-oriented model allows the enterprise to receive the best quote from the suppliers while reducing the overall administrative cost. 
Intermediary-Oriented Model
An intermediary-oriented model involves a B2B multi-vendor marketplace that includes both buyers and sellers to connect and make transactions. Alibaba, for instance, is a prime example that connects Chinese manufacturers with overseas buyers and earns profit from such associations. 
For a detailed B2B model analysis, click here.
Essential Features of a B2B multivendor marketplace from Admin Perspective
Multilingual & Multi-Currency 
While English is considered a global language, the majority of the population interacts and communicates in their regional languages. And, more than half of all Google searches are in languages other than English. So, for an eCommerce store, multi-linguistic functionality is crucial to be successful. It improves user experience (UX ), develops a diverse user base, and helps in expanding business globally. Also, multi-currency is another popular integration that allows buyers to change currency on the website with just one-click. In total there are about 164 official national currencies around the globe that must be incorporated for a successful eCommerce marketplace.
Multiple Payment Gateways 
Buyer-centric payment methods are an invaluable proposition for an eCommerce marketplace. From e-wallet to credit cards and COD (cash-on-delivery), there are several payment gateways that come pre-integrated in a multi-seller eCommerce software with an option to integrate more through customization. This is an essential feature that helps admin keep buyers and vendors happy. 
Product Management Features (Adding Products/ Product Review Management etc)
To avoid incorrect product descriptions, attributes, or poor quality images; a reliable product catalog management system is required. It allows the admin to create an omnichannel shopping experience with uniform product data across all channels. Moreover, product review management is another essential feature of a B2B eCommerce marketplace. For instance, nearly 57% of buyers consider positive product reviews as an important factor driving purchasing decisions on Amazon, according to Statista. The product management features allow admin to establish the credibility of products and promote brand value.
Source: Statista
In the end, the admin wants to earn revenue from a marketplace, and charging a subscription fee from vendors is an ideal revenue source. An annual or monthly subscription plan could be set up for vendors in exchange for better selling opportunities on the platform. This is another must-have feature from an admin perspective.
Streamlined Shipping Management
Better shipping and fulfilment features allow the admin to streamline the delivery process while minimizing the cart abandonment rate. With favorable shipping options, the vendor can increase sales for an eCommerce store. From creating shipping labels to retrieving shipping rates and order management, streamlined shipping management features ensure successful eCommerce operations.
In the US, sales tax is completely governed by the states with no national sales tax law. And eCommerce sellers may have to deal with varied sales tax in different states. Also, each state decides on which items are taxable and which are not. For instance, clothing isn't taxable in Pennsylvania and grocery items are charged at a reduced 1% sales tax in the state of Illinois. So, it is the responsibility of online sellers to charge buyers the exact sales tax amount and remit collected taxes back to the government. Tax Exemption management is an essential eCommerce feature that allows the admin to add states where tax is exempted. This saves sellers from charging buyers on sales tax when there is none.
An escrow payment feature in a multi-seller marketplace allows the admin to hold payments from being released automatically to the vendors. Admin may use this feature to set a withdrawal threshold period (in days) and minimum withdrawal limit a vendor can send a request for. Please note that automated payment systems deliver money in real-time with no escrow payments.
A unique eCommerce mutivendor feature, warehouse management system enables centralized management of tasks like real-time inventory tracking or stock locations. It allows the admin to add several warehouse locations with the nearest warehouse allocated to the customer order for faster and more accurate operations. Warehouse management is easier to configure and manage by the admin in a B2B multi-seller marketplace.
For admins who wish to share limited store access may do so by changing the set privileges like hiding menus or particular settings from vendors. Restricted user access is particularly useful in scenarios where a vendor, for instance, sells software that doesn't require shipping options. Here, the admin may disable shipping options for the particular vendors. 
Essential Features of a B2B marketplace from Vendor Perspective
Easy Vendor Listing/Registration
A B2B eCommerce marketplace must enable third-party vendors to easily register or create their own product listings. They must also have an individual profile page to showcase these listings to the customers. This is an essential feature for a multi-vendor store.
Real-Time Inventory Updates 
Another must-have feature for a successful B2B marketplace, real-time inventory updates allow better inventory management for vendors. This feature tracks the current stock level and allows the vendor to list products accordingly, keeping them informed. The majority of multi-seller marketplaces provide real-time inventory updates to vendors.
An eCommerce marketplace must allow a separate vendor store with a unique URL on a single domain. This separate storefront allows the vendor to easily manage products, change featured image, and much more. It is a must-have feature for a B2B multi-vendor marketplace.
Bulk Price Discounts & Minimum Order Discounts
Merchants or wholesalers often provide bulk pricing or discount on certain products in higher quantities. This encourages buyers to purchase more and in bulk, building customer loyalty. Another discount on a minimum order value set by the seller also encourages buyers to purchase in higher quantities. Both these discounts are an invaluable addition to an eCommerce marketplace.
Different sales tax in different regions calls for better management of tax. With the tax management feature, B2B eCommerce marketplace platforms allow sellers to input correct tax information and product taxes in a streamlined manner.  Also, there are tax management APIs like Quickbooks that come pre-integrated in multi-seller eCommerce software to run a marketplace successfully.
Customer Segmentation And Associated Product Price 
Also termed as market segmentation, customer segmentation means dividing potential customers into discrete groups in a market. This division is based upon customers with similar needs or buying characteristics. According to Statista, nearly 60% of UK's B2B eCommerce businesses in 2013 segmented online customers based upon their historic spend.
Source: Statista
Moreover, associated product price is another key feature in a B2B marketplace. To define its usage, imagine a single product of $44 with a drop-down list of options for each variation. In most scenarios, the variations are offered at the same price ($44 in this case) however in some cases the variations may have different prices (let's say $33). By default in most eCommerce marketplaces, the price of the variations will match the product ($44) but with associated product price feature vendors can set a separate price for the variations i.e. $33 instead of $44.
Minimum Order Quantity & Amount 
To maintain margins and make a profit in B2B eCommerce operations, vendors must set minimum order quantities on all their products online. Minimum order quantity & Amount encourage bulk purchasing.
Ordering Process/Workflows 
A multi-seller eCommerce platform has a common product catalog where products from hundreds of individual vendors are listed. And, buyers can purchase these products with ease. The ordering process or workflow in a B2B eCommerce platform is associated with several activities like:
RFQ (Request for quotation) – As the name suggests, a buyer may send quote requests to all vendors even for products that do not exist in the eCommerce marketplace. The admin can set a minimum order quantity for RFQ and may manage all quote requests before the sellers are notified. 
RFP (Request for proposal) – A wholesaler or manufacturer sends a request for a proposal to the buyers for its certain product or service. It is a common but essential feature of workflow in a B2B eCommerce marketplace.
Auction – It enables vendors to auction products of their choice enticing several buyers to bid on them. Keeping an auction accelerates the vendor sales, upselling underlying stocks, and staying competitive in a B2B eCommerce marketplace.
Bidding – Bidding is what the buyer's do on products added for an auction by their respective vendors. Along with the auction, bidding becomes an integral part of improving cash flow in a marketplace.
Order negotiations – In a B2B eCommerce platform, the ordering process or buyer-seller interactions involve several order negotiations before the final purchase. 
Top 5 B2B eCommerce Platforms For Multi-Vendor Marketplaces
Introduction – Founded in 2005 in the US, CS-Cart is a reliable multi-vendor software for marketplaces. The scalable platform is suitable for both startups as well as B2B eCommerce stores. It offers a customizable storefront, advanced admin panel, and integrations with major shipping and payment services.

Features – Its top features include real-time shipping rate estimation, tax management, CRM, multi-store management, and more. With CS-Cart one has the ability to manage the newsletter and send mass notifications with ease.

Pricing – CS-Cart B2C package costs around $385 while CS-Cart B2B package around $2,450. Also, the CS-Cart B2B & B2C package is priced at $4,750. There's 1-month free technical support with B2B package and 6-month free support with B2B & B2C package from CS-Cart.

3rd Party Review – Hassle-free accounting and the ability to create your own promotions. But any tweaks done to the marketplace are lost during upgrades switching it to default. Also, users often complain about the failed update system, bad internal policies, and poor customer support (only available during GMT+4 business hours). CS-Cart has a rating of 4.8 on

Capterra

.
Introduction – BigCommerce is a flexible, open Saas-based platform to launch your eCommerce business with ease. Founded in 2009, BigCommerce enables you to launch a B2B eCommerce store that is easy-to-customize. The modernized platform allows you to build sleek site designs with customers and price segmentation. Plus, you can easily integrate existing business tools with one-click integration.

Features – BigCommerce has several key features for a successful eCommerce marketplace. Its most notable features include customizable design themes, abandoned cart saver, pre-integrated payment options, professional SEO tools, and more. It is a highly valuable platform for an online marketplace setup.

Pricing – BigCommerce is a subscription-based platform with a starting price of $29.95/month. It's Plus plan costs $79.95/month and the Pro plan comes at $249.95/month. Also, it offers a free trial to users.

For pricing information on its enterprise plan, contact the BigCommerce team.

3rd Party Review – A useful platform to launch your eCommerce store. But, the most frequent complaint from users is that the support sometimes has no idea about the ongoing issue which is a bit frustrating. Also, the themes are pretty similar and there's a limit on yearly sales forcing you to upgrade. BigCommerce has a rating of 4.3 on

Capterra

.
Introduction – Open source multi-seller eCommerce platform founded nearly 12 years ago in 2008, Magento is designed for both small-scale and large organizations in the retail industry. It allows you to edit, create, and manage eCommerce websites offering a personalized consumer experience. The platform is easy-to-customize and allows seamless third-party integrations.

Features – Magento offers features like custom coupon creation, SEO management, product review promotion, multiple payment and shipping options, and more. The platform is

PCI-DSS

compliant.

Pricing – While the Magento's open-source version is free-to-download, the starting price for Magento Commerce is $1988/month. There is a free demo available.

3rd Party Review – Magento is among the most comprehensive products with several add-ons and options available. But there are several users who complained about how hard it is to use and customize. Also, there are continuous security issues that forced businesses to switch to another platform. Magento has a rating of 4.3 on

Capterra

. There are a plethora of Magento 2 B2B marketplace extensions available on the market to empower your site. Consider your budget and requirements to pick the best-fit tools for your online business!
Introduction – PrestaShop is a free, open-source, downloadable eCommerce software better equipped for mid to large scale businesses. Founded in 2007, the software enables users to create a fully-functional online store at the lowest possible cost. PrestaShop is highly customizable, supports numerous integrations, and has a strong user community.

Features – While being a free eCommerce solution, PrestaShop offers several key features like inventory management, multi-channel marketing, loyalty programs, multilinguistic, multicurrency, and more. It even has advanced in-built SEO features for greater visibility.

Pricing – PrestaShop is 100% free software with no hidden fee or commission on sales. But, it isn't the easiest software to use. Modules and add-ons come at a steep price while integrating with the likes of Quickbooks or Amazon costs a pretty penny. Initially, it may be free, but you have to pay for web hosting or even hire a developer which might make it more expensive than even self-hosted options.
3rd Party Review – PrestaShop engine has developed several useful extensions and the default theme is surprisingly useful. But users often complain about how difficult it is to customize the appearance. Also, the modules on which platform relies are truly expensive. PrestaShop has a 4.3 rating on Capterra.
Comparison Chart – Brief Analysis

Kick-Start Your B2B eCommerce Marketplace With Yo!kart.