Last Updated: June 21, 2022
In a world of advancements, it is essential for supermarkets to provide a seamless shopping experience to their customers. If there are multiple chains, managing the entire business manually can be difficult, and customer convenience can be compromised. So, it becomes crucial for retailers to adopt grocery software to easily manage operations like – billing, inventory, loyalty program, CRM, and more, easily.
Further, cutting edge technology has allowed grocery software to evolve into powerful store management systems. They boost productivity and efficiently reduce inventory loss caused by overstocking, expiry, shrinkage and more. These software also make way for mobile payments which have made a modest splash in the retail sector.
In this blog, we have covered why adopting technology for grocery retailing is a must and have compiled a list of top 10 best grocery software to manage supermarkets in 2022.
Why are Grocery Companies (Small and Medium) Opting for Grocery Software?
Consumer demands are changing dynamically these days. Having access to multiple information resources, customers are more informed than ever. In turn, this makes them more demanding. Hence, grocery stores and supermarkets have to adapt themselves for better customer service quickly. This can be done through supermarket software solutions. Discussed below are the top reasons as to why grocery store software are in demand.
Accuracy to Eliminate Price Discrepancies
Software for retail outlets and supermarkets can help with billing. They help with streamlining complex and multiple calculations to provide accurate bills to customers everytime they make a purchase.
Inventory Management for Reduced Overhead Cost
Automated inventory management for supermarket and grocery chains is crucial. It keeps retailers and grocers informed in real-time about the availability of perishable and non-perishable items, while maintaining optimal stock levels. And, also helps combat significant loss from an expired inventory.
Intuitive Dashboard for Faster Checkout
Grocery store POS system for supermarkets helps with store management as it provides an intuitive dashboard that displays instant updates when an item is scanned using the barcodes. This further helps with faster checkout. 
Servicing Customers in a Better Way
A grocery billing software helps retailers cut down the time required for billing each customer at the checkout counter. This enhances users' shopping experience and helps retailers serve customers in a much more sophisticated way.
Best Grocery Software to Manage Supermarkets in 2022
As discussed above, supermarket software are a must for the smooth and efficient running of a marketplace. So, here we have compiled a list of top 10 grocery software that will help supermarket executives to evaluate several options available in the market and formulate their strategies to enhance business growth.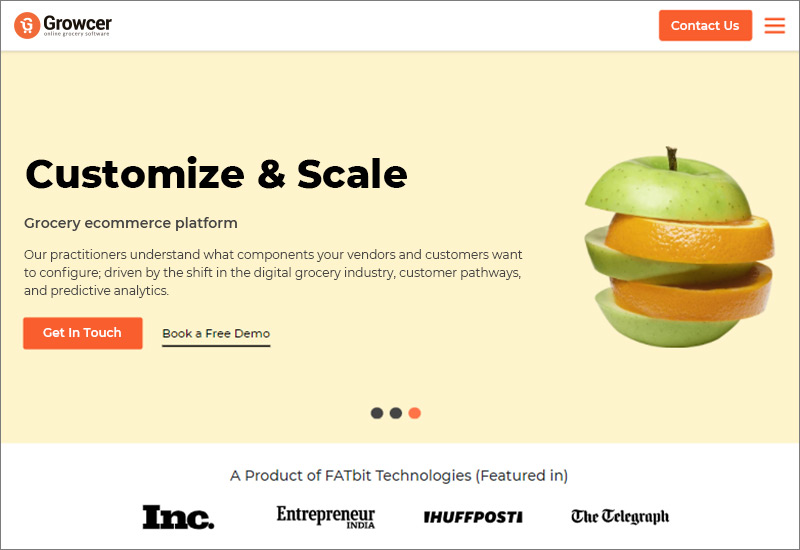 Growcer is a comprehensive grocery software that is equipped with the best in class set of features, crucial to effectively manage your supermarket. Built with agile practices, Growcer helps retailers/grocers to maximize their business profit by catering to the business needs. It is readymade and comes with a dedicated delivery module.
The inbuilt inventory module in Growcer provides intelligent inventory tracking in real-time. It also helps with order management, tax management, monitoring of cash transactions, and much more, all in one place. The checkout process is automated; adding convenience to the experience of users (retailers and buyers) during high-volume sales. Growcer also helps with customer relationship management as it supports various third-party integrations that take the end-user experience to a whole new level!
Key Highlights
Warehouse management

Robust & Detailed Dashboard

Offers CRM management

Real Time Inventory Management

Offers buyers & delivery apps

Offer endless scalability

Is multilingual to resolve any linguistic differences

Offers multi-payment options, providing buyers with full convenience

Is PCI compliant for secure transactions

Offers advanced reporting capabilities and analytics

Comes with inventory and delivery module

Any kind of POS can be integrated with Growcer

BOPIS (Buy Online, Pick up in Store)

Reports & Analytics

Return & Refund Management
Efficiently Manage your Supermarket with Growcer
2. YoKart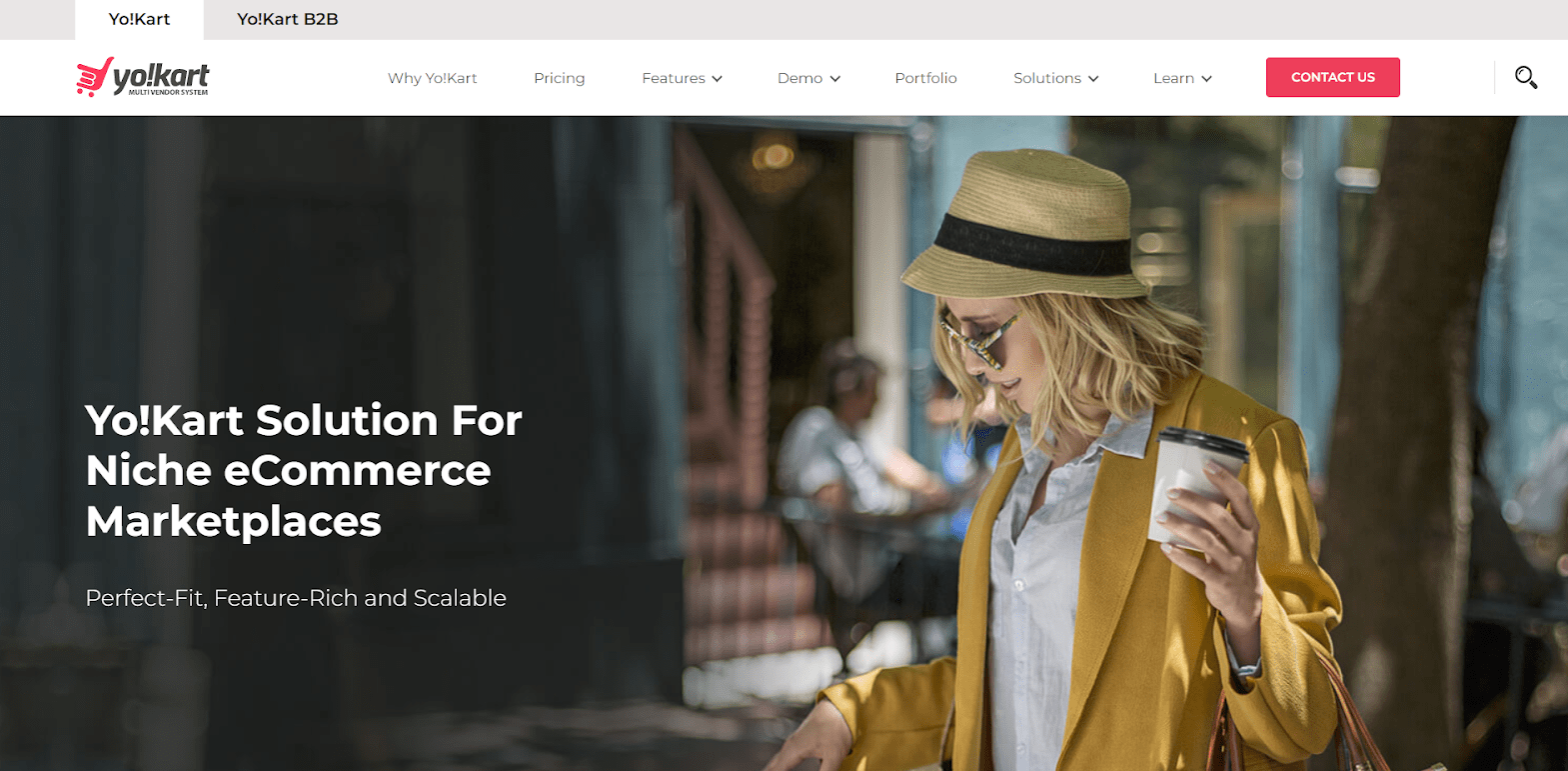 Yo!Kart is a multi-vendor eCommerce software that can be used to build niche marketplaces such as grocery marketplace. This fully customizable software is well-equipped with features to serve startups as well as enterprises to enter new markets, build competitive advantage, and accelerate the growth of their online grocery business. Being self-hosted software, business owners can customize the servers as per the requirements without the involvement of any third party.
The powerful admin features in the software empower business owners to stay ahead in the competitive online grocery landscape. In addition to this, the feature-rich mobile apps for Android and iOS enhance the online buying/selling experience eventually improving the user engagement and revenues.
Key Highlights:
Fully Customizable & Scalable

Product Catalog System

Shipping & Tax Management

Multilingual & Multi-currency Functionality

Pre-integrated Business APIs

Order Tracking

Cart Abandonment Alerts

Advanced Order Management

Refund/return Management

Robust Reporting/Statistics

PWA Compliant

Invoicing Module
3. Mercatus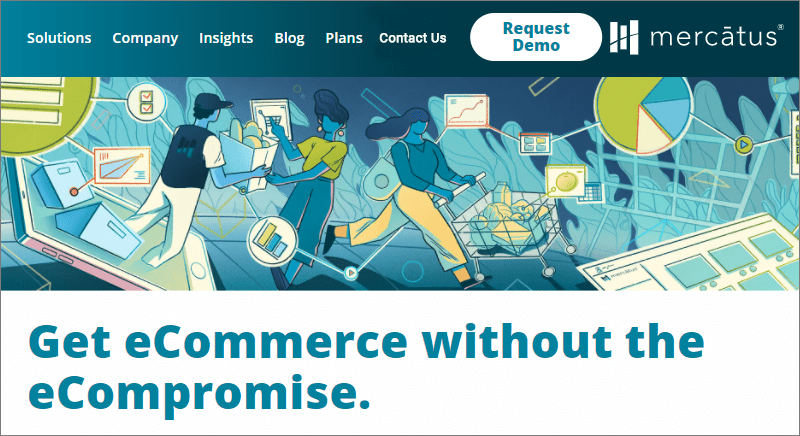 For buyers shopping delight, Mercatus provides a rich grocery software to manage supermarkets. It also provides the facility to recreate the in-store experience with sophisticated product assortment options. To track data, stock can be monitored while there is a convenient dashboard that displays inventory reports. It is feature-rich software that allows retailers to maintain full ownership of the platform while the customers are provided with a unified shopping experience. The user-centric UI supports better customer engagement and the platform also enables good returns in sales and revenue through its holistic management tools.
Key Highlights
The platform is highly scalable and configurable

Provides operational efficiencies in all back-end processes of grocery eCommerce platform

Is PCI compliant and secure 

Offers order management

Smooth integration with loyalty, CRM, coupon providers, and more

Multipayment channels are available

Inventory management 

Core metrics and KPIs can be measured

Fine-tune product information management features
4. Stor.ai
Helping retailers and grocers to provide seamless customer experiences, Stor.ai is a data-driven, innovative, unique, and holistic grocery store software solution. For customers, Stor.ai merges physical and digital into a single relationship, putting user needs, preferences, and data first. It also allows owners to improve operational processes and better manage their supermarkets.
By constantly innovating, the platform provides retailers with a digital ecosystem solution that enables them to seamlessly scale their business and customize as per unique business needs. Further, by using AI and BI, tools and reports to make informed decisions can be incorporated. The platform also aids in transforming the customer and transaction data into a powerful asset by stocking the inventory as per their needs. 
Key Highlights
Full-service department order management

Staff productivity and accuracy tracking

Tools to aid you in scheduling and scaling staff based on order volume

Automated digital customer communications

Ability to optimize best practices based on real-time data

Scalable

SaaS-based
5. IT Retail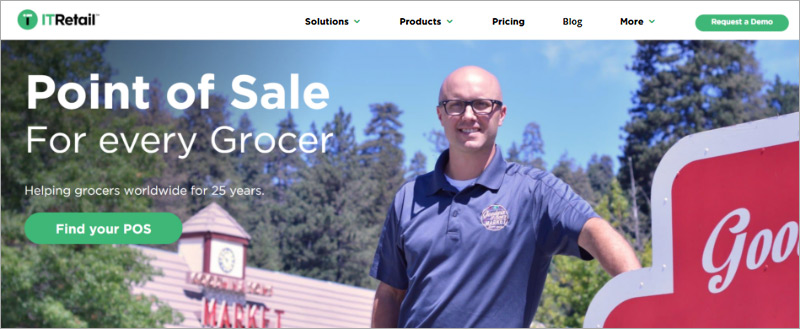 Built as per the suite of reports with a set of valuable insights by grocers, IT Retail is a powerful POS platform. It provides a complete development platform to manage a supermarket and has the capability of full customization, pivotal to efficiently managing a supermarket. Moreover, this ability of the open platform to infinitely extend its functionality, enables independence for the customers, accelerating store operations through its modestly designed self-checkout solution.
Key Highlights
Provides 24×7 Support 

Offers multi-store, inventory and employee management

Is an open platform

Offers loyalty program and lottery management

Offers self-checkout kiosks and display for customers

Is PCI Compliant 

For coupon optimization, offers integration with other applications
6. GoFrugal
GoFrugal is a complete supermarket grocery software to accelerate sales and boost business growth. It comes equipped with a comprehensive inventory, CRM, purchase, loyalty management system, and it's grocery store POS system, which lets you automate the business operations. This in return, helps you by expanding your business with minimal staff and the least skill. In addition, the software comes with an integrated free accounting solution to manage the receivables and expenses with ease. Its cutting-edge features enable faster checkouts and help in providing customers with a more conducive experience. 
Key Highlights
Weighing scale integrated barcode for accurate rate calculation

Wastage analysis and management to circumvent from incurring future losses

Separate session management to track cash handover to employees

Provides access to central customer database for tracking birthdays, anniversaries, payment histories and more

Multi Payment options 

Simplified day closing process

Offers product categorization
7. Shopify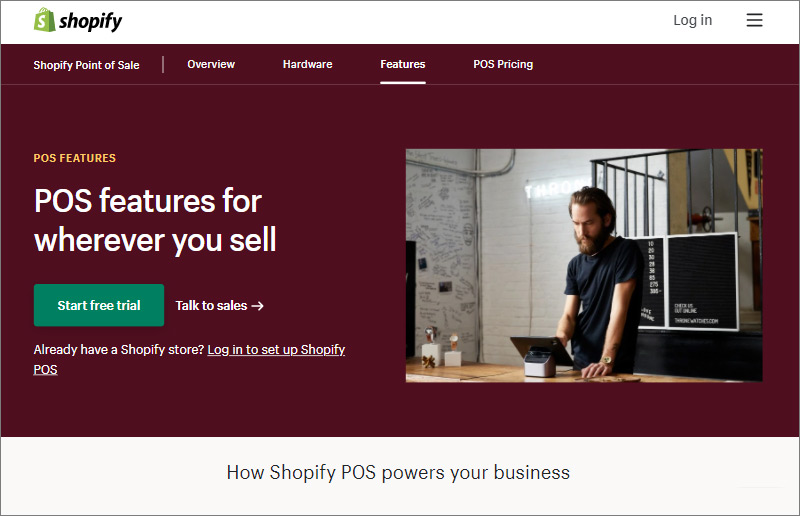 Shopify helps grocers and retailers to build a stronger relationship with customers by offering a seamless retail experience through its POS. It unifies all the supermarket stores for transparency and efficient management; strengthening sale conversions everywhere you sell. With the added benefits of third-party integration, inventory management, synchronization of payouts, and more, selling at supermarkets, retail stores become a breeze. The team believes in the idea of unified retail by bringing together physical into digital and digital into physical, thereby, offering an omnichannel experience to the customers. 
Key Highlights
Generates purchase orders and transfers stock based on inventory forecasts and performance

Offers the facility to buy in-store and then ship to customer

Is equipped with omnichannel selling features

Offers personalized marketing to share exclusive discounts

Seamless checkouts – email customers their in-store favorites, right from the point of sale 

Offers personalized marketing to share exclusive discounts

It allows tracking staff performance 

Offers Mobile POS and hardware accessories
Need Information on Supermarket Management Software?
8. ShopHero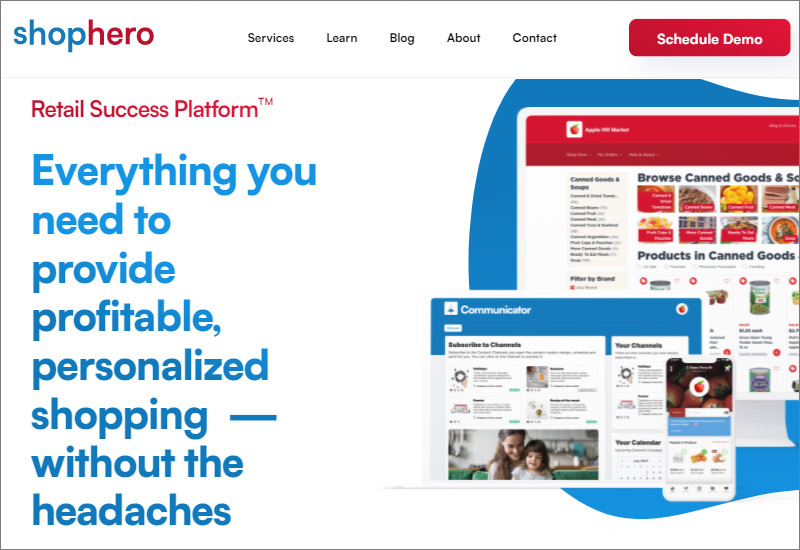 ShopHero is an intuitive, affordable, supermarket software solution that offers a turn-key terminal system with native data integration. To guide the success of retailers, ShopHero offers an optimized checkout speed. It has a retail success platform that consists of three main components: eCommerce, buyer engagement, and point of sale (POS). The software integrates inventory, security, payment, customer loyalty/rewards, and more into a single, simplified system. Most importantly, it is a unified platform that offers powerful shopper personalization and backs retailers with an automated marketing system, powerful analytics, and more.
Key Highlights
Offers convenient payment experience of customers

Is highly intuitive

Payment system and loyalty program integration

Promotion redemption analysis

Integrated signs and shelf labels ensuring pricing integrity

Handheld tablet apps for product reporting, shelf tag maintenance, and item maintenance

Better analytics for improved shopper experience

Supports online EBT (Electronic benefit transfer) and offers self-checkout
9. Chetu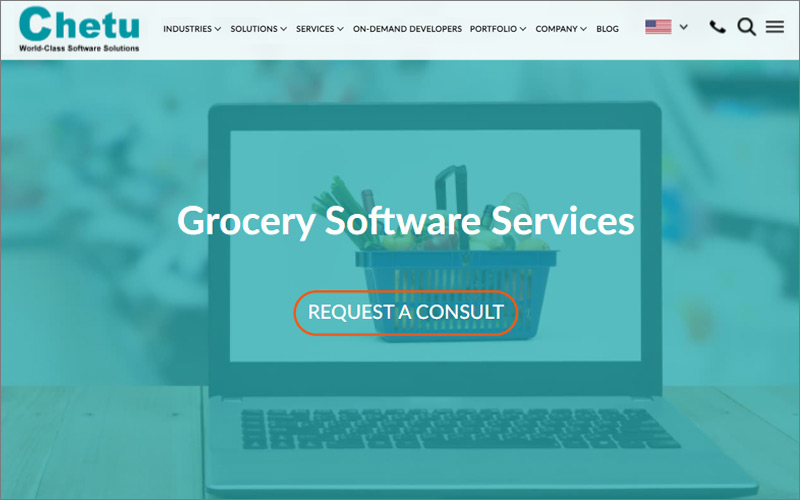 Chetu happens to be just the right grocery store software, helping supermarket store owners with a combination of high volume sales and inventory that largely consists of grocery items that have a volatile shelf life and can get easily spoiled. It also helps with payroll management by automating the working sessions of employees. Adding sophistication to the services that can be provided by supermarkets, Chetu also offers CRM management.
Key Highlights
Offers supply chain and logistics management

Offers modules for billing in supermarket – bill payment, money transfers, check cashing, and more

Offers integration to grocery store POS systems for real-time stock information with SMS and alarm notification capabilities

Offers seamless module integration with devices like QR code scanners and Radio Frequency Identifiers

Offers tools for customer relationship management
10. Emporix
Emporix is a grocery eCommerce software that provides speed and agility to meet the business needs and deliver a superior customer experience. It allows supermarket owners/retailers to keep the product listings up-to-date and push seasonal promotions with ease. By leveraging, latest technology, Emporix also helps in reducing maintenance costs, thereby increasing the net profit of businesses. The features offered, facilitate smooth and seamless functioning of supermarkets.
Key Highlights
Open modular API-first ecosystem for outstanding shopping experience 

Cloud architecture for unparalleled security 

Integrated payment makes reporting and reconciliation a breeze

Offers tools for loyalty program and voucher generation

Offers complete control to maintain customer experience

Order management system to manage inventory, orders, refunds and more

Product information management allows to manage products and integrate with existing POS or ERP system.
Adopt a Grocery Software for Holistic Store Management
Conclusion
In today's ecosystem of supermarkets, finding the perfect symbiosis between inventory replenishment and loss prevention is pivotal. Furthermore, providing customers with innovative and digital solutions for an exemplary user experience is essential for retailers. So, the way forward is to aid supermarkets with grocery software solutions as they can help in reaping multiple benefits starting with supply chain management to order forecasting. This can also lead to an increase in potential profit. But, the market is full of supermarket store solutions, as mentioned above. So, depending on your requirements, a grocery store software that works best for your business can be narrowed down.