Last Updated: 24th January, 2023
The accelerating technology has brought convenience offered by online grocery eCommerce platforms to the fore. As a result, there has been a surge in demand for grocery eCommerce platforms. Catering to the demand, many grocery eCommerce software are also available in the market. But with so many options to choose from, it can be overwhelming to decide which grocery eCommerce software to use. Hence, in this article, we have compiled a list of the top 10 grocery eCommerce software to build or launch an online grocery marketplace in 2023. But first, let us have a look at the advantages of grocery Commerce software.
Advantages of Grocery eCommerce Software for Businesses
Grocery eCommerce software automate processes including accounting, inventory management, billing, and more. Moreover, they provide visibility, efficiency, flexibility, and predictive analytics. In this section, we discuss in detail, the top reasons why grocery eCommerce software are in demand. 
More Potential Customers
An online grocery eCommerce software helps businesses garner potential customers, which otherwise would have been limited to a small geographic footprint. Additionally, good search engine rankings can help businesses better compete by allowing them to get in front of new customers. 
Enables Informed Decision-Making
A grocery eCommerce software provides valuable insights into customer behavior and sales trends through analytics and reporting. Hence, it gives business owners the ability to take speedy and informed decisions. 
Builds Better Customer Relationships
The basis of good customer relationships is a great user experience and grocery eCommerce software provides that. It helps businesses to know the buying patterns of their customers. So retailers can accordingly plan stock items and enhance their customer service.    
Reduces Operating Costs
By using grocery software, businesses can reduce costs associated with manual processes. This includes automating and streamlining inventory management and ordering, which saves businesses time and money.
Best Grocery eCommerce Software to Build Online Grocery Marketplaces in 2023
As discussed above, online grocery software solutions enable the smooth and efficient running of grocery businesses. In this section, we list the top 10 grocery eCommerce software to launch an online grocery marketplace in 2023.
1. Growcer – 
A Comprehensive Grocery eCommerce Software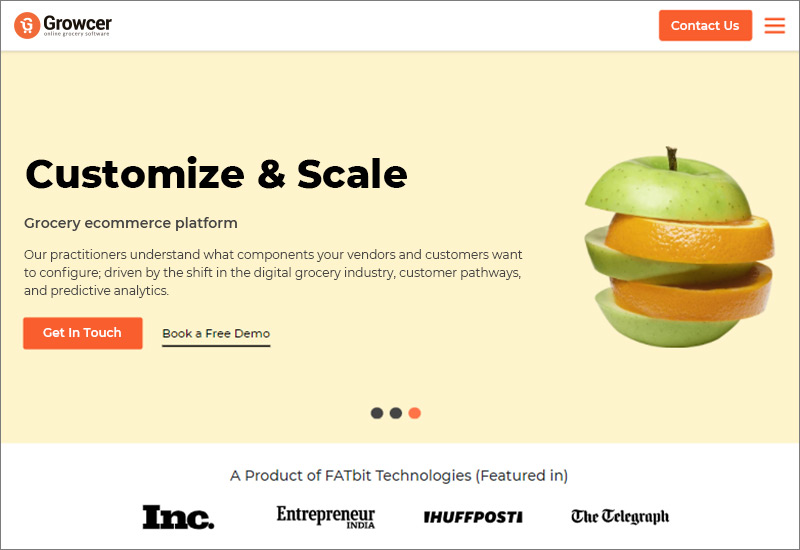 Growcer, is a turnkey grocery software developed to enable the launch of online grocery marketplaces. Built with agile practices, it is readymade and comes with hyperlocal functionality. Being feature-rich, this grocery eCommerce solution helps retailers/grocers to maximize their business profit by catering to their business needs. 
It is fully customizable, and several grocery delivery platforms like Rappi, FreshDirect, Peapod, Instacart, and more can be built using it. In addition, Growcer comes with readymade grocery apps for both delivery staff and buyers (iOS and Android).
Growcer's Buyer App –

The multivendor buyer app of Growcer provides a personalized experience to buyers. Features include cart sharing, click and collect, delivery scheduler, order tracking, and more. 
Growcer's Delivery App

– By using the application, delivery staff can accept or reject orders. Features include order management, wallet management, geo-location, push notifications, and more.
Explore Growcer Demo

– Front End
– Admin Area
– Buyer Dashboard
– Seller Dashboard
Key Highlights
Robust & detailed admin dashboard
Real-time inventory management
Offers buyer & delivery apps (Android and iOS)
Fully customizable and scalable
Is multilingual to resolve any linguistic differences
Offers multi-payment options, providing buyers with full convenience
Offers advanced reporting capabilities and analytics
BOPIS (Buy Online, Pick up in Store)
Return & refund management
Refined product search
Tax management
SEO management
Unlimited products upload
Other Benefits of Growcer
With 10+ years of industry presence it serves a global clientele including ShopExpress, Superkiwi, RxDelivered, and more

Offers full source code ownership

No recurring fee and zero cost installation

12 months free technical support

Easy to set up and manage

Offers free demo (

Front End

,

Admin Area

,

Buyer Dashboard

,

Seller Dashboard

)
Furthermore, Growcer also supports alternative business niches like
Meat delivery 

Pharmacy 

Board games

Liquor and wine 

Farmer marketplace

Pet supplies
Start your Online Grocery Marketplace with Growcer
2. YoKart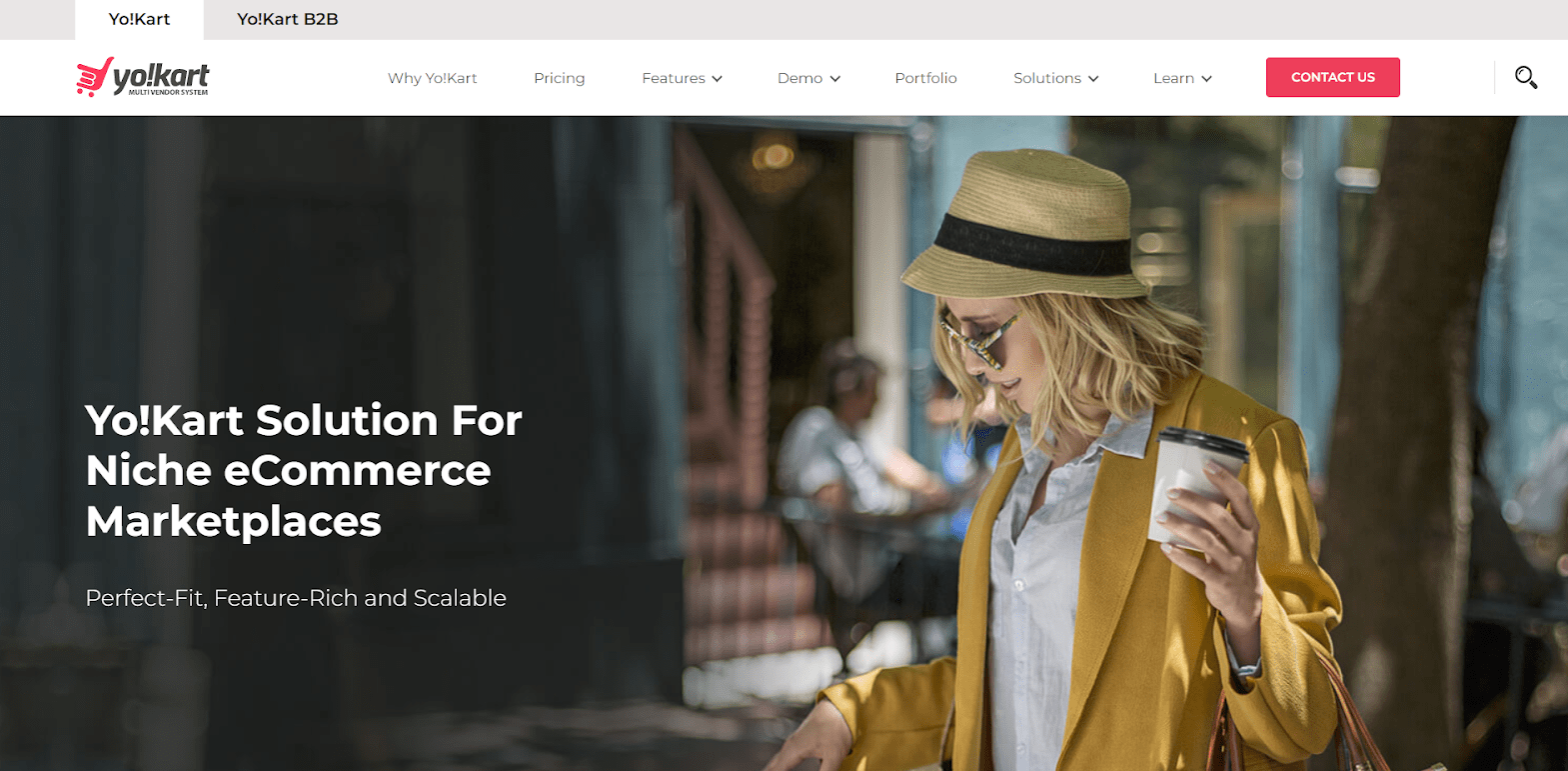 Yo!Kart is a multi-vendor eCommerce software that can be used to build niche marketplaces such as grocery. This fully customizable software is well-equipped with features to serve startups as well as enterprises to build a competitive advantage and accelerate the growth of their online grocery business. 
Additionally, Yo!Kart comes with a powerful admin dashboard and robust features that increase user engagement and help business owners to stay ahead in the competitive online grocery landscape. It also offers apps for Android and iOS. 
Key Highlights:
Fully customizable & scalable

Product catalog system

Shipping & tax management

Multilingual & multi-currency functionality

Pre-integrated business APIs

Order tracking

Robust reporting/statistics

Cart abandonment alerts
3. Mercatus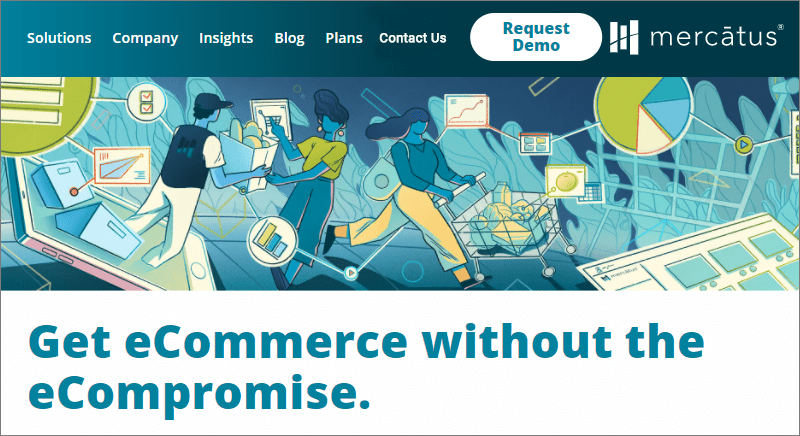 Mercatus is another leading grocery eCommerce software that makes it easy for entrepreneurs to build their online grocery eCommerce platform. It is feature-rich software that allows the admin to maintain full ownership of the platform built using it. The user-centric UI supports better customer engagement and the platform also enables good returns in sales and revenue through its holistic management tools. 
Key Highlights
4. Grobino
Helping retailers and grocers to provide seamless customer experiences, Grobino is a data-driven, innovative, and unique, grocery ordering and delivery software solution. It encapsulates all the latest features and offers mobile and web apps. It is a customizable online grocery software that allows business owners and retailers to either run a single-store grocery business or a multivendor grocery business. 
Key Highlights
Admin and vendor dashboard management
Easy order management
Live order tracking
Analytical insights
Mobile and web apps
5. Yelo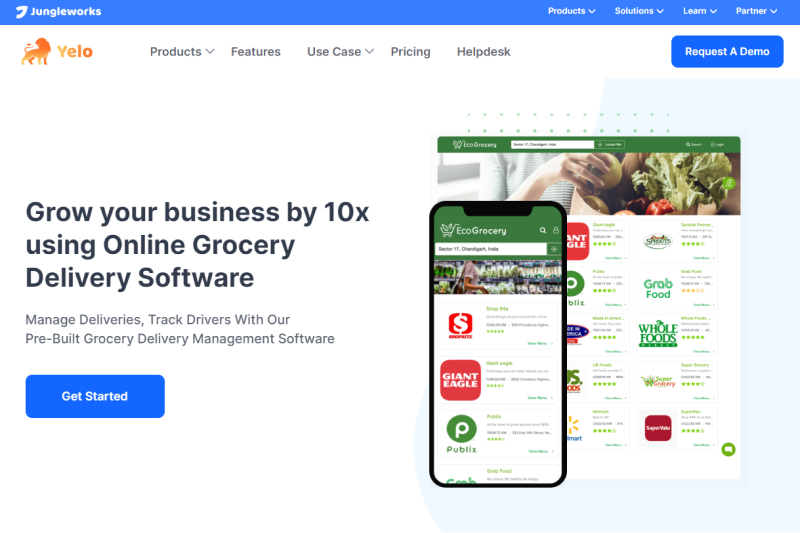 Yelo is a grocery eCommerce software that aids grocery businesses and retailers to launch responsive online grocery platforms. It has a user-friendly interface and comes equipped with a powerful inventory management system that allows grocery business owners to process orders, track stock levels, and easily update prices. In addition, this grocery eCommerce software offers a geofencing feature, which enables administrators to automatically detect customers' locations and display the available stores in that area. 
Key Highlights
5. My Cloud Grocer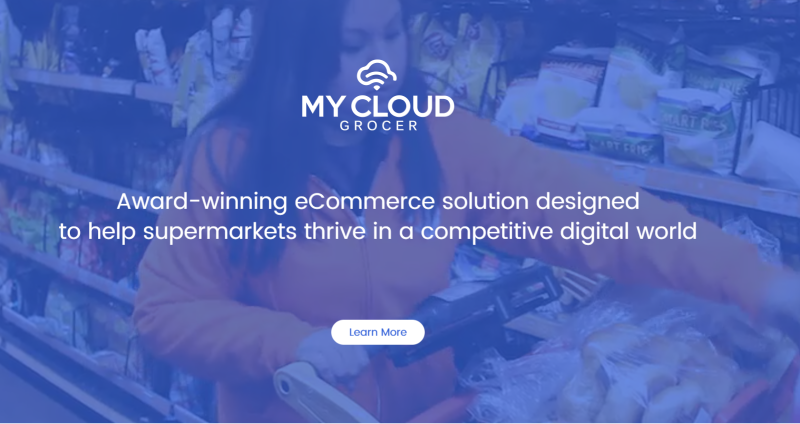 My Cloud Grocer is a white-label grocery eCommerce solution that is designed to help both single stores and prominent grocery chains grow their sales. It offers an in-depth analytics dashboard that gives data-rich insights on consumer behavior, inventory management, and trend in grocery product sales. My Cloud Grocer is also integrated with various payment gateways, making it easier for owners to accept payments and manage transactions.
Key Highlights
Data security

Catalog management

Inventory management 

Multi-store management 

SEO management  

Multi Payment options 

Email marketing
7. Shopify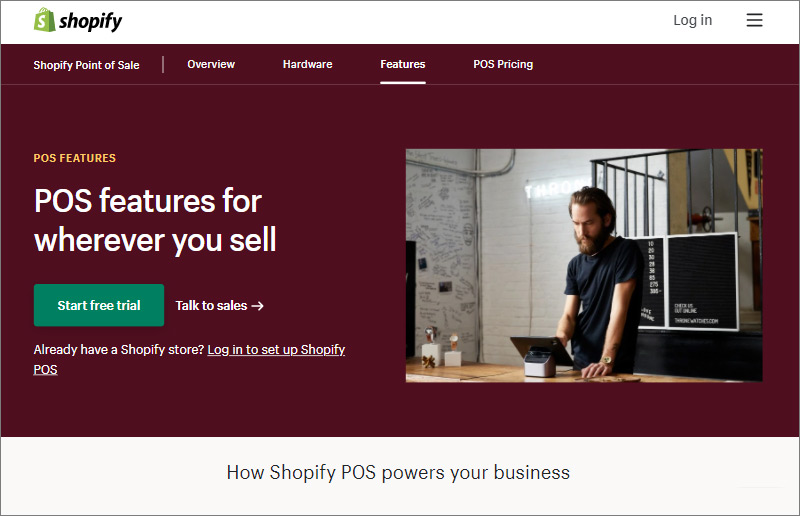 Shopify is an online grocery software that helps grocers and retailers to build and manage their online grocery platform with ease. It offers a wide range of features, drag-and-drop functionality, and easy customization that helps individuals to build their online grocery shopping platform. With added benefits of third-party integrations, built-in marketing tools, and the availability of a support team (24×7), Shopify makes for a popular grocery eCommerce software.  
Key Highlights
Inventory management

Reporting and analytics

Marketing tools

Supports multiple payment methods

Is equipped with omnichannel selling features
Need Information on Grocery Inventory Management Software?
8. ShopHero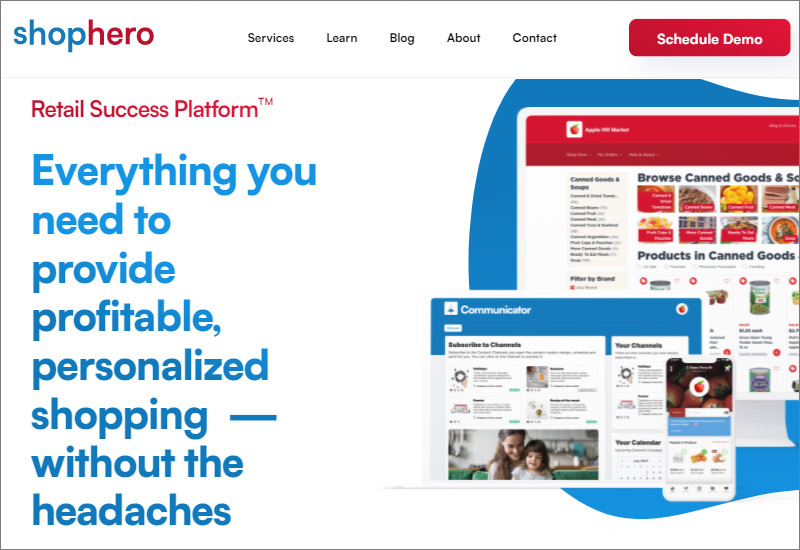 ShopHero is an intuitive, affordable, grocery eCommerce software solution that offers a turn-key terminal system with native data integration. It has an intuitive and graphical user interface that can help generate higher sales. Most importantly, it is a unified platform that offers powerful analytics and reports and integrates inventory, security, payment, customer loyalty/rewards, and more into a single, simplified system.  
Key Highlights
Powerful analytics

Order management

Payment system and loyalty program integration

Marketing automation

Supports online EBT (Electronic benefit transfer) and offers self-checkout
9. ZeilCommerce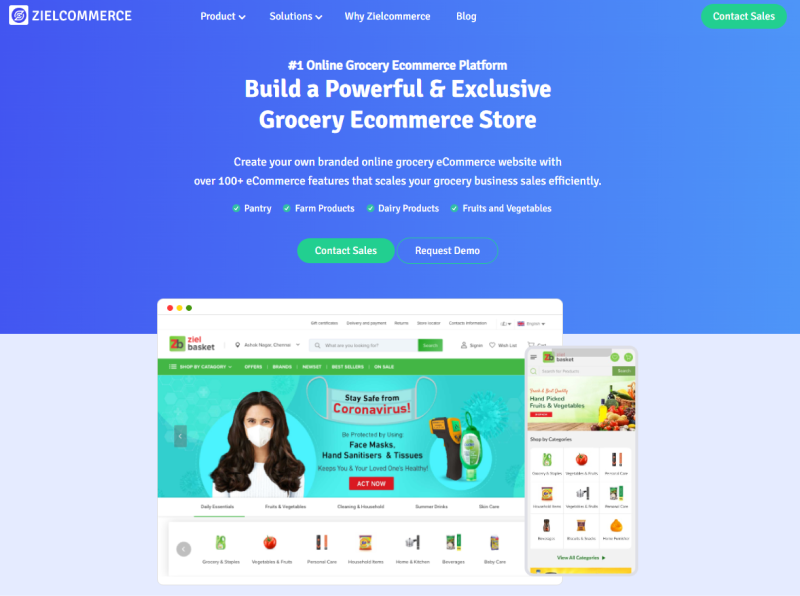 ZeilCommerce is a readymade grocery eCommerce software that allows entrepreneurs and grocery retailers to build and launch their online grocery platforms with ease. The online grocery software consists of rich management and marketing features that help grocery businesses optimize their ROI. Additionally, business owners can fully customize the platform to provide their customers with a great shopping experience.
Key Highlights
Catalog management 

Commission management 

Loyalty program 

Seo management 

Promotions management
10. ShopurGrocery
ShopurGrocery is a grocery delivery software that provides speed and agility to meet business needs and deliver a superior customer experience. It allows supermarket owners/retailers to keep their product listings up-to-date and push seasonal promotions with ease. It is a feature-rich fully customizable, white-label grocery eCommerce solution that fits the needs of grocery retailers/business owners.  
Key Highlights
Order management 

SEO management

Inventory management

Real-time tracking

Social media integration

Product cataloging
Get Ahead of the Competition by Adopting an Advanced Grocery Delivery Software
Conclusion
Technological advancement and a shift in consumer behavior have presented grocery retailers with an opportunity to evolve and provide customers with an exemplary shopping and delivery experience. This can be done via grocery delivery software. But, the market is full of such software solutions, as mentioned above. So, depending on your requirements, a grocery delivery software that works best for your business can be narrowed down from the list.